Abstract
In this study, we investigated natural vascular scaffolding (NVS) treatment on vascular functionality using freshly isolated human popliteal arteries in vitro. Arteries were exposed to intraluminal NVS treatment consisting of a compound (4 amino-1,8-naphthalimide) photoactivated by a 450-nm light-emitting light fiber placed inside the artery. This procedure results in covalent linking between the extracellular matrix proteins to achieve a larger vessel diameter post-angioplasty and minimizing elastic recoil. Immediately following NVS treatment, rings were cut from the treated arteries and mounted in organ baths for contractility testing in response to U46619 and sodium nitroprusside. We also investigated the effect of NVS treatment on IL-6 cytokine release from vascular rings following a 4-h organoculture post-NVS treatment. Based on our results, we conclude that exposure of the vessels to NVS treatment does not adversely affect the contractile responsiveness of the vascular smooth muscle and exerts no pro-inflammatory effect.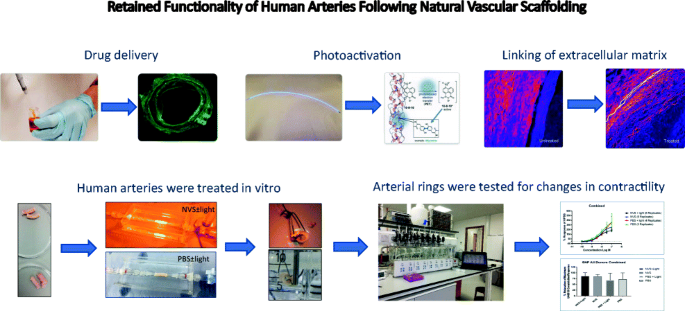 Abbreviations
ECM:

Extracellular matrix

IL-6:

Interleukin-6

NVS:

Natural vascular scaffolding

PAD:

Peripheral arterial disease

PBS:

Phosphate-buffered saline
References
Virani, S. S., Alonso, A., Benjamin, E. J., et al. (2020). Heart disease and stroke statistics—2020 update. A report from the American Heart Association. Circulation, 141, e1–e458.

Fowkes, F. G., Rudan, D., Rudan, I., Aboyans, V., Denenberg, J. O., McDermott, M. M., Norman, P. E., Sampson, U. K., Williams, L. J., Mensah, G. A., & Criqui, M. H. (2013). Comparison of global estimates of prevalence and risk factors for peripheral artery disease in 2000 and 2010: a systematic review and analysis. Lancet, 382, 1329–1340.

Regensteiner, J. G., Hiatt, W. R., Coll, J. R., Criqui, M. H., Treat-Jacobson, D., McDermott, M. M., & Hirsch, A. T. (2008). The impact of peripheral arterial disease on health-related quality of life in the Peripheral Arterial Disease Awareness, Risk, and Treatment: New Resources for Survival (PARTNERS) Program. Vascular Medicine, 13, 15–24.

Smolderen, K. G., Wang, K., de Pouvourville, G., Brüggenjürgen, B., Röther, J., Zeymer, U., Parhofer, K. G., Steg, P. G., Bhatt, D. L., Magnuson, E. A., & REACH Registry Investigators. (2012). Two-year vascular hospitalization rates and associated costs in patients at risk of atherothrombosis in France and Germany: highest burden for peripheral arterial disease. European Journal of Vascular and Endovascular Surgery, 43, 198–207.

Goodney, P. P., Travis, L. L., Nallamothu, B. K., Holman, K., Suckow, B., Henke, P. K., Lucas, F. L., Goodman, D. C., Birkmeyer, J. D., & Fisher, E. S. (2012). Variation in the use of lower extremity vascular procedures for critical limb ischemia. Circulation. Cardiovascular Quality and Outcomes, 5, 94–102.

Aboyans, V., Ricco, J. B., Bartelink, M. E. L., et al. (2018). 2017 ESC guidelines on the diagnosis and treatment of peripheral arterial diseases, in collaboration with the European Society for Vascular Surgery (ESVS): document covering atherosclerotic disease of extracranial carotid and vertebral, mesenteric, renal, upper and lower extremity arteries. Endorsed by: the European Stroke Organization (ESO), the Task Force for the Diagnosis and Treatment of Peripheral Arterial Diseases of the European Society of Cardiology (ESC) and the European Society for Vascular Surgery (ESVS). Eur Heart J, 39, 763–816.

Gerhard-Herman, M. D., Gornik, H. L., Barrett, C., et al. (2017). 2016 AHA/ACC guideline on the management of patients with lower extremity peripheral artery disease. A report of the American College of Cardiology/American Heart Association Task Force on Clinical Practice Guidelines. Circulation, 135, e726–e779.

Silber, S., Colombo, A., Banning, A. P., Hauptmann, K., Drzewiecki, J., Grube, E., Dudek, D., & Baim, D. S. (2009). Final 5-year of the TAXUS II trial: a randomized study to assess the effectiveness of slow- and moderate-release polymer-based pactlitaxel-eluting stents for de novo coronary artery lesions. Circulation, 120, 1498–1504.

Morice, M. C., Serruys, P. W., Barragan, P., Bode, C., Van Es, G. A., Stoll, H. P., Snead, D., Mauri, L., Cutlip, D. E., & Sousa, E. (2007). Long-term clinical outcomes with sirolimus-eluting coronary stents: five-year results of the RAVEL trial. Journal of the American College of Cardiology, 50, 1299–1104.

Kobayashi, N., Hirano, K., Yamawaki, M., Araki, M., Sakai, T., Sakamoto, Y., Mori, S., Tsutsumi, M., Honda, Y., & Ito, Y. (2018). Simple classification and clinical outcomes of angiographic dissection after balloon angioplasty for femoropopliteal disease. Journal of Vascular Surgery, 67, 1151–1158.

Fujihara, M., Takahara, M., Sasaki, S., Nanto, K., Utsunomiya, M., Iida, O., & Yokoi, Y. (2017). Angiographic dissection patterns and patency outcomes after balloon angioplasty for superficial femoral artery disease. Journal of Endovascular Therapy, 24, 367–375.

Otsuka, F., Nakano, M., Sakakura, K., Ladich, E., Kolodgie, F. D., & Virmani, R. (2013). Unique demands of the femoral anatomy and pathology and the need for unique interventions. The Journal of Cardiovascular Surgery, 54, 191–210.

Scheinert, D., Scheinert, S., Sax, J., Piorkowski, C., Bräunlich, S., Ulrich, M., Biamino, G., & Schmidt, A. (2005). Prevalence and clinical impact of stent fractures after femoropopliteal stenting. Journal of the American College of Cardiology, 45, 312–315.

Ng, V. G., Mena, C., Pietras, C., & Lansky, A. J. (2015). Local delivery of paclitaxel in the treatment of peripheral arterial disease. European Journal of Clinical Investigation, 45, 333–345.

Steering Committee, T. A. S. C., Jaff, M. R., White, C. J., Hiatt, W. R., Fowkes, G. R., Dormandy, J., Razavi, M., Reekers, J., & Norgren, L. (2015). An update on methods for revascularization and expansion of the TASC lesion classification to include below-the-knee arteries: a supplement to the Inter-Society Consensus for the Management of Peripheral Arterial Disease (TASC II). Journal of Endovascular Therapy, 22, 663–677.

Thieme, M., Von Bilderling, P., Paetzel, C., Karnabatidis, D., Perez Delgado, J., Lichtenberg, M., & Lutonix Global SFA Registry Investigators. (2017). The 24-month results of the Lutonix Global SFA Registry: worldwide experience with Lutonix drug-coated balloon. JACC. Cardiovascular Interventions, 10, 1682–1690.

Tepe, G., Schnorr, B., Albrecht, T., Brechtel, K., Claussen, C. D., Scheller, B., Speck, U., & Zeller, T. (2015). Angioplasty of femoro-popliteal arteries with drug-coated balloons: 5-year follow-up of the THUNDER trial. JACC. Cardiovascular Interventions, 8, 102–108.

Laird, J. R., Schneider, P. A., Tepe, G., Brodmann, M., Zeller, T., Metzger, C., Krishnan, P., Scheinert, D., Micari, A., Cohen, D. J., Wang, H., Hasenbank, M. S., Jaff, M. R., & IN.PACT SFA Trial Investigators. (2015). Durability of treatment effect using a drug-coated balloon for femoropopliteal lesions: 24-month results of IN.PACT SFA. Journal of the American College of Cardiology, 66, 2329–2338.

Ho, K. J., & Owens, C. D. (2017). Diagnosis, classification, and treatment of femoropopliteal artery in-stent restenosis. Journal of Vascular Surgery, 65, 545–557.

Katsanos, K., Spiliopoulos, S., Kitrou, P., Krokidis, M., & Karnabatidis, D. (2018). Risk of death following application of paclitaxel-coated balloons and stents in the femoropopliteal artery of the leg: a systematic review and meta-analysis of randomized controlled trials. Journal of the American Heart Association, 7, e011245.

Mogharrabi F, Kunlenhoelter J, Anderson B, Kauser K, Monson K. Effect of photoactivated cross-linking compound on mechanical properties of porcine carotid arteries post-angioplasty. International Mechanical Engineering Congress and Exposition (IMECE 2019). November 11–14, 2019, Salt Lake City, Utah, USA. [Abstract]. https://doi.org/10.1115/IMECE2019-11661

Munger, K. A., Downey, T. M., Haberer, B., Pohlson, K., Marshall, L. L., & Utecht, R. E. (2016). A novel photochemical cross-linking technology to improve luminal gain, vessel compliance, and buckling post-angioplasty porcine arteries. Journal of Biomedial Materials Research Part B Applied Biomaterials, 104, B375–B384.

Baumann, F., Fust, J., Engelberger, R. P., Hügel, U., Do, D. D., Willenberg, T., Baugmgartner, I., & Diehm, N. (2014). Early recoil after balloon angioplasty of tibial artery obstructions in patients with critical limb ischemia. Journal of Endovascular Therapy, 21, 44–51.

Hartman, J., & Frishman, W. H. (2014). Inflammation and atherosclerosis: a review of the role of interleukin-6 in the development of atherosclerosis and the potential for targeted drug therapy. Cardiology in Review, 22, 147–151.

Sukovich, D. A., Kauser, K., Shirley, F. D., DelVecchio, V., Halks-Miller, M., & Rubanyi, G. M. (1998). Expression of interleukin-6 in atherosclerotic lesions of male ApoE-knockout mice: Inhibition by 17 beta-estradiol. Arteriosclerosis, Thrombosis, and Vascular Biology, 18, 1498–1505.

Cainzos-Achirica, M., Enjuanes, C., Greenland, P., McEvoy, J. W., Cushman, M., Dardari, Z., Nasir, K., Budoff, M. J., Al-Mallah, M. H., Yeboah, J., Miedema, M. D., Blumenthal, R. S., Comin-Colet, J., & Blaha, M. J. (2018). The prognostic value of interleukin 6 in multiple chronic diseases and all-cause death: the Multi-Ethnic Study of Atherosclerosis (MESA). Atherosclerosis, 278, 217–225.
Acknowledgments
We acknowledge the Cell Imaging Core at the University of Utah for use of equipment, Leica CM1850 cryostat, Zeiss Axio scan Z.1, and Bruker Prairie multiphoton confocal microscope. We thank Ervin Mezody for building the organ chamber allowing the in vitro testing of the intravascular technology; Mike Bridge and Chris Rodesh for their assistance using the University of Utah Imaging Core Lab equipment; and Danielle Libersan, PhD, for her help in preparing the manuscript.
Funding
This study was supported by Alucent Biomedical Inc.
Ethics declarations
All procedures were in accordance with the ethical standards of the responsible committee on human experimentation (institutional and national) and with the Helsinki Declaration of 1975, as revised in 2000. Human tissues were obtained from the REPROCELL Tissue Network of CAP (College of American Pathologists) accredited tissue procurement programs. Tissues were collected and used for this study via ethical approval provided by the University of Pennsylvania Institutional Review Board and the West of Scotland Research Ethics Committee. Written authorization for donation of anatomical gifts and consent for research use of tissue was obtained from tissue donors or donor next of kin prior to recovery by the collection site and in accordance with all local rules and regulations.
Conflict of Interest
Ejaz Ansari is an employee of REPROCELL Europe Ltd. Blake Anderson and Katalin Kauser are employees of Alucent Biomedical Inc.
Additional information
Editor-in-Chief Enrique Lara-Pezzi oversaw the review of this article
Publisher's Note
Springer Nature remains neutral with regard to jurisdictional claims in published maps and institutional affiliations.
Rights and permissions
Open Access This article is licensed under a Creative Commons Attribution 4.0 International License, which permits use, sharing, adaptation, distribution and reproduction in any medium or format, as long as you give appropriate credit to the original author(s) and the source, provide a link to the Creative Commons licence, and indicate if changes were made. The images or other third party material in this article are included in the article's Creative Commons licence, unless indicated otherwise in a credit line to the material. If material is not included in the article's Creative Commons licence and your intended use is not permitted by statutory regulation or exceeds the permitted use, you will need to obtain permission directly from the copyright holder. To view a copy of this licence, visit http://creativecommons.org/licenses/by/4.0/.
About this article
Cite this article
Ansari, E., Anderson, B. & Kauser, K. Retained Functionality of Atherosclerotic Human Arteries Following Photoactivated Linking of the Extracellular Matrix by Natural Vascular Scaffolding Treatment. J. of Cardiovasc. Trans. Res. 14, 441–448 (2021). https://doi.org/10.1007/s12265-020-10063-y
Received:

Accepted:

Published:

Issue Date:

DOI: https://doi.org/10.1007/s12265-020-10063-y
Keywords
Inflammation

Natural vascular scaffolding

Peripheral arterial disease

Vessel reactivity