Attenuated phenotypes and analysis of a herpes simplex virus 1 strain with partial deletion of the UL7, UL41 and LAT genes
Abstract
We previously constructed a herpes simplex virus 1 (HSV-1)
UL7
mutant virus (M1) and showed that a partial deletion mutation of the
UL7
gene led to a lower proliferative rate and an attenuated phenotype. Using the M1 mutant, we further modified the UL41 gene, which encodes another tegument protein, and the latency-associated transcript (
LAT
) gene. Observations of the resulting mutants with modified
UL7
and
UL41
(M2) or
UL7
,
UL41
and
LAT
(M3) genes indicated attenuated phenotypes, with lower proliferative ratios in various cells, non-lethal infections in mice and lower viral loads in nervous tissues compared with the wild-type strain. Furthermore, no
LAT
stable intron could be detected in the trigeminal ganglion of M3-infected animals. The results obtained with the three HSV-1 mutants indicate that the M3 mutant is an attenuated strain with low pathogenicity during both acute and latent infections. Together, the results support the use of the M3 mutant as a candidate for the development of an HSV-1 vaccine.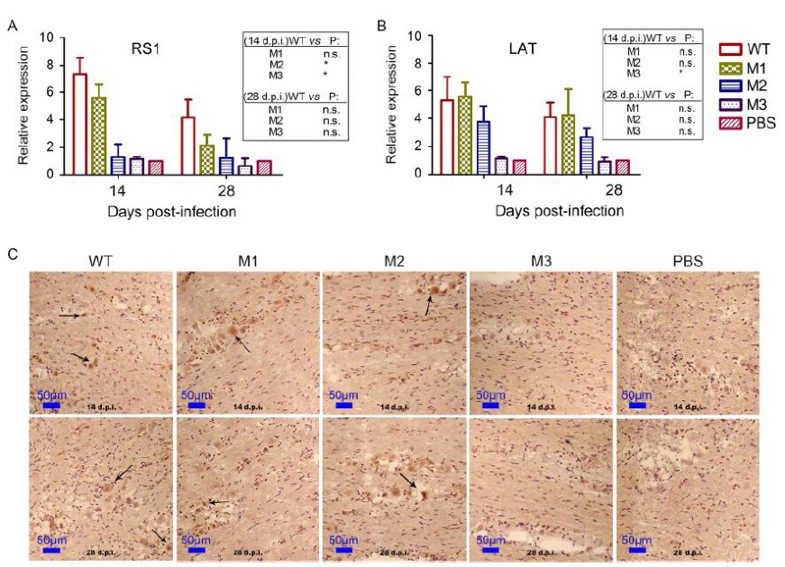 Keywords
herpes simplex virus 1 (HSV-1) 
UL7 
UL41 
LAT 
mutant 
Notes
Acknowledgments
This work was supported by the National Basic Research Program (2012CB518901), Chinese academy of medical sciences (CAMS) Initiative for Innovative Medicine (2016-I2M-1-019), the National Natural Science Foundation of China (31300143, 31100127), and the Fundamental Research Funds for the Central Universities (2016ZX310047, 2016ZX350072). The funders had no role in the study design, data collection and analysis, decision to publish, or preparation of the manuscript.
Copyright information
© Wuhan Institute of Virology, CAS and Springer Nature Singapore Pte Ltd. 2017