Abstract
Studies have shown that within today's society, the number of old and very old people is rapidly increasing alongside the average life expectancy. As trends in life expectancy increase, the number of age-related impairments and incidence of chronic disease within the older population is also expected to rise. Alzheimer's disease (AD) is one of the most frequently occurring diseases within the elderly population. AD involves the death of brain cells, which in turn impacts on a person's memory, language, and thought. With the number of AD cases worldwide expected to increase, demands in health and social care will also rise. A potential solution to these demands for care provision is the use of smartphone technology. Smartphone handsets now offer the potential for explicit and implicit interactions using buttons, touch screens, motion sensing, and voice recognition. This alongside high degrees of connectivity supports handsets to capture, analyze, and distribute large amounts of data securely across great distances. A major benefit of smartphones is their ability to connect and interact with other devices through wireless communications along with supporting a variety of software applications. Therefore, considering the opportunities provided by this broadening of the modes of interaction, functionality, and the connected nature of mobile phones, a more clinically valid approach to smartphone technology is being investigated.
This is a preview of subscription content, log in to check access.
Access options
Buy single article
Instant access to the full article PDF.
US$ 39.95
Price includes VAT for USA
Subscribe to journal
Immediate online access to all issues from 2019. Subscription will auto renew annually.
US$ 99
This is the net price. Taxes to be calculated in checkout.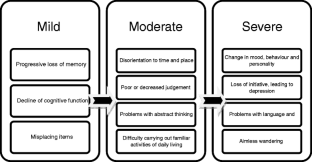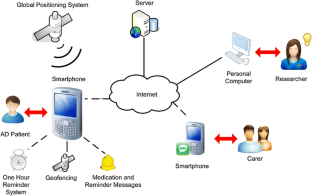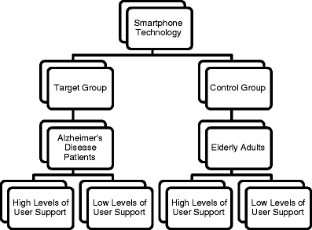 References
1.

Dictionary.COM (2009) http://dictionary.reference.com/browse/old+age. Accessed 10 Oct 2009

2.

Communication from the Commission to the European Parliament, the Council, the European Economic and Social Committee and the Committee of the Regions—Ageing well in the Information Society—A i2010 Initiative—Action Plan on Information and Communication Technologies and Ageing {SEC811}/*COM/2007/0332 final (2007)

3.

Edwards T (2009) Census Bureau reports world's older population projected to triple by 2050. Public Information Office, US Department of Commerce, Washington. http://www.census.gov/Press-Release/www/releases/archives/international_population/013882.html. Accessed 23 June 2009

4.

Kinsella K, He W (2009) An aging world: 2008. International population report. US Department of Commerce and US Department of Health and Human Services, Issued June 2009

5.

Roberts S, Prendergast D (2009) Community supports for ageing—care pathways for older people in Europe. Intel Health

6.

Miller E, Eldis (2009) Chronic disease. http://www.eldis.org/go/topics/resource-guides/health/chronic-disease. Accessed 16 Feb 2009

7.

World Health Organisation (2009) 10 facts on chronic disease. http://www.who.int/features/factfiles/chp/01_en.html. Accessed 17 Jan 2009

8.

Agency for Healthcare and Research Quality (2002) Preventing disability in the elderly with chronic disease. Research in Action, no. 3

9.

Wall TE (2007) The feasibility of Home or patient self-testing. NC Med J 68:136–138

10.

Brownsell S, Bradley D (2003) Assistive technology and telecare, forging solutions for independent living. Policy Press

11.

Alzheimer's Disease International (ADI) (2009) World Alzheimer's report 2009, executive summary, p. 2. http://www.alz.co.uk/research/files/World%20Alzheimer%20Report%20Executive%20Summary.pdf

12.

National Institute of Aging (2008) Home safety for people with Alzheimer's Disease. http://www.nia.nih.gov/NR/rdonlyres/A86CA4FA-CAA9-4E8A-8B38-F5887EFABF2B/0/HomeSafetyFINAL_08DEC.pdf. Accessed 18 Apr 2009

13.

Dementia UK, Northern Ireland Supplement (2007) A report to the Alzheimer's Society on the prevalence and economic cost of dementia in the UK. Kings College London and London School of Economics

14.

Alzheimer's Association (2009) 2009 Alzheimer's disease facts and figures. http://www.ncbi.nlm.nih.gov/pubmed/186319562008. Accessed 5 Mar 2009

15.

Giraldo C, Helai S, Mann W (2002) mPCA—a mobile patient care-giving assistant for Alzheimer's patients. First International Workshop on Ubiquitous for Cognitive Aids (UbiCog 02)

16.

The National Institute on Aging (2009) Alzheimer's disease medication, fact sheet. http://www.nia.nih.gov/Alzheimers/Publications/medicationsfs.htm. Accessed 14 Jan 2009

17.

Willis P (2006) Alzheimer's campaigning. http://www.philwillis.org.uk/workingforyou/page8.asp. Accessed 28 Apr 2009

18.

Helal S, et al. (2003) Smart phone based cognitive assistant. In: Proceedings of the 2nd International Workshop on Ubiquitous Computing for Pervasive Healthcare Applications, Seattle, October 12, 2003

19.

Giulio E et al (2009) Persons with mild or moderate Alzheimer's disease managing daily activities via verbal instruction technology. Am J Alzheimers Dis Other Demen 23:552–562

20.

Alzheimer's Association (2009) 10 signs of Alzheimer's. http://www.nursingtimes.net/nursing-practice-clinical-research/improving-communication-skills-in-care-of-those-with-dementia/1493021.article, http://www.alz.org/alzheimers_disease_10_signs_of_alzheimers.asp. Accessed 14 May 2008

21.

Hawley K, Inkpen I, Rockwood K, McAllister M, Slonim J (2005) Requirements gathering with Alzheimer's patients and caregivers. Conference on Assistive Technologies, Proceedings of the 7th International ACM SIGACCESS conference on Computers and Accessibility, pp 142–149

22.

Royal College of Psychiatrists (2005) Drug Treatment of Alzheimer's disease. http://www.rcpsych.ac.uk/mentalhealthinfoforall/olderpeople/drugtreatmentofalzheimers.aspx. Accessed 16 Oct 2009

23.

Mountain GA (2006) Self-management for people with early dementia: An exploration of concepts and supporting evidence. Dementia 5:426

24.

Lauriks S et al (2007) Review of ICT-based services for identified unmet needs of people with dementia. Ageing Res Rev 6(3):223–246

25.

Department of Health (2009) National dementia strategy. http://www.dh.gov.uk/en/socialcare/deliveringadultsocialcare/olderpeople/nationaldementiastrategy/index.htm. Accessed 16 May 2009

26.

Hagan I, Holthe T, Gillard J et al (2004) Development of a protocol for the assessment of assistive aids for people with dementia. Dementia 3(3):281–296

27.

Lorisa D (2006) An accessible technology to improve communication in dementia. Visual Languages and Human–Centric Computing, IEEE Symposium, pp 226–227

28.

Marshall M (2007) A guide to using technology within dementia care. Journal of Technology and Disability 9(2-3)

29.

C. Nugent, X. Hong, J. Hallberg, D. Finlay, K. Synnes, "Assessing the impact of individual sensor reliability within Smart living environments," 4th IEEE Conference on Automation Science and Engineering, Aug. 2008

30.

Nugent C, Hong X, Hallberg J, Finlay D, Synnes K (2008) Assessing the impact of individual sensor reliability within Smart living environments. 4th IEEE Conference on Automation Science and Engineering, August 2008

31.

Agree EM, Freedman VA (2003) A comparison of assistive technology and personal care in alleviating disability and unmet need. Gerontologist 43(3):336–334

32.

Mihailidis A, Bogar J, Craig T, Hoey J (2008) The COACH prompting system to assist older adults with dementia through hand washing: an efficacy study. BMC Geriatr 8:28

33.

Pollack M, Brown L, Colbry D, McCarthy C, Orosz C, Peintner B, Ramakrishnan S, Samardinos T (2003) Autominder: an intelligent cognitive orthotic system for people with memory impairment. Robot Auton Syst 44(3–4):273–282

34.

Audey S et al (2007) Modelling the progression of Alzheimer's disease for cognitive assistance in smart homes. User Model User-Adap Inter 17(4):415–438

35.

Wharton. Precision time systems. Large Wall mounting Calendar Clocks. http://www.wharton.co.uk/analogue-clocks/analog-calendar-clocks.htm

36.

ATDementia. Information on assistive technology for people with Dementia. http://www.atdementia.org.uk/productSearch.asp?search=go&searchmethod=cats&cat_id=18&subcat_id=19

37.

Parnes PB (2009) GPS: technology and Alzheimer's disease. Novel use for an existing technology. Alzheimer's article, Third Age, June, 2008. http://www.thirdage.com/alzheimers/gps-technology-and-alzheimers-disease-novel-use-for-an-existing-technology. Accessed 2 Mar 2009

38.

Davies RJ et al (2008) A user driven approach to develop a cognitive prosthetic to address the unmet needs of people with mild dementia. Pervasive Mobile Comput 5(3):253–267

39.

Inglis EA, et al. (2003) Issues surrounding the user-centred development of a new interactive memory aid. Univers Access Inform Soc 2(3)

40.

Henry I (1981) The use of signposts and active training to modify ward disorientation in elderly patients. J Behav Ther Exp Psychiatr 3:241–247

41.

Hersh NA, Treadgold LG (1997) A case study of NeuroPage, a reminder system for memory disabled people. IEE Colloquium on Computers in the Service of Mankind: Helping the Disabled, pp 10/1–10/3, Mar 1997

42.

Mann CW (2005) Smart technology for aging, disability, and independence. The State of Science. Wiley

43.

Bourgeois MS (1990) Enhancing conversation skills in patients with Alzheimer's disease using a prosthetic memory aid. J Appl Behav Anal 23(1):29–42

44.

CIRCA: Computer Interactive Reminiscence and Conversation Aid (2001). http://www.computing.dundee.ac.uk/projects/circa/. Accessed 14 Jan 2009

45.

Gowans G, et al. (2004) Designing a multimedia conversation aid for reminiscence therapy in dementia care environments. Conference on Human Factors in Computing Systems, pp 825–836

46.

Murphy J, Gray MC, Cox S (2009) Using talking mats to help people with dementia to communicate. Communication and Dementia, 2007. http://www.jrf.org.uk/sites/files/jrf/2128-talking-mats-dementia.pdf. Accessed 19 Nov 2009

47.

Woods B, Spector AE, Jones CA, Orrell M, Davies SP (2009) Reminiscence therapy for dementia (review). Cochrane Collaboration Library, no. 2

48.

M. Croucher, "Reminiscence Therapy Helps Alzheimer's Disease Patients," "Therapy Times, March 2008. http://www.therapytimes.com/content=0602J84C48968694406040441

49.

Croucher M (2008) Reminiscence therapy helps Alzheimer's disease Patients. Therapy Times, March 2008. http://www.therapytimes.com/content=0602J84C48968694406040441. Accessed 14 Jan 2009

50.

Bath Institute of Medical Engineering, Evaluation Centre. http://www.bath.ac.uk/bime/evalcentre/

51.

At Dementia. Information on assistive technology for people with dementia. http://www.atdementia.org.uk/default.asp. Accessed 1 May 2009

52.

Quality enabling devices (QED) talking photo album. http://www.qedonline.co.uk/catalog/product_info.php?products_id=577. Accessed 28 Feb 2009

53.

Wherifty wireless. http://www.wherifywireless.com/

54.

Wong G (2009) GPS shoe to track Alzheimer's patients. CNN. http://edition.cnn.com/2009/HEALTH/06/10/gps.shoes/. Accessed 10 Jun 2009

55.

Kantz H, Dieter F, Etzioni O, Borrielle G, Arnstein L (2002) An overview of the assisted cognition project. Workshop on Automation as a Caregiver. http://www.cs.rochester.edu/u/kautz/papers/acaaai02.pdf. Accessed 20 May 2009

56.

Abascal J, Civit A (2001) Mobile communication for older people: new opportunities for autonomous life. Workshop on Universal Accessibility of Ubiquitous Computing, Portugal

57.

Feldmann V (2003) Mobile overtakes Internet: implications for policy and regulations. International Telecommunications Union, pp 1–39

58.

Armstrong, et al. Wellness mobile phone, using technology to assist persons with Alzheimer's disease and their carers. In: Ambient assistive health and wellness management in the heart of the city, pp 25–32

59.

Matrix Corporation, 2007. [Online]. Available: www.matrixgulf.com/History.aspx. [Accessed: May. 29, 2009]

60.

Matrix Corporation (2007) www.matrixgulf.com/History.aspx. Accessed 29 May 2009

61.

Ballagas R et al (2006) The smart phone: a ubiquitous input device. IEEE Pervasive computing 5(1):70–77

62.

Szymkowiak (A), et al (2004) Memojog—an interactive memory aid with remote communication" in designing a more inclusive world. Proceedings of Second Cambridge Workshop on Universal Access and Assistive Technology, pp 15–24

63.

Savenstedt S, Zingmark K, Sandman PO (2003) Video phone communication with cognitively impairment elderly users. J Telemed Telecare 9:52–54

64.

Kort S (2005) Mobile coaching: a pilot study into the user-friendliness and effects of mobile coaching on the wellbeing of people with dementia and their informal caregivers. Psychology, Vrije Universiteit, Amsterdam

65.

Miskelly F (2005) Electronic tracking of patients with dementia and wandering using mobile phone technology. Age Ageing 43:497–518

66.

W. Marcela and N. Tyler (2007) Dynamic Assistive information Systems (DIASY) for people with cognitive difficulties: a prototype, June 2007

67.

Donnelly MP, Nugent CD, Craig D, Passmore P, Mulvenna M (2008) Development of a cell phone-based video streaming system for persons with early stage Alzheimer's disease. 30th Annual International IEEE EMBS Conference, pp 5330–5333, Aug. 2008

68.

Kintsch A, DePaula RD (2005) A framework for the adoption of assistive technology. Centre for Lifelong Learning and Design, University of Colorado

69.

Lekeu F, Wojtasik V, Van der Linden M, Salmon E (2002) Training early Alzheimer patients to use a mobile phone. Acta Neurol Belg 102:114–121

70.

Kurniawan S (2008) Older people and mobile phones: a multi-method investigation. Int J Hum Comput Stud 66(12):889–901

71.

Buchegger S, Le Boudec J (2002) Performance analysis of the CONFIDANT protocol. In: Proceedings of the 3rd ACM International Symposium on Mobile ad hoc networking and Computing, pp 226–236

72.

Ferrer-Roca O, Cárdenas A, Diaz-Cardama A, Pulido P (2004) Mobile phone text messaging in the management of diabetes. J Telemed Telecare 10(5):282–285

73.

Kwon S et al (2003) Development of web-based diabetic patient management system using short message service (SMS). Diabetes Res Clin Pract 66:133–137

74.

Takeuchi A, Kobayashi K, Manorita N, Ikeda I (2008) A cell-phone based diary for chronic diseases. IEEE, 4TH IET International Conference, pp 1–4, July 2008

75.

Logan A, Cafazzo J (2008) Remote patient monitoring system. http://www.ehealthinnovation.org/dh. Accessed 16 May 16, 2009

76.

Shneiderman B (1998) designing the user interface: strategies for effective human–computer interaction, 3rd edn. Addison-Wesley, Reading

77.

C.D Nugent et al (2008) Mobile assistive technologies for people with mild dementia: the Cogknow project

78.

Armstrong et al (2009) Wellness mobile phone, using technology to assist persons with Alzheimer's disease and their carers. Ambient Assistive Health and Wellness Management in the Heart of the City: 7th International Conference on Smart Homes and Health Telematics, ICOST, 2009, Tours, France, July 1–3, Proceedings, Vol. 5597, pp. 25, 2009
About this article
Cite this article
Armstrong, N., Nugent, C., Moore, G. et al. Using smartphones to address the needs of persons with Alzheimer's disease. Ann. Telecommun. 65, 485–495 (2010). https://doi.org/10.1007/s12243-010-0165-3
Received:

Accepted:

Published:

Issue Date:
Keywords
Assistive technology

Alzheimer's disease (AD)

Independent living

Mobile phone

Smartphone