Abstract
Pulmonary arterial hypertension (PAH) is driven by vascular remodelling due to inflammation and cellular stress, including endoplasmic reticulum stress (ER stress). The main ER-stress chaperone, glucose-regulated protein 78 kDa (GRP78), is known to have protective effects in inflammatory diseases through extracellular signalling. The aim of this study is to investigate its significance in PAH. Human pulmonary arterial smooth muscle cells (PASMC) were stimulated with compounds that induce ER stress, after which the secretion of GRP78 into the cell medium was analysed by western blot. We found that when ER stress was induced in PASMC, there was also a time-dependent secretion of GRP78. Next, naïve PASMC were treated with conditioned medium (CM) from the ER-stressed donor PASMC. Incubation with CM from ER-stressed PASMC reduced the viability, oxidative stress, and expression of inflammatory and ER-stress markers in target cells. These effects were abrogated when the donor cells were co-treated with Brefeldin A to inhibit active secretion of GRP78. Direct treatment of PASMC with recombinant GRP78 modulated the expression of key inflammatory markers. Additionally, we measured GRP78 plasma levels in 19 PAH patients (Nice Group I) and correlated the levels to risk stratification according to ESC guidelines. Here, elevated plasma levels of GRP78 were associated with a favourable risk stratification. In conclusion, GRP78 is secreted by PASMC under ER stress and exhibits protective effects from the hallmarks of PAH in vitro. Circulating GRP78 may serve as biomarker for risk adjudication of patients with PAH.
Graphical abstract
Proposed mechanism of ER-stress-induced GRP78 secretion by PASMC. Extracellular GRP78 can be measured as a circulating biomarker and is correlated with favourable clinical characteristics. Conditioned medium from ER-stressed PASMC reduces extensive viability, ROS formation, inflammation, and ER stress in target cells. These effects can be abolished by blocking protein secretion in donor cells by using Brefeldin A.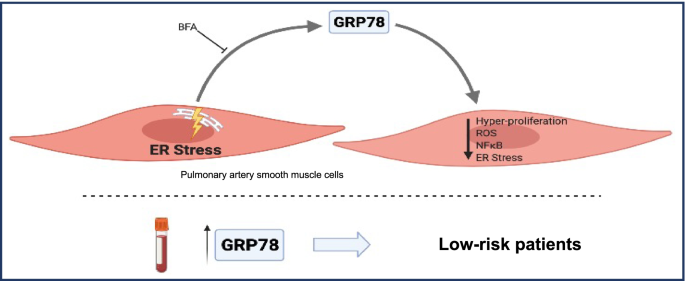 Availability of data and material
The data that support the findings of this study are available from the corresponding author upon reasonable request.
Acknowledgements
We thank Dr. Meghan Lucas for critical reading of the manuscript. Furthermore, we thank Dr. Stilla Freede from the anesthesiology department of the University Hospital Bonn for providing the hypoxia incubator.
Funding
Open Access funding enabled and organized by Projekt DEAL. This work was supported by the medical faculty of the University of Bonn (BONFOR Grant No. 2018-1A-02 and 2021-2A-04 to AA). CB was supported by the German Society for Internal Medicine (Peter Scriba Scholarship).
Ethics declarations
Ethics approval/consent to participate
All procedures were in accordance with the ethical standards of the responsible committee on human experimentation (institutional and national) and with the Helsinki Declaration of 1975, as revised in 2000. Ethical approval was granted from the Ethics Committee of the University of Bonn. Informed consent was obtained from all patients for being included in the study.
Competing interests
The authors declare no competing interests.
Additional information
Publisher's note
Springer Nature remains neutral with regard to jurisdictional claims in published maps and institutional affiliations.
Supplementary Information
Rights and permissions
Open Access This article is licensed under a Creative Commons Attribution 4.0 International License, which permits use, sharing, adaptation, distribution and reproduction in any medium or format, as long as you give appropriate credit to the original author(s) and the source, provide a link to the Creative Commons licence, and indicate if changes were made. The images or other third party material in this article are included in the article's Creative Commons licence, unless indicated otherwise in a credit line to the material. If material is not included in the article's Creative Commons licence and your intended use is not permitted by statutory regulation or exceeds the permitted use, you will need to obtain permission directly from the copyright holder. To view a copy of this licence, visit http://creativecommons.org/licenses/by/4.0/.
About this article
Cite this article
Al Zaidi, M., Pizarro, C., Bley, C. et al. ER-stress-induced secretion of circulating glucose-regulated protein 78kDa (GRP78) ameliorates pulmonary artery smooth muscle cell remodelling. Cell Stress and Chaperones 27, 561–572 (2022). https://doi.org/10.1007/s12192-022-01292-y
Received:

Revised:

Accepted:

Published:

Issue Date:

DOI: https://doi.org/10.1007/s12192-022-01292-y
Keywords
Pulmonary arterial hypertension

Vascular remodelling

ER stress

Chaperone