Abstract
Do social comparison effects exacerbate children's subjective experiences of poverty? Research on relative income effects indicates that reference groups are relevant to an individual's well-being. While these effects are rather well understood for adults, it is unclear whether children are affected in a similar way. In our analysis, we investigate if children in low-income families perceive the economic situation in their home differently if they live in a wealthy (as compared to a disadvantaged) neighborhood. Drawing on parent and child data from the German Family Panel pairfam (3600 observations from 1691 dyads) enriched with district-level neighborhood data, we analyze the association between neighborhood socioeconomic status and children's perceptions of the financial situation in their home. Controlling for a number of indicators for the economic situation in the family such as household income, social welfare benefits, and parents' perception of family finances, we find that children from low-income families feel less deprived if they are living in neighborhoods with a higher socioeconomic status. In contrast, for children from families with an equivalence income above the median regional equivalence income no neighborhood effects are found.
Access options
Buy single article
Instant access to the full article PDF.
USD 39.95
Price excludes VAT (USA)
Tax calculation will be finalised during checkout.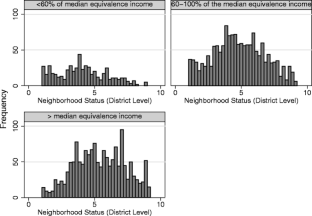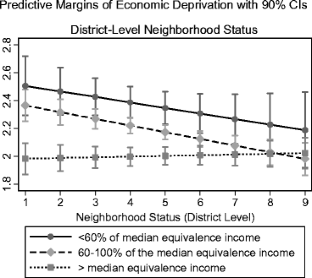 Notes
Poor individuals, however, may be affected more by social comparison effects as social comparison is asymmetric, i.e. individuals "look upward" when making comparisons (Duesenberry 1949). Clark and Senik (2010) find that for people in low-income households it is more important to compare their income with other people's incomes. Similarly, Boyce et al. (2010) find that individuals compare themselves more often to those socially above them than to those below when investigating income-rank effects in the British Household Panel Survey.

While we find neighborhood effects for the children in our sample of families, analogous analyses for these children's parents did not yield significant results regarding neighborhood effects. We ran regressions similar to those shown in Table 2, but with parent's perspective on household economic deprivation as the dependent variable and parent's age and gender instead of child's age and gender. Coefficients capturing neighborhood effects were not significant. An explanation for this finding could be that the immediate neighborhood is a too narrow area for adults' social comparison, or in particular, that adults have more knowledge regarding the 'true' economic situation of their household and thus do not have to rely on clues such as their living environment.
References
Ben-Arieh, A. (2005). Where are the children? Children's role in measuring and monitoring their well-being. Social Indicators Research, 74(3), 573–596. doi: 10.1007/s11205-004-4645-6.

Blanchflower, D. G., & Oswald, A. J. (2004). Money, sex and happiness: an empirical study. The Scandinavian Journal of Economics, 106(3), 393–415. doi:10.1111/j.0347-0520.2004.00369.x.

Boyce, C. J., Brown, G. D., & Moore, S. C. (2010). Money and happiness: rank of income, not income, affects life satisfaction. Psychological Science, 21(4), 471–475. doi:10.1177/0956797610362671.

Bradshaw, J., & Finch, N. (2003). Overlaps in dimensions of poverty. Journal of Social Policy, 32(4), 513–525. doi:10.1017/S004727940300713X.

Brown, S., & Gray, D. (2016). Household finances and well-being in Australia: an empirical analysis of comparison effects. Journal of Economic Psychology, 53, 17–36. doi:10.1016/j.joep.2015.12.006.

Brüderl, J., Schmiedeberg, C., Castiglioni, L., Arránz Becker, O., Buhr, P., Fuß, D., Schumann, N. (2015). The German Family Panel: Study Design and Cumulated Field Report (Waves 1 to 6): Release 6.0 (pairfam Technical Paper No. 1). Munich.

Brüderl, J., Hank, K., Huinink, J., Nauck, B., Neyer, F. J., Walper, S., Wilhelm, B. (2016). The German Family Panel (pairfam): ZA5678 Data file Version 7.0.0. GESIS Data Archive, Cologne. doi:10.4232/pairfam.5678.7.0.0.

Cameron, A. C., & Miller, D. L. (2015). A Practitioner's guide to cluster-robust inference. Journal of Human Resources, 50(2), 317–372. doi:10.3368/jhr.50.2.317.

Clark, A. E. (2003). Unemployment as a social norm: psychological evidence from panel data. Journal of Labor Economics, 21(2), 323–351. doi:10.1086/345560.

Clark, A. E., & Senik, C. (2010). Who compares to whom? The anatomy of income comparisons in europe. The Economic Journal, 120(544), 573–594. doi:10.1111/j.1468-0297.2010.02359.x.

Clark, A. E., Frijters, P., & Shields, M. A. (2008). Relative income, happiness, and utility: an explanation for the Easterlin paradox and other puzzles. Journal of Economic Literature, 46(1), 95–144. doi:10.1257/jel.46.1.95.

Duesenberry, J. S. (1949). Income, savings and the theory of consumer behavior. Cambridge: Harvard University Press.

Easterlin, R. A. (1974). Does economic growth improve the human lot? Some empirical evidence. In P. A. David & M. W. Reder (Eds.), Nations and households in economic growth: essays in honor of Moses Abramowitz (pp. 89–125). New York: Academic Press.

Engstler, H. (2012). Deutscher Alterssurvey (DEAS) – Kurzbeschreibung des Datensatzes Micromdaten_DEAS2002. Berlin.

European Commission. (2008). Child poverty and well-being in the EU: current status and way forward. Luxembourg: Office for Official Publications of the European Communities.

Fattore, T., Mason, J., & Watson, E. (2007). Children's conceptualisation(s) of their well-being. Social Indicators Research, 80(1), 5–29. doi: 10.1007/s11205-006-9019-9.

Ferrer-i-Carbonell, A. (2005). Income and well-being: an empirical analysis of the comparison income effect. Journal of Public Economics, 89(5–6), 997–1019. doi:10.1016/j.jpubeco.2004.06.003.

Frank, R. H. (1985). Choosing the right pond: Human behavior and the quest for status: Oxford university press.

Frey, B. S., & Stutzer, A. (2002). What can economists learn from happiness research? Journal of Economic Literature, 40(2), 402–435. doi:10.1257/002205102320161320.

Galster, G. (2008). Quantifying the effect of neighbourhood on individuals: challenges, alternative approaches, and promising directions. Schmollers Jahrbuch, 128(1), 7–48. doi:10.3790/schm.128.1.7.

Goebel, J., Spieß, C. K., Witte Nils R. J., & Gerstenberg, S. (2007). Die Verknüpfung des SOEP mit MICROM-Indikatoren: Der MICROM-SOEP Datensatz (SOEP Data Documentation No. 26). Berlin.

Goebel, J., Grabka, M. M., & Schröder, C. (2015). Income inequality remains high in Germany: young singles and career entrants increasingly at risk of poverty. DIW Economic Bulletin, 5(25), 325–339.

Hagenaars, A., de Vos, K & Zaidi, M. A. (1994). Poverty statistics in the late 1980s: research based on microdata. Luxembourg.

Harju, A., & Thorød, A. (2011). Child poverty in a Scandinavian welfare context—from Children's point of view. Child Indicators Research, 4(2), 283–299. doi:10.1007/s12187-010-9092-0.

Huinink, J., Brüderl, J., Nauck, B., Walper, S., Castiglioni, L., & Feldhaus, M. (2011). Panel analysis of intimate relationships and family dynamics (pairfam): conceptual framework and design. Zeitschrift für Familienforschung-Journal of Family Research, 23(1), 77–101.

Kingdon, G. G., & Knight, J. (2006). Subjective well-being poverty vs. income poverty and capabilities poverty? The Journal of Development Studies, 42(7), 1199–1224. doi:10.1080/00220380600884167.

Knight, J., Song, L., & Gunatilaka, R. (2009). Subjective well-being and its determinants in rural China. China Economic Review, 20(4), 635–649. doi:10.1016/j.chieco.2008.09.003.

Lubbers, M. J., Kuyper, H., & van der Werf, M. P. C. (2009). Social comparison with friends versus non-friends. European Journal of Social Psychology, 39(1), 52–68. doi:10.1002/ejsp.475.

Ludwig, J., Duncan, G. J., Gennetian, L. A., Katz, L. F., Kessler, R. C., Kling, J. R., & Sanbonmatsu, L. (2012). Neighborhood effects on the long-term well-being of low-income adults. Science, 337(6101), 1505–1510. doi:10.1126/science.1224648.

Luttmer, E. F. P. (2005). Neighbors as negatives: relative earnings and well-being. The Quarterly Journal of Economics, 120(3), 963–1002. doi:10.1093/qje/120.3.963.

McBride, M. (2001). Relative-income effects on subjective well-being in the cross-section. Journal of Economic Behavior & Organization, 45, 251–278. doi:10.1016/S0167-2681(01)00145-7.

Mood, C., & Jonsson, J. O. (2015). Trends in child poverty in Sweden: parental and child reports. Child Indicators Research, 1–30. doi:10.1007/s12187-015-9337-z.

Musterd, S. (2005). Social and ethnic segregation in Europe: levels, causes, and effects. Journal of Urban Affairs, 27(3), 331–348. doi:10.1111/j.0735-2166.2005.00239.x.

Nolan, B., & Whelan, C. T. (2010). Using non-monetary deprivation indicators to analyze poverty and social exclusion: lessons from Europe? Journal of Policy Analysis and Management, 29(2), 305–325. doi:10.1002/pam.20493.

Nonnenmacher, A. (2007). Are neighborhoods suitable for proving contextual effects? An empirical analysis of disorder and fear of crime. KZfSS Kölner Zeitschrift für Soziologie und Sozialpsychologie, 59(3), 493–511. doi:10.1007/s11577-007-0058-2.

Powdthavee, N. (2006). Are there geographical variations in the psychological cost of unemployment in South Africa? Social Indicators Research, 80(3), 629–652. doi:10.1007/s11205-006-0013-z.

Ruble, D. N., Feldman, N. S., & Boggiano, A. K. (1976). Social comparison between young children in achievement situations. Developmental Psychology, 12(3), 192–197. doi:10.1037/0012-1649.12.3.192.

Runciman, W. G. (1966). Relative deprivation and social justice: a study of attitudes to social inequality in twentieth-century England. London: Routledge & Kegan Paul.

Schmiedeberg, C. (2015). Regional Data in the German Family Panel (pairfam) (pairfam Technical Paper No. 7). Munich.

Schwarz, B., Walper, S., Gödde, M., & Jurasic, S. (1997). Dokumentation der Erhebungsinstrumente der 1. Haupterhebung (überarb. Version) (Berichte aus der Arbeitsgruppe "Familienentwicklung nach der Trennung" No. 14/1997).

Skevik Grødem, A. (2008). Household poverty and deprivation among children: how strong are the links? Childhood, 15(1), 107–125. doi:10.1177/0907568207086839.

Townsend, P. (1979). Poverty in the United Kingdom. Harmondsworth: Penguin.

Wilhelm, B., Thönnissen, C., Alt, P., Fiedrich, S., & Walper, S. (2016). Scales manual anchor, partner, parenting, child, parents, Waves 1 to 6, Release 6.0 (pairfam Documentation). Germany: Munich.

Winkelmann, R. (2012). Conspicuous consumption and satisfaction. Journal of Economic Psychology, 33(1), 183–191. doi:10.1016/j.joep.2011.08.013.

Wodtke, G. T., Harding, D. J., & Elwert, F. (2011). Neighborhood effects in temporal perspective: the impact of long-term exposure to concentrated disadvantage on high school graduation. American Sociological Review, 76(5), 713–736. doi:10.1177/0003122411420816.
Acknowledgements
This paper uses data from the German Family Panel pairfam, coordinated by Josef Brüderl, Karsten Hank, Johannes Huinink, Bernhard Nauck, Franz Neyer, and Sabine Walper. pairfam is funded as long-term project by the German Research Foundation (DFG).
About this article
Cite this article
Huyer-May, B., Schmiedeberg, C. & Schumann, N. Neighborhood Effects on Children's Subjective Deprivation: Are Poor Children's Perceptions of the Economic Situation in their Home Influenced by their Neighborhood?. Child Ind Res 11, 291–305 (2018). https://doi.org/10.1007/s12187-017-9445-z
Accepted:

Published:

Issue Date:

DOI: https://doi.org/10.1007/s12187-017-9445-z
Keywords
Neighborhood effects

Social comparison

Subjective deprivation

Child poverty