Abstract
We report two experiments exploring whether imagining music improves spatial rotation via increases in arousal and mood levels (Schellenberg 2005). To aid their imagination, participants were given instructions (none, basic or detailed) and lyrics (present or absent). Experiment 1 showed no effect of instructions or lyrics on performance although participants felt that the presence of the lyrics helped. Experiment 2 was identical to Experiment 1 except that the participants were musicians (as evidenced by musical experience and/or qualification). This time there was a significant effect of instructions in that those who received the detailed instructions performed significantly better than the no instruction condition although the presence of lyrics did not help. Further research is required to establish the similarity of the imagination to the traditional arousal and mood effect but the phenomenon may be useful for short-term boosts in spatial rotation activities.
Access options
Buy single article
Instant access to the full article PDF.
US$ 39.95
Tax calculation will be finalised during checkout.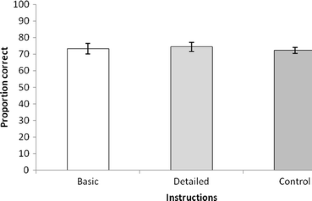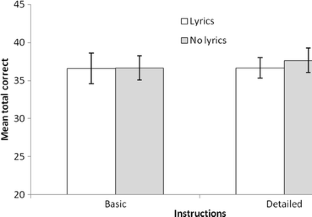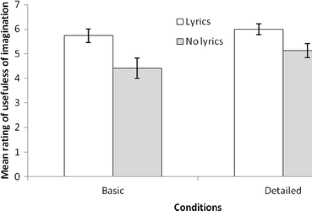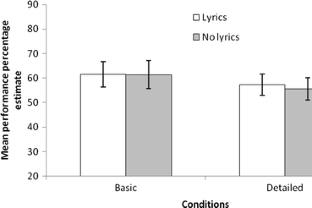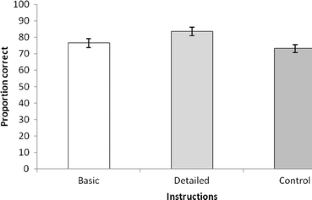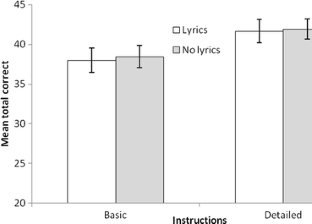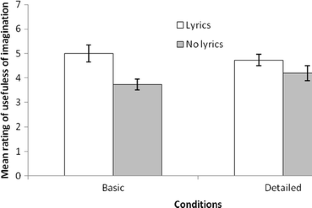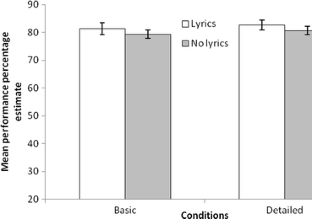 References
Aleman, A., Nieuwenstein, M. R., Bocker, K. B. E., & De Haan, E. H. F. (2000). Music training and mental imagery ability. Neuropsychologia, 38, 1664–1668.

Bailes, F. (2007). The prevalence and nature of imagined music in the everyday lives of music students. Psychology of Music, 35(4), 555–570.

Barrett, T. R., & Etheridge, J. B. (1992). Verbal hallucinations in normals, I: people who hear 'voices'. Applied Cognitive Psychology, 6(5), 379–387. doi:10.1002/acp.2350060503.

Beaman, C. P., & Williams, T. I. (2010). Earworms ("stuck song syndrome"): towards a natural history of intrusive thoughts. British Journal of Psychology, 101, 637–653.

Brodsky, W. (2002). The effects of music tempo on simulated driving performance and vehicular control. Transportation Research, 4, 219–241.

Brown, S., Merker, B., & Wallin, N. (2000). An introduction to evolutionary musicology. In N. L. Wallin, B. Merker, & S. Brown (Eds.), The origins of music (pp. 3–24). Cambridge: MIT Press.

Brown, J. D., L'Engle, K. L., Pardum, C. J., Guo, G., Kenneavy, K., & Jackson, C. (2006). Sexy media matter: exposure to sexual content in music, movies, television and magazines predicts black and white adolescents' sexual behaviour. Pediatrics, 177(4), 1018–1027.

Cassileth, B. R., Vickers, A. J., & Magill, L. A. (2003). Music therapy for mood disturbance during hospitalization for autogolous stem cell stem cell transplantation: a randomised controlled trial. Cancer, 98, 2723–2729.

Chablis, C. F., Steele, K. M., Dalla Bella, S., Peretz, I., Dunlop, T., Dawe, L. A., et al. (1999). Prelude or requiem for the 'Mozart effect'? Nature, 400, 826–828.

Critchley, H. D., Elliott, R., Mathias, C. J., & Dolan, R. J. (2000). Neural activity relating to generation and representation of galvanic skin conductance responses: a functional magnetic resonance imaging study. The Journal of Neuroscience, 20(8), 3033–3040.

Deschaumes-Molinaro, C., Dittmar, A., & Vernet-Maury, E. (1991). Relationship between imagery and sporting performance. Behavioural Brain Research, 45(1), 29–36.

Halpern, A. R., & Zatorre, R. J. (1999). When that tune runs through your head: a PET investigation of auditory imagery for familiar melodies. Cerebral Cortex, 9(7), 697–704.

Harley, T. A. (2010). The psychology of language. Hove: Psychology Press.

Hetland, L. (2000). Listening to music enhances spatial-temporal reasoning: evidence for the "Mozart effect". Journal of Aesthetic Education, 34, 105–148.

Husain, G., Thompson, W. F., & Schellenberg, E. G. (2002). Effects of musical tempo and mode on arousal, mood, and spatial abilities. Music Perception, 20, 151–171.

Irish, M., Cunningham, C. J., Walsh, J. B., Coakley, D., Lawlor, B. A., Robertson, I. H., et al. (2006). Investigating the enhancing effect of music on autobiographical memory in mild Alzheimer's disease. Dementia and Geriatric Cognitive Disorders, 22(1), 108–120. doi:10.1159/000093487.

Isen, A. M. (2000). Positive affect and decision making. In M. Lewis & J. Haviland-Jones (Eds.), Handbook of emotions (2nd ed., pp. 417–435). New York: Guilford.

Jones, M. H., West, S. D. & Estell, D. B. (2006). The Mozart effect: Arousal, preference and spatial performance. Psychology of Aesthetics, Creativity and the Arts, S(1), 26–32.

King, A. J. (2006). Auditory neuroscience: activating the cortex without sound. Current Biology, 16(11), R410–R411.

Kosslyn, S. M., Ganis, G., & Thompson, W. L. (2001). Neural foundations of imagery. Nature Reviews Neuroscience, 2, 635–642.

Kraemer, D. J. M., Macrae, C. N., Green, A. E., & Kelley, W. M. (2005). Sound of silence activates auditory cortex. Nature, 434, 158.

Leng, X., & Shaw, G. L. (1991). Toward a neural theory of higher brain function using music as a window. Concepts in Neuroscience, 2, 229–258.

Luckoff, D. (2007). Visionary spiritual experiences. Southern Medical Journal, 100(6), 635–641.

Mammarella, N., Fairfield, B., & Cornoldi, C. (2007). Does music enhance cognitive performance in healthy older adults? The Vivaldi effect. Aging Clinical and Experimental Research, 19(5), 1–6.

McGuire, P. K., Silbersweig, D. A., Wright, I., Murray, R. M., Frackowiak, R. S. J., & Frith, C. D. (1996). The neural correlates of inner speech and auditory verbal imagery in schizophrenia: relationship to auditory verbal hallucinations. British Journal of Psychiatry, 169(2), 148–159.

Milliman, R. E. (1982). Using background music to affect the behaviour of supermarket shoppers. Journal of Marketing, 46, 86–91.

Milliman, R. E. (1986). The influence to background music on the behaviour of restaurant patrons. Journal of Consumer Research, 13, 286–289.

Nantais, K. M., & Schellenberg, E. G. (1999). The Mozart effect: an artefact of preference. Psychological Science, 10(4), 370–373.

Perham, N. & Oaksford, M. (2006). Experienced and anticipated emotion in deontic reasoning. Proceedings of the 28th Cognitive Science Annual Conference, Vancouver, Canada.

Perham, N., & Rosser, J. (2012). "Not thinking" helps reasoning. Current Psychology, 31(2), 160–167. doi:10.1007/s12144-012-9140-7.

Perham, N., & Sykora, M. (2012). Disliked music can be better for performance than liked music. Applied Cognitive Psychology, 26(4), 550–555. doi:10.1002/acp.2826.

Perham, N., & Vizard, J. (2010). Can preference for background music mediate the irrelevant sound effect? Applied Cognitive Psychology, 25(4), 625–631. doi:10.1002/acp.1731.

Perham, N., & Withey, T. (2012). Liked music increases spatial rotation performance regardless of preference. Current Psychology, 31(2), 168–181. doi:10.1007/s12144-012-9141-6.

Rauscher, F. H., Shaw, G. L., & Ky, K. N. (1993). Music and spatial task performance. Nature, 365, 611.

Rickard, N. S., Toukhsati, S. R., & Field, S. E. (2005). The effect of music on cognitive performance: insight from neurobiological and animal studies. Behavioural and Cognitive Neuroscience Reviews, 4, 235. doi:10.1177/1534582305285869.

Roure, R., Collet, C., Deschaumes-Molinaro, C., Dittmar, A., Rada, H., Delhomme, G., et al. (1998). Autonomic nervous system responses correlate with mental rehearsal in volleyball training. European Journal of Applied Physiology and Occupational Physiology, 78(2), 99–108.

Schellenberg, E. G. (2005). Music and cognitive abilities. Current Directions in Psychological Science, 14, 322–325.

Schellenberg, E. G., & Hallam, S. (2005). Music listening and cognitive abilities in 10- and 11-year olds: the Blur effect. Annals of the New York Academy of Sciences, 1060, 202–209. doi:10.1196/annals.1360.013.

Shenfield, T., Trehub, S., & Nakata, T. (2003). Maternal singing modulates infant arousal. Psychology of Music, 31, 365–375.

Shepard, R. N., & Metzler, J. (1971). Mental rotation of three-dimensional objects. Science, 171(3972), 701–703.

Siedlecki, S. L., & Good, M. (2006). Effect of music on power, pain, depression and disability. Journal of Advanced Nursing, 54, 553–562.

Smith, J. D., Wilson, M., & Reisberg, D. (1995). The role of subvocalisation in auditory imagery. Neuropsychologia, 33(11), 1433–1454.

Smith, B. D., Osborne, A., Mann, M., Jones, H., & White, T. (2004). The effects of coffee and caffeine on psychological function and performance. In A. Nehlig (Ed.), Coffee, tea, chocolate, and the brain (pp. 35–52). Boca Raton: CRC Press.

Wyttenbach, R. A. (2006). PsyCOG: Explorations in perception and cognition. Sunderland: Sinauer Associates, Inc.
Appendix
Appendix
Detailed instructions
How does it start?
With one instrument, several instruments, all instruments, singing?

With an intro?
What is the melody?
Which instrument plays the melody?

Or is it just the singer who sings the melody?
What instruments are used?
Do they have their own instrumental?

Male or female voice, or a band so lots of voices?

Are there harmonies and backing vocals?
What kind of tempo does it have?
Fast, slow, a mixture?

Are there loud parts where it gets really intense?

Are there softer, more quieter parts?
When singing the song in your head think about the reasons why you like this song and why is it important to you.
Which parts are your favourite?

Remember how it makes you feel.
Participants' choice of songs in Experiment 1: 12 songs were chosen by more than one participant
| | |
| --- | --- |
| The Killers – A Dustland Fairytale | Muse – The Resistance |
| Usher – You Remind Me | Sean Kingston – Letting Go |
| Bruno Mars – Grenade | Matt Cardle – When We Collide |
| Rihanna – Only Girl In The World | JLS – Out Of This World |
| Rihanna – What's My Name | Pixie Lott – Broken Arrow |
| Brandon Flowers – Crossfire | Adele – Set Fire To The Rain |
| Adam Lambert – Down The Rabbit Hole | Adam Lambert – For Your Entertainment |
| Nickelback – Far Away | Nickelback – Something In Your Mouth |
| The Coral – Dreaming Of You | Zac Brownband – Chicken Fried |
| Savage Garden – Truly Madly Deeply | Adele – Rolling In The Deep |
| Bryan Adams – Everything I Do | Miley Cyrus – The Climb |
| Head Automatica – Beating Hearts Baby | Red Hot Chili Peppers – Under The Bridge |
| Maximo Park – Books and Boxes | Paulo Nutini – Candy |
| R.E.M. = Bad Day | Sheryl Cole – Everyday's a Winding Road |
| All That Remains – Two Weeks | Jimi Hendrix – All Along The Watchtower |
| Third Eye Blind – The Jumper | The Cure – Friday I'm In Love |
| Keri Hilson – Where Did He Go | Keri Hilson – How Does It Feel |
| Hoobastank – The Reason | DJ Champion – No Heaven |
| Florence and the Machine – You've Got The Love | Adele – Make You Feel My Love |
| Pink – Raise Your Glass | Dashboard Confessional – Stolen |
| Tinie Tempah – Pass Out | Stereophonics – Maybe Tomorrow |
| Hard Fi – Living For The Weekend | Diddy – I'm Coming Home |
| Jason Derulo – Ridin' Solo | Biffy Clyro – Many Of Horror |
| Funeral For A Friend – Into Oblivion | Green Day – Holiday |
| The Buzzcocks – Ever Fallen In Love | Foo Fighters – Best Of You |
| Blink 182 – First Date | Katy Perry – Firework |
| Coldplay – Fix You | Incubus – I Miss You |
| Adele – Someone Like You | Ellie Goulding – Your Song |
| Pendulum – Water Colour | Tinie Tempah – Wonderman |
Participants' choice of songs in Experiment 2
| | |
| --- | --- |
| Kanye West - Power | Eminem - Stan |
| Rolling Stones – Gimme Shelter | 30 Seconds To Mars – Night of the hunter |
| N.W.A – Express Yourself | John Legend – It Don't Have To Change |
| The Beatles – While My Guitar Gently Weeps | Jimi Hendrix – All Along The Watchtower |
| Tinie Tempah - Frisky | Drake – Headlines |
| One Night Only – Just For Tonight | Paramore - Ignorance |
| Queen – You're My Best Friend | Damian Rice – Cannonball |
| Two Door Cinema Club – Cigarettes In The Theatre | Bowling For Soup - 1985 |
| Tony Christie – Amarillo | Frank Sinatra – My Way |
| Linkin Park – What I've Done | Linkin Park – New Divide |
| Fall Out Boy – Dance, Dance | The Red Jumpsuit Apparatus – False Pretense |
| Biffy Clyro – The Captain | Panic! At The Disco – The Ballad Of Mona Lisa |
| Fleetwood Mac – Go Your Own Way | The Clash – London Calling |
| Manic Street Preachers – Your Love Alone Is Not Enough | Pigeon Detectives – You Know I Love You |
| Snow Patrol – Run | Red Hot Chili Peppers - Californiacation |
| Metallica – Enter Sandman | System Of A Down – Chop Suey |
| Blur - Parklife | Stereophonics - Dakota |
| Massive Attack – Teardrop | Limp Bizkit - Rollin |
| The Rolling Stones – It's Only Rock 'N Roll | The Jam – Going Underground |
| Jack Johnson – Banana Pancakes | Goo Goo Dolls - Iris |
| Kyuss – Green Machine | Orgy – Blue Monday |
| Jelly Roll Molten – Buddy Bolden's Blues | Oliver The Musical – The Situation |
| Christina Perri – A Thousand Years | Christina Perri – Jar Of Hearts |
| Frank Sinatra – Autumn In New York | Frank Sinatra - Brazil |
| Coldplay - Paradise | Travis - Sing |
| Blur – Song 2 | Bombay Bicycle Club – Favourite Day |
| Michael Jackson – Wanna Be Startin' Somethin' | Duran Duran – View To A Kill |
| Guns N' Roses – Paradise City | Ozzy Osbourne – Crazy Train |
| Rihanna – We Found Love | Drake – Take Care |
| Huey Lewis & The News – The Power Of Love | Bryan Adams – Run To You |
| Labrinth - Earthquake | Green Day - Holiday |
| Foo Fighters – Learn To Fly | Foo Fighters – All My Life |
| Hard – Fi – Hard To Beat | Arctic Monkeys – Pretty Visitors |
| Noisettes – Never Forget You | Jay-Z – Heart Of The City |
| The Verve – Bitter Sweet Symphony | Bob Marley – Three Little Birds |
| Wiz Khalifa – Black And Yellow | Jay-Z And Kanye West - Paris |
| Feeder – Buck Rogers | White Stripes – Seven Nation Army |
| Stereophonics – She Takes Her Clothes Off | The Killers – Mr Brightside |
| Simon & Garfunkel – Mrs Robinson | Simon & Garfunkel – The Sound Of Silence |
| Stevie Wonder - Superstition | Bill Withers – Ain't No Sunshine |
| Lenny Kravitz – Are You Gonna Go My Way | Smashing Pumpkins - Today |
| Nirvana – Come As You Are | Nirvana – Smells Like Teen Spirit |
| U2 – Beautiful Day | Fleetwood Mac – The Chain |
| Ed Sheeran – The A Team | Ben Howard - Diamonds |
| Lana Del Ray – Born To Die | Arctic Monkeys – Riot Van |
About this article
Cite this article
Perham, N., Lewis, A., Turner, J. et al. The Sound of Silence: Can Imagining Music Improve Spatial Rotation Performance?. Curr Psychol 33, 610–629 (2014). https://doi.org/10.1007/s12144-014-9232-7
Keywords
Music

Imagination

Spatial rotation