Abstract
This paper investigates the hypothesis that the spatial concentration of economic activity might impair national growth, using the experiences of Brazil and Chile. In the first stage we have used regional data to estimate country-specific models in which regional growth is conditioned by a set of controls, considering population density as a measure of concentration. The results of this stage show that population density has a negative effect on the growth of Brazilian and Chilean regions. In the second stage we have simulated the impact of the actual changes in population observed in the regions within these countries between 1980 and 2010. Using the new densities, we have recalculated the growth of the regions, generating a new national growth rate as a weighted average of the estimated growth of the regional economies. The regional deconcentration observed in Brazil produced less negative results in terms of national growth. While the Chilean increasing spatial concentration resulted in negative effects for national growth: the national GDP growth rate was reduced by 0.8% on a yearly basis. These results replicate the findings of Brülhart and Sbergami (J Urb Econ 65:48–63, 2009) for Brazil and Chile in their cross-section of countries. Working with regional data within the countries allowed determine the gains/losses in the national GDP growth rate, and to point out the effects on each region within the countries.
This is a preview of subscription content, log in to check access.
Access options
Buy single article
Instant access to the full article PDF.
US$ 39.95
Price includes VAT for USA
Subscribe to journal
Immediate online access to all issues from 2019. Subscription will auto renew annually.
US$ 99
This is the net price. Taxes to be calculated in checkout.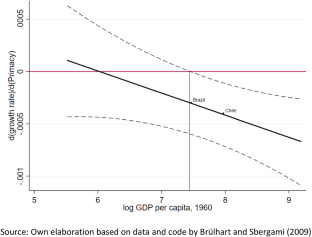 Notes
1.

We thank the authors for providing the information and the code.

2.

As for robustness, besides estimating the model with a system of equations via the Generalized Method of Moments (GMM SYS), we have also tried Fixed Effects and Random Effects, and cross-section and panel models for 5-year windows. Although some variables changed significance and, eventually, signs, the results relevant to this study, that is, lagged income and density, came up almost the same.
References
Alexiadis, S., Eleftheriou, K.: A note on the relation between inter-regional inequality and economic efficiency: evidence from the US states. Reg. Sci. Policy Pract. 3(1), 37–44 (2011)

Cuadrado-Roura, J., Aroca, P. (eds.): Regional problems and policies in Latin America. Advances in Spatial Sciences. Springer, Berlin (2013)

Baldwin, R.E., Martin, P.: Agglomeration and regional growth. In: Henderson, J.V., Thisse, J.F. (eds.) Handbook of regional and urban economics. Cities and geography, vol. 4. Elsevier, North-Holland (2004)

Baldwin, R., Forslid, R., Martin, P., Ottaviano, G., Robert-Nicoud, F.: Economic geography and public policy, p. 504. Princeton University Press, Princeton (2005)

Barro, R., Xala-i-Martin, J.: Economic Growth. McGraw-Hill, McGraw-Hill Advanced Series in Economics, New York (2004)

Brakman, S., Garretsen, H., Van Marrewijk, C.: The new introduction to geographical economics, p. 568. Cambridge University Press, Cambridge (2009)

Brülhart, M., Sbergami, F.: Agglomeration and growth: cross-country evidence. J. Urb. Econ. 65(1), 48–63 (2009)

CAF: Desarrollo local: Hacia un Nuevo Protagonismo de las Ciudades y Regiones. Reporte de Economía y Desarrollo, Corporación Andina de Fomento, Caracas, Venezuela (2010)

Cerina, F., Mureddu, F.: Is Agglomeration really good for growth? Global Efficiency, Interregional Equity and Uneven Growth. J. Urb. Econ. 84, 9–22 (2014)

Cole, S.: Growth, equity and dependence in a restructuring city region. Int. J. Urb. Reg. Res. 11(4), 461–477 (1987)

Combes, P., Duranton, G., Gobillon, L.: Spatial wage disparities: sorting matters! J. Urb. Econ. 63, 723–742 (2008)

Combes, P., Duranton, G., Gobillon, L.: The identification of agglomeration economies. J. Econ. Geogr. 11, 253–266 (2011)

Dall'Erba, S.: The Trade-Off Efficiency-Equity as an Explanation of the Mitigated Success of the European Regional Development Policies, European Union Center, University of Illinois at Urbana-Champaign, Champaign, Illinois. http://www.euc.illinois.edu/_includes/docs/dallerba.pdf (2003). Accessed 12 June 2016

Duncan, R., Fuentes, R.: Regional convergence in Chile: new tests, old results. Cuadernos de Economia, Maio 43, 81–112 (2006)

ECLAC: Economía y territorio en América Latina y el Caribe. Desigualdades y Políticas, Santiago, Chile (2009)

Foreign Affairs Latinoamérica: Crisis Recurrente, Desigualdad Permanente (num. especial.), vol. 9, 1 (2009)

Fujita, M., Thisse, J.F.: Does geographical agglomeration foster economic growth? And who gains and loses from it? Jpn. Econ. Rev. Jpn. Econ. Assoc. 54(2), 121–145 (2003)

Gardiner, B., Martin, R., Tyler, P.: Does spatial agglomeration increase national growth? Some evidence from Europe. J. Econ. Geogr. 11(6), 979–1006 (2011)

Hayashi, F.: Econometrics. Princeton University Press, Princeton (2000)

Henderson, V.: The urbanization process and economic growth: the so-what question. J. Econ. Growth 8(1), 47–71 (2003)

Islam, N.: Growth empirics: a panel data approach. Q. J. Econ. 110(4), 1127–1170 (1995)

Jackson, R.: Revisiting the equity-efficiency tradeoff. Reg. Sci. Policy Pract. 3(4), 421–425 (2011)

Krugman, P.: Geography and trade. The MIT Press, Cambridge (1991)

Kusnetz, S.: Economic growth and income inequality. Am. Econ. Rev. XLV, 1–28 (1955)

MacKellar, R.L., Vining Jr., D.R.: Population concentration in less developed countries: new evidence. Pap. Reg. Sci. 74(3), 259–293 (1995)

Martin, R.: National growth versus spatial equality? A cautionary note on the new 'trade-off' thinking in regional policy discourse. Reg. Sci. Policy Pract. 1(1), 3–13 (2008)

Martin, P., Ottaviano, G.I.: Growing locations: industry location in a model of endogenous growth. Eur. Econ. Rev. 43(2), 281–302 (1999)

Menezes, T.A., Silveira-Neto, R.M., Azzoni, C.R.: Demography and evolution of regional inequality. Ann. Reg. Sci. 49, 643–655 (2012)

Mera, K.: A multiregion, multisector model of equilibrium growth. In: Papers of the RSA, the Regional Science Association, vol. 21, pp. 53–75, The Cambridge Meeting, Cambridge (1967)

Mera, K.: On the urban agglomeration and efficiency. Econ. Dev. Cult. Change. 21(2), 309–324 (1973)

Mera, K.: Trade-off between aggregate efficiency and interregional equity. A Reply. Reg. Sci. Urb. Econ. 8(3), 307–310 (1978)

Meyer, D.: Equity and efficiency in regional policy. Period. Math. Hung. 56(1), 105–119 (2008)

Meyer, D., Lackenbauer, J.: EU Cohesion Policy and the Equity-Efficiency Trade-Off-Adding Dynamics to Martin's Model. http://econpapers.repec.org/paper/wiwwiwrsa/ersa05p564.htm (2005). Accessed 12 June 2016

OECD: OECD Territorial Reviews: Chile. ISBN Number: 9789264060791, France, (2009)

Okun, A.M.: Equality and efficiency: the big trade-off. The Brookings Institution, Washington (1975)

Piketty, T.: Capital in the twentieth century, p. 696. Harvard University Press, Harvard (2014)

Richardson, H. W.: City size and national spatial strategies in developing countries. In: World Bank staff Working Paper, (1977)

Richardson, H.W.: The state of regional economics: a survey article. Int. Reg. Sci. Rev. 3(1), 1–48 (1978)

Roodman, D.: A note on the theme of too many instruments. Oxf. Bull. Econ. Stat. 71(1), 135–158 (2009)

Silveira-Neto, R.M., Azzoni, C.R.: Social policy as regional policy: market and nonmarket factors determining regional inequality. J. Reg. Sci. 52, 433–450 (2012)

Stöhr, W., Tödtling, F.: Evaluation of regional policies: experiences in market and mixed economies. In: Hansen, Niles (ed.) Human Settlement Systems, pp. 85–119. International Perspectives on Structure, Change and Policy, Cambridge (1978)

Ulltveit-Moe, K.H.: Regional policy design: an analysis of relocation, efficiency and equity. Eur. Econ. Rev. 51(6), 1443–1467 (2007)

Wheaton, W., Shishido, H.: Urban concentration, agglomeration economies, and the level of economic development. Econ. Dev. Cult. Change. 30(1), 17–30 (1981)

Williamson, J.G.: Regional inequality and the process of national development. Econ. Dev. Cult. Change 13(4), 3–45 (1965)

World Bank: World Development Report 2009: Reshaping Economic Geography. World Bank©. World Bank. https://openknowledge.worldbank.org/handle/10986/5991License:CCBY3.0IGO (2009). Accessed 10 Nov 2012
Acknowledgements
The corresponding author acknowledge the support of FONDAP-CONICYT Chile 15130009, FONDECYT Chile 1171230 and RIMISP - IDCR Canada.
About this article
Cite this article
Aroca, P., Azzoni, C. & Sarrias, M. Regional concentration and national economic growth in Brazil and Chile. Lett Spat Resour Sci 11, 343–359 (2018). https://doi.org/10.1007/s12076-018-0217-2
Received:

Accepted:

Published:

Issue Date:
Keywords
Concentration

Growth

Brazil

Chile

Regional policy
JEL Classification