Abstract
Cholangiocarcinoma is an aggressive type of liver cancer with few effective treatment options. Therefore, there is great need to better understand the biology of this malignancy to further development of novel treatment options. Cancer stem cells (CSCs) are thought to the underlying reason for cancer initiation, metastasis, and relapse. However, due to their elusive character and differences in identification among different types of cancer, it remains a challenge to study such cells. Additionally, characterization of the tumor microenvironment such as interactions with immune cells remain largely unknown. Here, we employ a fluorescent reporter system to track and isolate stem-like cancer cells of cholangiocarcinoma cell lines. Following verification of a stem-like signature (upregulated expression of stemness markers, resistance to chemotherapy, increased spheroid formation, and tumorigenesis capabilities despite inoculation of a small number of cells), we analyzed the interaction of these cells with macrophages via direct and indirect coculture assays. We noted direct coculturing increased stemness among CSC populations and induced both M1 (CD80 and HLA-DR) and M2 (CD163) tumor associated macrophage polarization. These studies suggest that there is a bi-directional crosstalk between macrophages and CSCs that promotes stemness renewal and tumor associated macrophage polarization.
Graphical Abstract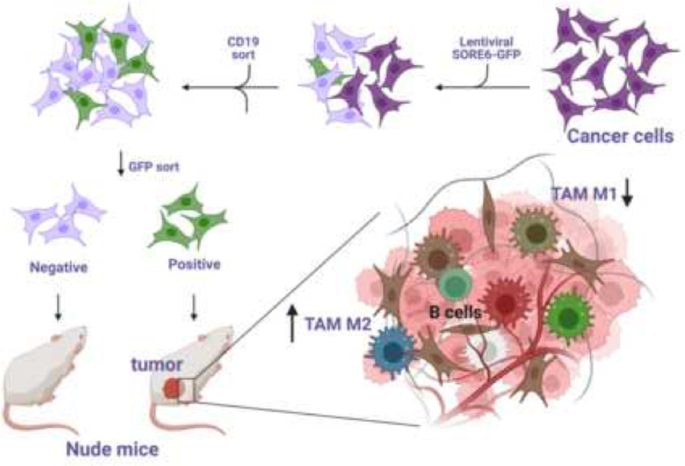 Data Availability
The processed RNA-seq dataset were deposited at the NCBI's Gene expression omnibus (GEO) data repository. The remaining data are present in the article, Supplementary Materials or available from the authors upon reasonable request.
References
Bertuccio, P., et al. (2019). Global trends in mortality from intrahepatic and extrahepatic cholangiocarcinoma. Journal of Hepatology, 71(1), 104–114.

Beaufrère, A., Calderaro, J., & Paradis, V. (2021). Combined hepatocellular-cholangiocarcinoma: An update. Journal of Hepatology, 74(5), 1212–1224.

Andersen, J. B., et al. (2012). Genomic and genetic characterization of cholangiocarcinoma identifies therapeutic targets for tyrosine kinase inhibitors. Gastroenterology, 142(4), 1021–1031.e15.

Blechacz, B., & Gores, G. J. (2008). Cholangiocarcinoma: Advances in pathogenesis, diagnosis, and treatment. Hepatology, 48(1), 308–321.

Lapidot, T., et al. (1994). A cell initiating human acute myeloid leukaemia after transplantation into SCID mice. Nature, 367(6464), 645–648.

Bonnet, D., & Dick, J. E. (1997). Human acute myeloid leukemia is organized as a hierarchy that originates from a primitive hematopoietic cell. Nature Medicine, 3(7), 730–737.

Raggi, C., et al. (2017). Cholangiocarcinoma stem-like subset shapes tumor-initiating niche by educating associated macrophages. Journal of Hepatology, 66(1), 102–115.

Al-Hajj, M., et al. (2003). Prospective identification of tumorigenic breast cancer cells. Proceedings of the National Academy of Sciences of the United States of America, 100(7), 3983–3988.

Clevers, H. (2011). The cancer stem cell: Premises, promises and challenges. Nature Medicine, 17(3), 313–319.

Valle, J. W., et al. (2017). New horizons for precision medicine in biliary tract cancers. Cancer Discovery, 7(9), 943–962.

Magee, J. A., Piskounova, E., & Morrison, S. J. (2012). Cancer stem cells: Impact, heterogeneity, and uncertainty. Cancer Cell, 21(3), 283–296.

Iliopoulos, D., et al. (2011). Inducible formation of breast cancer stem cells and their dynamic equilibrium with non-stem cancer cells via IL6 secretion. Proceedings of the National Academy of Sciences of the United States of America, 108(4), 1397–1402.

Chaffer, C. L., et al. (2013). Poised chromatin at the ZEB1 promoter enables breast cancer cell plasticity and enhances tumorigenicity. Cell, 154(1), 61–74.

Tang, B., et al. (2015). A flexible reporter system for direct observation and isolation of cancer stem cells. Stem Cell Reports, 4(1), 155–169.

Sharma, V. P., et al. (2021). Live tumor imaging shows macrophage induction and TMEM-mediated enrichment of cancer stem cells during metastatic dissemination. Nature Communications, 12(1), 7300.

Xia, T., et al. (2022). Immune cell atlas of cholangiocarcinomas reveals distinct tumor microenvironments and associated prognoses. Journal of Hematology & Oncology, 15(1), 37.

Radharani, N.N.V., A.S. Yadav, R. Nimma, T.V.S. Kumar, A. Bulbule, V. Chanukuppa, D. Kumar, S. Patnaik, S. Rapole, & Kundu, G. C. (2022) Tumor-associated macrophage derived IL-6 enriches cancer stem cell population and promotes breast tumor progression via Stat-3 pathway. Cancer Cell International, 22(1), 122.

Diggs, L. P., et al. (2021). CD40-mediated immune cell activation enhances response to anti-PD-1 in murine intrahepatic cholangiocarcinoma. Journal of Hepatology, 74(5), 1145–1154.

Wang, X., Lee, J., & Xie, C. (2022). Autophagy regulation on Cancer stem cell maintenance, metastasis, and therapy resistance. Cancers, 14(2).

Chemotherapy for Bile Duct Cancer (Cholangiocarcinoma). 2023, Memorial Sloan Kettering Cancer Center: mskcc.org.

Gomez, K. E., et al. (2020). Cancer cell CD44 mediates macrophage/monocyte-driven regulation of head and neck Cancer stem cells. Cancer Research, 80(19), 4185–4198.

Rhein, P., et al. (2010). CD11b is a therapy resistance- and minimal residual disease-specific marker in precursor B-cell acute lymphoblastic leukemia. Blood, 115(18), 3763–3771.

Prasetyanti, P. R., & Medema, J. P. (2017). Intra-tumor heterogeneity from a cancer stem cell perspective. Molecular Cancer, 16(1), 41.

Wu, M., et al. (2022). Cancer stem cell regulated phenotypic plasticity protects metastasized cancer cells from ferroptosis. Nature Communications, 13(1), 1371.

Wang, X., et al. (2021). Stem cell factor SOX2 confers Ferroptosis resistance in lung Cancer via upregulation of SLC7A11. Cancer Research, 81(20), 5217–5229.

Li, J., et al. (2020). Ferroptosis: Past, present and future. Cell Death & Disease, 11(2), 88.

Wang, T., et al. (2018). JAK/STAT3-regulated fatty acid β-oxidation is critical for breast Cancer stem cell self-renewal and Chemoresistance. Cell Metabolism, 27(1), 136–150.e5.

Li, J., et al. (2017). Lipid desaturation is a metabolic marker and therapeutic target of ovarian Cancer stem cells. Cell Stem Cell, 20(3), 303–314.e5.

Chen, C. L., et al. (2016). NANOG metabolically reprograms tumor-initiating stem-like cells through tumorigenic changes in oxidative phosphorylation and fatty acid metabolism. Cell Metabolism, 23(1), 206–219.

Martin-Serrano, M. A., et al. (2022). Novel microenvironment-based classification of intrahepatic cholangiocarcinoma with therapeutic implications. Gut.

Cheng, K., et al. (2022). Tumor-associated macrophages in liver cancer: From mechanisms to therapy. Cancer Communications, 42(11), 1112–1140.

Yuan, D., et al. (2019). Systematic expression analysis of ligand-receptor pairs reveals important cell-to-cell interactions inside glioma. Cell Communication and Signaling: CCS, 17(1), 48.

Wei, R., et al. (2021). S100 calcium-binding protein A9 from tumor-associated macrophage enhances cancer stem cell-like properties of hepatocellular carcinoma. International Journal of Cancer, 148(5), 1233–1244.

Lu, H., et al. (2014). A breast cancer stem cell niche supported by juxtacrine signalling from monocytes and macrophages. Nature Cell Biology, 16(11), 1105–1117.

Sainz, B., Jr., et al. (2015). Microenvironmental hCAP-18/LL-37 promotes pancreatic ductal adenocarcinoma by activating its cancer stem cell compartment. Gut, 64(12), 1921–1935.

Shao, X. J., et al. (2019). Inhibition of M2-like macrophages by all-trans retinoic acid prevents cancer initiation and stemness in osteosarcoma cells. Acta Pharmacologica Sinica, 40(10), 1343–1350.
Funding
C.X is supported by the Physician-Scientist Early Investigator Program at National Cancer Institute, National Institute of Health (ZIA BC 011888).
Ethics declarations
Conflict of Interest
The authors declare no conflict of interest.
Ethics Approval
Not applicable.
Consent to Participate
Not applicable.
Consent for Publication
Not applicable.
Additional information
Publisher's Note
Springer Nature remains neutral with regard to jurisdictional claims in published maps and institutional affiliations.
Supplementary Informations
Supplemental Fig. S1. SORE6 stem cell reporter schematic. Supplemental Fig. S2. GSEA analysis of Hippo, NOTCH, cholesterol metabolism, ERBB pathway of upregulated genes in SORE6+ HuCC-T1 cells in comparison to SORE6- cells. Supplemental Fig. S3. Cytokine analysis of conditioned mediums collected from indirect coculturing MV-4-11 with or without SORE6± cells. (PPTX 1139 kb)
Supplemental Table S1. Primer list used in the study. (XLSX 10 kb)
Supplemental Table S2. GSEA lists from SORE6+ and SORE6- HuCC-T1 cells. (XLSX 21 kb)
Rights and permissions
Open Access This article is licensed under a Creative Commons Attribution 4.0 International License, which permits use, sharing, adaptation, distribution and reproduction in any medium or format, as long as you give appropriate credit to the original author(s) and the source, provide a link to the Creative Commons licence, and indicate if changes were made. The images or other third party material in this article are included in the article's Creative Commons licence, unless indicated otherwise in a credit line to the material. If material is not included in the article's Creative Commons licence and your intended use is not permitted by statutory regulation or exceeds the permitted use, you will need to obtain permission directly from the copyright holder. To view a copy of this licence, visit http://creativecommons.org/licenses/by/4.0/.
About this article
Cite this article
Wang, X., Golino, J.L., Hawk, N.V. et al. Reciprocal Interaction of Cancer Stem Cells of Cholangiocarcinoma with Macrophage. Stem Cell Rev and Rep 19, 2013–2023 (2023). https://doi.org/10.1007/s12015-023-10557-7
Accepted:

Published:

Issue Date:

DOI: https://doi.org/10.1007/s12015-023-10557-7
Keywords