Abstract
Magnesium is an element of great importance functioning because of its association with many cellular physiological functions. The magnesium content of foods is gradually decreasing due to food processing, and magnesium supplementation for healthy living has become increasingly popular. However, data is very limited on the bioavailability of various magnesium preparations. The aim of this study is to investigate the bioavailability of five different magnesium compounds (magnesium sulfate, magnesium oxide, magnesium acetyl taurate, magnesium citrate, and magnesium malate) in different tissues. Following a single dose 400 mg/70 kg magnesium administration to Sprague Dawley rats, bioavailability was evaluated by examining time-dependent absorption, tissue penetration, and the effects on the behavior of the animals. Pharmacokinetically, the area under the curve calculation is highest in the magnesium malate. The magnesium acetyl taurate was found to have the second highest area under the curve calculation. Magnesium acetyl taurate was rapidly absorbed, able to pass through to the brain easily, had the highest tissue concentration level in the brain, and was found to be associated with decreased anxiety indicators. Magnesium malate levels remained high for an extended period of time in the serum. The commonly prescribed dietary supplements magnesium oxide and magnesium citrate had the lowest bioavailability when compared to our control group. More research is needed to investigate the bioavailability of magnesium malate and acetyl taurate compounds and their effects in specific tissues and on behavior.
Access options
Buy single article
Instant access to the full article PDF.
USD 39.95
Price includes VAT (USA)
Tax calculation will be finalised during checkout.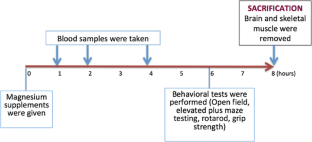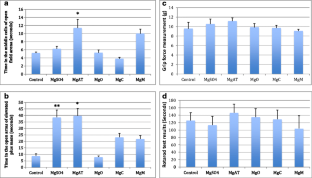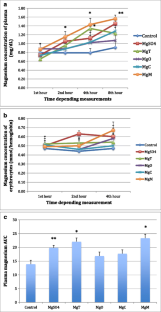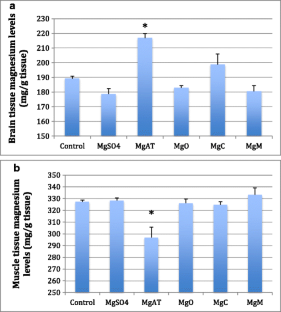 References
1.

Maguire ME, Cowan JA (2002) Magnesium chemistry and biochemistry. Biometals : an international journal on the role of metal ions in biology, biochemistry, and medicine 15(3):203–210

2.

Swaminathan R (2003) Magnesium metabolism and its disorders. The Clinical biochemist Reviews / Australian Association of Clinical Biochemists 24(2):47–66

3.

Elin RJ (2010) Assessment of magnesium status for diagnosis and therapy. Magnes Res 23(4):S194–S198

4.

Jahnen-Dechent W, Ketteler M (2012) Magnesium basics. Clin Kidney J 5(Suppl 1):i3–i14

5.

Scott D, Blizzard L, Fell J, Giles G, Jones G (2010) Associations between dietary nutrient intake and muscle mass and strength in community-dwelling older adults: the Tasmanian Older Adult Cohort study. J Am Geriatr Soc 58(11):2129–2134

6.

Cunningham J, Rodriguez M, Messa P (2012) Magnesium in chronic kidney disease stages 3 and 4 and in dialysis patients. Clin Kidney J 5(Suppl 1):i39–i51

7.

Boyle NB, Lawton C, Dye L (2017) The effects of magnesium supplementation on subjective anxiety and stress—a systematic review. Nutrients 9(5)

8.

Verhas M, de la Gueronniere V, Grognet JM, Paternot J, Hermanne A, Van den Winkel P, Gheldof R, Martin P, Fantino M, Rayssiguier Y (2002) Magnesium bioavailability from mineral water. A study in adult men. Eur J Clin Nutr 56(5):442–447

9.

Coudray C, Bellanger J, Vermorel M, Sinaud S, Wils D, Feillet-Coudray C, Brandolini M, Bouteloup-Demange C, Rayssiguier Y (2003) Two polyol, low digestible carbohydrates improve the apparent absorption of magnesium but not of calcium in healthy young men. J Nutr 133(1):90–93

10.

Rude RK (1993) Magnesium metabolism and deficiency. Endocrinol Metab Clin N Am 22(2):377–395

11.

c (1997) National research, DRI (dietary reference intakes) for calcium, phosphorus, magnesium, vitamin D, and fluoride. National Academy Press, Washington

12.

Mayer A-M (1997) Historical changes in the mineral content of fruits and vegetables. Br Food J 99(6):207–211

13.

Thomas D (2007) The mineral depletion of foods available to us as a nation (1940-2002)—a review of the 6th edition of McCance and Widdowson. Nutr Health 19(1–2):21–55

14.

Fawcett WJ, Haxby EJ, Male DA (1999) Magnesium: physiology and pharmacology. Br J Anaesth 83(2):302–320

15.

Coudray C, Rambeau M, Feillet-Coudray C, Gueux E, Tressol JC, Mazur A, Rayssiguier Y (2005) Study of magnesium bioavailability from ten organic and inorganic Mg salts in Mg-depleted rats using a stable isotope approach. Magnes Res 18(4):215–223

16.

Bertinato J, Plouffe LJ, Lavergne C, Ly C (2014) Bioavailability of magnesium from inorganic and organic compounds is similar in rats fed a high phytic acid diet. Magnes Res 27(4):175–185

17.

Schuchardt JP, Hahn A (2017) Intestinal absorption and factors influencing bioavailability of magnesium—an update. Current nutrition and food science 13(4):260–278

18.

Bohn T (2008) Dietary factors influencing magnesium absorption in humans. Curr Nutr Food Sci 4(1):53–72

19.

Schuette SA, Lashner BA, Janghorbani M (1994) Bioavailability of magnesium diglycinate vs magnesium oxide in patients with ileal resection. JPEN J Parenter Enteral Nutr 18(5):430–435

20.

Casarrubea M, Sorbera F, Crescimanno G (2009) Multivariate data handling in the study of rat behavior: an integrated approach. Behav Res Methods 41(3):772–781

21.

Handley SL, Mithani S (1984) Effects of alpha-adrenoceptor agonists and antagonists in a maze-exploration model of 'fear'-motivated behaviour. Naunyn Schmiedeberg's Arch Pharmacol 327(1):1–5

22.

Meyer OA, Tilson HA, Byrd WC, Riley MT (1979) A method for the routine assessment of fore- and hindlimb grip strength of rats and mice. Neurobehav Toxicol 1(3):233–236

23.

Dunham NW, Miya TS (1957) A note on a simple apparatus for detecting neurological deficit in rats and mice. Journal of the American Pharmaceutical Association American Pharmaceutical Association 46(3):208–209

24.

Walker AF, Marakis G, Christie S, Byng M (2003) Mg citrate found more bioavailable than other Mg preparations in a randomised, double-blind study. Magnes Res 16(3):183–191

25.

Morris ME, LeRoy S, Sutton SC (1987) Absorption of magnesium from orally administered magnesium sulfate in man. J Toxicol Clin Toxicol 25(5):371–382

26.

Bohmer T, Roseth A, Holm H, Weberg-Teigen S, Wahl L (1990) Bioavailability of oral magnesium supplementation in female students evaluated from elimination of magnesium in 24-hour urine. Magnesium and trace elements 9(5):272–278

27.

Morais JB, Severo JS, Santos LR, de Sousa Melo SR, de Oliveira Santos R, de Oliveira AR, Cruz KJ, do Nascimento Marreiro D (2017) Role of magnesium in oxidative stress in individuals with obesity. Biol Trace Elem Res 176(1):20–26

28.

Murck H, Steiger A (1998) Mg2+ reduces ACTH secretion and enhances spindle power without changing delta power during sleep in men—possible therapeutic implications. Psychopharmacology 137(3):247–252

29.

Laarakker MC, van Lith HA, Ohl F (2011) Behavioral characterization of A/J and C57BL/6J mice using a multidimensional test: association between blood plasma and brain magnesium-ion concentration with anxiety. Physiol Behav 102(2):205–219

30.

Poleszak E, Szewczyk B, Kedzierska E, Wlaz P, Pilc A, Nowak G (2004) Antidepressant- and anxiolytic-like activity of magnesium in mice. Pharmacol Biochem Behav 78(1):7–12

31.

Iezhitsa IN, Spasov AA, Kharitonova MV, Kravchenko MS (2011) Effect of magnesium chloride on psychomotor activity, emotional status, and acute behavioural responses to clonidine, d-amphetamine, arecoline, nicotine, apomorphine, and L-5-hydroxytryptophan. Nutr Neurosci 14(1):10–24

32.

Magaldi M, Moltoni L, Biasi G, Marcolongo R (2000) Changes in intracellular calcium and magnesium ions in the physiopathology of the fybromyalgia syndrome. Minerva Med 91(7–8):137–140

33.

Abraham GE, Flechas JD (1992) Management of fibromyalgia: rationale for the use of magnesium and malic acid. Journal of Nutritional Medicine 3(1):49–59

34.

Dominguez LJ, Barbagallo M, Lauretani F, Bandinelli S, Bos A, Corsi AM, Simonsick EM, Ferrucci L (2006) Magnesium and muscle performance in older persons: the InCHIANTI study. Am J Clin Nutr 84(2):419–426

35.

Jahnen-Dechent W, Ketteler M (2012) Magnesium basics. Clin Kidney J 5(Suppl_1):i3–i14
Ethics declarations
The experiments were carried out according to the Guiding Principles in the Use of Experimental Animals and approved by the Animal Care and Use Committee of the Dokuz Eylul University, School of Medicine.
Conflict of Interest
The authors declare that they have no conflict of interest.
About this article
Cite this article
Uysal, N., Kizildag, S., Yuce, Z. et al. Timeline (Bioavailability) of Magnesium Compounds in Hours: Which Magnesium Compound Works Best?. Biol Trace Elem Res 187, 128–136 (2019). https://doi.org/10.1007/s12011-018-1351-9
Received:

Accepted:

Published:

Issue Date:
Keywords
Magnesium acetyl taurate

Magnesium malate

Magnesium citrate

Magnesium oxide

Magnesium sulfate

Anxiety

Brain

Muscle