Disorders of the Optic Nerve in Mitochondrial Cytopathies: New Ideas on Pathogenesis and Therapeutic Targets
Open Access
Neuro-Ophthalmology (G Plant, Section Editor)
Abstract
Mitochondrial cytopathies are a heterogeneous group of human disorders triggered by disturbed mitochondrial function. This can be due to primary mitochondrial DNA mutations or nuclear defects affecting key components of the mitochondrial machinery. Optic neuropathy is a frequent disease manifestation and the degree of visual failure can be profound, with a severe impact on the patient's quality of life. This review focuses on the major mitochondrial disorders exhibiting optic nerve involvement, either as the defining clinical feature or as an additional component of a more extensive phenotype. Over the past decade, significant progress has been achieved in our basic understanding of Leber hereditary optic neuropathy and autosomal-dominant optic atrophy—the two classical paradigms for these mitochondrial optic neuropathies. There are currently limited treatments for these blinding ocular disorders and, ultimately, the aim is to translate these major advances into tangible benefits for patients and their families.
Keywords
Dominant optic atrophy 
Haplogroup 
Hereditary spastic paraplegia, Heteroplasmy 
Idebenone 
Leber hereditary optic neuropathy 
Mitochondrial DNA 
Mitofusin 
Multiple sclerosis 
Neuroprotection 
Retinal ganglion cell 
Optic nerve 
Mitochondrial cytopathies 
Introduction
Mitochondria are found in all nucleated cells and reflecting this ubiquitous presence, patients with mitochondrial cytopathies often manifest a diverse combination of tissue and organ involvement [
1
]. However, for reasons that still remain unclear, mitochondrial dysfunction has a marked predilection for the optic nerve, the latter being affected in about half of all patients with confirmed mitochondrial disease (Fig. 
1
). Irrespective of the molecular pathways involved, remarkably, these mitochondrial optic neuropathies all share the same pathological features—selective degeneration of the retinal ganglion cell (RGC) layer, leading to progressive axonal loss and the onset of visual failure [
2
]. In this review, recent advances in our understanding of this important group of disorders are discussed, in addition to promising therapeutic strategies.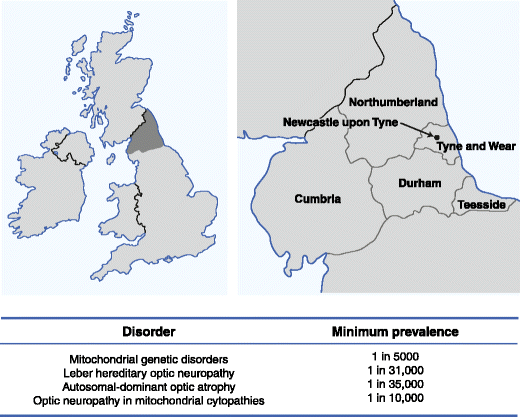 Leber Hereditary Optic Neuropathy
Mitochondrial Encephalomyopathies
The mitochondrial encephalomyopathies encompass several distinct phenotypes such as mitochondrial encephalomyopathy, lactic acidosis, and stroke-like episodes (MELAS), myoclonic epilepsy and ragged-red fibers (MERRF), maternally inherited Leigh syndrome (MILS), mitochondrial neurogastrointestinal encephalomyopathy (MNGIE), and the Kearns-Sayre syndrome (KSS) [1, 17]. Although variable and not a disease-defining feature, the occurrence of optic atrophy is well described in this group of patients, exacerbating the already considerable disease burden [18]. Additional studies are required to determine the true prevalence of both clinical and subclinical optic neuropathy in these mitochondrial encephalomyopathies, and whether specific mtDNA mutations or phenotypes are linked with an increased risk of optic nerve involvement.
Nuclear Mitochondrial Disorders
Autosomal-Dominant Optic Atrophy
Mechanisms Contributing to RGC Loss
The final pathological outcome in mitochondrial optic neuropathies is apoptotic RGC loss and several disease pathways can contribute to this irreversible process. Although a greater emphasis has been placed on the experimental data obtained for LHON and DOA, similar mechanisms have also been shown to operate in other mitochondrial cytopathies.
Why Are RGCs Selectively Vulnerable?
One factor that could explain this tissue-specific vulnerability is the rather unusual anatomical peculiarity encountered at the lamina cribrosa, where RGC axons first acquire their myelin sheaths. This transition is marked by a sharp differential gradient, with a much higher density of mitochondria and voltage-gated sodium channels in the pre-laminar unmyelinated segment of the optic nerve [42, 43]. These physiological adaptations facilitate the efficient propagation of action potentials in the absence of an insulating myelin covering. The pre-laminar region therefore represents a weak link, significantly more exposed to the disadvantageous consequences of, even subtle, mitochondrial biochemical defects.
Histopathological studies of optic nerves retrieved from two patients with LHON, one harboring the m.3460 G > A mutation and the other the m.11778 G > A mutation, have revealed some interesting observations on the susceptibility of specific RGC populations (reviewed in [2] and [15]). A prominent loss of smaller-caliber axons was observed, corresponding to the parvocellular RGC population, whereas the larger-caliber magnocellular RGCs were relatively preserved. These ultrastructural findings were subsequently confirmed with higher-resolution transmission electron microscopy. Parvocellular RGCs are a major component of the papillomacular bundle and this greater vulnerability to impaired mitochondrial oxidative phosphorylation could be related to their relatively smaller cross-sectional areas, the latter further exacerbating axonal stasis in conditions of sustained metabolic stress.
The maintenance of a higher mitochondrial concentration in the pre-laminar region also highlights the central role played by the cytoskeleton, especially the microtubule network, in channeling mitochondria to their appropriate cellular locations. Axonal transport in highly specialized neuronal populations such as RGCs is critically dependent on these mitochondrial-cytoskeletal interactions (reviewed in [2] and [15]). These can be adversely affected either by an underlying mitochondrial respiratory chain defect, or by a primary disturbance in microtubule assembly—the pathological hallmark of the HSP group of disorders [2]. Optic atrophy is well described in HSP-7 and it is likely that optic nerve involvement remains an under-reported feature in other HSP genetic subtypes.
Therapeutic Interventions
Conclusions
A number of recurring disease mechanisms have been identified that contribute to RGC loss in mitochondrial optic neuropathies. These provide a unique opportunity for targeted therapeutic interventions aimed not only at improving visual function, but also the neurological deficits seen in the more severe mitochondrial cytopathies. However, despite these major advances, the risk factors underpinning the selective vulnerability of RGCs have yet to be clarified. Research in this area has been severely limited by the lack of diseased human optic nerves but hopefully, with the development of faithful animal models and more advanced biotechnological tools, we will soon be in a position to disentangle these fundamental research questions both at the structural and molecular levels.
Notes
Acknowledgments
P. Yu-Wai-Man is a Medical Research Council (MRC, UK) Clinician Scientist in Neuro-Ophthalmology and P.F. Chinnery is a Wellcome Trust Senior Fellow in Clinical Science. P.F. Chinnery also receives funding from Parkinson's UK, the MRC Translational Muscle Centre, and the UK NIHR Biomedical Research Centre in Ageing and Age-related Disease.
Disclosure
No potential conflicts of interest relevant to this article were reported.
Open Access
This article is distributed under the terms of the Creative Commons Attribution License which permits any use, distribution, and reproduction in any medium, provided the original author(s) and the source are credited.
References
Papers of particular interest, published recently, have been highlighted as: • Of importance •• Of major importance
Copyright information
© The Author(s) 2012
Open AccessThis article is distributed under the terms of the Creative Commons Attribution 2.0 International License (https://creativecommons.org/licenses/by/2.0), which permits unrestricted use, distribution, and reproduction in any medium, provided the original work is properly cited.