Zusammenfassung
In der pränatalen Diagnostik kommen aktuell neben zytogenetischen Standardverfahren vermehrt molekulare Methoden zum Einsatz. Während die molekulare Zytogenetik im Rahmen der Fluoreszenz-in-situ-Hybridisierungs(FISH)-Technik seit Jahren routinemäßig in der invasiven vorgeburtlichen Diagnostik eingesetzt wird, wird die Array-Diagnostik gerade erst in dieses Feld eingeführt. FISH wird pränatal meist zur Bestimmung der Größe eines Zellmosaiks, zum Mikrodeletionsausschluss oder zur Abklärung von strukturellen Chromosomenaberrationen durchgeführt. Die Array-CGH ("comparative genomic hybridization", komparative genomische Hybridisierung) wird eher zurückhaltend verwendet, zumeist zur weiterführenden Abklärung bei sonographisch auffälligen Feten und zur Bruchpunktbestimmung bei zytogenetisch nachgewiesenen chromosomalen Umbauten. In Zukunft wird die Array-CGH sicher noch weiter an Bedeutung gewinnen, stellt aber bereits jetzt schon eine wertvolle Ergänzung zu den diagnostischen Verfahren der Zytogenetik und der bisher verwendeten molekulargenetischen Methoden dar.
Abstract
In addition to the widely used cytogenetic standard approaches, molecular methods are being increasingly used in prenatal diagnostics. While molecular cytogenetics, e.g., fluorescence in situ hybridization (FISH), has been used for many years in invasive prenatal diagnostics, array-based diagnostics are only now being implemented in this field. FISH is prenatally applied for determination of size of a mosaic cell clone, for exclusion of a microdeletion, or for further clarification of structural chromosomal aberrations. Array CGH (comparative genomic hybridization) is used more conservatively in prenatal diagnostics, mostly for further clarification in sonographically abnormal fetuses and to diagnose breakpoints in cases with proven chromosomal changes. In the future, array CGH will gain further importance, but already provides a valuable supplement to the diagnostic approaches of the cytogenetic and the molecular-based methods.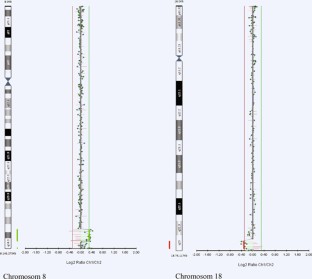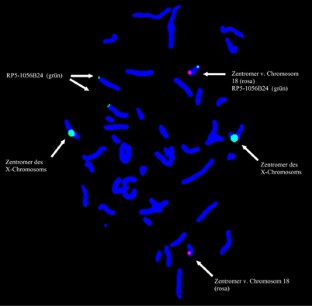 Literatur
1.

Bhatt S, Moradkhani K, Mrasek K et al (2009) Breakpoint mapping and complete analysis of meiotic segregation patterns in three men heterozygous for paracentric inversions. Eur J Hum Genet 17:44–50

2.

Chen EZ, Chiu RWK, Sun H et al (2011) Noninvasive prenatal diagnosis of fetal trisomy 18 and trisomy 13 by maternal plasma DNA sequencing. PLoS ONE 6(7):e21791. doi: 10.1371/journal.pone.0021791

3.

Chiu RWK, Chan KCA, Gao Y et al (2008) Noninvasive prenatal diagnosis of fetal chromosomal aneuploidy by massively parallel genomic sequencing of DNA in maternal plasma. PNAS 105:20458–20463

4.

Conlin LK, Thiel BD, Bonnemann CG et al (2010) Mechanism of mosaicism, chimerism and uniparental disomy identified by single nucleotide polymorphism array analysis. Hum Mol Genet 19(7):1263–1275

5.

Ravel TJL de, Devriendt K, Fryns JP, Vermeesch JR (2007) What's new in karyotyping? The move towards array comparative genomic hybridization (CGH). Eur J Pediatr 166:637–643

6.

Donaghue C, Roberts A, Mann K, Ogilvie CM (2003) Development and targeted application of a rapid QF-PCR test for sex chromosome imbalance. Prenat Diagn 23:2001–210

7.

Eiben B, Claussen U et al (1998) Leitlinien zum "pränatalen Schnelltest (FISH)" des Berufsverbands Medizinische Genetik e. V. und der Deutschen Gesellschaft für Humangenetik e. V. Med Genet 10:319

8.

Evangelidou P, Sismani C, Ioannides M et al (2010) Clinical application of whole-genome array CGH during prenatal diagnosis: Study of 25 selected pregnancies with abnormal ultrasound findings or apparently balanced structural aberrations. Mol Cytogenet 3:24

9.

Hackelöer BJ (2006) Wie notwendig ist invasive Pränataldiagnostik? Gynakologe 39:878–882

10.

Kallioniemi A, Kallioniemi OP, Sudar D et al (1992) Comparative genomic hybridization for molecular cytogenetic analysis of solid tumors. Science 258 (5083):818–821

11.

Liehr T (2008) Multicolor-fluorescence in situ hybridization – Molecular cytogenetics in nowadays diagnostics and research. Med Genet 20:374–378

12.

Liehr T (2011) Multicolor FISH literature. http://www.med.uni-jena.de/fish/mFISH/mFISHlit.htm. Zugegriffen: 08/2008

13.

Liehr T (2011) Small supernumerary marker chromosome (sSMC) homepage. http://www.med.uni-jena.de/fish/sSMC/00START.htm

14.

Pinkel D, Segraves R, Sudar D et al (1998) High resolution analysis of DNA copy number variation using comparative genomic hybridization to microarrays. Nat Genet 20(2):207–211

15.

Schröck E, Frensel A, Gerlach E et al (2008) Fluoreszenz-in situ-Hybridisierung in der humangenetischen diagnostik. Med Genet 20:361–366

16.

Weise A, Liehr T (2008) Fluorescence in situ hybridization for prenatal screening of chromosomal aneuploidies. Expert Rev Mol Diagn 8:355–357
Danksagung
Teilweise unterstützt durch die Else Kröner-Fresenius-Stiftung (TL).
Interessenkonflikt
Der korrespondierende Autor gibt an, dass kein Interessenkonflikt besteht.
About this article
Cite this article
Westrich, V., Liehr, T. Molekularzytogenetische Methoden und Array-Diagnostik in der Pränatalmedizin. medgen 23, 463–468 (2011). https://doi.org/10.1007/s11825-011-0308-6
Schlüsselwörter
Fluoreszenz-in-situ-Hybridisierung (FISH)

Chromosomen

Zytogenetik

Array-CGH

DNA-Microarrays
Keywords
Fluorescence in situ hybridization (FISH)

Chromosomes

Cytogenetics

Array comparative genomic hybridization

DNA microarrays