Abstract
Insufficient analgesia affects around 50% of emergency department patients. The use of a protocol helps to reduce the risk of oligoanalgesia in this context. Our objective was to describe the feasibility and efficacy of a multimodal analgesia protocol (combining paracetamol, oxycodone, and inhaled methoxyflurane) initiated by triage nurse. We performed a prospective, observational study in an emergency department (Grenoble Alpes University Hospital, France) between December 2017 and April 2018. Adult non-severe trauma patients with a numerical pain rating scale (NRS) score ≥ 4 were included. The primary efficacy criterion was the proportion of patients with an NRS score ≤ 3 at 15 min. Pain intensity was measured for 60 min and during radiography. Data on adverse events and satisfaction were recorded. A total of 200 adult patients were included (median [interquartile range (IQR)] age: 32 [23–49] years; 126 men (63%)). Sixty-six patients (33%) reported an NRS score ≤ 3 at 15 min. The time required to achieve a decrease of at least 2 points in the NRS score was 10 (5–20) min. The median [IQR] pain intensity was 4 [2–5] before radiography and 4 [2–6] during radiography. Adverse events were frequent (n = 128, 64%). No serious adverse events were reported. The patients and caregivers reported good levels of satisfaction. The administration of a nurse-driven multimodal analgesia protocol (combining paracetamol, oxycodone, and methoxyflurane) was feasible on admission to the emergency department. It rapidly produced long-lasting analgesia in adult trauma patients.
Trial registration: NCT03380247
Access options
Buy single article
Instant access to the full article PDF.
US$ 39.95
Tax calculation will be finalised during checkout.
Subscribe to journal
Immediate online access to all issues from 2019. Subscription will auto renew annually.
US$ 79
Tax calculation will be finalised during checkout.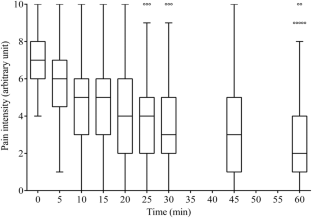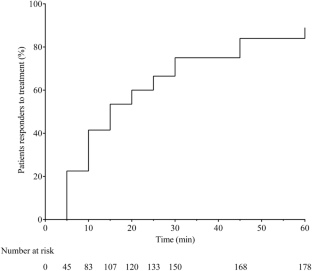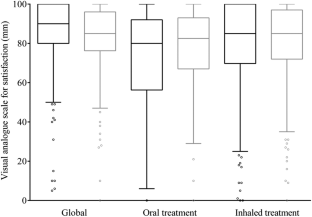 References
1.

Cordell WH, Keene KK, Giles BK et al (2002) The high prevalence of pain in emergency medical care. Am J Emerg Med 20(3):165–169

2.

Todd KH, Ducharme J, Choiniere M et al (2007) Pain in the emergency department: results of the pain and emergency medicine initiative (PEMI) multicenter study. J Pain 8(6):460–466

3.

Guéant S, Taleb A, Borel-Kühner J et al (2011) Quality of pain management in the emergency department: results of a multicentre prospective study. Eur J Anaesthesiol 28(2):97–105

4.

Rupp T, Delaney KA (2004) Inadequate analgesia in emergency medicine. Ann Emerg Med 43(4):494–503

5.

Motov SM, Khan AN (2008) Problems and barriers of pain management in the emergency department: are we ever going to get better? J Pain Res 2:5–11

6.

Dale J, Bjørnsen LP (2015) Assessment of pain in a Norwegian Emergency Department. Scand J Trauma Resusc Emerg Med 29(23):86

7.

Pollack CV, Diercks DB, Thomas SH et al (2016) Patient-reported outcomes from a national, prospective, observational study of emergency department acute pain management with an intranasal nonsteroidal anti-inflammatory drug, opioids, or both. Acad Emerg Med 23(3):331–341

8.

Mills AM, Shofer FS, Chen EH, Hollander JE, Pines JM (2009) The association between emergency department crowding and analgesia administration in acute abdominal pain patients. Acad Emerg Med 16(7):603–608

9.

Barksdale AN, Hackman JL, Williams K, Gratton MC (2016) ED triage pain protocol reduces time to receiving analgesics in patients with painful conditions. Am J Emerg Med 34(12):2362–2366

10.

Pierik JGJ, Berben SA, Ijzerman MJ et al (2016) A nurse-initiated pain protocol in the ED improves pain treatment in patients with acute musculoskeletal pain. Int Emerg Nurs 27:3–10

11.

Ridderikhof ML, Schyns FJ, Schep NW, Lirk P, Hollmann MW, Goslings JC (2016) Emergency department pain management in adult patients with traumatic injuries before and after implementation of a nurse-initiated pain treatment protocol utilizing fentanyl for severe pain. J Emerg Med 52(4):417–425

12.

Franceschi F, Marsiliani D, Alesi A et al (2015) A simplified way for the urgent treatment of somatic pain in patients admitted to the emergency room: the SUPER algorithm. Intern Emerg Med 10(8):985–992

13.

Fry M, Holdgate A (2002) Nurse-initiated intravenous morphine in the emergency department: efficacy, rate of adverse events and impact on time to analgesia. Emerg Med 14(3):249–254

14.

Viallon A, Marjollet O, Guyomarch P et al (2007) Analgesic efficacy of orodispersible paracetamol in patients admitted to the emergency department with an osteoarticular injury. Eur J Emerg Med 14(6):337–342

15.

Finn JC, Rae A, Gibson N, Swift R, Watters T, Jacobs IG (2012) Reducing time to analgesia in the emergency department using a nurse-initiated pain protocol: a before-and-after study. Contemp Nurse 43(1):29–37

16.

Stalnikowicz R, Mahamid R, Kaspi S, Brezis M (2005) Undertreatment of acute pain in the emergency department: a challenge. Int J Qual Health Care 17(2):173–176

17.

Dayan AD (2016) Analgesic use of inhaled methoxyflurane: evaluation of its potential nephrotoxicity. Hum Exp Toxicol 35(1):91–100

18.

Porter KM, Siddiqui MK, Sharma I, Dickerson S, Eberhardt A (2018) Management of trauma pain in the emergency setting: low-dose methoxyflurane or nitrous oxide? A systematic review and indirect treatment comparison. J Pain Res 11:11–21

19.

Coffey F, Wright J, Hartshorn S et al (2014) STOP!: a randomised, double-blind, placebo-controlled study of the efficacy and safety of methoxyflurane for the treatment of acute pain. Emerg Med J 31(8):613–618

20.

Coffey F, Dissmann P, Mirza K, Lomax M (2016) Methoxyflurane analgesia in adult patients in the emergency department: a subgroup analysis of a randomized, double-blind, placebo-controlled study (STOP!). Adv Ther 33(11):2012–2031

21.

Ramsay MA, Savege TM, Simpson BR, Goodwin R (1974) Controlled sedation with alphaxalone. BMJ 2:656–660

22.

Chang AK, Bijur PE, Esses D, Barnaby DP, Baer J (2017) Effect of a single dose of oral opioid and nonopioid analgesics on acute extremity pain in the emergency department: a randomized clinical trial. JAMA 318(17):1661–1667

23.

Lemoel F, Contenti J, Cibiera C, Rapp J, Occelli C, Levraut J (2019) Intranasal sufentanil given in the emergency department triage zone for severe acute traumatic pain: a randomized double-blind controlled trial. Intern Emerg Med 14(4):571–579

24.

Beaudoin FL, Straube S, Lopez J, Mello MJ, Baird J (2014) Prescription opioid misuse among ED patients discharged with opioids. Am J Emerg Med 32(6):580–585

25.

van Amsterdam J, van den Brink W (2015) The misuse of prescription opioids: a threat for Europe? Curr Drug Abuse Rev 8(1):3–14

26.

Priano J, Faley B, Procopio G, Hewitt K, Feldman J (2017) Adjunct analgesic use for acute pain in the emergency department. Hosp Pharm 52(2):138–143

27.

Todd KH (2017) A review of current and emerging approaches to pain management in the Emergency Department. Pain Ther 6(2):193–202

28.

Turner JA, Deyo RA, Loeser JD, Von Korff M, Fordyce WE (1994) The importance of placebo effects in pain treatment and research. JAMA 271(20):1609–1614

29.

Hróbjartsson A, Gøtzsche PC (2001) Is the placebo powerless? An analysis of clinical trials comparing placebo with no treatment. N Engl J Med 344(21):1594–1602

30.

Smith JE, Rockett M, Creanor S et al (2015) PAin SoluTions In the Emergency Setting (PASTIES)—patient controlled analgesia versus routine care in emergency department patients with non-traumatic abdominal pain: randomised trial. BMJ 350:h3147
Acknowledgements
Authors thank Ms Johanna Robertson (Grenoble Alpes University Hospital) for critically editing the manuscript.
Funding
This study was partly funded by Mundipharma, a pharmaceutical company that market methoxyflurane across Europe.
Ethics declarations
Conflict of interest
MM and CMD received fees from Mundipharma (MM and CMD) and Purdue (MM), two pharmaceutical companies that market methoxyflurane. We confirm that the remaining authors have no known conflicts of interest associated with this publication.
Research involving human participants
The study was approved by the local independent ethics committee (CPP SudEst, Grenoble, France; reference: 38RC17.157) and was registered at ClinicalTrial.gov (NCT03380247).
Informed consent
Signed informed consent was obtained from all individual participants included in the study.
Additional information
Publisher's Note
Springer Nature remains neutral with regard to jurisdictional claims in published maps and institutional affiliations.
Electronic supplementary material
Below is the link to the electronic supplementary material.
About this article
Cite this article
Viglino, D., Termoz Masson, N., Verdetti, A. et al. Multimodal oral analgesia for non-severe trauma patients: evaluation of a triage-nurse directed protocol combining methoxyflurane, paracetamol and oxycodone. Intern Emerg Med 14, 1139–1145 (2019). https://doi.org/10.1007/s11739-019-02147-8
Received:

Accepted:

Published:

Issue Date:
Keywords
Analgesia

Trauma

Emergency

Nurse-driven protocol

Methoxyflurane