Abstract
Ten aminophosphonates bearing 2-nitrofuran moiety and two N-aryl 5-nitro-furfuralaldimines, namely, N-(2-nitrofurfurylidene)-p-toluidine and N-(2-nitrofurfurylidene)-p-anisidine, were tested in aspect of their antibacterial action. O,O′-diphenyl derivatives were found inactive, while O,O′-dimethyl and O,O′-diethyl derivatives were revealed to act moderately efficiently against clinical isolates of S. aureus, especially against methicillin-resistant (MRSA) strains. A high activity against these strains was found for N-(4-methylphenyl)-5-nitrofurfuralaldimine and N-(4-methoxyphenyl)-5-nitro-furfuralaldimine, but they showed the cytotoxicity at a dangerous level.
Graphical abstract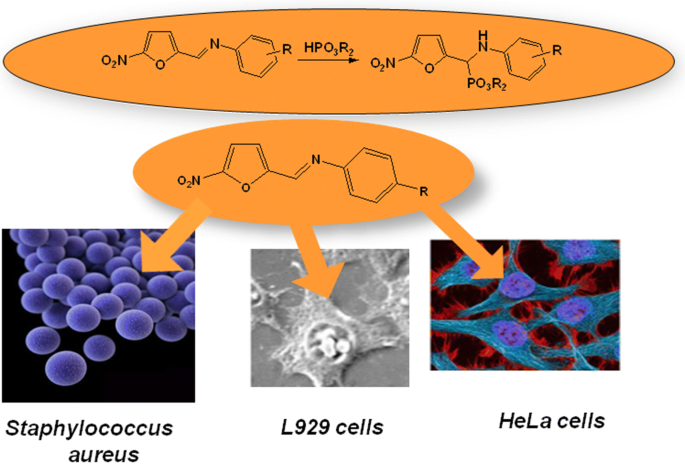 References
American National Standard (2009) ANSI/AAMI/ISO 10993-5: 2009/(R)2014. Biological evaluation of medical devices, Part 5: tests for in vitro cytotoxicity. https://webstore.ansi.org/Previews/PREVIEW_ANSI+AAMI+ISO+10993-5-2009+(R2014).pdf. Accessed 6 Sept 2018

Boduszek B (2001) Application of bromotrimethylsilane and trialkyl phosphites for convenient and effective synthesis of aminophosphonic acids and corresponding monoalkyl and dialkyl esters. Polish J Chem 75:663–672

Boduszek B, Vegh D, Korenova A, Uher M (2001) Novel heterocyclic aminophosphonic acids derived from furan and thiophene. Polish J Chem 75:1271–1275

Cagliero G (1978) Method of and fodder for rearing white-meat calves for slaughter. US Patent 4,093,746, June 6, 1978. http://www.pat2pdf.org/. Accessed 6 Mar 2017

Carron MCE (1966) Antibacterial nitrofurfurylidene derivatives and methods of using same. US Patent 3,290,213, Dec 6, 1966. http://www.pat2pdf.org/. Accessed 6 Mar 2017

Csaszar J (1984) Study of 5-NO2-Furaldehyde Derivatives, I. UV, IR and 1H NMR Spectral Investigations of Schiff Base Compounds. Acta Phys Chem Szeged 30:71–77. http://acta.bibl.u-szeged.hu/24236/1/phys_chem_030_fasc_001_002_071-077.pdf. Accessed 2 June 2017

Del Casino A, Lukinović V, Bhatt R, Randle LE, Dascombe MJ, Fennell BJ, Drew MGB, Bell A, Fielding AJ, Ismail FMD (2018) Synthesis, structural determination, and pharmacology of putative dinitroaniline antimalarials. ChemistrySelect 3:7572–7580. https://doi.org/10.1002/slct.201801723

Garau J (2008) Other antimicrobials of interest in the era of extended-spectrum beta-lactamases: fosfomycin, nitrofurantoin and tigecycline. Clin Microbiol Infect 14(Suppl. 1):198–202. https://doi.org/10.1111/j.1469-0691.2007.01852.x

Goemaere NN, Grijm K, van Hal PT, den Bakker MA (2008) Nitrofurantoin-induced pulmonary fibrosis: a case report. J Med Case Rep. 2:169. https://doi.org/10.1186/1752-1947-2-169

Grüneberg RN, Leakey A (1976) Treatment of candidal urinary tract infection with nifuratel. Br Med J 2:908–910. https://doi.org/10.1136/bmj.2.6041.908

Hiramatsu K, Katayama Y, Matsuo M, Sasaki T, Morimoto Y, Sekiguchi A, Baba T (2014) Multi-drug-resistant Staphylococcus aureus and future chemotherapy. J Infect Chemother 20:593–601. https://doi.org/10.1016/j.jiac.2014.08.001

Holmes NE, Howden BP (2014) What's new in the treatment of serious MRSA infection? Curr Opin Infect Dis 27:471–478. https://doi.org/10.1097/QCO.0000000000000101

Huttner A, Verhaegh EM, Harbarth S, Muller AE, Theuretzbacher U, Mouton JW (2015) Nitrofurantoin revisited: a systematic review and meta-analysis of controlled trials. J Antimicrob Chemother 70:2456–2464. https://doi.org/10.1093/jac/dkv147

Jackson Y, Alirol E, Getaz L, Wolff H, Combescure C, Chappuis F (2010) Tolerance and safety of nifurtimox in patients with chronic chagas disease. Clin Infect Dis 51:e69–e75. https://doi.org/10.1086/656917

Lewkowski J, Morawska J, Karpowicz R, Rychter P, Rogacz D, Lewicka K (2017) first synthesis and evaluation of eco- and phytotoxicological properties of aminophosphonates deriving from 5-nitrofurfural. Chemosphere 188:618–632. https://doi.org/10.1016/j.chemosphere.2017.09.031

Machado RS, Silva MR, Viriato A (2008) Furazolidone, tetracycline and omeprazole: a low-cost alternative for Helicobacter pylori eradication in children. J Pediat-Brasil 84:160–165. https://doi.org/10.2223/JPED.1772

Matusiak A, Lewkowski J, Rychter P, Biczak R (2013) Phytotoxicity of new furan-derived aminophosphonic acids, N-aryl furaldimines and 5-nitrofuraldimine. J Agric Food Chem 61:7673–7678. https://doi.org/10.1021/jf402401z

Meka VG, Gold HS (2004) Antimicrobial resistance to linezolid. Clin Infect Dis 39:1010–1015. https://doi.org/10.1086/423841

O'Daniel PI, Peng Z, Pi H, Testero SA, Ding D, Spink E, Leemans E, Boudreau MA, Yamaguchi T, Schroeder VA, Wolter WR, Llarrull LI, Song W, Lastochkin E, Kumarasiri M, Antunes NT, Espahbodi M, Lichtenwalter K, Suckow MA, Vakulenko S, Mobashery S, Chang M (2014) Discovery of a new class of non-β-lactam inhibitors of penicillin-binding proteins with Gram-positive antibacterial activity. J Am Chem Soc 136:3664–3672. https://doi.org/10.1021/ja500053x

Osório TM, Delle Monache F, Chiaradia LD, Mascarello A, Stumpf TR, Zanetti CR, Bardini Silveira D, Monte Barardi CR, Smânia EFA, Viancelli A, Totaro Garcia LA, Yunes RA, Nunes RJ, Smânia A Jr (2012) Antibacterial activity of chalcones, hydrazones and oxadiazoles against methicillin-resistant Staphylococcus aureus. Bioorg Med Chem Lett 22:225–230

Otto M (2013) Community-associated MRSA: What makes them special? Int J Med Microbiol 303:324–330. https://doi.org/10.1016/j.ijmm.2013.02.007

Peacock SJ, Paterson GK (2015) Mechanisms of methicillin resistance in Staphylococcus aureus. Ann Rev Biochem 84:577–601. https://doi.org/10.1146/annurev-biochem-060614-034516

Priotto G, Kasparian S, Mutombo W, Ngouama D, Ghorashian S, Arnold U, Ghabri S, Baudin E, Buard V, Kazadi-Kyanza S, Ilunga M, Mutangala W, Pohlig G, Schmid C, Karunakara U, Torreele E, Kande V (2009) Nifurtimox-efl ornithine combination therapy for second-stage African Trypanosoma brucei gambiense trypanosomiasis: a multicentre, randomised, phase III, non-inferiority trial. Lancet 374:56–64. https://doi.org/10.1016/S0140-6736(09)61117-X

Saikachi H, Shimamura S (1960) Synthesis of furan derivatives. XXIV. The reactions of furfural, 5-methylfurfural, and 5 nitrofurfural with amines. Yakugaku Zasshi 80:37–41. https://doi.org/10.1248/yakushi1947.80.1_37

Stevens DL, Herr D, Lampiris H, Hunt JL, Batts DH, Hafkin B, the Linezolid MRSA Study Group (2002) Linezolid versus vancomycin for the treatment of methicillin-resistant Staphylococcus aureus infections. Clin Infect Dis 34:1481–1490. https://doi.org/10.1086/340353

Stewart ML, Jimenez Bueno G, Baliani A, Klenke B, Brun R, Brock JM, Gilbert IH, Barrett MP (2004) Trypanocidal activity of melamine-based nitroheterocycles. Antimicrob Agents Chemother 48:1733–1738. https://doi.org/10.1128/AAC.48.5.1733-1738.2004

Stricker BH, Blok AP, Claas FH, Van Parys GE, Desmet VJ (1988) Hepatic injury associated with the use of nitrofurans: a clinicopathological study of 52 reported cases. Hepatology 8:599–606. https://doi.org/10.1002/hep.1840080327

Tan IL, Polydefkis MJ, Ebenezer GJ, Hauer P, McArthur JC (2012) Peripheral nerve toxic effects of nitrofurantoin. Arch Neurol 69:265–268. https://doi.org/10.1001/archneurol.2011.1120

Tu Y, McCalla DR (1975) Effect of activated nitrofurans on DNA. Biochim Biophys Acta. Nucl Acids Protein Synth 402:142–149. https://doi.org/10.1016/0005-2787(75)90032-5

Williams EM, Triller DM (2006) Recurrent acute nitrofurantoin-induced pulmonary toxicity. Pharmacotherapy 26:713–718. https://doi.org/10.1592/phco.26.5.713

Zhou L, Stewart G, Rideau E, Westwood NJ, Smith TK (2013) A class of 5-nitro-2-furancarboxylamides with potent trypanocidal activity against Trypanosoma brucei in vitro. J Med Chem 56:796–806. https://doi.org/10.1021/jm301215e
Acknowledgements
The part of this work was funded by the Polish National Centre of Science (NCN) in the framework of the Grant No. 2014/13/B/NZ9/02418. We are grateful to Beata Sadowska from the Chair of Immunology and Infectious Biology, University of Łódź for providing us with a set of S. aureus clinical isolates. This research was in part conducted using the equipment of the Laboratory of Microscopic Imaging and Specialized Biological Techniques, Faculty of Biology and Environmental Protection, University of Łódź.
Electronic supplementary material
Below is the link to the electronic supplementary material.
Electronic Supplementary Material consisting of (scans of IR, as well as 1H, 13C, and 31P NMR spectra) associated with this article can be found in the online version of this paper (https://doi.org/10.1007/s11696-018-0597-1) (DOC 1866 kb)
Rights and permissions
Open Access This article is distributed under the terms of the Creative Commons Attribution 4.0 International License (http://creativecommons.org/licenses/by/4.0/), which permits unrestricted use, distribution, and reproduction in any medium, provided you give appropriate credit to the original author(s) and the source, provide a link to the Creative Commons license, and indicate if changes were made.
About this article
Cite this article
Lewkowski, J., Morawska, M. & Kowalczyk, A. Antibacterial action of (5-nitrofurfuryl)-derived aminophosphonates and their parent imines. Chem. Pap. 73, 365–374 (2019). https://doi.org/10.1007/s11696-018-0597-1
Received:

Accepted:

Published:

Issue Date:

DOI: https://doi.org/10.1007/s11696-018-0597-1
Keywords
5-Nitrofurfural-derived aminophosphonates

S. aureus

Antibacterial activity

MRSA strains

Cytotoxicity