Abstract
Background
Roux-en-Y gastric bypass (RYGB) is one of the most effective bariatric procedures. The study aimed to explore the value of lengthening the biliopancreatic limb (BPL) in RYGB compared to the outcome of one-anastomosis gastric bypass (OAGB).
Methods
This prospective study included morbidly obese patients divided into two groups. The RYGB group (n = 36) was subjected to long biliary limb Roux-en-Y gastric bypass (LPRYGB), and the OAGB Group (n = 36) had one anastomosis gastric bypass. During follow-up, weight, BMI, percentage of excess body weight loss (%EBWL), resolution of obesity-related comorbidities, and quality of life (QoL) were evaluated.
Results
There was no significant difference in weight and BMI after 3 and 6 months. At 12-month follow-up, weight loss was significantly higher in the OAGB group. After 12 months, the two groups showed significant improvement of comorbid conditions without significant difference between the two groups. The Qol was significantly higher in the LPRYGB group 3, 6, and 12 months after surgery compared to the OAGB group.
Conclusions
Extending the BPL length in RYGB to 150 cm is as effective as OAGB in remission of comorbidities, including diabetes. It was also equally effective in weight reduction in the short term. OAGB was more efficient in weight reduction and a significantly faster operation. LPRYGB showed a better QoL of life 1 year after surgery.
Graphical abstract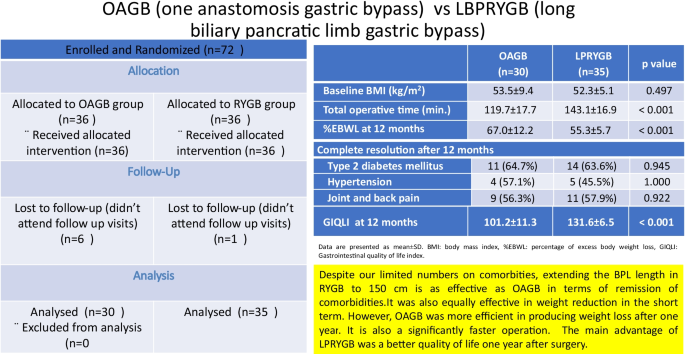 References
NCD Risk Factor Collaboration (NCD-RisC). Worldwide trends in body-mass index, underweight, overweight, and obesity from 1975 to 2016: a pooled analysis of 2416 population-based measurement studies in 128·9 million children, adolescents, and adults. Lancet. 2017;390:2627–42.

Arterburn DE, Telem DA, Kushner RF, Courcoulas AP. Benefits and risks of bariatric surgery in adults: a review. JAMA. 2020;324:879–87.

Ahmed B, King WC, Gourash W, Hinerman A, Belle SH, Pomp A, et al. Proximal Roux-en-Y gastric bypass: addressing the myth of limb length. Surgery. 2019;166:445–55.

Olbers T, Lönroth H, Fagevik-Olsén M, Lundell L. Laparoscopic gastric bypass: development of technique, respiratory function, and long-term outcome. Obes Surg. 2003;13:364–70.

Madan AK, Harper JL, Tichansky DS. Techniques of laparoscopic gastric bypass: on-line survey of American Society for Bariatric Surgery practicing surgeons. Surg Obes Relat Dis. 2008;4:166–72; discussion 172–173.

Abdeen G, le Roux C. Mechanism underlying the weight loss and complications of Roux-en-Y gastric bypass. Review Obes Surg. 2016;26:410–21.

Zorrilla-Nunez LF, Campbell A, Giambartolomei G, Lo Menzo E, Szomstein S, Rosenthal RJ. The importance of the biliopancreatic limb length in gastric bypass: a systematic review. Surg Obes Relat Dis. 2019;15:43–9.

Nora M, Guimarães M, Almeida R, Martins P, Gonçalves G, Freire MJ, et al. Metabolic laparoscopic gastric bypass for obese patients with type 2 diabetes. Obes Surg. 2011;21:1643–9.

Mahawar KK, Himpens J, Shikora SA, Chevallier JM, Lakdawala M, de Luca M, et al. The first consensus statement on one anastomosis/mini gastric bypass (OAGB/MGB) using a modified Delphi approach. Obes Surg. 2018;28(2).

Musella M, Milone M, Deitel M, Kular KS, Rutledge R. What a Mini/One Anastomosis Gastric Bypass (MGB/OAGB) is. Obes Surg. 2016;26:1322–3.

Eypasch E, Williams JI, Wood-Dauphinee S, Ure BM, Schmülling C, Neugebauer E, et al. Gastrointestinal Quality of Life Index: development, validation and application of a new instrument. Br J Surg. 1995;82:216–22.

Buse JB, Caprio S, Cefalu WT, et al. How do we define cure of diabetes? Diabetes Care.2009;32

Benaiges D, Climent E, Goday A, et al. Bariatric surgery and hypertension: implications and perspectives after the GATEWAY randomized trial. Cardiovasc Diagn Ther. 2019;9.

Magouliotis DE, Tasiopoulou VS, Tzovaras G. One anastomosis gastric bypass versus Roux-en-Y gastric bypass for morbid obesity: an updated meta-analysis. Obes Surg. 2019;29:2721–30.

Nergaard BJ, Leifsson BG, Hedenbro J, Gislason H. Gastric bypass with long alimentary limb or long pancreato-biliary limb—long-term results on weight loss, resolution of co-morbidities and metabolic parameters. Obes Surg. 2014;24:1595–602.

Darabi S, Pazouki A, Hosseini-Baharanchi FS, Kabir A, Kermansaravi M. The role of alimentary and biliopancreatic limb length in outcomes of Roux-en-Y gastric bypass. Wideochir Inne Tech Maloinwazyjne. 2020;15:290–7.

Homan J, Boerboom A, Aarts E, Dogan K, van Laarhoven C, Janssen I, et al. A longer biliopancreatic limb in Roux-en-Y gastric bypass improves weight loss in the first years after surgery: results of a randomized controlled trial. Obes Surg. 2018;28:3744–55.

Murad AJ Jr, Cohen RV, de Godoy EP, Scheibe CL, Campelo GP, Ramos AC, et al. A prospective single-arm trial of modified long biliopancreatic and short alimentary limbs Roux-en-Y gastric bypass in type 2 diabetes patients with mild obesity. Obes Surg. 2018;28(3):599–605.

Kaska L, Kobiela J, Proczko M, Stefaniak T, Sledziński Z. Does the length of the biliary limb influence medium-term laboratory remission of type 2 diabetes mellitus after Roux-en-Y gastric bypass in morbidly obese patients? Wideochir Inne Tech Maloinwazyjne. 2014;9:31–9.

Mahawar KK, Kumar P, Parmar C, Graham Y, Carr WRJ, Jennings N, et al. Small bowel limb lengths and Roux-en-Y gastric bypass: a systematic review. Obes Surg. 2016;26:660–71.

Kraljević M, Süsstrunk J, Köstler T, Lazaridis II, Zingg U, Delko T. Short or long biliopancreatic limb bypass as a secondary procedure after failed laparoscopic sleeve gastrectomy. Obes Surg. 2021;31:170–8.

Kraljević M, Köstler T, Süsstrunk J, Lazaridis II, Taheri A, Zingg U, et al. Revisional surgery for insufficient loss or regain of weight after Roux-en-Y gastric bypass: biliopancreatic limb length matters. Obes Surg. 2020;30:804–11.

Nuzzo A, Czernichow S, Hertig A, Ledoux S, Poghosyan T, Quilliot D, et al. Prevention and treatment of nutritional complications after bariatric surgery. Lancet Gastroenterol Hepatol. 2021;6:238–51.

Lupoli R, Lembo E, Saldalamacchia G, Avola CK, Angrisani L, Capaldo B. Bariatric surgery and long-term nutritional issues. World J Diabetes. 2017;8:464–74.

Ciovica R, Takata M, Vittinghoff E, Lin F, Posselt AM, Rabl C, et al. The impact of roux limb length on weight loss after gastric bypass. Obes Surg. 2008;18:5–10.

Ahuja A, Tantia O, Goyal G, Chaudhuri T, Khanna S, Poddar A, et al. MGB-OAGB: effect of biliopancreatic limb length on nutritional deficiency, weight loss, and comorbidity resolution. Obes Surg. 2018;28:3439–45.

Komaei I, Sarra F, Lazzara C, Ammendola M, Memeo R, Sammarco G, et al. One anastomosis gastric bypass-mini gastric bypass with tailored biliopancreatic limb length formula relative to small bowel length: preliminary results. Obes Surg. 2019;29:3062–70.

Lee W-J, Wang W, Lee Y-C, Huang M-T, Ser K-H, Chen J-C. Laparoscopic mini-gastric bypass: experience with tailored bypass limb according to body weight. Obes Surg. 2008;18:294–9.

Gan J, Wang Y, Zhou X. Whether a short or long alimentary limb influences weight loss in gastric bypass: a systematic review and meta-analysis. Obes Surg. 2018;28:3701–10.

Orci L, Chilcott M, Huber O. Short versus long Roux-limb length in Roux-en-Y gastric bypass surgery for the treatment of morbid and super obesity: a systematic review of the literature. Obes Surg. 2011;21:797–804.

Stefanidis D, Kuwada TS, Gersin KS. The importance of the length of the limbs for gastric bypass patients–an evidence-based review. Obes Surg. 2011;21:119–24.
Funding
Open access funding provided by The Science, Technology & Innovation Funding Authority (STDF) in cooperation with The Egyptian Knowledge Bank (EKB).
Ethics declarations
Ethics Approval
All procedures performed in studies were in accordance with the ethical standards of the institutional research committee and with the 1964 Helsinki Declaration and its later amendments or comparable ethical standards.
Informed Consent
Written informed consent was obtained from all individual participants for publication of this study.
Conflict of Interest
The authors declare no competing interests.
Additional information
Publisher's Note
Springer Nature remains neutral with regard to jurisdictional claims in published maps and institutional affiliations.
Mohamed Y. Ibrahim and Abdelmoneim S. Elshennawy should be regarded as first authors as they have equal contribution.
Rights and permissions
Open Access This article is licensed under a Creative Commons Attribution 4.0 International License, which permits use, sharing, adaptation, distribution and reproduction in any medium or format, as long as you give appropriate credit to the original author(s) and the source, provide a link to the Creative Commons licence, and indicate if changes were made. The images or other third party material in this article are included in the article's Creative Commons licence, unless indicated otherwise in a credit line to the material. If material is not included in the article's Creative Commons licence and your intended use is not permitted by statutory regulation or exceeds the permitted use, you will need to obtain permission directly from the copyright holder. To view a copy of this licence, visit http://creativecommons.org/licenses/by/4.0/.
About this article
Cite this article
Ibrahim, M.Y., Elshennawy, A.S., Wassef, A.T.S. et al. One Anastomosis Gastric Bypass Versus Long Biliopancreatic Limb Roux-en-Y Gastric Bypass. OBES SURG 32, 779–785 (2022). https://doi.org/10.1007/s11695-021-05874-0
Received:

Revised:

Accepted:

Published:

Issue Date:

DOI: https://doi.org/10.1007/s11695-021-05874-0