Abstract
Purpose
To evaluate the variation in parameters of hepatic function and in the scores Fatty Liver Index (FLI; predictor of hepatic steatosis) and BARD (BMI, AST/ALT ratio and DM, predictor of hepatic fibrosis), 1 year after bariatric surgery.
Material and Methods
This is a observational retrospective cohort study in patients with morbid obesity that underwent bariatric surgery in our centre. We used two linear regression models: (1) unadjusted and (2) adjusted for surgery type, sex, age, body mass index, diabetes, and dyslipidaemia.
Results
The included population (n = 1955) had an average age of 43.1 ± 10 years and 85.8% were female. Diabetes was present in 32.4% of the patients, 45.1% had dyslipidaemia, and 62.2% had hypertension. Twelve percent were submitted to gastric band, 29.6% to sleeve gastrectomy, and 58.4% to gastric bypass. We observed a relevant decrease in transaminases and gamma-glutamyltransferase, and an increase in alkaline phosphatase and total bilirubin. Both FLI and BARD markedly decrease 1 year after surgery (p < 0.01). Comparing the surgical procedures, sleeve gastrectomy was associated with a greater reduction of hepatic enzymes and of both FLI and BARD compared with gastric band. Comparing with gastric bypass, sleeve was associated with a greater reduction of transaminases and alkaline phosphatase, but a smaller reduction of FLI and BARD.
Conclusion
Bariatric surgery is associated with a reduction of the hepatic enzymes and an improvement of FLI and BARD. It may represent an effective therapeutic approach for NAFLD.
Access options
Buy single article
Instant access to the full article PDF.
US$ 39.95
Tax calculation will be finalised during checkout.
Subscribe to journal
Immediate online access to all issues from 2019. Subscription will auto renew annually.
US$ 79
Tax calculation will be finalised during checkout.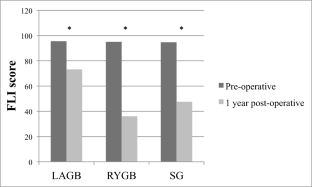 Ethics declarations
Conflict of Interest
The authors declare that they have no conflict of interest.
Ethical Statement
For this type of study formal consent is not required.
Consent Statement
Informed consent does not apply.
Additional information
Publisher's Note
Springer Nature remains neutral with regard to jurisdictional claims in published maps and institutional affiliations.
Electronic Supplementary Material
About this article
Cite this article
Borges-Canha, M., Neves, J.S., Mendonça, F. et al. The Impact of Bariatric Surgery on Hepatic Function and Predictors of Liver Steatosis and Fibrosis. OBES SURG 30, 2935–2941 (2020). https://doi.org/10.1007/s11695-020-04622-0
Keywords
NAFLD

Bariatric surgery

Obesity