Abstract
Background
Intragastric balloons have been used to bridge the obesity treatment gap with the benefits of being minimally invasive but still required endoscopy. The Elipse intragastric balloon (EIGB) is a swallowable balloon that is spontaneously excreted through a natural orifice at approximately 16 weeks. Several concerns exist, including the treatment efficacy and risk of bowel obstruction. Our meta-analysis aimed to evaluate the efficacy and safety of EIGB.
Methods
A literature search was performed from several databases from database inception to November 2019. Eligible studies must report percent total weight loss (%TWL) after completion of treatment and adverse events. The pooled means and proportions of our data were analyzed using random effects model, generic inverse variance method.
Results
Six studies involving 2013 unique patients met our eligibility criteria and were included. The mean baseline BMI ranged from 30.6 to 36.2. The pooled early removal rate was 2.3% (95% CI, 1.1–3.5%; I2 31%). The pooled %TWL after completion of treatment (4–6 months) was 12.8% (95% CI, 11.6–13.9%; I2 83%) and at 12 months was 10.9% (95% CI, 5.0–16.9%, I2 98%). For serious adverse events, three patients had small bowel obstruction, and one patient had gastric perforation requiring surgery. Early expulsion by emesis and early deflation were seen in 3 and 9 patients, respectively.
Conclusions
This meta-analysis demonstrates that EIGB is a safe device offering an effective weight loss that warrants further studies for its long-term weight loss outcomes. Severe adverse events are rare, and the rate of early removal is low.
This is a preview of subscription content, log in to check access.
Access options
Buy single article
Instant access to the full article PDF.
US$ 39.95
Tax calculation will be finalised during checkout.
Subscribe to journal
Immediate online access to all issues from 2019. Subscription will auto renew annually.
US$ 99
Tax calculation will be finalised during checkout.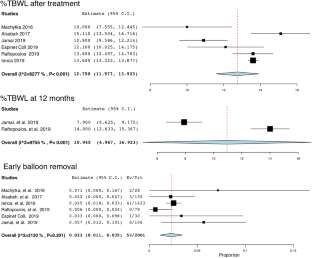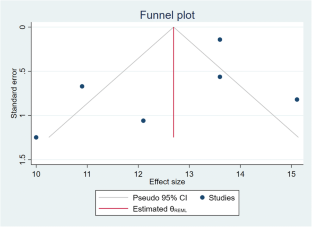 References
1.

National Institutes of Health. Clinical guidelines on the identification, evaluation, and treatment of overweight and obesity in adults--The evidence report. Obes Res. 1998;6(Suppl 2):51S–209S.

2.

Guh DP, Zhang W, Bansback N, et al. The incidence of co-morbidities related to obesity and overweight: a systematic review and meta-analysis. BMC Public Health. 2009;9:88.

3.

Hales CM, Carroll MD, Fryar CD, et al. Prevalence of Obesity Among Adults and Youth: United States, 2015-2016. NCHS Data Brief. 2017;(288):1–8.

4.

Mechanick JI, Youdim A, Jones DB, et al. Clinical practice guidelines for the perioperative nutritional, metabolic, and nonsurgical support of the bariatric surgery patient--2013 update: cosponsored by American Association of Clinical Endocrinologists, the Obesity Society, and American Society for Metabolic & Bariatric Surgery. Surg Obes Relat Dis. 2013;9(2):159–91.

5.

Kim SH, Chun HJ, Choi HS, et al. Current status of intragastric balloon for obesity treatment. World J Gastroenterol. 2016;22(24):5495–504.

6.

Bazerbachi F, Vargas EJ, Abu Dayyeh BK. Endoscopic bariatric therapy: a guide to the intragastric balloon. Am J Gastroenterol. 2019;114(9):1421–31.

7.

Machytka E, Chuttani R, Bojkova M, et al. Elipse, a procedureless gastric balloon for weight loss: a proof-of-concept pilot study. Obes Surg. 2016;26(3):512–6.

8.

Genco A, Ernesti I, Ienca R, et al. Safety and efficacy of a new swallowable intragastric balloon not needing endoscopy: early Italian experience. Obes Surg. 2018;28(2):405–9.

9.

Choi SJ, Choi HS. Various intragastric balloons under clinical investigation. Clin Endosc. 2018;51(5):407–15.

10.

Angrisani L, Santonicola A, Vitiello A, et al. Elipse balloon: the pitfalls of excessive simplicity. Obes Surg. 2018;28(5):1419–21.

11.

DerSimonian R, Laird N. Meta-analysis in clinical trials. Control Clin Trials. 1986;7(3):177–88.

12.

Higgins JP, Thompson SG, Deeks JJ, et al. Measuring inconsistency in meta-analyses. BMJ. 2003;327(7414):557–60.

13.

Sterne JA, Egger M. Funnel plots for detecting bias in meta-analysis: guidelines on choice of axis. J Clin Epidemiol. 2001;54(10):1046–55.

14.

Machytka E, Chuttani R, Bojkova M, et al. Elipse, a procedureless gastric balloon for weight loss: a proof-of-concept pilot study. Obes Surg. 2016;26(3):512–6.

15.

Alsabah S, Al Haddad E, Ekrouf S, et al. The safety and efficacy of the procedureless intragastric balloon. Surg Obes Relat Dis. 2018;14(3):311–7.

16.

Espinet Coll E, Carrasco Clavijos S, Diaz Galan P, et al. Feasibility, results and endoscopic requirements of the Elipse(R) swallowable intragastric balloon: initial experience. Rev Esp Enferm Dig. 2019;111

17.

Roberta Ienca AD, GiardielloC, Rosa M, Jarallah M, Kolmer S, Hugues SEBBAG, Hansoulle J, Quartararo G, Zouaghi A, Juneja GK, Arau RT, Pomar AP, Badiuddin F, Dargent J, Durou J, Urbain P, Paveliu S, di Cola RS, Selvaggio C, Alkuwari M. Procedureless Gastric Balloon for Weight Loss: Multi-Center Experience in 1623 Consecutive Patients. 2019. p. S33.

18.

Jamal MH, Almutairi R, Elabd R, et al. The safety and efficacy of procedureless gastric balloon: a study examining the effect of Elipse Intragastric balloon safety, short and medium term effects on weight loss with 1-year follow-up post-removal. Obes Surg. 2019;29(4):1236–41.

19.

Yannis Raftopoulos ED, Karen R, Kristen C, et al. An intensive 52-week nutritional, Exercise and Behavior Modification Program: Comparison With or Without the Elipse Intragastric Balloon. Surg Obes Rel Dis. 2019;

20.

Kozlowski T, Kozakiewicz K, Dadan J, et al. Innovative solutions in bariatric surgery. Gland Surg. 2016;5(5):529–36.

21.

Glass J, Chaudhry A, Zeeshan MS, et al. New era: endoscopic treatment options in obesity-a paradigm shift. World J Gastroenterol. 2019;25(32):4567–79.

22.

Zheng Y, Wang M, He S, et al. Short-term effects of intragastric balloon in association with conservative therapy on weight loss: a meta-analysis. J Transl Med. 2015;13:246.

23.

Bazerbachi F, Vargas Valls EJ, Abu Dayyeh BK. Recent clinical results of endoscopic bariatric therapies as an obesity intervention. Clin Endosc. 2017;50(1):42–50.

24.

Ribeiro da Silva J, Proenca L, Rodrigues A, et al. Intragastric balloon for obesity treatment: safety, tolerance, and efficacy. GE Port J Gastroenterol. 2018;25(5):236–42.

25.

Meshkinpour H, Hsu D, Farivar S. Effect of gastric bubble as a weight reduction device: a controlled, crossover study. Gastroenterology. 1988;95(3):589–92.

26.

Force ABET, Committee AT, Abu Dayyeh BK, et al. ASGE bariatric endoscopy task force systematic review and meta-analysis assessing the ASGE PIVI thresholds for adopting endoscopic bariatric therapies. Gastrointest Endosc. 2015;82(3):425–38. e5

27.

Sullivan S, Swain J, Woodman G, et al. Randomized sham-controlled trial of the 6-month swallowable gas-filled intragastric balloon system for weight loss. Surg Obes Relat Dis. 2018;14(12):1876–89.

28.

Ponce J, Woodman G, Swain J, et al. The REDUCE pivotal trial: a prospective, randomized controlled pivotal trial of a dual intragastric balloon for the treatment of obesity. Surg Obes Relat Dis. 2015;11(4):874–81.

29.

Stavrou G, Tsaousi G, Kotzampassi K. Life-threatening visceral complications after intragastric balloon insertion: is the device, the patient or the doctor to blame? Endosc Int Open. 2019;7(2):E122–E9.

30.

Voelker R. Deaths reported after intragastric balloon surgery. JAMA. 2017;318(11):996.

31.

Finkelstein EA, Verghese NR. Incremental cost-effectiveness of evidence-based non-surgical weight loss strategies. Clin Obes. 2019;9(2):e12294.
Ethics declarations
Conflict of Interests
The authors declare that they have no conflict of interest.
Ethical Approval
This article does not contain any studies with human participants or animals performed by any of the authors.
Informed Consent
Informed consent does not apply.
Disclosure Statement
The authors have nothing to disclose.
Additional information
Publisher's Note
Springer Nature remains neutral with regard to jurisdictional claims in published maps and institutional affiliations.
Electronic Supplementary Material
Study quality assessment based on NIH criteria (DOCX 70 kb)
Search strategy (DOCX 18 kb)
3 Flow diagram for study selection (JPEG 56 kb)
About this article
Cite this article
Vantanasiri, K., Matar, R., Beran, A. et al. The Efficacy and Safety of a Procedureless Gastric Balloon for Weight Loss: a Systematic Review and Meta-Analysis. OBES SURG 30, 3341–3346 (2020). https://doi.org/10.1007/s11695-020-04522-3
Keywords
Gastric balloon

Procedureless Gastric Balloon

Elipse Intragastric Balloon