Abstract
Summary
A multinational survey was conducted to evaluate the gaps between patients and physicians understanding of osteoporosis. The International Osteoporosis Foundation recommends the creation of community-wide patient support programmes to increase prevention and treatment awareness of osteoporosis.
Introduction
Osteoporosis is often undiagnosed and untreated, leaving millions of people at risk of debilitating fractures. A survey was designed to investigate any gaps that may exist between physician and patient knowledge of osteoporosis, understand barriers to patient adherence and identify ways to address unmet needs and improve communications.
Methods
Telephone interviews were conducted with patients (n = 844) and physicians (n = 837) in 13 countries in June/July 2009. Patients were women with postmenopausal osteoporosis currently taking (or in the past 2 years) prescribed medication. Physicians had experience in treating osteoporotic patients, which included only general practitioners who saw ≥10 (exception: in Hungary ≥5) and specialists who saw ≥20 patients with osteoporosis per month.
Results
Physicians consistently underestimated their patients' adherence to treatment and beliefs on the impact of osteoporosis on their quality-of-life. Physicians underestimated how many patients worry about breaking a bone (51% vs 79%), as well as patient concerns about declines in activity levels (40% vs 70%), becoming dependent on others (30% vs 60%) and not being able to work for longer (30% vs 57%). Patients believed the most credible osteoporosis information was from specialists (94%). Patients (75%) would like easy to understand materials and 49% would welcome inter-patient discussions of their condition. Most physicians (88%) believed that osteoporosis organisations are among the most credible sources for information, 80% would give patients written materials to increase adherence and 76% would recommend patient programmes that encourage better communication on managing osteoporosis.
Conclusion
Community-wide patient support programmes may help patients to manage their concerns and address unmet needs in osteoporosis management.
Access options
Buy single article
Instant access to the full article PDF.
US$ 39.95
Tax calculation will be finalised during checkout.
Subscribe to journal
Immediate online access to all issues from 2019. Subscription will auto renew annually.
US$ 79
Tax calculation will be finalised during checkout.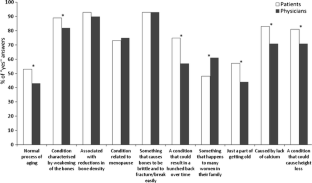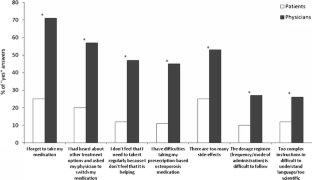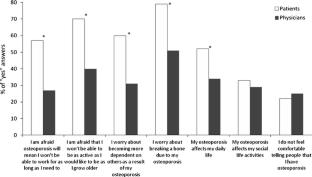 References
1.

NIH Consensus Development Panel (2001) Osteoporosis prevention, diagnosis, and therapy. JAMA 285:785–795

2.

Baum E, Peters KM (2008) The diagnosis and treatment of primary osteoporosis according to current guidelines. Dtsch Arztebl Int 105:573–582

3.

Yilmaz F, Dogu B, Sahin F, Sahin T, Kuran B (2009) Reliability and validity of the Turkish version of the ECOS 16 questionnaire in postmenopausal osteoporosis. Eur J Phys Rehabil Med 45:521–526

4.

Begerow B, Pfeifer M, Pospeschill M, Scholz M, Schlotthauer T, Lazarescu A, Pollaehne W, Minne HW (1999) Time since vertebral fracture: an important variable concerning quality of life in patients with postmenopausal osteoporosis. Osteoporos Int 10:26–33

5.

Kanis JA, Reginster J-Y (2008) European guidance for the diagnosis and management of osteoporosis in postmenopausal women—what is the current message for clinical practice? Pol Arch Med Wewn 118:538–540

6.

Tosteson AN, Burge RT, Marshall DA, Lindsay R (2008) Therapies for the treatment of osteoporosis in US women: cost-effectiveness and budget impact considerations. Am J Manag Care 14:605–615

7.

Kanis JA, Johnell O (2005) Requirements for DXA for the management of osteoporosis in Europe. Osteoporos Int 16:229–238

8.

Johnell O, Kanis JA (2006) An estimate of the world prevalence and disability associated with osteoporotic fractures. Osteoporos Int 17:1726–1733

9.

Lewiecki EM (2008) Denosumab: an investigational drug for the management of postmenopausal osteoporosis. Biologics 2:645–653

10.

Gleeson T, Iversen MD, Avorn J, Brookhart AM, Katz JN, Losina E, May F, Patrick AR, Shrank WH, Solomon DH (2009) Interventions to improve adherence and persistence with osteoporosis medications: a systemic literature review. Osteoporos Int 20:2127–2134

11.

Cranney A, O'Connor AM, Jacobsen MJ, Tugwell P, Adachi JD, Ooi DS, Waldegger L, Goldstein R, Wells GA (2002) Development and pilot testing of a decision aid for postmenopausal women with osteoporosis. Patient Educ Couns 47:245–255

12.

Matthews HL, Laya M, DeWitt DE (2006) Rural women and osteoporosis: awareness and educational needs. J Rural Health 22:279–283

13.

Rozenberg S, Twagirayezu P, Paesmans M, Ham H (1999) Perception of osteoporosis by Belgian women who work in a university hospital. Osteoporos Int 10:312–315

14.

Satterfield T, Johnson SM, Slovic P, Neil N, Schein JR (2001) Perceived risks and reported behaviours associated with osteoporosis and its treatment. Women Health 31:21–40

15.

Carr AJ, Thompson PW, Cooper C (2006) Factors associated with adherence and persistence to bisphosphonate therapy in osteoporosis: a cross-sectional survey. Osteoporos Int 17:1638–1644

16.

Lau E, Papaioannou A, Dolovich L, Adachi J, Sawka AM, Burns S, Nair K, Pathak A (2008) Patients' adherence to osteoporosis therapy: exploring the perceptions of postmenopausal women. Can Fam Physician 54:394–402

17.

Cook B, Noteloviz M, Rector C, Krischer JP (1991) An osteoporosis patient education and screening program: results and implications. Patient Educ Couns 17:135–145

18.

Poole KES, Compston JE (2006) Osteoporosis and its management. BMJ 333:1251–1256

19.

Warriner AH, Curtis JR (2009) Adherence to osteoporosis treatments: room for improvement. Curr Opin Rheumatol 21:356–362

20.

Giangregorio L, Papaioannou A, Thabane L, DeBeer J, Cranney A, Dolovich L, Adili A, Adachi JD (2008) Do patients perceive a link between fragility fracture and osteoporosis? BMC Musculoskelet Disord 9:38

21.

Rozenfeld Y, Johnson T, Klug C (2010) Assessing interest in an osteoporosis website: a survey among women eligible for osteoporosis screening. Osteoporos Int 21:1197–1204
Acknowledgements
The survey was funded by an educational grant from Amgen (Europe) GmbH and conducted by GfK in conjunction with Hill & Knowlton (UK), on behalf of the International Osteoporosis Foundation.
Conflicts of interest
R. Rizzoli - speaker's bureau/advisory activities with MSD, Servier, Novartis, Nycomed, Danone, Nestlé, Lilly and Amgen but not in conflict with this manuscript. M. L. Brandi—consultant for Amgen, Servier, MSD, Warner Chilcott, Eli Lilly, Nycomed and NPS. K. Dreinhöfer—consultant/advisory activities/grant/research support of/from Alliance, Amgen, Lilly, MSD, Novartis and Servier. T. Thomas has a grant/research support from: Amgen Inc., Lilly, Novartis and Servier and a consultant/speaker's bureau/advisory activities with Amgen Inc, Lilly, MSD and Novartis but does not conflict with this manuscript. D.A. Wahl declare no competing interests. C. Cooper—consultant/speaker's bureau/advisory activities with: MSD, Servier, Novartis, Wyeth, Alliance, Lilly and Amgen but not in conflict with this manuscript.
About this article
Cite this article
Rizzoli, R., Brandi, M.L., Dreinhöfer, K. et al. The gaps between patient and physician understanding of the emotional and physical impact of osteoporosis. Arch Osteoporos 5, 145–153 (2010). https://doi.org/10.1007/s11657-010-0049-1
Received:

Accepted:

Published:

Issue Date:
Keywords
Osteoporosis

Survey

Patients and physicians

Support programmes

Disease management