Learning from social–ecological crisis for legal resilience building: multi-scale dynamics in the coffee rust epidemic
Part of the following topical collections:
Abstract
A recent coffee leaf rust epidemic has generated a severe fall in Coffea arabica production throughout Mexico and Central America. This paper analyzes the social–ecological crisis presented by the Hemileia vastatrix outbreak, with a focus on how global, regional and national dynamics interact with local processes in the Chiapas Sierra Madre of south-eastern Mexico, a biodiversity hotspot with a tradition of smallholder, shade-grown coffee production. We explore the hypothesis that the current coffee rust epidemic is an expression of global environmental change, with implications for legal frameworks and international efforts towards risk management and climate change adaptation. Addressing debates on legal resilience building, we illustrate how mismatches of scale between social–ecological phenomena and legal and institutional arrangements may generate pathological solutions for small-scale coffee producers and shade-grown coffee ecosystems. Thereafter, using the analytical lens of modularity, the paper sheds light on landscape stewardship to reduce the risks of non-resilient characteristics such as isolation, on the one hand, and on the other, over-connectedness of habitat patches in the landscape of importance for ecosystem functions at larger scales. The interdisciplinary framework leads to recognizing the role of institutions and legal arrangements which are not limited to national boundaries in proposing solutions to this social–ecological crisis. We find that matching scales of law with agroforestry systems can be done through a variety of legal and policy instruments to contribute to resilience building. This matching of scales is vital to safeguarding biodiversity's global benefits and the right of small-scale coffee farmers to a healthy and sustainable environment.
Keywords
Resilience 
Law 
Coffee rust 
Social–ecological crisis 
Modularity 
Agrobiodiversity 
Introduction
Smallholder agrobiodiversity plays a crucial role in addressing the challenges presented by global environmental change (FAO 2019; Altieri and Nicholls 2017; Lowder et al. 2016). Understood as the contributions of agriculture to the variety and variability of living organisms, along with the biodiversity that sustains agricultural activity (Montenegro de Wit 2016), agrobiodiversity can contribute to risk reduction and climate change mitigation and adaptation (Sistla et al. 2016; Bioversity International 2017). An emphasis on agrobiodiversity and suitable associated financing mechanisms has recently come to the forefront of international debates on sustainability and resilience, recognized by international environmental agreements such as the Convention for Biological Diversity (CBD) (Hodgkin et al. 2015).
One of the most emblematic agroforestry systems is shade-grown coffee, sustaining livelihoods of millions of smallholders in Latin America by producing a quality beverage for which global demand continues to increase (Haggar et al. 2015; Valencia et al. 2016). Coffee production has recently come under risk due to a fungal epidemic which has generated severe losses in Coffea arabica L. bean production (Avelino et al. 2015). The unrelenting coffee leaf rust epidemic (caused by Hemileia vastatrix Berkeley & Broome) is linked to a regional social–ecological crisis, with Arabica production losses between 2012 and 2015 ranging from 10 to 55% with regards to pre-rust levels in Central America (Cerda et al. 2017). This epidemic is thought to have begun with outbreaks in Colombia in 2008, then spreading through Central America and the Caribbean since 2010, with severe infections in southern Mexico as of 2012, and a surge in Andean coffee plantations as of 2014 (McCook and Vandermeer 2015). Results from the 2016/2017 cycle illustrate the ongoing impacts of this crisis: "coffee rust continues to hamper output" in Central America and Mexico, which account for over 15% of the world's Arabica production (USDA 2016). Despite an increase in coffee production in the region as of 2015/2016, the coffee crisis has deepened since 2017/2018 in light of historically low prices on the international market: in September 2018 coffee prices were the lowest in 12 years (ICO 2018).
The first Mexican coffee region to report the impacts of this rust epidemic is the Chiapas Sierra Madre, a mountainous area reputed for its biodiversity, where shade-grown coffee contributes to ecological conservation in the buffer zones of Biosphere Reserves and protected areas (Cortina-Villar et al. 2012; Valencia et al. 2018). In stark contrast to the consequences of the epidemic, limited research has sought to address this issue, challenging the coffee sector to focus on research and development (McCook and Vandermeer 2015). Increased vulnerability to pests and diseases has been identified by the IPCC Fifth Assessment Report on climate change as the main future risk for agriculture (IPCC 2014).
The coffee rust has historically transformed landscapes and economies. Attempts to find responses to this epidemic led to drastic changes in coffee production systems. At the turn of the twentieth century, the rust epidemic contributed to the decline of Arabica coffee cultivation in Africa, Asia and the Pacific (McCook 2006; Waller 1982). The demise of C. arabica coffee plantations initiated an ongoing quest for coffee plants which express resistance to the rust, eventually leading to the use of Coffea canephora P., a coffee species which is cultivated under limited shade (McCook 2013). Promoted as a solution to coffee rust, C. canephora's most widely known variety, Robusta, has transformed the structure of global coffee production and consumption (McCook 2013), representing in 2018 a share of 38.2% of global coffee production (ICO 2018).
The agroforestry system of Arabica grown under tree-cover for shade is considered under threat, having lost 20% of its global surface area since 1996 (Jha et al. 2014). In a quest to increase productivity, public and private actors have promoted production intensification and shade management, with recommendations for coffee fields to have lower tree-cover density (Perfecto et al. 1996). Although the effects of shade on coffee rust are complicated and antagonistic—for example, more shade limits wind circulation, thus restricting spore dissemination (Boudrot et al. 2016; López-Bravo et al. 2012), yet shade can also function as a temperature buffer, maintaining ideal conditions for fungal reproduction by limiting high and low temperature peaks (López-Bravo et al. 2012)—producers in the Chiapas Sierra Madre mention that government institutes, coffee companies, and technicians recommended they reduce shade cover to address this fungal epidemic. This has led to the transformation of coffee systems from dense shade towards less shade (i.e. forest degradation) as well as land-use change of forests to agricultural fields in light of losses from the main income-generating crop (i.e. deforestation due to the expansion of the agricultural frontier) (Valencia et al. 2018; Covaleda et al. 2014; Libert-Amico et al. 2016).
Through a case study on multilevel dynamics involved in the social–ecological crisis caused by the coffee rust disease in the Chiapas Sierra Madre, we seek to contribute to ongoing debates on legal resilience building, sustainability and transformations (see Ebbesson and Hey 2013; Tidball et al. 2017). We build on discussions on the law and resilience nexus to analyse the coffee rust epidemic and its impact on local livelihoods and diverse agroforestry systems (Humby 2014; Hill Clarvis et al. 2014). The recent coffee rust epidemic stands to illustrate how social–ecological crisis links the local to the global in dynamic legal processes. Significant challenges remain to establish cross-scale (local, national and international) institutional arrangements to support sustainable forms of agricultural production which safeguard biodiversity while maintaining livelihoods (De Beenhouwer et al. 2013). The epidemic represents a setback to the fulfillment of international commitments in light of global environmental change. These include the CBD Aichi Biodiversity Targets, which discuss enhancing biodiversity and ecosystems services through sustainable management of agricultural areas while recognising the role of agricultural biodiversity in addressing pests and diseases (c.f. Targets 7, 13 and 14). We present interdisciplinary research on a social–ecological crisis focusing on (1) analyzing the effects of the coffee rust disease in a bioculturally rich but economically marginalized area of south-eastern Mexico, and (2) discussing the nexus between law, resilience and landscape management.
Methodology
The data collected for our research includes a combination of primary and secondary written sources, interviews, field trips, and participant observation in national and subnational coffee agroforestry related meetings in Mexico.
Most of the field data for this study were collected through 2013 to 2016. Fieldwork included 102 semi-structured interviews with farmers, technicians and coffee cooperative managers, government authorities from the municipal, state, and federal levels, and NGO representatives which sought to construct landscape ethnographies focused on land-use decision-making (Saito-Jensen 2015; Trench et al. 2018). The interviewees were identified through snowball sampling. The interviews were conducted in Spanish (quotes included in this paper have been translated to English by the authors) and then coded using qualitative data analysis software NVivo 11. Interviews were carried out in the context of a research-action campaign which has included capacity development, planning meetings, participant observation, and sampling sites in the field, which began in 2013 and continues in 2018.
Secondary sources of information are used to identify matches and mismatches in legal frameworks and institutional arrangements. Whilst an exhaustive review of this transnational epidemic and the applicable legal and policy instruments is beyond the scope of this paper, the case study methodology allows insight into issues of power and equity in the sustainability and resilience interface (Temper et al. 2018). Our case study methodology and composite of methods serves to examine moments of crisis to understand processes that transgress scales of geographical space and time pre-defined in laws and formal institutional arrangements. The study region—biodiversity-rich yet economically poor, with weak institutions and governance structures—proves a different context than most case studies on law and resilience building. Contextual equity dimensions that arise in developing economies also have their own specificities such as the recognition and implementation of forest-dependent people's rights concerning land and forest resources (McDermott et al. 2013; Ituarte-Lima et al. 2014).
The geographic focus of the study is the Chiapas Sierra Madre, a mountain chain in south-eastern Mexico. We chose to focus our study in this area because of its social–ecological characteristics and the national and global dynamics affecting this region. In this biodiversity hotspot, remnants of cloud forests and tropical wet forests are connected by agroecosystems within and around protected areas (Fig.
1
).
1
With a history of almost two centuries of coffee production, the Sierra Madre provides more than half of the total coffee production of Chiapas, a state known as the national leader in organic and shade-grown coffee production (SAGARPA
2017
).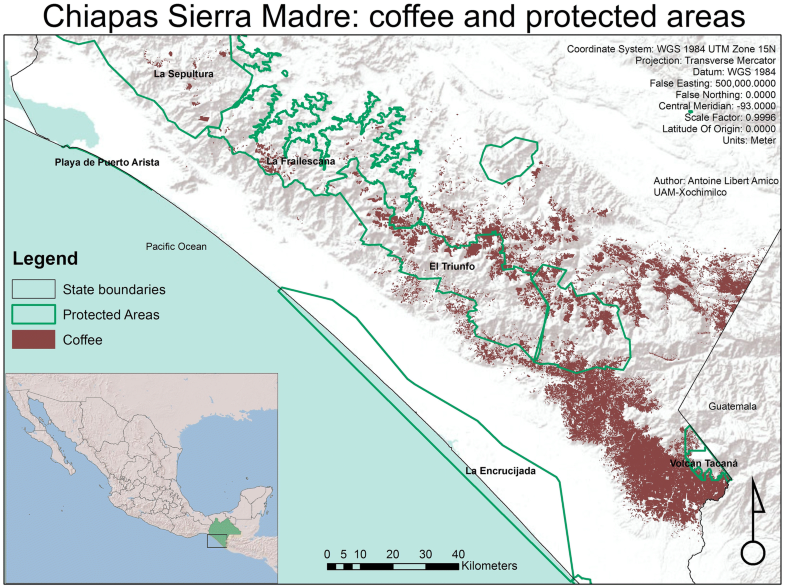 Legal resilience building for agroforestry diverse systems
The theoretical framework used in this paper is twofold. First, in exploring the interconnections between local, regional and global dynamics in coffee production, literature on law and resilience serves to frame the discussion on scales and concomitant insights on matches and mismatches of law and formal institutions with social–ecological resilience. Second, we discuss the concept of modularity, understood as the spatial configuration of habitat patches in the landscape which may range from low modularity, where there is high connectivity throughout the system, to high modularity, where there are many small isolated patches and low connectivity throughout the system. The degree of connectivity in the landscape may be associated with the general resilience of the system (sensu Carpenter et al. 2001), in that high connectivity results in high vulnerability to disturbances caused by disease or forest fire, while low connectivity reduces the risk of these disturbances but may increase the risk of local extinction and influencing other functions in the system (see Webb and Bodin 2008). This has led to the hypothesis that intermediate levels of modularity may represent configurations that reduce vulnerabilities to disturbances, while at the same time reducing risks of local extinction, thus representing a system with more general resilience. We argue that the concept is useful as a background to elucidate the type and range of institutions needed to consolidate resilient agroforestry systems that support local livelihoods.
Law and resilience in the Anthropocene
The literature on the nexus between law and resilience building in the context of the Anthropocene provides a suitable analytical framework for exploring the interconnections between local, regional and global dynamics in coffee production. As an agricultural commodity, most often produced by small-scale farming families who depend on this cash-crop to insure their food security, the volatility of coffee prices has direct impacts on local livelihoods. Falls in international prices impact not only family well-being and food security (Babin 2015; Bathfield et al. 2013), but also regional social–political dynamics such as migration or conflict (see Bacon et al. 2017). New forms of speculation around commodity markets (such as futures contracts) have been pointed out as a source of instability in the volatile international coffee market (Galaz et al. 2015).
The concept of the Anthropocene argues that humans have become a main driving force in the Earth system, to the degree that the changes we are provoking will remain in the geological record (Steffen et al. 2011). Beyond geology, the Anthropocene is a conceptual framework which illustrates how the planetary system is inter-connected and at risk considering uncertain consequences of global environmental change (Folke et al. 2011; Raworth 2012). Authors have called for the need for legal and institutional transformations for addressing humanity's pressing challenges in an adaptive and fair manner (Kim and Bosselmann 2013; Ruhl 2011; Friedrich 2011). Some consider that current environmental law lacks flexibility for managing resilience (Garmestani et al. 2014). Largely static legal systems that are based on a worldview of predictability and linearity may prove poorly suited for non-linear social–ecological dynamics, particularly in the context of abrupt changes and unforeseen consequences.
Social–ecological crisis tend to challenge current thinking on the scales of law by demonstrating cross-scale interactions with "complex connections and cascades" which undermine initiatives towards sustainability (Ebbesson and Folke 2014: 266). Scales of space and time serve to analyze matches and mismatches of law, institutions, and policy in relation to scales of ecological processes. Legal concepts and political jurisdictions are not always in line with the unclear boundaries of social–ecological systems, in a mismatch which can undermine system resilience (Ebbesson and Folke 2014) and the enjoyment of the human right to a healthy and sustainable environment (Knox and Boyd 2018). Arguing that law can stimulate multilevel adaptive governance and promote sustainability, Ebbesson and Folke (2014) introduce the concept of "legal resilience building", which calls for rethinking scales of law to better match those of social–ecological contexts.
Like many social processes, nature does not recognize borders drawn up on paper, as illustrated in cases of international watersheds, epidemics, droughts or flooding. Nation-states most often do not correspond to the scale of social–ecological contexts, thus the need for new forms of collaboration beyond state-centred structures of regulation (Schultz et al. 2015; Perez and Snir 2008).
Similarly, a moment of crisis implies consequences in the short, mid, and long term. Considering the uncertainty of dynamic risks, the temporal dimension implies unforeseen consequences (Galaz et al. 2014). The sense of urgency may lead actors to seek immediate responses, often favouring short-term interventions in response to public pressure. Such a focus on immediate ecosystem stabilization can produce less resilient ecosystems which are more vulnerable to shocks (Gunderson and Holling 2002). Carpenter et al. (2015) call this the "pathology of short-term thinking", proposing in contrast adaptive approaches that allow for natural variability in social–ecological systems.
Beyond the elements of space and time that science tends to focus on (Cumming 2013), an additional scale of analysis that we refer to in this article is the scale of power dynamics. Power and conflict are at the core of social–environmental change, but existing research and knowledge structures are ill-equipped to address them (see Temper et al. 2018). Olsson et al. (2014) recognize that power issues have been understudied by resilience studies, and propose a focus on scale, particularly the interplay between biophysical and social scales (see Veervoort et al. 2012).
Modularity, resilience and sustainability
Human activities have transformed between a third and a half of the planet's land surface (Crutzen 2002; Zalasiewicz et al. 2015), while at the same time generating a drastic loss of ecosystem services and biodiversity (MA 2005). Haddad et al. (2015) estimate that 70% of remaining forest in the world is within one kilometre of the forest's edge, subject to the degrading effects of fragmentation. To maintain habitats for biodiversity despite ecosystem fragmentation, the biological connectivity between patches of ecosystems has become a crucial topic in ecologist thinking (Watson et al. 2014). The degree of fragmentation of habitats in the landscape has become an important area of research: since almost all terrestrial ecosystems are fragmented nowadays, the areas between fragments determine the degree to which organisms may migrate from one fragment to the other, and thus reduce risks of local extinction (Perfecto et al. 2009). Areas between fragments include agroecosystems, which need to be integrated into large-scale landscape and biodiversity management efforts. With ecosystem fragmentation as a new challenge in the Anthropocene, an innovative focus lies in the spatial representation of social–ecological systems based on the degree of modularity both in the ecological system and in the social system, and how they match or mismatch with spatial and temporal scales.
At one end of an analytical spectrum, landscapes with low modularity may be represented by monocultures with a reduced number of species which are over-connected amongst themselves. These social–ecological systems have low general resilience since, due to over-connectedness and low biodiversity, there is a high vulnerability to potential disturbance such as disease and forest fires. For example, biodiversity loss can lead to limited biological pest control (see Ratnadass et al.
2012
; Macfadyen et al.
2011
; Vandermeer and Perfecto
2012
). Low modularity social–ecological systems are still promoted through institutes implementing the ideas of the Green Revolution and agricultural intensification which focus on enhancing yields in monocultures such as grazing pastures or agro-industrial inputs such as oil palm plantations (see DeLonge et al.
2016
; Rockström et al.
2016
) (see Fig. 
2
).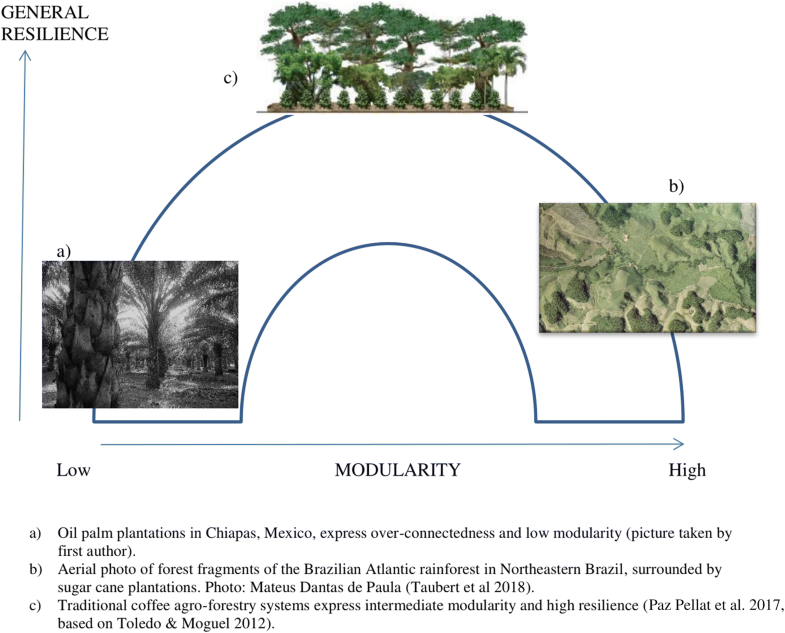 On the other extreme of this spectrum, landscapes with high modularity consist of small and often very isolated habitat patches of biodiversity. This landscape is characterized by low connectivity amongst species (isolation) in which high risks of local extinction may translate in low general resilience to important large-scale ecosystem functions. Examples of such a landscape may be represented by areas with many small protected areas and reserves, representing isolated islands of conservation in an ocean of intensive land use (Fig. 2).
In the middle of these two extremes in Fig. 2 lies a landscape with intermediate modularity, where connectivity and diversity provide sources of resilience (e.g. a poly-structured agroforestry system). Whereas institutions exist to foment high modularity (e.g. national protected areas commission) and low modularity (e.g. agricultural departments and agroindustry) landscapes, agroforestry systems—an important example of intermediate modularity based on smallholders' agrobiodiversity—have failed to receive support from institutional and legal arrangements (see Philpott and Dietsch 2003). However, it has been argued that customary law and practice can imply an implicit recognition of the value of flexible management systems (see Lauer 2016; Unruh and Abdul-Jalil 2012).
Conclusions
The proposed framework builds on law and resilience literature and insights from analyses of modularity to illustrate how mismatches of scale between social–ecological phenomena and legal and institutional arrangements at different levels may generate significant impacts in the case of small-scale coffee producers and shade-grown coffee ecosystems with rich biodiversity. Using different scales of analysis allows us to shed light on the coffee rust social–ecological crisis and potential impacts beyond the here and now. The time scale illustrates the risks of seeking to respond to an emergency with partial solutions: new coffee varieties promoted as a solution to coffee rust may convey new problems if compatibility with local ecosystems and syndromes of production is not considered. The scale of space leads to reflections on unexpected challenges in line with climate change, which go beyond national boundaries and across sectors of society. Through the scale of power, this framework allows insights into the neoliberal context, where transnational institutes in favour of rural development have been replaced by companies with incentives to assure sales rather than invest in solutions for both the economy and the environment. Land-use change from the present polyculture agroforestry systems to coffee varieties which require less shade cover, as promoted by government institutes and private companies, is identified as a driver of ecosystem degradation.
Placed at risk by the mismatches in the response to this social–ecological crisis, shade-grown, organic coffee fields continue to be defended by local coffee cooperatives and allies at multiple scales. New multi-stakeholder initiatives are pushing the frontiers of common emergency response by seeking to transform the present crisis into a secure future for producers and consumers. However, solutions such as multi-stakeholder processes and improved coordination will be largely ineffective unless there is fundamental challenge to dominant development models that favour ecosystem degradation.
We have found that matching scales of law with agroforestry systems can be done through a variety of legal and policy instruments. This matching of scales—which can contribute to build resilience—is vital to appropriate responses to the rust disease. Instruments that generate legally relevant relations include multilateral environmental agreements with a global scope such as the Convention on Biological Diversity and its associated institutional arrangements, from the Aichi Targets and the CBD voluntary guidelines for safeguards to CBD-COP Decisions on distinct topics such as agrobiodiversity, forests and climate. Transnational biodiversity and social standards in coffee production can be used to link responsible consumers and producers throughout the world. These standards are also relevant for matching scales of law with shade-grown coffee agroforestry systems. National governments hold special responsibilities for addressing social–ecological crises such as through declarations of sanitary emergencies of national and sub-national scope.
Further research is needed to analyse these responses to unforeseen social–ecological crisis. An interdisciplinary focus and cross-scale analysis can also shed light on negative collateral effects of inadequate responses to the coffee rust, illustrating how perverse incentives have mandated pathological solutions which risk creating more problems than solutions. However, applying the same analytical framework, it is worth asking if strict environmental regulations, which emphasize the environmental impacts of the present coffee crisis yet fail to recognize the importance of resilience, flexibility and ecosystem-based adaptation, could also prove to mandate pathological solutions by failing to consider ecosystem diversity and producer management systems. Learning from social–ecological crises is vital for safeguarding diverse agroforestry systems and for fostering an enabling environment for small-scale coffee farmers to enjoy their right to a healthy and sustainable environment.
Notes
Acknowledgements
We thank communities and authorities in Mexico who have participated in this ongoing research project. This paper was written as part of a research stay at the Stockholm Resilience Centre facilitated by the Universidad Autónoma Metropolitana (Mexico City), which provided financial support for the academic exchange along with the National Science and Technology Counsel (CONACYT). Research for this paper was funded by the Swedish Research Council for Environment, Agricultural Sciences and Spatial Planning (Formas) through the research project "Effective and Equitable Institutional Arrangements for Financing and Safeguarding Biodiversity" (Grant No. 254-2013-130) at Stockholm Resilience Centre. Some interviews by the main author were carried out in the context of the Center for International Forestry Research's project "Multilevel governance and landscape carbon management", a part of CIFOR's Global Comparative Study on REDD + . This research contributes to the CGIAR Research Program on Policies, Institutions and Markets (PIM), led by the International Food Policy Research Institute (IFPRI). We thank the editors and express our gratitude for the comments we received from two anonymous reviewers.
Compliance with ethical standards
Conflict of interest
None.
Copyright information
© The Author(s) 2019
Open AccessThis article is distributed under the terms of the Creative Commons Attribution 4.0 International License (http://creativecommons.org/licenses/by/4.0/), which permits unrestricted use, distribution, and reproduction in any medium, provided you give appropriate credit to the original author(s) and the source, provide a link to the Creative Commons license, and indicate if changes were made.