Zusammenfassung
Relative Einkommensunterschiede lösen innerhalb einer Referenzgruppe oftmals Neid aus und beeinflussen damit die individuelle Leistungsbereitschaft. In der ökonomischen Forschung ist bislang dieser Zusammenhang wenig untersucht worden. Unser Beitrag analysiert den Einfluss von relativen Einkommensunterschieden auf die Leistung von Fußballprofis der deutschen Bundesliga. Insgesamt werden 1040 Spieler über einen Zeitraum von 8 Spielzeiten zwischen 1995 und 2004 untersucht. Relative Einkommensunterschiede zwischen Mannschaftskollegen erweisen sich als entscheidender Einfluss auf die individuelle Leistung der Spieler. Eine Verschlechterung in der relativen Einkommensposition vermindert ceteris paribus die individuelle Leistungsbereitschaft. Eine höhere Einkommensungleichheit verstärkt solche positionsbedingten Externalitäten.
Abstract
Relative income differences are likely to lead to envy within a reference group. Envy in turn influences social behavior and individual performance. While positional concerns are apparent in daily life, empirical evidence is rare in the economic literature. This paper investigates the impact of the relative income position on individuals' performance or productivity. As "performance" is difficult to measure we turn to soccer players whose performance has been well documented. The broad sample covers eight seasons of the German premier soccer league (Bundesliga) between 1995 and 2004, and includes 1040 players, a salary proxy and several performance variables. The results show that player performance is strongly affected by relative income position. A disadvantage in the relative income position reduces productivity. The larger the income differences within a team, the stronger are the effects of positional concern. Team composition also significantly affects behaviour.
This is a preview of subscription content, log in to check access.
Access options
Buy single article
Instant access to the full article PDF.
US$ 39.95
Price includes VAT for USA
Subscribe to journal
Immediate online access to all issues from 2019. Subscription will auto renew annually.
US$ 99
This is the net price. Taxes to be calculated in checkout.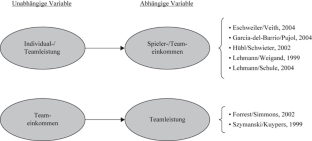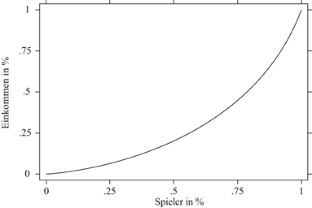 Notes
1.

2.

Beim Ultimatum game interagieren zwei Parteien anonym und einmalig miteinander. Der erste Spieler schlägt vor, wie ein vorgegebener Geldbetrag mit dem zweiten Spieler aufgeteilt werden soll. Wenn der zweite Spieler den Vorschlag ablehnt, erhält keiner der beiden etwas. Ansonsten wird die vorgeschlagene Aufteilung umgesetzt.

3.

"Unlike Italy, however, the wage bill is only a marginally significant predictor of points ratio (p-value of 0.059). From our estimate, the pay-performance elasticity is 0.10 at the sample means and this is lower than for Italy and is actually the lowest for any league surveyed in this paper. (…) Indeed it is this more egalitarian wage structure, compared to Italy, which is failing to assign a clearly significant role for wage bill in determining performance" (Forrest/Simmons 2002, S. 230).

4.

Ausnahmen sind Idson/Kahane (2000) und Torgler (2007).

5.

Eschweiler/Vieth (2004) nutzen diese Spielerbewertung für ihre Analyse von Transferpreisen in der Fußball Bundesliga.

6.

IMP ist offizieller Lieferant für Statistiken der Deutschen Fußball Liga sowie für diverse öffentlich-rechtliche und private Fernsehsender.

7.

Die Marktwerte der Bundesligaspieler werden aufgrund von geschätzten und in der Transfermarkt.de Nutzergemeinde validierten Einkommenszahlen, aus Vertragslaufzeit und aktuellen Leistungsdaten ermittelt.

8.

Eschweiler/Vieth (2004) haben in ihrer Untersuchung von Transferpreisen innerhalb der Fußball Bundesliga auch Daten von Transfermarkt.de verwendet.

9.

Zu Beginn einer neuen Saison stellen Teilnehmer des Kicker-Managerspiels (offen für alle Personen ab 18 Jahren) eine Mannschaft mit 11 Spielern (Torwart, Abwehr, Mittelfeld, Sturm) und 4 Reservisten aus einem Pool von ca. 500 Bundesligaspielern zusammen, der den Kadern der Bundesligamannschaften entspricht. Jeder Teilnehmer verfügt über ein fiktives Budget von EUR 30 Mio., für welches er Spieler für seine virtuelle Mannschaft "einkaufen" kann. Für jeden Spieler im Pool wird zu Saisonbeginn ein Marktwert (z. B. zwischen EUR 0.1 bis 8 Mio. in der Saison 2004/05) durch die Kicker Redaktion festgelegt. Nach jedem Spieltag erfolgt eine Spieltagswertung durch die Kicker Redakteure, wonach jedem Spieler gemäß seiner Leistung ein Punktwert ("Scorerwert" von max. +10 bis -10) zugewiesen wird. Am Ende der Saison ist derjenige Teilnehmer Sieger, dessen Mannschaft insgesamt die meisten Scorer-Punkte zusammengetragen hat. Der individuelle Punktestand wird nach dem jeweiligen Spieltag per Internet veröffentlicht.

10.

Bedauerlicherweise verfügt Transfermarkt.de nur über aktuelle und nicht über historische Gehaltsangaben von Bundesligaspielern, welche eine weitergehende Analyse ermöglichten.

11.

Neuling (neu im Team für die erste Saison=Wert 1, sonst 0).

12.

Vgl. auch Frick (1998b), welcher einen Gini-Koeffizienten von 0.47 für die NBA in der Saison 1996/1997 berechnete.

13.

Hierbei bleiben allerdings mögliche Auswirkungen der Zuschauerzahl auf die individuelle Spielerleistung unberücksichtigt. In vorherigen Studien von Dohmen (2005) konnte gezeigt werden, dass die Höhe der Zuschauerzahlen die individuelle Leistung von Schiedsrichtern beeinflusst. Dieses Problem wird jedoch durch die Berücksichtigung von Zuschauerzahlen der Vorsaison abgeschwächt.

14.

Indem die Variable ABSOLUTE EINK als quadrierter Term in die Schätzungen eingeht, kann auch kritisiert werden, dass erhebliche Multikollinearität in Kauf genommen wird, welche die statistische Signifikanz von ABSOLUTE EINK und ABSOLUTE EINK2 schwächt (Wooldridge 2003, S. 98). Tab. 5 präsentiert deshalb Schätzungen ohne den nichtlinearen Term.
Literatur
Akerlof GA, Yellen JL (1990) The fair wage-effort hypothesis and unemployment. Quart J Econ 105:255–284

Alpizar F, Carlsson F, Johansson-Stenman O (2005) How much do we care about absolute versus relative income and consumption? J Econ Behav Organ 56:405–421

Becker GS (1974) A theory of social interaction. J Polit Economy 82:1063–1093

Becker BE, Huselid MA (1992) The incentive effects of tournament compensation systems. Adm Sci Q 37:336–350

Belman D, Heywood JS (1997) Sheepskin effects by cohort: Implications of job matching in a signalling model. Oxford Econ Pap 49:623–637

Bloom M (1999) The performance effects of pay dispersion on individuals and organizations. Acad Manage J 42:25–40

Boskin M, Sheshinski E (1978) Optimal redistribution taxation when individual welfare depends upon relative income. Quart J Econ 92:589–601

Buchanan MJ, Slottje DJ (1996) Pay and performance in the NBA, JAI Press, Greenwich

Büch MP (1979) Modell und Realität der Fußball Bundesliga − eine ökonomische Betrachtung der Fußball-Bundesliga. Z Wirtsch Sozialwissen 99:447–466

Büch MP, Frick B (1999) Sportökonomie: Erkenntnisinteresse, Fragestellungen und praktische Relevanz. Betriebswirtschaftliche Forschung und Praxis 51:109–123

Clark A, Oswald A (1996) Satisfaction and comparison income. J Public Econ 61:359–381

Debrock L, Hendricks W, Koenker R (2004) Pay and performance: The impact of salary distribution on firm-level outcomes in baseball. J Sports Econ 5(3):243–261

Depken C (2000) Wage disparity and team productivity: Evidence from major league baseball. Econ Lett 67(1):87–92

Easterlin RA (2001) Income and happiness: Towards a unified theory. Econ J 111:465–484

Easterlin R (1974) Does economic growth improve the human lot? Some empirical evidence. In: David PA, Reder MW (eds) Nations and households in economic growth: Essays in honor of Moses Abramovitz. Academic Press, New York, pp 89–125

Ehrenberg RG, Bognanno L (1990) The incentive effects of tournaments revisited: Evidence from European PGA Tour. Ind Lab Relat Rev 43:74–88

Eschweiler M, Vieth M (2004) Preisdeterminanten bei Spielertransfers in der Fußball-Bundesliga. Die Betriebswirtschaft 64(6):671–692

Fernie S, Metcalf D (1999) It's not what you pay, it's the way that you pay it and that's what gets results: Jockeys' pay and performance. Lab 13:385–411

Festinger L (1954) A theory of social comparison processes. Human Relations 7:117–140

Forrest D, Simmons R (2002) Team salaries and playing success in sports: A comparative perspective. Z Betriebswirtschaft 62(4):221–237

Fort R (2003) Thinking (some more) about competitive balance. J Sports Econ 4(4):280–283

Frank RH (1997) The frame of reference as a public good. Econ J 107(445):1832–1847

Frank RH (1985) Choosing the right pond. Oxford University Press, New York

Frank RH, Sunstein CR (2001) Cost-benefit analysis and relative position. University of Chicago Law Review 68:323–374

Frey BS (2006) Evaluitis – Eine neue Krankheit, Working Paper 18, Center for Research in Economics. Management and the Arts, Schweiz

Frey BS, Osterloh M (2005) Yes, managers should be paid like bureaucrats. J Manage Inquiry 14:96–111

Frey BS, Osterloh M (2002) Successful management by motivation. Balancing intrinsic and extrinsic incentives. Springer Verlag, Berlin, Heidelberg, New York

Frey BS, Stutzer A (2002a) Happiness and economics, Princeton University Press, Princeton

Frey BS, Stutzer A (2002b) What can economists learn from happiness research? J Econ Lit 40:402–435

Frey BS, Stutzer A (2005) Happiness research: State and prospects. Rev Soc Econ 63(2):207–228

Frick B (2001) Die Einkommen von "Superstars" und "Wasserträgern" im professionellen Teamsport. Ökonomische Analyse und empirische Befunde. Z Betriebswirtschaft 71(6):701–720

Frick B (1998a) Lohn und Leistung im professionellen Sport: Das Beispiel Stadt-Marathon. Konjunkturpolitik 43:114–140

Frick B (1998b) Management abilities, player salaries, and team performance. Eur J Sport Manage 4:6–22

Frick B, Klaeren R (1997) Die Anreizwirkungen leistungsabhängiger Entgelte - Theoretische Überlegungen und empirische Befunde aus dem Bereich des professionellen Sports. Z Betriebswirtschaft 67:1117–1138

Frick B, Prinz J (2007) Pay and performance in professional road racing: The case of city marathons. Int J Sport Finance 2(1):25–35

Frick B, Prinz J, Winkelmann K (2003) Pay inequalities and team performance. Int J Manpower 24(4):472–488

Garcia-del-Barrio P, Pujol F (2004) Pay and performance in the Spanish Soccer League: Who gets the expected monopsony rents? Working Paper 5. Universidad de Navarra, Navarra

Gomez R (2002) Salary compression and team performance: Evidence from the National Hockey League. Z Betriebswirtschaft: Ergänzungsheft Sportökonomie 72:203–220

Groysberg B, McLean AN, Nohria N (2006) Are leaders portable? Harvard Bus Rev 84(5):92–103

Groysberg B, Nanda A, Nohria N (2004) The risky business of hiring stars. Harvard Bus Rev 82(5):92–100

Groysberg B, Nanda A (2001) Does stardom affect job mobility? Evidence from analyst turnover in investment banks. Harvard Business School Working Paper 02-029, Boston

Hall S, Symanski S, Zimbalist A (2002) Testing for causality between team performance and payroll: The cases of major league baseball and english soccer. J Sports Econ 3:149–168

Hamilton BH, Nickerson JA, Owan H (2003) Team incentives and worker heterogeneity: An empirical analysis of the impact of teams on productivity and participation. J Polit Econ 3:465–498

Harder JW (1992) Play for pay: Effects of inequality in a pay-for-performance context. Adm Sci Quart 37:321–337

Hausman JA (1978) Specification tests in econometrics. Econ 46:1251–1271

Hübl L, Swieter D (2002) Der Spielemarkt in der Fußball –Bundesliga. Z Betriebswirtschaft: Ergänzungsheft Sportökonomie 72(4):105–123

Idson TL, Kahane LH (2000) Team effects on compensation: An application to salary determinants in the National Hockey League. Econ Inq 38:345–357

Johansson-Stenman O, Carlsson F, Daruvala D (2002) Measuring future grandparents' preferences for equality and relative standing. Econ J 112:362–383

Kendall D (2005) Sociology in our times. Thomson Advantage Books, Wadsworth

Kieser A (1995) Organisationstheorien. Kohlhammer Verlag, Stuttgart

Kirchsteiger G (1994) The role of envy in ultimatum games. J Econ Beha Organ 25:373–389

Landers RM, Rebitzer JB, Taylor LJ (1996) Rat race redux: Adverse selection in the determination of work hours in law firms. Am Econ Rev 86:329–348

Lazear EP (1998) Personnel economics for managers. Wiley, New York

Lazear EP (2000) Performance pay and productivity. Am Econ Rev 90:1346–1361

Lazear EP, Rosen S (1981) Rank-order tournaments as optimum labor contracts. J Polit Econ 89:841–864

Layard R (2003) Income and happiness: Rethinking economic policy, Lecture 2, London School of Economics, London (see cep.lse.ac.uk/events/lectures/layard/RL040303.pdf)

Lehmann EE, Schulze GG (2004) What does it take to be a star? The role of performance and the media for German soccer players, Working Paper. Max-Planck-Institute for Research into Economic Systems, Jena

Lehmann E, Wacker U (2000) Messung und Steuerung von Einkommensungleichheiten in Organisationen. In: Backes-Gellner U et al (ed) Flexibilisierungstendenzen in der betrieblichen Personalpolitik. Hampp Verlag, München pp 109–128

Lehmann E, Weigand J (1999) Determinanten der Entlohnung von Profifußballspielern – Eine empirische Analyse für die deutsche Bundesliga. Betriebswirtschaftliche Forschung und Praxis 51(2):124–135

Littkemann J, Kleist S (2002) Sportlicher Erfolg in der Fußball Bundesliga: Eine Frage der Auf- oder der Einstellung? Z Betriebswirtschaft 62(4):181–201

Lynch JG, Zax JS (1998) Prizes, selection and performance in Arabian horse racing, Working Paper 26. University of Colorado at Boulder, Colorado

Maloney M, McCormick RE (2000) The response of workers to wages in tournaments: Evidence from foot races. J Sports Econ 1:99–123

Marshall A (1961) Principles of economics. Macmillan, London

Melton M, Zorn TS (2000) An empirical test of tournament theory: The Senior PGA Tour. Managerial Finance 26:16–32

Ng Y-K (1987) Relative-income effects and the appropriate level of public expenditure. Oxford Econ Pap 39:293–300

Orszag JM (1994) A new look at incentive effects and golf tournaments. Econ Letters 46:77–88

Petty MM, McGee GW, Cavender JW (1984) A meta-analysis of the relationships between individual job satisfaction and individual performance. Acad Manage Rev 9(4):712–721

Pollak RA (1976) Interdependent preferences. Am Econ Rev 66:309–320

Porter PK, Scully GW (1996) The distribution of earnings and the rules of the games. Southern Econ J 63:149–163

Quirk J, Fort R (1999) Hard ball: The abuse of power in pro team sports. Princeton University Press, Princeton

Runciman WG (1966) Relative deprivation and social justice. Routledge, London

Schelling TC (1978) Micromotives and macrobehavior. Norton Publishers, New York

Schoeck H (1966) Envy: A Theory of social behaviour. Liberty Fund, Indianapolis

Schwab DP, Cummings LL (1976) A theoretical analysis of the impact of task scope on employee performance. Acad Manage Rev 1(2):23–35

Scitovsky T (1976) The joyless economy: An inquiry into human satisfaction and consumer dissatisfaction. Oxford University Press, Oxford

Scully GW (1995) The market structure of sports. University of Chicago Press, Chicago

Senik C (2004) Revitalizing relativizing income. Delta Working Paper 17. Paris

Solnick SJ, Hemenway D (1998) Is more always better? A survey on positional concerns. J Econ Behav Org 37:373–383

Stouffer SA (1949) The American soldier. Princeton University Press, Princeton

Sunde U (2003) Potential, prizes and performance: Testing tournament theory with professional tennis data, IZA Discussion Paper Series 947, Bonn

Swieter D (2000) Eine ökonomische Analyse der Fußball Bundesliga. Duncker & Humblot, Berlin

Szymanski S, Smith R (1997) The English football industry: Profit, performance and industrial structure. Int Rev Appl Econ 11(1):135–153

Szymanski S, Kuypers T (1999) Winners and losers: The Business strategy of football. Viking Press, London

Tesluk PE, Jacobs RR (1998) Toward an integrated model of work experience. Personnel Psychology 51:321–355

Torgler B (2007) 'La Grande Boucle': Determinants of success at the Tour de France. J Sports Econ 8:317–331

Torgler B (2004) The economics of the FIFA Football Worldcup. KYKLOS 2:287–300

Tversky A, Griffin D (1991) Endowment and contrast in judgments of well-being. In: Zeckhauser RJ (ed) Strategy and choice. The MIT Press, Cambridge pp 297–318

van Praag B, Ferrer-i-Carbonell A (2004) Happiness quantified – A satisfaction calculus approach. Oxford University Press, Oxford

Walker I, Pettigrew TF (1984) Relative deprivation theory: An overview and conceptual critique. Br J Soc Psychol 23:301–310

Wooldridge JM (2003) Introductory econometrics. Thomson, Mason, Ohio

Zeckhauser RJ (Hrsg) (1991) Strategy and choice. The MIT Press, Cambridge

Zimbalist A (1992) Baseball and billions. Basic Books, New York

Zimbalist A (2002) Competitive balance in sports leagues: An introduction. J Sports Econ 3:111–121
About this article
Cite this article
Schmidt, S., Torgler, B. & Frey, B. Die Auswirkungen von Neid auf individuelle Leistungen: Ergebnisse einer Panelanalyse. Z. Betriebswirtsch 79, 303–334 (2009). https://doi.org/10.1007/s11573-008-0221-x
Received:

Published:

Issue Date:
Schlüsselwörter
Relatives Einkommen

positionsbedingte Externalitäten

Neid

Leistung
Keywords
Relative income

Positional concerns

Envy

Performance

Income inequality
JEL-Classification