Abstract
Background
Pin infection continues to be a nuisance when using definitive external fixation. Prophylactic antibiotic treatment has been proposed in an effort to decrease pin complications.
Questions/Purposes
We performed a prospective, randomized, single-blinded study to answer the following questions: (1) what was the effect of a 10-day course of oral prophylactic antibiotics administered immediately after external fixation surgery on the incidence of a subsequent pin infection, (2) what was the effect on the severity of a subsequent pin infection, and (3) what was the effect on the timing of a subsequent pin infection?
Methods
Patients were randomized into antibiotic treatment and control groups, and incidence, severity, and time of onset of pin infection were recorded.
Results
The incidence of pin infection for the entire cohort during the 90-day observation period was 46/58 (79%) without a statistically significant difference (p = 0.106). There was no statistical difference found (p = 0.512) in pin infection severity. There was no significant difference in the time of onset of infection between the two groups from the date of surgery (p = 0.553).
Conclusions
Our randomized data do not suggest that oral antibiotics alter the incidence, timing, or severity of pin infection. This study does not support the use of prophylactic oral antibiotics in healthy patients.
This is a preview of subscription content, log in to check access.
Access options
Buy single article
Instant access to the full article PDF.
US$ 39.95
Price includes VAT for USA
Subscribe to journal
Immediate online access to all issues from 2019. Subscription will auto renew annually.
US$ 99
This is the net price. Taxes to be calculated in checkout.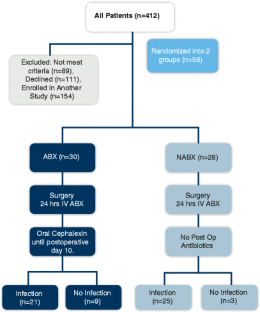 References
1.

Bernstein M, Fragomen A, Sabharwal S, et al. Does integrated fixation provide benefit in the reconstruction of posttraumatic tibial bone defects? Clin Orthop Rel Res. 2015; 473(10): 3143-3153.

2.

Bratzler DW, Dellinger EP, Olsen KM, et al. Clinical practice guidelines for antimicrobial prophylaxis in surgery. Am J Health Syst Pharm. 2013; 70(3): 195-283. doi:10.2146/ajhp120568.

3.

Bratzler DW, Houck PM. Antimicrobial prophylaxis for surgery: an advisory statement from the national surgical infection prevention project. Clin Infect Dis. 2004; 38(12): 1706-1715.

4.

Davies R, Holt N, Nayagam S. The care of pin sites with external fixation. J Bone Joint Surg (Br). 2005; 87B(5): 716-719.

5.

Fourman M, Borst E, Bogner E, et al. Recombinant human BMP-2 increases the incidence and rate of healing in complex ankle arthrodesis. Clin Orthop Rel Res. 2014; 472(2): 732-739.

6.

Fragomen AT, Borst E, Schachter L, et al. Complex ankle arthrodesis using the Ilizarov method yields high rate of fusion. Clin Orthop Rel Res. 2012; 470(10): 2864-2873.

7.

Gordon JE, Kelly-Hahn J, Carpenter CJ, et al. Pin site care during external fixation in children: results of a nihilistic approach. J Pediatr Orthop. 2000; 20: 163-165.

8.

Green SA. Complications of external skeletal fixation. Clin Orthop Rel Res. 1983; 180: 109-116.

9.

Kavanagh KT, Calderon LE, Saman DM, et al. The use of surveillance and preventative measures for methicillin resistant staphylococcus aureus infections in surgical patients. Antimicrob Resist Infect Control. 2014; 14(3): 18.

10.

Kuchinad R, Fourman MS, Fragomen A, et al. Knee arthrodesis as limb salvage for complex failures of total knee arthroplasty. J Arthroplasty. 2014; 29(11): 2150-2155.

11.

Marsh DR, Shah S, Elliott J, et al. The Ilizarov method in nonunion, malunion, and infection of fractures. J Bone Joint Surg (Br). 1997; 79B(2): 273-279.

12.

Paley D. Problems, obstacles, and complications of limb lengthening by the Ilizarov technique. Clin Orthop Rel Res. 1990; 250: 81-104.

13.

Poeran J, Mazumdar M, Rasul R, et al. Antibiotic prophylaxis and risk of Clostridium difficile infection after coronary artery bypass graft surgery. J Thorac Cardiovasc Surg. 2015.

14.

Rozbruch SR, Pugsley JS, Fragomen A, et al. Repair of tibial nonunions and bone defects with the Taylor Spatial Frame. J Orthop Trauma. 2008; 22(2): 88-95.

15.

Schottel P, Muthusamy S, Rozbruch SR. Distal tibial periarticular nonunions: ankle salvage with bone transport. J Orthop Trauma. 2014; 28(6): e146-e152.

16.

Shtarker H, David R, Stolero J, et al. Treatment of open tibial fractures with primary suture and Ilizarov fixation. Clin Orthop Relat Res. 1997; 335: 268-274.

17.

W-Dahl A, Toksvig-Larsen S. Infection prophylaxis: a prospective study in 106 patients operated on by tibial osteotomy using the hemicallotasis technique. Arch Orthop Trauma Surg. 2006; 126: 441-447.
Acknowledgements
We would like to thank, Erica Lenihan, RN, for her help with grading and treating pin infection; Lisa Halfen, RPA, for administering antibiotics postoperatively and keeping the treatment team blinded; Joseph T. Nguyen, MPH, for statistical analysis; and Eugene Borst, BS, for assistance with all workflow aspects of this study. You all contributed significantly to the success of this research project.
Ethics declarations
Conflict of Interest
Andy O. Miller, MD, Barry D. Brause, MD, and Vladimir Goldman, MD, have declared that they have no conflict of interest. Austin T. Fragomen, MD, reports, other than Smith and Nephew, personal fees from NuVasive, Synthes, and Stryker, outside the work. S. Robert Rozbruch, MD, reports personal fees from Smith and Nephew, Stryker, and NuVasive, outside the work.
Human/Animal Rights
All procedures followed were in accordance with the ethical standards of the responsible committee on human experimentation (institutional and national) and with the Helsinki Declaration of 1975, as revised in 2008 (5).
Informed Consent
Informed consent was obtained from all patients for being included in the study.
Required Author Forms
Disclosure forms provided by the authors are available with the online version of this article.
Additional information
Level of Evidence: Therapeutic Study Level I.
Electronic Supplementary Material
Below is the link to the electronic supplementary material.
About this article
Cite this article
Fragomen, A.T., Miller, A.O., Brause, B.D. et al. Prophylactic Postoperative Antibiotics May Not Reduce Pin Site Infections After External Fixation. HSS Jrnl 13, 165–170 (2017). https://doi.org/10.1007/s11420-016-9539-z
Received:

Accepted:

Published:

Issue Date:
Keywords
prophylactic antibiotics

pin infection

external fixation

Ilizarov