Abstract
Background
The orientation of the acetabular cup component of a total hip arthroplasty can be evaluated in a number of ways, utilizing a myriad of imaging techniques and measurement parameters, including intraoperative surgical estimates, postoperative radiographs, and cross-sectional imaging such as computed tomography (CT) and magnetic resonance imaging (MRI).
Questions/Purposes
How do traditional versus corrected measurements of acetabular version vary from one another based on the inclination of the cup? What is the reliability of the corrected acetabular version measurements based on interobserver and intraobserver consistency?
Patients and Methods
Two fellowship-trained musculoskeletal radiologists reviewed CT scans on 60 total hip arthroplasties. Acetabular inclination, traditional CT acetabular version, and CT acetabular version corrected for inclination (by utilizing multi-planar reformations to measure in the plane of the cup face) were each measured. The difference was then calculated between the "traditional" axial CT and "corrected" acetabular version measurements, and the association between this difference and the acetabular inclination was assessed.
Results
The "traditional" axial CT and "corrected" acetabular version measurements differed from one another in every case, with the traditional method yielding a version measurement that was on average 9.5° higher than the corrected technique. However, as the acetabular cup inclination angle decreased, the "traditional" measurement became more variable and increasingly discordant with the "corrected" version measurement.
Conclusions
There is inherent variability between the many methods utilized for defining and measuring acetabular version, with axial CT measurements often used as an accepted proxy for true cup anteversion. However, the variability between different measurement techniques is correlated with acetabular inclination, and this variability is most pronounced when acetabular inclination is low, ultimately leading to potential confusion in measurement terminology. The increasingly widespread availability of multi-planar CT reformations provides an opportunity to standardize methodology, eliminate the impact of inclination on acetabular version measurements, and potentially provide a more reliable comparison of the impact of cup orientation on surgical outcomes.
This is a preview of subscription content, log in to check access.
Access options
Buy single article
Instant access to the full article PDF.
US$ 39.95
Price includes VAT for USA
Subscribe to journal
Immediate online access to all issues from 2019. Subscription will auto renew annually.
US$ 99
This is the net price. Taxes to be calculated in checkout.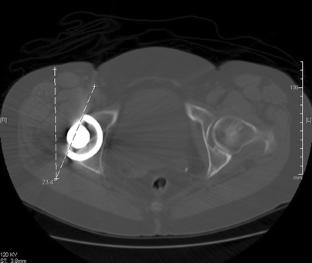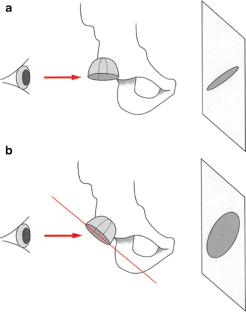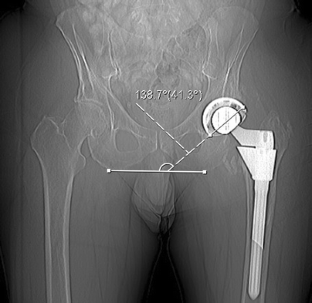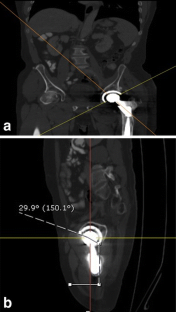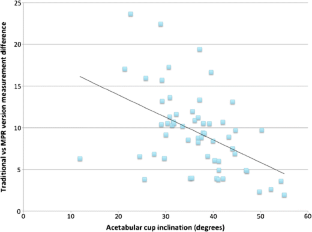 References
1.

Ackland MK, Bourne WB, Uhthoff HK. Anteversion of the acetabular cup. Measurement of angle after total hip replacement. J Bone Jt Surger. 1986; 68(3): 409-413.

2.

Barmeir E, Dubowitz B, Roffman M. Computed tomography in the assessment and planning of complicated total hip replacement. Acta Orthop Scand. 1982; 53: 597-604.

3.

Blendea S, Eckman K, Jaramaz B, Levison TJ, Digioia AM. Measurements of acetabular cup position and pelvic spatial orientation after total hip arthroplasty using computed tomography/radiography matching. Comput aided Surg Off J Int Soc Comput Aided Surg. 2005; 10(1): 37-43. Available at: http://www.ncbi.nlm.nih.gov/pubmed/16199380.

4.

Chandler DR, Tarr RR, Gruen TA, Sarmiento A. Radiographic assessment of acetabular cup orientation. A new design concept. Clin Orthop Relat Res. 1984; 186: 60-64.

5.

D'Lima DD, Urquhart AG, Buehler KO, Walker RH, Colwell CW. The effect of the orientation of the acetabular and femoral components on the range of motion of the hip at different head-neck ratios. J Bone Jt Surg. 2000; 82(3): 315-321. Available at: http://www.ncbi.nlm.nih.gov/pubmed/10724224.

6.

Ghelman B, Kepler CK, Lyman S, Della Valle AG. CT outperforms radiography for determination of acetabular cup version after THA. Clin Orthop Relat Res. 2009; 467(9): 2362-2370. Available at: http://www.pubmedcentral.nih.gov/articlerender.fcgi?artid=2866933&tool=pmcentrez&rendertype=abstract.

7.

Hassan DM, Johnston GHF, Dust WNC, Watson G, Dolovich AT. Accuracy of intraoperative assessment of acetabular prosthesis placement. J Arthroplasty. 1998; 13: 80-84. doi:10.1016/S0883-5403(98)90079-1.

8.

Herrlin K, Pettersson H, Selvik G. Comparison of two- and three-dimensional methods for assessment of orientation of the total hip prosthesis. Acta radiol. 1988; 29(3): 357-361. Available at: http://www.ncbi.nlm.nih.gov/pubmed/2968109.

9.

Kummer FJ, Shah S, Iyer S, DiCesare PE. The effect of acetabular cup orientations on limiting hip rotation. J Arthroplasty. 1999; 14: 509-513. doi:10.1016/S0883-5403(99)90110-9.

10.

Lewinnek GE, Lewis JL, Tarr R, Compere CL, Zimmerman JR. Dislocations after total hip-replacement arthroplasties. J Bone Jt Surg. 1978; 60(2): 217-220. Available at: http://www.ncbi.nlm.nih.gov/pubmed/641088.

11.

Mian SW, Truchly G, Pflum FA. Computed tomography measurement of acetabular cup anteversion and retroversion in total hip arthroplasty. Clin Orthop Relat Res. 1992; 276: 206-209.

12.

Murphy SB, Simon SR, Kijewski PK, Wilkinson RH, Griscom NT. Femoral anteversion. J Bone Joint Surg Am. 1987; 69: 1169-1176. doi:10.1097/01241398-198707000-00026.

13.

Murray MM. Current status and potential of primary ACL repair. Clin Sports Med. 2009; 28(1): 51-61. Available at: http://www.ncbi.nlm.nih.gov/pubmed/19064165.

14.

Murray D. The definition and measurement of acetabular orientation. J Bone Jt Surgery, Br Vol. 1993: 228–232. Available at: http://www.bjj.boneandjoint.org.uk/content/75-B/2/228.abstract. Accessed June 18, 2013.

15.

Najarian BC, Kilgore JE, Markel DC. Evaluation of component positioning in primary total hip arthroplasty using an imageless navigation device compared with traditional methods. J Arthroplasty. 2009; 24: 15-21. doi:10.1016/j.arth.2008.01.004.

16.

Olivecrona H, Weidenhielm L, Olivecrona L, et al. Spatial component position in total hip arthroplasty. Accuracy and repeatability with a new CT method. Acta radiol. 2003; 44(1): 84-91.

17.

Van Bosse HJP, Lee D, Henderson ER, Sala DA, Feldman DS. Pelvic positioning creates error in CT acetabular measurements. Clinical Orthopaedics and Related Research. 2011; 469(6): 1683-91.

18.

Wines AP, McNicol D. Computed tomography measurement of the accuracy of component version in total hip arthroplasty. J Arthroplast. 2006; 21: 696-701. doi:10.1016/j.arth.2005.11.008.

19.

Woo R, Morrey B. Dislocations after total hip arthroplasty. J Bone Jt Surg Am. 1982; 64(9). Available at: http://surgicaltechniques.jbjs.org/data/Journals/JBJS/608/1295.pdf. Accessed June 20, 2013.
Acknowledgments
The authors wish to thank Cyndi Conklin—Hospital for Special Surgery Department of Digital Media.
Disclosures
ᅟ
Conflict of Interest
Michael Loftus, MD, MBA and Bernard Ghelman, MD have declared that they have no conflict of interest. Yan Ma, PhD reports grants from NIH during the conduct of the study.
Human/Animal Rights
All procedures followed were in accordance with the ethical standards of the responsible committee on human experimentation (institutional and national) and with the Helsinki Declaration of 1975, as revised in 2008 (5).
Informed Consent
Informed consent was waived from all patients for being included in the study.
Required Author Forms
Disclosure forms provided by the authors are available with the online version of this article.
Additional information
Level of Evidence: Diagnostic Study, level III
About this article
Cite this article
Loftus, M., Ma, Y. & Ghelman, B. Acetabular Version Measurement in Total Hip Arthroplasty: the Impact of Inclination and the Value of Multi-Planar CT Reformation. HSS Jrnl 11, 65–70 (2015). https://doi.org/10.1007/s11420-014-9416-6
Received:

Accepted:

Published:

Issue Date:
Keywords
acetabulum

arthroplasty

computed tomography

cross-table

CT

hip

imaging

inclination

measurement

multi-planar

pelvis

radiograph

reformations

version