Abstract
Gentianae Radix, the dried root and rhizoma of Gentiana lutea L. (Gentianaceae), has long been used as a remedy for liver and stomach inflammation, eye troubles, etc. In this paper, the gastroprotective effects of the methanol extract of Gentian root (GM) were studied using different gastric lesion models. In pylorus-ligated rats, administration of GM in the duodenum suppressed gastric juice secretion and total acid output in a dose-dependent manner. Oral or duodenum administration of GM showed significant protection against acute gastric ulcer induced by aspirin plus pylorus ligation, water-immersion restraint stress-induced ulcers, and gastric mucosal injury induced by ethanol. Furthermore, four secoiridoid glycosides, amarogentin (A1), gentiopicroside (A2), amaroswerin (A3), and swertiamarin (A4), were obtained from Gentian root or Swertia herb, and their protective effects against stress-induced ulcers and ethanol-induced gastric mucosal injury were evaluated. The doses required for 50% inhibition (ID50) of A1, A3, and A4 on stress-induced ulcers were calculated to be 5.76, 2.58, and 167 mg/kg respectively. The protective effect of A2 at 250 mg/kg was 26.5%. On ethanol-induced gastritis, 5.0 mg/kg of A1 and A3 showed remarkable suppressive effects (33.7 and 45.4%, respectively), and 20 mg/kg of A4 exhibited a suppressive effect (30.8%). The effects of A1, A3, and A4 on ethanol-induced gastric lesions were canceled by 5.0 mg/kg indomethacin pretreatment. These results suggest that the therapeutic effects of Gentian root on gastric lesions are associated with enhanced mucosal defensive factors via the prostaglandin pathway in the cell membrane, and that secoiridoid glycosides contribute to this activity.
This is a preview of subscription content, log in to check access.
Access options
Buy single article
Instant access to the full article PDF.
US$ 39.95
Price includes VAT for USA
Subscribe to journal
Immediate online access to all issues from 2019. Subscription will auto renew annually.
US$ 99
This is the net price. Taxes to be calculated in checkout.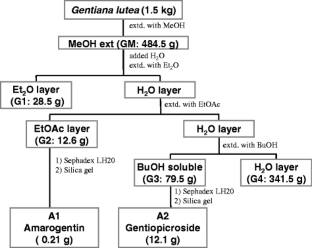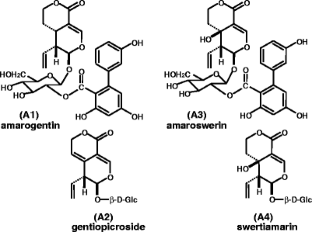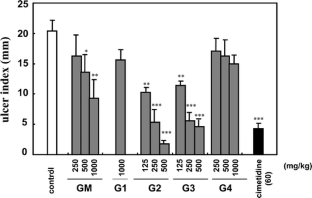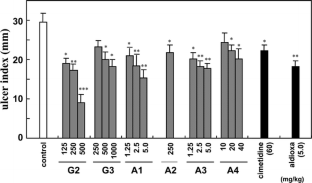 Abbreviations
A1:

Amarogentin

A2:

Gentiopicroside

A3:

Amaroswerin

A4:

Swertiamarin

CMC-Na:

Carboxymethyl cellulose-Na

GM:

Methanolic extract of Gentian root

G1:

Ether soluble fraction of Gentian root

G2:

EtOAc soluble fraction of Gentian root

G3:

n-BuOH soluble fraction of Gentian root

G4:

Water soluble residue

UI:

Ulcer index
References
1.

Kohlein F (1991) Gentians. Timber Press, Portland, pp 25–27

2.

Namba T (1993) Wakan–Yaku Hyakka–Jiten. (The encyclopedia of Wakan–Yaku, Japanese–Chinese herbal drugs) (in Japanese). Hoikusha, Tokyo, pp 188–189

3.

The Japanese Pharmacopoeia (English version) (2001), 14th edn, Part II. Ministry of Health, Labor and Welfare Japan, pp 925–992; Japanese Pharmacopoeia 14th Guide Book, Hirokawa Publisher, Tokyo, 2001, pp D341–D348 (in Japanese)

4.

Hayashi T (1976) Studies on crude drugs originated from Gentianaceous plants I Determination of gentiopicroside, the bitter principle of Gentianae radix and Gentianae scabrae radix (in Japanese). Yakugaku Zasshi 96:356–361

5.

Wagner H, Wolff P (1977) New natural products and plant drugs with pharmacological, biological or therapeutical activity. Springer, Berlin Heidelberg New York

6.

Kondo Y, Takano F, Hojo H (1994) Suppression of chemically and immunologically induced hepatic injuries by gentiopicroside in mice. Planta Med 60:414–416

7.

Blumberger W, Glatzel H (1968) The action of customary spices on the lysozyme activity of the saliva (in German). Dtsch Zahnarztl Z 23:666–674

8.

Yamahara J, Konoshima T, Sawada T, Fujimura H (1978) Biologically active principles of crude drugs: pharmacological actions of Swertia japonica extracts, swertiamarin and gentianine (in Japanese). Yakugaku Zasshi 98:1446–1451

9.

Okabe S, Takeuchi K, Ikenishi H, Ohmi F, Takaoka A (1983) Effects of SM powder, a combined herbal preparation for stomach diseases, on gastric secretion and acute gastro-duodenal lesions in rats (in Japanese). Nippon Yakurigaku Zasshi (Jpn J Pharmacol) 81:285–294

10.

Glatzel H, Hackenberg K (1967) Roentgenological studies of the effect of bitters on digestive organs (in German). Planta Med 15:223–232

11.

Niiho Y, Takayanagi K, Takagi K (1977) Effects of a combined stomachic and its ingredients on rabbit stomach motility in situ. Jpn J Pharmacol 27:177–179

12.

Akamatsu K (1970) Wakan-Yaku (in Japanese). Ishiyaku Shuppan, Tokyo

13.

Niiho Y, Mitsunaga K, Koike K, Ohmoto T (1994) Studies on the gastric antiulcer components from the woods of Picrasma quassioides (Simaroubaceae) (in Japanese). Nat Med 48:116–121

14.

Akada Y, Kawano S, Yamagishi M, Tanase Y (1979) High-speed liquid chromatographic analysis of drugs. VI. Rapid estimation of gentiopicroside in Gentianae scabrae radix and Gentianae radix (in Japanese). Yakugaku Zasshi 99:1047–1050

15.

Boros CA, Stermitz FR (1991) Iridoids. An updated review, part II. J Nat Prod 54:1173–1246

16.

Shay H, Komarov SA, Fels SS, Meranze D, Gruenstein M, Siplet H (1945) A simple method for the uniform production of gastric ulceration. Gastroenterology 5:43–61

17.

Suzuki Y, Hayashi M, Ito M, Yamagami I (1976) Anti-ulcer effects of 4′-(2-carboxyethyl) phenyl trans-4-aminomethyl cyclohexane carboxylate hydrochloride (cetraxate) on various experimental gastric ulcers in rats. Jpn J Pharmacol 26:471–480

18.

Anson ML (1938) The estimation of pepsin, trypsin, papain and catepsin with hemoglobin. J Gen Physiol 22:78–89

19.

Takagi K, Okabe S (1968) The effects of drugs on the production and recovery process of the stress ulcer. Jpn J Pharmacol 18:299–311

20.

Goldenberg MM, Honkomp LJ, Burrous SE, Castellion AW (1975) Protective effect of Pepto-Bismol liquid on the gastric mucosa of rats. Gastroenterology 69:636–640

21.

Miyoshi A (ed) (1993) Reconsideration of anti-secretory drugs in peptic ulcer. Iyaku Journal, Tokyo

22.

Robert A (1981) Gastric cytoprotection by sodium salicylate. Prostaglandins 21(Suppl):139–146
About this article
Cite this article
Niiho, Y., Yamazaki, T., Nakajima, Y. et al. Gastroprotective effects of bitter principles isolated from Gentian root and Swertia herb on experimentally-induced gastric lesions in rats. J Nat Med 60, 82–88 (2006). https://doi.org/10.1007/s11418-005-0014-2
Received:

Accepted:

Published:

Issue Date:
Keywords
Gentianae Radix

Anti-gastric ulcer

Gastric lesions

Cytoprotective activity

Gentiopicroside

Secoiridoid glycosides