Abstract
In this investigation, performance and emission characteristics for enhancing LPG, hydrogen, and hydroxy with E20 were evaluated for the understanding of which fuel combination performs better in a gasoline engine. In the upper sequence, hydroxy-hydrogen-LPG could perform best in terms of brake thermal efficiency (BTE) and brake-specific fuel consumption (BSFC). The induction of gaseous fuel improves CO, CO2, and HC emission but increases the NOx emission. More concisely, the enhancement of hydroxy with E20 shows the best engine performance for highest BTE while lowest BSFC as well as lowest exhaust emissions (CO, HC, except NOx).
This is a preview of subscription content, log in to check access.
Access options
Buy single article
Instant access to the full article PDF.
US$ 39.95
Price includes VAT for USA
Subscribe to journal
Immediate online access to all issues from 2019. Subscription will auto renew annually.
US$ 99
This is the net price. Taxes to be calculated in checkout.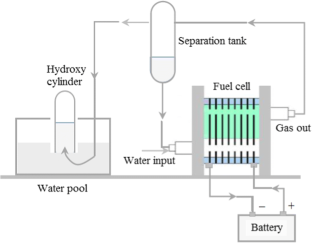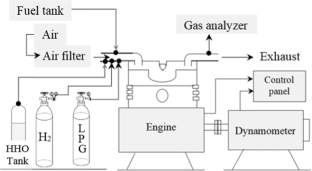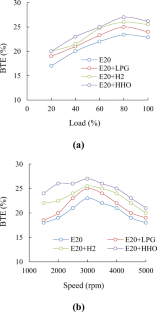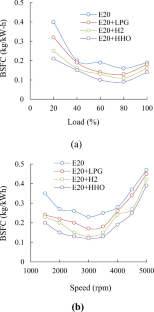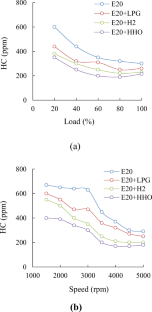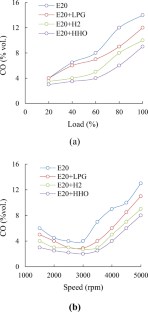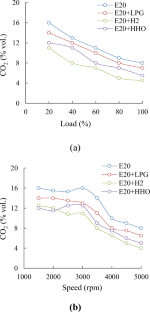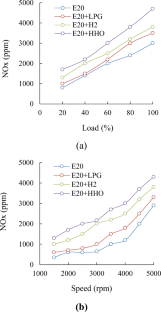 Abbreviations
HHO:

Hydroxy gas

BP:

Brake power

E20:

20% (v/v) ethanol + 80% (v/v) gasoline

BSFC:

Brake-specific fuel consumption

BTE:

Brake thermal efficiency

HC:

Unburned hydrocarbon

NOx:

Nitrogen oxides

LPG:

Liquefied petroleum gas

lpm:

Liter per minute
References
Akansu SO, Tangöz S, Kahraman N, İlhak Mİ, Açıkgöz S (2017) Experimental study of gasoline-ethanol-hydrogen blends combustion in an SI engine. Int J Hydrog Energy 42:25781–25790

Al-Baghdadi MAS (2003) Hydrogen-ethanol blending as an alternative fuel of spark ignition engines. Renew Energy 28:1471–1478

Bose PK, Maji D (2009) An experimental investigation on engine performance and emissions of a single cylinder diesel engine using hydrogen as inducted fuel and diesel as injected fuel with exhaust gas recirculation. Int J Hydrog Energy 34:4847–4854

Brayek M, Jemni MA, Kantchev G, Abid MS (2016) Effect of hydrogen–oxygen mixture addition on exhaust emissions and performance of a spark ignition engine. Arab J Sci Eng 41:4635–4642

Cetin M (2011) The emission of characteristics LPG-ethanol blend as a fuel in a SI engine. Energy Educ Sci Technol Part A-Energy Sci Res 28:151–160

Chansauria P, Mandloi RK (2018) Effects of ethanol blends on performance of spark ignition engine-a review. Mater Today Proc 5:4066–4077

Chitragar PR, Shivaprasad KV, Nayak V et al (2015) An experimental study on combustion and emission analysis of four cylinder 4-stroke gasoline engine using pure hydrogen and LPG at idle condition. Energy Procedia 90:525–534

Costa RC, Sodré JR (2010) Hydrous ethanol vs. gasoline-ethanol blend: engine performance and emissions. Fuel 89:287–293

De Almeida LQ, Sales LCM, Sodré JR (2015) Fuel consumption and emissions from a vehicle operating with ethanol, gasoline and hydrogen produced on-board. Int J Hydrog Energy 40:6988–6994

Dhanasekaran C, Mohankumar G (2016) Dual fuel mode DI diesel engine combustion with hydrogen gas and DEE as ignition source. Int J Hydrog Energy 41:713–721

El-kassaby MM, Eldrainy YA, Khidr ME, Khidr KI (2016) Effect of hydroxy ( HHO ) gas addition on gasoline engine performance and emissions. Alexandria Eng J 55:243–251

Eyidogan M, Ozsezen AN, Canakci M, Turkcan A (2010) Impact of alcohol-gasoline fuel blends on the performance and combustion characteristics of an SI engine. Fuel 89:2713–2720

Falahat AM, Hamdan MA, Yamin JA (2014) Engine performance powered by a mixture of hydrogen. Int J Automot Technol 15:97–101

Greenwood JB, Erickson PA, Hwang J, Jordan EA (2014) Experimental results of hydrogen enrichment of ethanol in an ultra-lean internal combustion engine. Int J Hydrog Energy 39:12980–12990

Heywood JB (1988) Internal combustion engine fundamentals. McGraw Hill, New York

Holman J (1973) Experimental methods for engineers. McGraw-Hill, New York

Ji C, Zhang B, Wang S (2013) Enhancing the performance of a spark-ignition methanol engine with hydrogen addition. Int J Hydrog Energy 38:7490–7498

Karagoz Y, Yuca N, Sandalci T, Dalkilic AS (2015) Effect of hydrogen and oxygen addition as a mixture on emissions and performance characteristics of a gasoline engine. Int J Hydrog Energy 40:8750–8760

Kremer FG, Fachetti A (2000) Alcohol as automotive fuel - Brazilian experience. In: SAE technical paper. pp 2000–01–1965

Kumar M, Ramesh A, Nagalingam B (2003) Use of hydrogen to enhance the performance of a vegetable oil fuelled compression ignition engine. Int J Hydrog Energy 28:1143–1154

Mustafa KF, Gitano-Briggs H (2009) Liquefied petroleum gas (LPG) as an alternative fuel in spark ignition engine: performance and emission characteristics. 3rd Int Conf Energy Environ, pp 189–194

Nayak V, Rashmi GS, Chitragar P, Mohanan P (2015) Combustion characteristics and cyclic variation of a LPG fuelled MPFI four cylinder gasoline engine. Energy Procedia 90:470–480

Rahman MA, Aziz MA, Ruhul AM, Rashid MM (2017a) Biodiesel production process optimization from Spirulina maxima microalgae and performance investigation in a diesel engine. J Mech Sci Technol 31:3025–3033

Rahman MA, Ruhul AM, Aziz MA, Ahmed R (2017b) Experimental exploration of hydrogen enrichment in a dual fuel CI engine with exhaust gas recirculation. Int J Hydrog Energy 42:5400–5409

Shivaprasad KV, Raviteja S, Chitragar P (2014) Experimental investigation of the effect of hydrogen addition on combustion performance and emissions characteristics of a spark ignition high speed gasoline engine. Procedia Technol 14:141–148

Thakur AK, Kaviti AK, Mehra R, Mer KKS (2017) Progress in performance analysis of ethanol-gasoline blends on SI engine. Renew Sust Energ Rev 69:324–340

Turner D, Xu H, Cracknell RF, Natarajan V, Chen X (2011) Combustion performance of bio-ethanol at various blend ratios in a gasoline direct injection engine. Fuel 90:1999–2006

Wang S, Ji C, Zhang J, Zhang B (2011) Comparison of the performance of a spark-ignited gasoline engine blended with hydrogen and hydrogen-oxygen mixtures. Energy 36:5832–5837

Wang S, Ji C, Zhang B, Liu X (2012) Performance of a hydroxygen-blended gasoline engine at different hydrogen volume fractions in the hydroxygen. Int J Hydrog Energy 37:13209–13218
Funding
The authors would like to acknowledge the Ministry of Power, Energy and Mineral Resources, Bangladesh, for the partial financial support through the research program.
Additional information
Responsible editor: Philippe Garrigues
About this article
Cite this article
Rahman, M.A. Induction of hydrogen, hydroxy, and LPG with ethanol in a common SI engine: a comparison of performance and emission characteristics. Environ Sci Pollut Res 26, 3033–3040 (2019). https://doi.org/10.1007/s11356-018-3861-6
Received:

Accepted:

Published:

Issue Date:
Keywords
LPG

Hydrogen

Hydroxy

SI engine

Performance

Emission