Abstract
The aim of the present study was to assess the concentrations of lead (Pb) and cadmium (Cd) in the liver and kidney from stray dogs (Canis lupus familiaris) and cats (Felis catus) found dead between 2014 and 2017 in the city of Naples and its surrounding areas. These organs from 290 dogs and 88 cats were collected after ordinary necropsy of stray animals. Heavy metal concentrations were determined by using atomic absorption spectrophotometry (AAS). Concentrations of Pb (up to 5.93 mg/kg) and Cd (ranging from 0.005 to 6.13 mg/kg) were detected in both livers and kidneys analyzed. Differences in concentration were found based on age class, gender, and kind of tissue for both elements, with a trend similar to those already reported in the literature for comparable studies from different countries. Cadmium levels in the kidney were significantly higher (p < 0.05) in females than those in males for both species. As regards to Pb, the highest concentrations were detected in the liver (3.45 mg/kg in dog and 5.93 in cat, respectively) followed by the renal tissue, with no significant difference depending on the animal gender. This study can be considered the first one in Italy regarding stray dogs and cats as bio-indicators of environmental contamination due to lead and cadmium, suggesting that pets could be sentinel animals to evaluate human exposure to these heavy metals.
This is a preview of subscription content, log in to check access.
Access options
Buy single article
Instant access to the full article PDF.
US$ 39.95
Price includes VAT for USA
Subscribe to journal
Immediate online access to all issues from 2019. Subscription will auto renew annually.
US$ 99
This is the net price. Taxes to be calculated in checkout.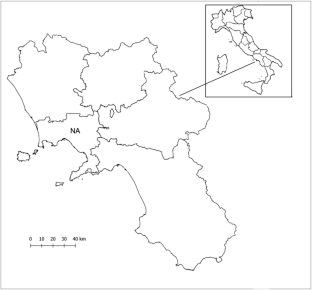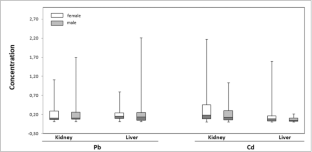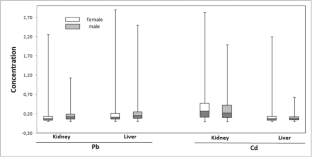 References
Backer LC, Grindem CB, Corbett WT, Cullins L, Hunter JL (2001) Pet dogs as sentinels for environmental contamination. Sci Total Environ 274:161–169

Balagangathara Thilagar M, Swarup D, Patra RC, Dwivedi SK (2006) Blood lead level in dogs from urban and rural areas of India and its relation to animal and environmental variables. Sci Total Environ 15(359):130–134

Beyer J, Green NW, Brooks S, Allan IJ, Ruus A, Gomes T, ILN B, Schøyen M (2017) Blue mussels (Mytilus edulis spp) as sentinel organisms in coastal pollution monitoring: a review. Mar Environ Res 130:338–365

Bilandžić N, Sedak M, Vratarić D, Perić T, Šimić B (2009) Lead and cadmium in red deer and wild boar from different hunting grounds in Croatia. Sci Total Environ 407:4243–4247

Bischoff K, Priest H, Mount-Long A (2010) Animals as sentinels for human lead exposure: a case report. J Med Toxicol 6(2):185–189

Buck WB (1979) Animals as monitors of environmental quality. Vet Hum Toxicol 21(4):277–284

Chiari MC, Cortinovis M, Bertoletti L, Alborali M, Zanoni E, Ferretti F, Caloni (2015) Lead cadmium and organochlorine pesticide residues in hunted red deer and wild boar from northern Italy. Food Addit Contam A 32(11):1867–1874

Costagliola A, Papparella S, Caputo V, Rosato G, Mizzoni V, degli Uberti B, Baldi L, Esposito M, Sarnelli P, Paciello O (2017) Advances in environmental biomonitoring in Campania region: the CRIUV experience. Atti del 71° Congresso SISVET Napoli 28 giugno 2017

De Roma A, Serpe FP, Neola B, Sansone D, Cerino P, Esposito M (2017) Land snails (Helix aspersa) as bioindicators of trace element contamination in Campania (Italy). O ALib J 4:e3339

Godt J, Scheidig F, Grosse-Siestrup C, Esche V, Brandenburg P, Reich A, Groneberg DA (2006) The toxicity of cadmium and resulting hazards for human health. J Occup Med Toxicol 1:22

IARC (1993) IARC International Agency for Research on Cancer 1993 Cadmium and cadmium compounds. IARC Monogr Eval Carcinog Risks Hum 58 Lyon France:119–237

IARC (2012) IARC International Agency for Research on Cancer 2012 A review of human carcinogens: arsenic metals fibres and dusts. IARC Monogr Eval Carcinog Risks Hum 100C Lyon France:121–141

Khazdair MR, Boskabady MH, Afshari R, Dadpour B, Behforouz A, Javidi M, Abbasnezhad A, Moradi V, Tabatabaie SS (2012) Respiratory symptoms and pulmonary function testes in lead exposed workers. Iran Red Crescent Med J 14(11):737–742. https://doi.org/10.5812/ircmj.4134

López-Alonso M (2011) Pets as sentinels of human exposure. In: Nriagu JO (ed) Encyclopedia of environmental health. Elsevier, pp 454–461. https://doi.org/10.1016/B978-0-444-52272-6.00593-6

López-Alonso M, Miranda M, García-Partida P, Mendez A, Castillo C, Benedito JL (2007a) Toxic and trace metal concentrations in liver and kidney of dogs: influence of diet sex age and pathological lesions. Biol Trace Elem Res 116:185–202

López-Alonso M, Miranda M, García-Partida P, Cantero F, Hernández J, Benedito JL (2007b) Use of dogs as indicators of metal exposure in rural and urban habitats in NW Spain. Sci Total Environ 372:668–675

Maleki A, Zarasvand MA (2008) Heavy metals in selected edible vegetables and estimation of their daily intake in Sanandaj Iran southeast Asian. J Trop Med Public Health 39:335–340

Naccari C, Giangrosso G, Macaluso A, Billone E, Cicero A, D'Ascenzi C, Ferrantelli V (2013) Red foxes (Vulpes vulpes) bioindicator of lead and copper pollution in Sicily (Italy). Ecotox Environ Safe J 90:41–45

Neo JPS, Tan BH (2017) The use of animals as a surveillance tool for monitoring environmental health hazards human health hazards and bioterrorism. VetMicrobiol 203:40–48

O'Brien DJ, Kaneene JB, Poppenga RH (1993) The use of mammals as sentinels for human exposure to toxic contaminants in the environment. Environ Health Perspect 99:351–368

Paßlack N, Mainzer B, Lahrssen-Wiederholt M, Schafft H, Palavinskas R, Breithaupt A, Zentek J (2014) Liver and kidney concentrations of strontium barium cadmium copper zinc manganese chromium antimony selenium and lead in cats BMC. Vet Res 10:163

Paßlack N, Mainzer B, Lahrssen-Wiederholt M, Schafft H, Palavinskas R, Breithaupt A, Zentek J (2015) Concentrations of strontium barium cadmium copper zinc manganese chromium antimony selenium and lead in the liver and kidneys of dogs according to age gender and the occurrence of chronic kidney disease. J Vet Sci 16(1):57–66

Puls R (1994) Mineral levels in animal health diagnostic data, 2nd edn. Sherpa International, Clearbrook, p 82

Rabinowitz PM, Scotch ML, Conti LA (2010) Animals as sentinels: using comparative medicine to move beyond the laboratory. ILAR J 51:262–267

Reif JS (2011) Animal sentinels for environmental and public health. Public Health Rep 126:50–57

Satarug SJR, Baker S, Urbenjapol M, Haswell-Elkins PE, Reilly DJ, Williams MR, Moore MR (2003) A global perspective on cadmium pollution and toxicity in non-occupationally exposed population. Toxicol Lett 137:65–83

Schmidt PL (2009) Companion animals as sentinels for public health. Vet Clin North Am Small Anim Pract 39:241–250

Serpe FP, Russo R, Simone AD, Florio S, Esposito M, Severino L (2012) Levels of heavy metals in liver and kidney of dogs from urban environment. Open Vet J 2(1):15–18

Skibniewski M, Kośla T, Skibniewska EM (2013) Domestic cat (Felis catus) as a bioindicator of environmental lead contamination. Environ Prot Nat Resour J 24:47–50

Stahl RG Jr (1997) Can mammalian and non-mammalian sentinel species data be used to evaluate the human health implications of environmental contaminants. Hum Ecol Risk Assess 3:329–335

Swarup D, Patra RC, Dwivedi SK, Dey S (2000) Blood lead and cadmium in dogs from urban India. Vet Hum Toxicol 42:232–233

Tchounwou PB, Yedjou CG, Patlolla AK, Sutton DJ (2012) Heavy metals toxicity and the environment. EXS 101:133–164

Van der Schalie WH, Gardner HS Jr, Bantle JA, De Rosa CT, Finch RA, Reif JS, Reuter RH, Backer LC, Burger J, Folmar LC, Stokes WS (1999) Animals as sentinel of human health hazard of environmental chemicals. Environ Health Perspect 107:309–315
Ethics declarations
Conflict of interest
The authors declare that they have no conflict of interest.
Additional information
Responsible editor: Philippe Garrigues
About this article
Cite this article
Esposito, M., De Roma, A., Maglio, P. et al. Heavy metals in organs of stray dogs and cats from the city of Naples and its surroundings (Southern Italy). Environ Sci Pollut Res 26, 3473–3478 (2019). https://doi.org/10.1007/s11356-018-3838-5
Received:

Accepted:

Published:

Issue Date:
Keywords