Abstract
In response to seasonal variation in quality and quantity of available plant biomass, herbivorous foragers may alternate among different plant resources to meet nutritional requirements. Giant pandas (Ailuropoda melanoleuca) are reliant almost exclusively on bamboo which appears omnipresent in most occupied habitat, but subtle temporal variation in bamboo quality may still govern foraging strategies, with population-level effects. In this paper, we investigated the possibility that temporal variation in the quality of this resource is involved in population regulation and examined pandas' adaptive foraging strategies in response to temporal variation in bamboo quality. Giant pandas in late winter and early spring consumed a less optimal diet in Foping Nature Reserve, as the availability of the most nutritious and preferred components and age classes of Bashania fargesii declined, suggesting that bamboo may be a seasonally limiting resource. Most panda mortalities and rescues occurred during the same period of seasonal food limitation. Our findings raised the possibility that while total bamboo biomass may not be a limiting factor, carrying capacity may be influenced by subtle seasonal variation in bamboo quality. We recommend that managers and policy-makers should consider more than just the quantity of bamboo in the understory and that carrying capacity estimates should be revised downward to reflect the fact that all bamboos are not equal.
Access options
Buy single article
Instant access to the full article PDF.
USD 39.95
Price includes VAT (USA)
Tax calculation will be finalised during checkout.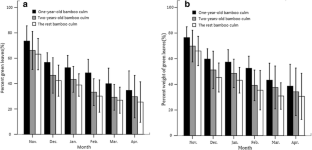 References
Brown DR, Sherry TW (2006) Food supply controls the body condition of a migrant bird wintering in the tropics. Oecologia 149:22–32

Feng TT, Manen FT, Zhao NX, Li M, Wei FW (2009) Habitat assessment for giant pandas in the Qinling Mountain Region of China. J Wildl Manag 73:852–858

Ganzhorn JU (2002) Distribution of a folivorous lemur in relation to seasonally varying food resources: integrating quantitative and qualitative aspects of food characteristics. Oecologia 131:427–435

Goss-Custard J, Caldow R, Clarke R, West A (1995) Deriving population parameters from individual variations in foraging behaviour. II. Model tests and population parameters. J Anim Ecol 64:277–289

Hong MS, Wei W, Yang ZS, Yuan SB, Yang XY, Gu XD, Huang F, Zhang ZJ (2016) Effects of timber harvesting on Arundinaria spanostachya bamboo and feeding-site selection by giant pandas in Liziping Nature Reserve, China. For Ecol Manag 373:74–80

Hong MS, Yuan SB, Yang ZS, Yang XY, Gu XD, Huang F, Zhang ZJ (2015) Comparison of microhabitat selection and trace abundance of giant pandas between primary and secondary forests in Liziping Nature Reserve, China: effects of selective logging. Mamm Biol 80:373–379

Hu JC (2001) Research on the giant panda. Shanghai Publishing House of Science and Technology, Shanghai (in Chinese)

Hu JC, Schaller G, Pan WS, Zhu J (1985) The giant panda of Wolong. Sichuan Scientific and Technological Press, Chengdu (in Chinese)

Hu YB, Zhan XJ, Qi DW, Wei FW (2010) Spatial genetic structure and dispersal of giant pandas on a mountain-range scale. Conserv Genet 11:2145–2155

Illius AW, Gordon IJ (1993) Diet selection in mammalian herbivores: constraints and tactics: an interdisciplinary approach to foraging behavior. Blackwell Scientific Publishing, Boston

Jhala YV (1997) Seasonal effects on the nutritional ecology of blackbuck Antelope cervicapra. J Appl Ecol 34:1348–1358

Knapp AK, Blair JM, Briggs JM, Collins SL, Hartnett DC, Johnson LC, Towne EG (1999) The keystone role of bison in North American tallgrass prairie: bison increase habitat heterogeneity and alter a broad array of plant, community, and ecosystem processes. Bioscience 49:39–50

Lack D (1954) The natural regulation of animal numbers. Oxford University Press, London

Li R et al (2010) The sequence and de novo assembly of the giant panda genome. Nature 463:311–317

Linderman M, Bearer S, An L, Tan Y, Ouyang Z, Liu J (2005) The effects of understory bamboo on broad-scale estimates of giant panda habitat. Biol Conserv 121:383–390

McNaughton S (1984) Grazing lawns: animals in herds, plant form, and coevolution. Am Nat 124:863–886

Nie YG, Zhang ZJ, Swaisgood RR, Wei FW (2012a) Effects of season and social interaction on fecal testosterone metabolites in wild male giant pandas: implications for energetics and mating strategies. Eur J Wildlife Res 58:235–241

Nie YG, Speakman JR, Wu Q, Zhang CL, Hu YB et al (2015a) Exceptionally low daily energy expenditure in the bamboo-eating giant panda. Science 349:171–174

Nie YG, Swaisgood RR, Zhang ZJ, Hu YB, Ma YS, Wei FW (2012b) Giant panda scent-marking strategies in the wild: role of season, sex and marking surface. Anim Behav 84:39–44

Nie YG, Swaisgood RR, Zhang Z, Liu X, Wei FW (2012c) Reproductive competition and fecal testosterone in wild male giant pandas (Ailuropoda melanoleuca). Behav Ecol Sociobiol 66:721–730

Nie YG, Zhang ZJ, Raubenheimer D, Elser JJ, Wei W, Wei FW (2015b) Obligate herbivory in an ancestrally carnivorous lineage: the giant panda and bamboo from the perspective of nutritional geometry. Funct Ecol 29:26–34

Owen-Smith N (1994) Foraging responses of kudus to seasonal changes in food resources: elasticity in constraints. Ecology 75:1050–1062

Owen-Smith N, Fryxell J, Merrill E (2010) Foraging theory upscaled: the behavioural ecology of herbivore movement. Philos T R Soc B 365:2267–2278

Pan W, Lv Z, Zhu X, Wang D, Wang H, Long Y (2001) The last chance to survival. Peking University Press, Beijing (in Chinese)

Qi D, Hu Y, Gu X, Yang X, Yang G, Wei F (2012) Quantifying landscape linkages among giant panda subpopulations in regional scale conservation. Integr Zool 7:165–174

Qin Z, Taylor A, Cai X, Huang J (1993) Research on Fargesia robusta biological characteristics. J Bamboo Res 12:6–17 (in Chinese)

Reid DG, Hu JC, Dong S, Wei W, Huang Y (1989) Giant panda Ailuropoda melanoleuca behaviour and carrying capacity following a bamboo die-off. Biol Conserv 49:85–104

Ren Y, Wang M, Yue M, Li Z (1998) Plants of giant panda's habitat of Qinling Mountains. Shaanxi Sciences and Technology Press, Xian (in Chinese)

Saether BE, Andersen R, Hjeljord O, Heim M (1996) Ecological correlates of regional variation in life history of the moose Alces alces. Ecology 77:1493–1500

Schaller GB (1985) The giant panda of Wolong. University of Chicago press, Chicago

Shrader A, Owen-Smith N, Ogutu J (2006) How a mega-grazer copes with the dry season: food and nutrient intake rates by white rhinoceros in the wild. Funct Ecol 20:376–384

Sinclair A(1989). Population regulation in animals. In: Symposium of the British Ecological Society,197–241.

Stephens DW, Krebs JR (1986) Foraging theory. Princeton University Press, New Jersey

Sun YR, Zhang ZJ, Li LH et al (2010) Trace elements and nutrients of Bashania fargesii in the Qinling Mountains. Acta Theriol Sinica 30:223–228 (in Chinese)

Swaisgood RR, Lindburg DG, Zhou X, Owen MA (2000) The effects of sex, reproductive condition and context on discrimination of conspecific odours by giant pandas. Anim Behav 60:227–237

Swaisgood RR, Wei F, Mcshea WJ, Wildt DE, Kouba AJ, Zhang Z (2011) Can science save the giant panda (Ailuropoda melanoleuca)? Unifying science and policy in an adaptive management paradigm. Integ Zool 6:290–296

Swaisgood RR, Wei F, Wildt DE, Kouba AJ, Zhang Z (2009) Giant panda conservation science: how far we have come. Biol Lett 6:143–145

Tian XQ (1989) Shooting and growth of Bashania fargesii. J Bamb Res 8:45–53 (in Chinese)

Tuanmu MN, Viña A, Winkler JA, Li Y, Xu W, Ouyang Z, Liu J (2013) Climate-change impacts on understorey bamboo species and giant pandas in China's Qinling Mountains. Nature Clim Change 3:249–253

Verweij JTR, Verrelst J, Loth PE, Heitkönig MAI, Brunsting MHA (2006) Grazing lawns contribute to the subsistence of mesoherbivores on dystrophic savannas. Oikos 114:108–116

Wanless S, Harris M, Redman P, Speakman J (2005) Low energy values of fish as a probable cause of a major seabird breeding failure in the North Sea. Mar Ecol-Prog Ser 294:1–8

Wang JX, Ma ZG, Liu CX, Gan LM (1991) Preliminary study on the growth and development rules of Fargesia denudata bamboo. J Bamboo Res 10:39–48 (in Chinese)

Wei FW, Feng ZJ, Wang ZW, Li M (1999) Feeding strategy and resource partitioning between giant and red pandas. Mammalia 63:417–430

Wei FW, Hu YB, Zhu LF, Bruford MW, Zhan XJ, Zhang L (2012) Black and white and read all over: the past, present and future of giant panda genetics. Mol Ecol 21:5660–5674

Zhan XJ, Zhang ZJ, Li M et al (2007) Molecular analysis of dispersal in giant pandas. Mol Ecol 16:3792–3800

Zhang S, Pan R, Li M, Oxnard C, Wei F (2007a) Mandible of the giant panda (Ailuropoda melanoleuca) compared with other Chinese carnivores: functional adaptation. Biol J Linn Soc 92:449–456

Zhang ZJ, Swaisgood RR, Hu W et al (2007b) Factors predicting den use by maternal giant pandas. J Wildl Manag 71:2694–2698

Zhang ZJ, Sheppard JK, Swaisgood RR et al (2014) Ecological scale and seasonal heterogeneity in the spatial behaviors of giant pandas. Integr Zool 9:46–60

Zhang ZJ, Swaisgood RR, Zhang SN et al (2011) Old-growth forest is what giant pandas really need. Biol Lett 7:430–406

Zhou Z, Pan W (1997) Analysis of the viability of a giant panda population. J Appl Eco 34:363–374

Zhu LF, Wu Q, Dai JY, Zhang SN, Wei FW (2011a) Evidence of cellulose metabolism by the giant panda gut microbiome. PNAS 108:17714–17719

Zhu LF, Zhan XJ, Meng T, Zhang SN, Wei FW (2010a) Landscape features influence gene flow as measured by cost-distance and genetic analyses: a case study for giant pandas in the Daxiangling and Xiaoxiangling Mountains. BMC Genet 11:1–11

Zhu LF, Zhan XJ, Wu H, Zhang SN, Meng T, Bruford MW, Wei FW (2010b) Conservation implications of drastic reductions in the smallest and most isolated populations of giant pandas. Conserv Biol 24:1299–1306

Zhu LF, Zhang SN, Gu XD, Wei FW (2011b) Significant genetic boundaries and spatial dynamics of giant pandas occupying fragmented habitat across southwest China. Mol Ecol 20:1122–1132
Acknowledgements
This project was supported by National Key Program of Research and Development, Ministry of Science and Technology (No. 2016YFC0503200), National Natural Science Foundation of China (31270570, 31470462, 31670530), and International Cooperation Foundation for Giant Pandas of the State Forestry Administration (CM1425). This research was also approved by San Diego Zoo Global's Institutional Animal Care and Use Committee (Proposal No. 11-013). Xiaoling Wang, Anxing Zhang, Chunju Pu, and Chengdong Li assisted in the field. Thanks are also given to the reviewers for their constructive comments.
Additional information
Responsible editor: Philippe Garrigues
About this article
Cite this article
Li, Y., Swaisgood, R.R., Wei, W. et al. Withered on the stem: is bamboo a seasonally limiting resource for giant pandas?. Environ Sci Pollut Res 24, 10537–10546 (2017). https://doi.org/10.1007/s11356-017-8746-6
Received:

Accepted:

Published:

Issue Date:
Keywords
Bamboo biomass

Diet

Energetic constraints

Foraging strategy

Population regulation