Abstract
Candle composition is expected to influence the air pollutants emissions, possibly leading to important differences in the emissions of volatile organic compounds and polycyclic aromatic hydrocarbons. In this regard, the purity of the raw materials and additives used can play a key role. Consequently, in this work emission factors for some polycyclic aromatic hydrocarbons, aromatic species, short-chain aldehydes and particulate matter have been determined for container candles constituted by different paraffin waxes burning in a test chamber. It has been found that wax quality strongly influences the air pollutant emissions. These results could be used, at least at a first glance, to foresee the expected pollutant concentration in a given indoor environment with respect to health safety standards, while the test chamber used for performing the reported results could be useful to estimate the emission factors of any other candle in an easy-to-build standardised environment.
Access options
Buy single article
Instant access to the full article PDF.
USD 39.95
Price excludes VAT (USA)
Tax calculation will be finalised during checkout.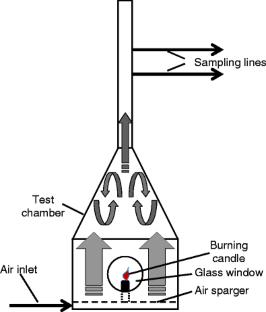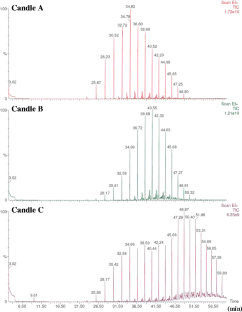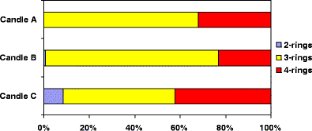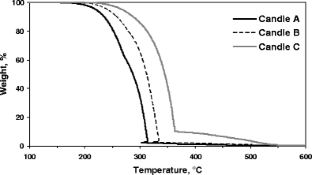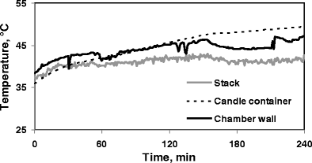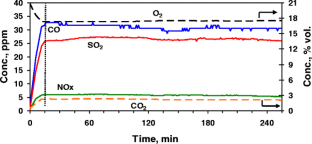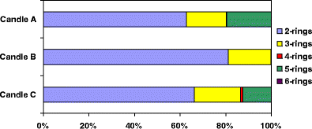 References
Afshari A, Matson U, Ekberg LE (2005) Characterization of indoor sources of fine and ultrafine particles: a study conducted in a full-scale chamber. Indoor Air 15:141–150

Apple J, Vicente R, Yarberry A, Lohse N, Mills E, Jacobson A, Poppendieck D (2010) Characterization of particulate matter size distributions and indoor concentrations from kerosene and diesel lamps. Indoor Air 20:399–411

Batterman S, Chin J-Y, Jia C, Godwin C, Parker E, Robins T, Max P, Lewis T (2012) Sources, concentrations, and risks of naphthalene in indoor and outdoor air. Indoor Air 22:266–278

Chuang H-C, Jones T, BéruBé K (2012) Combustion particles emitted during church services: implications for human respiratory health. Environ Int 40:137–142

Derudi M, Gelosa S, Sliepcevich A, Cattaneo A, Rota R, Cavallo D, Nano G (2012) Emissions of air pollutants from scented candles burning in a test chamber. Atmos Environ 55:257–262

Destaillats H, Maddalena RL, Singer BC, Hodgson AT, McKone TE (2008) Indoor pollutants emitted by office equipment: a review of reported data and information needs. Atmos Environ 42:1371–1388

Estrellan CR, Iino F (2010) Toxic emissions from open burning. Chemosphere 80:193–207

EU (2000) EC Directive relating to limit values for benzene and carbon monoxide in ambient air In: Official Journal of the European Communities, pp 12–21

EU (2004) Directive 2004/107/EC of the European Parliament and of the Council of 15 December 2004 relating to arsenic, cadmium, mercury, nickel and polycyclic aromatic hydrocarbons in ambient air In: Official Journal of the European Union, pp 3–16

Fan CW, Zhang J (2001) Characterization of emissions from portable household combustion devices: particle size distributions, emission rates and factors, and potential exposures. Atmos Environ 35:1281–1290

Fine PM, Cass GR, Simoneit BT (1999) Characterization of fine particle emissions from burning church candles. Environ Sci Technol 33:2352–2362

Guo Z, Mosley R, McBrian JA, Fortmann R (2000) Fine particulate matter emissions from candles In: Engineering Solutions to Indoor Air Quality Problems, Raleigh, NC

He C, Morawska L, Hitchins J, Gilbert D (2004) Contribution from indoor sources to particle number and mass concentrations in residential houses. Atmos Environ 38:3405–3415

Kuszlik AK, Meyer G, Heezen PAM, Stepanski M (2010) Solvent-free slack wax de-oiling – Physical limits. Chem Eng Res Design 88:1279–1283

Lau C, Fiedler H, Hutzinger O, Schwind KH, Hosseinpour J (1997) Levels of selected organic compounds in materials for candle production and human exposure to candle emissions. Chemosphere 34:1623–1630

Lee SC, Wang B (2006) Characteristics of emissions of air pollutants from mosquito coils and candles burning in a large environmental chamber. Atmos Environ 40:2128–2138

Long CM, Suh HH, Koutrakis P (2000) Characterization of indoor particle sources using continuous mass and size monitors. J Air Waste Manag Assoc 50:1236–1250

Mannino MR, Orecchio S (2008) Polycyclic aromatic hydrocarbons (PAHs) in indoor dust matter of Palermo (Italy) area: extraction, GC-MS analysis, distribution and sources. Atmos Environ 42:1801–1817

Manoukian A, Quivet E, Temime-Roussel B, Nicolas M, Maupetit F, Wortham H (2013) Emission characteristics of air pollutants from incense and candle burning in indoor atmospheres. Environ Sci Pollut Res 20:4659–4670

Maupetit F, Squinazi F (2009) Caractérisation des émissions de benzène et de formaldéhyde lors de la combustion d'encens et de bougies d'intérieur: elaboration de scénarios d'exposition et conseils d'utilisation. Environ Risques Santé 8:109–118 (in French)

Morawska L, Zhang J (2002) Combustion sources of particles 1 Health relevance and source signatures. Chemosphere 49:1045–1058

Nriagu JO, Kim M-J (2000) Emissions of lead and zinc from candles with metal-core wicks. Sci Total Environ 250:37–41

Orecchio S (2010) Assessment of polycyclic aromatic hydrocarbons (PAHs) in soil of a Natural Reserve (Isola delle Femmine) (Italy) located in front of a plant for the production of cement. J Hazard Mater 173:358–368

Orecchio S (2011) Polycyclic aromatic hydrocarbons (PAHs) in indoor emission from decorative candles. Atmos Environ 45:1888–1895

Ott WR, Siegmann HC (2006) Using multiple continuous fine particle monitors to characterize tobacco, incense, candle, cooking, wood burning, and vehicular sources in indoor, outdoor, and in-transit settings. Atmos Environ 40:821–843

Pagels J, Wierzbicka A, Nilsson E, Isaxon C, Dahl A, Gudmundsson A, Swietlicki E, Bohgard M (2009) Chemical composition and mass emission factors of candle smoke particles. J Aerosol Sci 40:193–208

Ravindra K, Sokhi R, van Grieken R (2008) Atmospheric polycyclic aromatic hydrocarbons: source attribution, emission factors and regulation. Atmos Environ 42:2895–2921

Rohr AC, Weschler CJ, Koutrakis P, Spengler JD (2003) Generation and quantification of ultra-fine particles through terpene/ozone reaction in a chamber setting. Aerosol Sci Technol 37:65–78

Sarigiannis DA, Karakitsios SP, Gotti A, Liakos IL, Katsoyiannis A (2011) Exposure to major volatile organic compounds and carbonyls in European indoor environments and associated health risk. Environ Int 37:743–765

Sesana G, Nano G, Baj A, Balestreri S (1991) New sampling tool for airborne volatile aldehydes. Fresenius J Anal Chem 339:485–487

Shooto DN, Dikio ED (2011) Morphological characterization of soot from the combustion of candle wax. Int J Electrochem Soc 6:1269–1276

Stabile L, Fuoco FC, Buonanno G (2012) Characteristics of particles and black carbon emitted by combustion of incenses, candles and anti-mosquito products. Building Environ 56:184–191

Tuckett CJ, Holmes P, Harrison PT (1998) Airborne particles in the home. J Aerosol Sci 29:293–294

USEPA (1998) Toxicological Review of Naphthalene (CAS No. 91-20-3) in Support of Summary Information on the Integrated Risk Information System (IRIS) National Center for Environmental Assessment Cincinnati, OH, USA

USEPA (2001) Candles and incense as potential sources of indoor air pollution: market analysis and literature review, USEPA-600/R-01-001

van Alphen M (1999) Emission testing and inhalational exposure-based risk assessment for candles having Pb metal wick cores. Sci Total Environ 243:53–65

Wasson SJ, Guo Z, McBrian JA, Beach LO (2002) Lead in candle emissions. Sci Total Environ 296:159–174

WHO (2006) WHO Air Quality Guidelines for Particulate Matter, Ozone, Nitrogen Dioxide and Sulfur Dioxide: Global Update 2005 (Summary of risk assessment)

WHO (2010) WHO guidelines for indoor air quality: selected pollutants WHO Regional Office for Europe, Copenhagen, Denmark

Yunker MB, Macdonald RW, Vingarzan R, Mitchell RH, Goyette D, Sylvestre S (2002) PAHs in the Fraser River basin: a critical appraisal of PAH ratios as indicators of PAH source and composition. Org Geochem 33:489–515

Zai S, Zhen H, Jia-song W (2006) Studies on the size distribution, number and mass emission factors of candle particles characterized by modes of burning. J Aerosol Sci 37:1484–1496

Zaky MT, Mohamed NH, Farag AS (2007) Separation of different paraffin wax grades using two comparative deoiling techniques. Fuel Proc Technol 88:913–920

Zaky MT, Mohamed NH, Farag AS (2010) Separation of some paraffin wax grades using solvent extraction techniques. Fuel Proc Technol 92:2024–2029
Acknowledgments
Financial support from the Associazione Cerai d'Italia is gratefully acknowledged.
Additional information
Responsible editor: Constantini Samara
About this article
Cite this article
Derudi, M., Gelosa, S., Sliepcevich, A. et al. Emission of air pollutants from burning candles with different composition in indoor environments. Environ Sci Pollut Res 21, 4320–4330 (2014). https://doi.org/10.1007/s11356-013-2394-2
Received:

Accepted:

Published:

Issue Date:

DOI: https://doi.org/10.1007/s11356-013-2394-2
Keywords
Candles

Emission factor

Volatile organic compounds

PAHs

Particulate matter

Paraffin wax