Abstract
A large number of bacteria, including agents responsible for diseases, characterise sewage-polluted seawaters. Apart from standards for bathing waters and bivalve aquaculture waters, there are no general microbiological standards applicable to seawaters to help decide if bacterial pollution is within acceptable ranges. This study represents an attempt towards the issue of comparing the susceptibility of different marine invertebrates subjected to polluted seawater with a high microbial contamination. We explored the survival rates and the microbiological accumulation of mollusc bivalves, echinoderms and crustaceans species exposed to sewage-polluted seawaters. Microbiological analyses were performed on the polluted seawater and on the homogenates of exposed and unexposed specimens. Culturable bacteria (22 °C and 37 °C) and microbial pollution indicators (total coliforms, Escherichia coli and intestinal enterococci) were measured. When exposed to the sewage-polluted seawater, the examined invertebrates showed different survival rates. In the filter feeders, bacterial densities at 22 °C and 37 °C rose after 96 h of exposure to sewage. The highest concentrations of total coliforms and intestinal enterococci were found in exposed bivalve Mytilus galloprovincialis. The concentrations of bacteria growing at 37 °C were lower in the exposed deposit feeders compared to the polluted seawater. Some yeasts were absent in several exposed species although these yeasts were present in the polluted seawater. Our data suggest that the examined filter feeders, given their capability to survive and accumulate bacteria, may counteract the effects of sewage and restore seawater quality.
This is a preview of subscription content, log in to check access.
Access options
Buy single article
Instant access to the full article PDF.
US$ 39.95
Price includes VAT for USA
Subscribe to journal
Immediate online access to all issues from 2019. Subscription will auto renew annually.
US$ 99
This is the net price. Taxes to be calculated in checkout.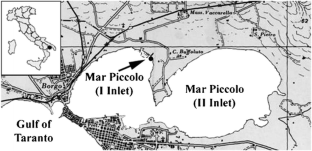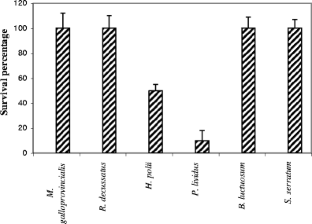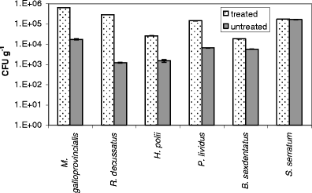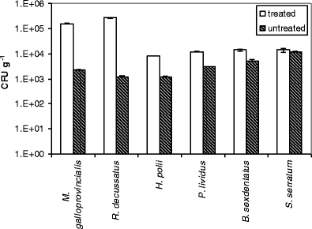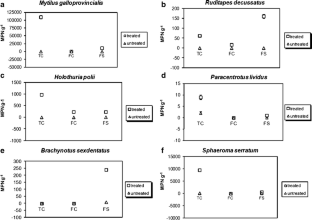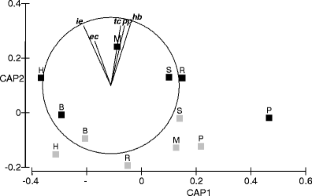 References
American Public Health Association (APHA) (1992) Standard methods for the examination of water and wastewater, 18th ed. APHA, Washington DC

Anderson MJ, Willis TJ (2003) Canonical analysis of principal coordinates: a useful method of constrained ordination for ecology. Ecology 84:511–525

Anderson MJ, Gorley RN, Clarke KR (2008) PERMANOVA+ for PRIMER: guide to software and statistical methods. PRIMER-E, Plymouth

Beleneva IA, Zhukova NV, Maslennikova EF (2003) Comparative study of microbial communities from cultured and natural populations of the mussel Mytilus trossulus in Peter the Great Bay. Microbiology 72(4):472–477

Birkbeck TH, McHenery JG (1982) Degradation of bacteria by Mytilus edulis. Mar Biol 72:7–15

Bouchard N, Pelletier E, Fournier M (1999) Effects of butyltin compounds on phagocytic activity of hemocytes form three marine bivalves. Environ Toxicol Chem 18(3):519–522

Brinkman NE, Haugland RA, Wymer LJ, Byappanahalli M, Whitman RL, Vesper SJ (2003) Evaluation of a rapid, quantitative real-time PCR method for enumeration of pathogenic Candida cells in water. Appl Environ Microbiol 69 N°3:1775–1782

Cabelli VJ (1983) Health effects criteria for marine waters. EPA-600/1-80-031. US Environmental Protection Agency, Cincinnati

Caroppo C, Stabili L, Aresta M, Corinaldesi C, Danovaro R (2006) Impact of heavy metals and PCBs on marine picoplankton. Environ Toxicol 21(6):541–551

Cavallo RA, Stabili L (2002) Presence of vibrios in seawater and Mytilus galloprovincialis (Lam.) from the Mar Piccolo of Taranto (Ionian Sea). Water Res 36:3719–3726

Chan SS, Ho KW (1993) Bacterial contamination of the Pacific oyster (Crassostrea gigas) cultured in Deep Bay, Hong Kong. Environ Technol 14:861–867

Cima F, Ballarin L, Bressa G, Martinucci G, Burighel P (1996) Toxicity of organotin compounds on embryos of a marine invertebrate (Styela plicata; Tunicata). Ecotox Environ Safe 35:174–182

Clarke KR, Gorley RN (2006) PRIMER V6: user manual/tutorial. PRIMER-E, Plymouth

Colwell RR (1994) Vibrios in the marine and estuarine environment. In: 3rd International Marine Biotechnology Conference, 7–12 August, Tromso, Norway

Coulon P, Jangoux M (1993) Feeding rate and sediment reworking by the holothuroid Holothuria tubulosa (Echinodermata) in a Mediterranean seagrass bed off Ischia Island. Italy Mar Ecol Prog Ser 92:201–204

Council Directive 2006/7/EC of the European Parliament and of the Council of 15 February (2006) concerning the management of bathing water quality and repealing Directive 76/160/EEC. Official Journal of the European Union, 4.3.2006, L64/37.

Council Directive 2006/113/EC of the European Parliament and of the Council of 12 December 2006 on the quality required of shellfish waters

De Guise S, Maratea J, Perkins C (2004) Malathion immunotoxicity in the American lobster (Homarus americanus) upon experimental exposure. Aquat Toxicol 66(4):419–425

Drewa G, Zbytniewski Z, Palgan K (1988) Influence of an anionic detergent (alkylbenzene sulphonate) on enzymes, moulting cycle and survival in the shrimp Crangon crangon L. Kieler Meeresforsch Sonderheft 6:454–462

Duchene JC, Imbaud P, Delille D (1998) Associated bacteria microflora of a subantarctic polychaete worm Thelepus setosus. Arch Hydrobiol 112:221–231

Dufour AP (1984) Health effects criteria for fresh recreational waters. EPA-600/1-84-004. US Environmental Protection Agency, Cincinnati

Dupont J, Jehl-Pietri C, Herve C, Menard D (1992) Comparative study of bacterial and viral faecal contamination in shellfish: demonstration of seasonal variations. Biomed Lett 47:329–335

Ek H, Dave G, Sturve J, Almroth BC, Stephensen E, Förlin L, Birgersson G (2005) Tentative biomarkers for 2,4,6-trinitrotoluene (TNT) in fish (Oncorhynchus mykiss). Aquat Toxicol 72(3):221–230

EPA/600/R-06/021 (2005) Detecting and mitigating the environmental impact of fecal pathogens originating from confined animal feeding operations: review. http://nepis.epa.gov

EPA/USACE (1994) Evaluation of dredged material proposed for discharge in waters of the U.S. Testing manual (draft). EPA 823-F-94-002-Washington, D.C

European Water Framework Commission (2000) Directive 2000/60/EC of the European Parliament and of the Council of 23 October 2000 establishing a framework for community actions in the field of water policy. Official Journal of the European Communities L327, 1.22.12.2000

Fernandez P, Valls M, Bayona JM, Albaiges J (1991) Occurrence of cationic surfactants and related products in urban coastal environments. Environ Sci Technol 25:547–550

Fewtrell L, Bartram J (2001) Water quality: guidelines, standards and health, World Health Organization Water Series. IWA, London

Geldreiche EE, Kenner BA (1969) Concepts of fecal Streptococci in stream pollution. J Water Pollut Control Fed 41:335–352

Gifford S, Dunstan RH, O'Connor W, Roberts T, Toia R (2004) Pearl aquaculture—profitable environmental remediation. Sci Total Environ 319:27–37

Gleeson C, Gray NF (2002) The coliform index and waterborne disease: problems of microbial drinking water assessment. Taylor and Francis, London, p 210, eBook

Granmo A, Kollberg S, Berggren M, Ekelund R, Magnusson K, Renberg L, Wahlberg O (1991) Bioaccumulation of nonylphenol in caged mussels in an industrial coastal area of a Swedish coast. In: Angeletti G. (ed) Organic micropollutants in the aquatic environment. Kluwer, Dordrecht, pp. 71–79

Hardina CM, Fujitoka RS (1991) Soil: the environmental source of Escherichia coli and Enterococci in Hawaii streams. Environ Toxicol Water Qual 6:185–195

Hodson PV (2002) Biomarkers and bioindicators in monitoring and assessment: the state of the art. In: Adams SM (ed) Biological indicators of aquatic ecosystem stress. American Fisheries Society, Bethesda, p 644

Huertas M, Gisbert E, Rodríguez A, Cardona L, Williot P, Castelló-Orvay F (2002) Acute exposure of Siberian sturgeon (Acipenser baeri, Brandt) yearlings to nitrite: median-lethal concentration (LC50) determination, haematological changes and nitrite accumulation in selected tissues. Aquat Toxicol 57(4):257–266

ISO (International Organization for Standardization) (1998) Water quality determination of the inhibitory effect of water samples on the light emission of Vibrio fischeri (luminescence bacteria test). ISO 11348-3, 48pp

Jangoux M (1987) Diseases of Echinodermata. I. Agents microorganisms and protistans. Dis Aquat Org 2:147–162

Kartasheva NV, Ostroumov SA (1998) Tretradecyltrimethylammonium bromide (tetradetziltrimetilammonij bromid). Toxicol Bull 5:30–32

Koop K, Hutchins P (1996) Disposal of sewage to the ocean—a sustainable solution? Mar Poll Bull 33:121–123

Leclerc H, Mossel DAA, Edberg SC, Struij CB (2001) Advances in the bacteriology of the coliform group: their suitability as markers of microbial water safety. Ann Rev Microbiol 55:201–234

Licciano M, Stabili L, Giangrande A, Cavallo RA (2007) Bacterial accumulation by Branchiomma luctuosum (Annelida: Polychaeta): a tool for biomonitoring marine systems and restoring polluted waters. Mar Environ Res 63:291–302

Longo C, Corriero G, Licciano M, Stabili L (2010) Bacterial accumulation by the Demospongiae Hymeniacidon perlevis: a tool for the bioremediation of polluted seawater. Mar Poll Bull 6:1182–1187

Mansilha CR, Coelho CA, Heitor AM, Amado J, Martins JP, Gameiro P (2009) Bathing waters: new directive, new standards, new quality approach. Mar Poll Bull 58:1562–1565

Marshall R (2001) Washington State Department of Ecology: laboratory guidance and whole effluent toxicity text review criteria. Publication number WW-R-95-80

Neil M (2004) Microbiological indices for total coliform and E. coli bacteria in estuarine waters. Mar Poll Bull 49:752–760

Ormond RFG, Gage JD, Angel MV (1997) Marine biodiversity: patterns and processes. Cambridge University Press, Cambridge

Ostroumov SA (1994) Some aspects of ecotoxicology and biochemical ecology of surfactants. Proceedings of the 6th International Congress of Ecology (21–26 August 1994, Manchester), 127

Ostroumov SA (2002) Inhibitory analysis of top-down control: new keys to studying eutrophication, algal blooms, and water self-purification. Hydrobiologia 469:117–129

Ostroumov SA (2003) Studying effects of some surfactants and detergents on filter-feeding bivalves. Hydrobiologia 500:341–344

Ostroumov SA (2005) Some aspects of water filtering activity of filter-feeders. Hydrobiologia 542:275–286

Ostroumov SA, Widdows J (2006) Inhibition of mussel suspension feeding by surfactants of three classes. Hydrobiologia 556(1):381–386

Pagliara P, Montinari MR, Giangrande E, Canicattì C (1992) Protective antifungal factors in Echinoderms. Fifth International Colloquium on Pathology in Marine Aquaculture. 2–4 April, Montpellier, France

Pastore M (1993) Mar Piccolo. Nuova Apulia (Ed.), Martima Franca (Ta), Italy

Petersen JK, Riisgård HU (1992) Filtration capacity of the ascidian Ciona intestinalis and its grazing impact in a shallow fjord. Mar Ecol Prog Ser 88:9–17

Plante CJ, Shriver A (1998) Differential lysis of sedimentary bacteria by Arenicola marina: examination of cell wall structure and exopolimeric capsules as correlates. J Exp Mar Biol Ecol 229:35–52

Segretain G, Droubet E, Mariat F (1979) Diagnostic de Laboratoire en Mycologie Mèdicale. S. A. Malonie (Ed.), Paris, France

Sinton LW, Donnison AM (1994) Characterization of faecal Streptococci from some New Zealand effluents and receiving water. N Z J Mar Fresh Res 28:145–158

Spacie A, McCarty LS, Rand GM (1995) Bioaccumulation and bioavailability in multiphase systems. In: Rand GM (ed) Fundamentals of aquatic toxicology, 2nd edn. Taylor and Francis, Washington, DC, pp 493–521, Chapter 16

Spencer JFT, Spencer DM (1997) Ecology: where yeasts are. In: Spencer JFT, Spencer DM (eds) Yeasts in natural and artificial habitats. Springer, Berlin, pp 48–58

Stabili L, Canicattì C (1994) Antibacterial activity of the seminal plasma of Paracentrotus lividus. Can J Zool 72:1211–1216

Stabili L, Licciano M, Pagliara P (1994) Evidence of antibacterial and lysozyme-like activity in different planktonic larval stages of Paracentrotus lividus. Mar Biol 119:501–505

Stabili L, Pagliara P, Roch P (1996a) Antibacterial activity in the coelomocytes of the sea urchin Paracentrotus lividus. Comp Biochem Physiol 113(B 3):639–644

Stabili L, Lassagues M, Pastore M (1996b) Preliminary study on antibacterial capabilities of eggs of Paracentrotus lividus (Echinodermata: Echinoidea). J Invertebr Pathol 67:180–182

Stabili L, Acquaviva MI, Cavallo RA (2005) Mytilus galloprovincialis filter feeling on the bacterial community in a Mediterranean coastal area (Northern Ionian Sea—Italy). Water Res 39(2–3):469–477

Stabili L, Licciano M, Giangande A, Fanelli G, Cavallo RA (2006a) Sabella spallanzanii filter-feeding on bacterial community: ecological implications and applications. Mar Environ Res 61:74–92

Stabili L, Licciano M, Giangrande A, Longo C, Mercurio M, Nonnis MC, Corriero G (2006b) Filtering activity of Spongia officinalis var. adriatica (Schmidt) (Porifera, Demospongiae) on bacterioplankton: implications for bioremediation of polluted seawater. Water Res 40:3083–3090

Stabili L, Licciano M, Longo C, Corriero G, Mercurio M (2008) Evaluation of microbiological accumulation capability of the commercial sponge Spongia officinalis var. adriatica (Schmidt) (Porifera, Demospongiae). Water Res 42:2499–2506

Stabili L, Schirosi R, Licciano M, Giangrande A (2010) Bioremediation of bacteria in aquaculture waste using the polychaete Sabella spallanzanii. N Biotechnol 27(6):774–781

Terlizzi A, Fraschetti S, Guidetti P, Boero F (2002) The effects of sewage discharge on shallow hard bottom sessile assemblage. Mar Poll Bull 44:542–548

USEPA (2002) Methods for measuring the acute toxicity of effluents and receiving waters to freshwater and marine organisms. 5th Edition. EPA 821-R-02-012

USEPA (2004) National Pollutant Discharge Elimination System Compliance Inspection Manual. EPA 305-X-03

Vezzulli L, Pruzzo C, Fabiano M (2004) Response of the bacterial community to in situ bioremediation of organic-rich sediments. Mar Poll Bull 49:740–751

Widdows J (2001) Bivalve clearance rates: inaccurate measurements or inaccurate reviews and misrepresentation? Mar Ecol Prog Ser 221:303–305

Widdows J, Donkin P, Brinsley MD, Evans SV, Salkeld PN, Franklin A, Law RJ, Waldock M (1995) Scope for growth and contaminant levels in North Sea mussels Mytilus edulis. Mar Ecol Prog Ser 127:131–148

Widdows J, Brinsley MD, Salkeld PN, Elliott M (1998) Use of annular flumes to determine the influence of current velocity and bivalves on material flux at the sediment–water interface. Estuaries 21:552–559

Yablokov AV, Ostroumov SA (1991) Conservation of living nature and resources: problems, trends, prospect. Springer, New York, p 271
Additional information
Responsible editor: Philippe Garrigues
About this article
Cite this article
Stabili, L., Terlizzi, A. & Cavallo, R.A. Sewage-exposed marine invertebrates: survival rates and microbiological accumulation. Environ Sci Pollut Res 20, 1606–1616 (2013). https://doi.org/10.1007/s11356-012-1103-x
Received:

Accepted:

Published:

Issue Date:
Keywords
Sewage pollution

Microbial pollution indicators

Yeasts

Deposit feeders

Filter feeders

Bioremediation