Long-term Uncertainty of Hydropower Revenue Due to Climate Change and Electricity Prices
Abstract
Hydropower represents the world's largest renewable energy source. As a flexible technology, it enhances reliability and security of the electricity system. However, climate change and market liberalization may hinder investment due to the evolution of water runoffs and electricity prices. Both alter expected revenue and bring uncertainty. It increases risk and deters investment. Our research assesses how climate change and market fluctuation affect annual revenue. But this paper focuses on the uncertainty, rather than on forecasting. This transdisciplinary topic is investigated by means of a mixed method, i.e. both quantitative and qualitative. The quantitative approach uses established models in natural sciences and economics. The uncertainty is accounted for by applying various scenarios and various datasets coming from different models. Based on those results, uncertainty is discussed through an analysis discerning three dimensions of uncertainty. Uncertainty analysis requires the assessment of a large panel of models and data sets. It is therefore rarely carried out. The originality of the paper also lies on the combination of quantitative established models with a qualitative analysis. The results surprisingly show that the greenhouse gas scenarios may in fact represent a low source of uncertainty, unlike electricity prices. Like forecasting, the main uncertainties are actually case study related and depend on the investigated variables. It is also shown that the nature of uncertainty evolves. Runoff uncertainty goes from variability, i.e. inherent randomness, to epistemic, i.e. limitation of science. The reverse situation occurs with the electricity price. The implications for scientists and policy makers are discussed.
Keywords
Mixed methodology 
Electricity market liberalization 
Mountain hydrology 
three-dimensional uncertainty 
1

Introduction

Hydropower plays an important role in balancing the inherent intermittence of solar and wind energy (IEA 2005). It also represents a significant source of revenue for mountainous regions (SHARE project 2013). However, future developments have been blurred by the appearance of new risks and the changing environmental and economic dynamics (Gaudard and Romerio 2014). Whilst climate change affects hydropower potential (Finger et al. 2015; Francois et al. 2015; Hamududu and Killingtveit 2012; Madani and Lund 2010; Schaefli et al. 2007), energy policy often produces sudden shifts in energy supply (THINK Project 2013). Electricity companies must therefore deal with a higher financial risk in their investments and refurbishments. Due to the long payback periods on these technologies, a long-term perspective must be assessed and accounted for.

This paper mainly deals with the uncertainties and their relationships. We investigate the impact of climate change and power market fluctuations on hydropower annual revenue. If those drivers are considered independently, the overall impact and accumulated uncertainty cannot be evaluated. Both are important, as low-expected revenue and high uncertainty tend to jeopardize investment. Without a clear assessment, decision-makers would not be in a position to define strategies that are able to cope with uncertainty and mitigate risks (Hill Clarvis et al. 2014).

Firstly, the impact of water runoff and wholesale electricity price evolution on the revenue of a hydropower plant is quantified. This assessment considers a wide range of parameters, scenarios, and models (3 greenhouse gases (GHG) emission scenarios, 10 combinations of global and regional climate models (GCM-RCM), 2 downscaling methods, 2 initial ice volumes, 3 electricity price models). The simulations therefore provide a comprehensive, but not exhaustive, overview. The computed results are compared, thus providing information on the uncertainty. As highlighted by Majone et al. (2015), very few comprehensive analyses of uncertainty have been carried out, due to the computational time required to carry out such assessments. This paper aims to plug this gap.

Based on the above results, a qualitative analysis of uncertainty is carried out following the approach of Walker et al. (2003). Mixed methods are a pragmatic way to integrate results from natural sciences and economics (Creswell and Plano Clark 2011). As highlighted by Schaefli (2015), no consensus has been reached on the method to assess uncertainty in hydrology. This statement is all the more true in a transdisciplinary study. We try to deal with this issue by considering qualitative rather than purely quantitative uncertainty analysis.

This paper states various conclusions about uncertainty. First, the future level of GHG emitted does not necessarily affect the results significantly. We show that climate change influences the runoff, but it has only a limited impact on long-term uncertainty. In fact, the revenue variations amongst the different GHG emission scenarios turn out to be small. Second, the current epistemic uncertainty, i.e. limitation of science, is related to the adaptation of the GCM-RCM model to local features. A poor estimation of initial ice distribution of the glacier and even more so an inaccurate downscaling method affects the results. The uncertainty owing to GCM-RCM is restrained by considering a panel of them. Third, electricity prices present the greatest area of uncertainty. It can jeopardize future investments and can even threaten energy transition and security. In the long-term, the socio-economic randomness overtakes the epistemic uncertainty. Therefore, it belongs to the decision makers to manage it through the market design and the risk-hedging tools.
2

Taxonomy of Uncertainty

Before presenting the quantitative simulations, we define 'uncertainty' since it represents the backbone of this paper. This notion is controversial, particularly when dealing with multiple disciplines in natural sciences and humanities. To overcome this obstacle, we base our analysis on the framework developed by Walker et al. (2003), who provide a general definition of uncertainty 'as being any deviation from the unachievable ideal of completely deterministic knowledge of the relevant system' (page 5).

Walker et al. (2003) consider the following three dimensions of uncertainty:
Location:
The position of the uncertainty within the model complex. Walker et al. (2003) identify five generic locations; context, model, inputs, parameters, and outcomes.
Level:
Degree of uncertainty, from complete deterministic knowledge to total ignorance; distinction should be made between statistical uncertainty, scenarios and ignorance.
Nature:
Two categories are defined; epistemic and variability. Epistemic uncertainty 'is due to the imperfection of our knowledge, which may be reduced by more research and empirical efforts' (p.13, Walker et al. (2003)). Variability is brought about by the inherent randomness of nature, human behavior, socio-economic and cultural dynamics, as well as unexpected technological innovations.
Walker et al. (2003) suggest completing an uncertainty matrix. Our model merging various submodels, we opts to identify and discuss the level and nature occurring at each location. Nevertheless, we keep the framework with the three dimensions and their definitions.
Two goals drive the use of this three-dimensional approach. First, it synthesizes the information. The quantitative model computes the expected annual revenue and its standard deviation. It provides an aggregated quantity for the scenarios and models tested. It allows the carrying out of sensitivity analysis to determine the level of uncertainty but overlooks the nature and location. The distinction between epistemic and variability uncertainty is not always clearcut but allows to identify the measure to tackle the uncertainty. We determine the nature by using our knowledge of the model and the quantitative results. Second, the study analyses long-term trends with socio-economic components. We cannot consider the value obtained as a forecast. The discussion must be uncoupled from the purely quantitative results in order to get a broader overview. The three-dimensional approach covers this step.
3

Method and Data

We attempt to simulate future hydropower revenue which is determined by runoff, wholesale electricity prices, and supply schedules (Gaudard et al.

2013a

). Figure 

1

highlights the logical structure of our modeling framework, which is detailed in the following sections. The grey areas represent input data we obtained.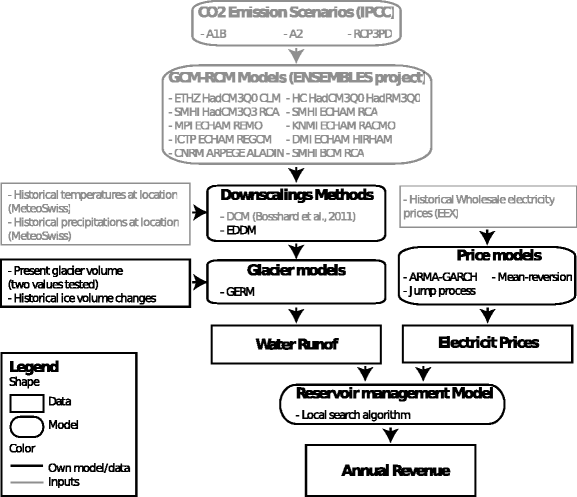 4

Results

In this section, we show how the scenarios and models affect the key variables of our study, i.e. climate, runoff, prices and revenue. The uncertainty analysis follows.
5

Discussion

We should point out that information about uncertainty is of great value to decision-makers. Improving the models reduces the epistemic uncertainty, whereas business and regulatory strategies can address variability. The dimension 'nature' shows who should deal with the uncertainty, i.e. scientists or decision-makers.

The 'level' may help in identifying the tools that should be considered to manage the uncertainty. In economics, the statistical uncertainty is tackled by risk management methods, e.g. value at risk. The scenario level is close to the knightian definition of uncertainty, i.e. probability cannot be estimated. Many rational decision making methods address these kinds of issues, e.g. minimum regret criteria. Finally, the ignorance cannot really be managed in any way. We cannot assume to know the unknown. However the context of the study must be clearly defined in order to limit the impact of ignorance on the results as far as possible.

This paper discusses the epistemic uncertainty occurring at various levels of the model. However specific literature on the diverse components is wide. The uncertainty relating to the climate modelis discussed at global and regional level by Deque et al. (2007) and Murphy et al. (2004). The various Intergovernmental Panel on Climate Change reports also provide valuable discussion on this issue (IPCC 2015). Monier et al. (2015) present a new framework to assess climate uncertainty which is close to ours. Their results show that the largest uncertainty in terms of temperature comes from climate policy. Gabbi et al. (2014) test five different glacier melt models and show that the choice of the melt approach is crucial. Finally, Teng et al. (2012) analyse a case study where uncertainty is mostly led by GCM rather than the rainfall model. These studies, together with our results, show that uncertainty, like forecasting, is case study and model related.

As pointed out all throughout this paper, price uncertainty is far more critical than runoff uncertainty. Linderoth (2002) tests various energy consumption forecasts performed by the Internation Energy Agency. He shows that forecast errors are significant. Given that price is even less predictable than consumption, we can conclude that the problem is even wider. By arguing that scenario analysis and mixed method are valuable in short-term management too, O'Mahony (2014) supports our approach and conclusion. Therefore, uncertainty related to energy price quickly shifts from epistemic uncertainty to variability.

If decision makers must account for the epistemic uncertainty, they essentially must manage variability. First, they can act on the 'level'. One way is to develop market design and risk-hedging tools. Future markets already exist but should be enhanced. However the most important is that energy policy can reduce uncertainty at the ignorance level. Several energy utilities at present are facing forms of turmoil that were only partially predictable. The phase-out of nuclear power in some countries or the large subsidies to the renewables are worth mentioning. The alternative way to deal with variability is by increasing flexibility. However, the regulatory framework can represent an obstacle from this point of view. For instance, the water rights in some countries limit the plant operator's flexibility. The legal framework often makes it difficult to adopt a real option approach. For instance, some hydropower operators must re-negotiate their water right if they want to update the design of their installation. This constraint makes it difficult to manage high uncertainty.
6

Conclusions

Decision-makers cannot avoid uncertainty. Several studies focus on projections, but an assessment of the uncertainties is seldom carried out. Our model integrates runoff and electricity prices in a common framework in order to evaluate revenue. Based on those quantitative results, we carry out an uncertainty analysis, which is a critical issue for the future of hydropower.

Specific tools must be developed in order to tackle uncertainty. Hydropower is a capital-intensive technology with a long lifetime. Forecasting revenue over the entire life of the project is impossible. The limits of previsions should be acknowledged and some methods must be developed accordingly. Assessing uncertainty is only the first step in a strategy to ensure the best possible future for hydropower.
7

Annex

Table 2

Values of the electricity price parameters
|   |   | M R y | M R s | MRJD |
| --- | --- | --- | --- | --- |
| Cst | γ 0 | −0.050 | −0.093 | 3.487 |
|   |   | (0.007) | (0.006) | (0.008) |
| ARMA | β 1 | 0.009 | 0.010 | -0.008 |
|   |   | (3e-4) | (3e-4) | (3e-4) |
|   | β 2 | 0.828 | 0.791 | 0.617 |
|   |   | (9e-4) | (9e-4) | (0.002) |
|   | β 3 | 0.241 | 0.252 | 0.314 |
|   |   | (0.002) | (0.002) | (0.002) |
| GARCH | β 4 | 0.007 | 0.007 | 0.004 |
|   |   | (3e-5) | (3e-5) | (2e-5) |
|   | β 5 | 0.434 | 0.405 | 0.545 |
|   |   | (0.001) | (0.001) | (0.001) |
|   | β 6 | 0.505 | 0.535 | 0.455 |
|   |   | (0.002) | (0.002) | (0.002) |
| Mean-reversing | μ | 3.620 | 3.592 | 1.061 |
|   |   | (0.096) | (0.210) | (0.005) |
|   | η | 0.338 | 0.421 | 0.199 |
|   |   | (0.060) | (0.024) | (8e-4) |
|   | κ | 0.909 | 1.016 | 0.166 |
|   |   | (0.151) | (0.359) | (8e-4) |
| Jump diffusion | ν |   |   | 0.196 |
|   |   |   |   | (0.002) |
|   | 𝜃 |   |   | 0.839 |
|   |   |   |   | (0.009) |
|   | λ |   |   | 0.047 |
|   |   |   |   | (0.001) |
| Seasonal dummies | γ 1,2,3 | Yes | No | Yes |
Notes
Acknowledgments
This study was carried out within the framework of the Swiss research programme 61(www.nfp61.ch). We are grateful to prof. Martin Funk and prof. Manfred Gilli for providing valuable scientific inputs and proofreading the paper. We also thank Force Motrices de Mauvoisin for sharing their expertise.
Compliance with Ethical Standards
Conflict of interests
The authors declare that they have no conflict of interest.
Copyright information
© The Author(s) 2016
Open AccessThis article is distributed under the terms of the Creative Commons Attribution 4.0 International License (http://creativecommons.org/licenses/by/4.0/), which permits unrestricted use, distribution, and reproduction in any medium, provided you give appropriate credit to the original author(s) and the source, provide a link to the Creative Commons license, and indicate if changes were made.