Abstract
Regeneration is known to be limited at many temperate tree lines, but very little data is available on the impacts of altitude and anthropogenic disturbance on regeneration patterns along tropical tree lines. The study focused on the reproductive traits of two Polylepis species in the Páramo de Papallacta in Ecuador along an altitudinal gradient, and involved different intensities of cattle trampling within subsequent altitudinal ranges. We analyzed flowering, fruit set, seed viability, germination, and seedling establishment as well as stand structure of Polylepis incana and P. pauta. The numbers of P. incana inflorescences and seedlings per m² showed a marginally significant decrease with increasing altitude. Mean tree height was significantly lower at higher altitudes, while stem number increased. The number of P. pauta inflorescences also decreased significantly upslope. In both forest types, trampling was found to have a positive impact on seedling abundance, presumably due to the removal of the litter layer. Thus, there was no evidence of negative effects of moderate cattle grazing on both tree line species. However, sapling establishment was minimal inside the forest stands at all altitudes and grazing levels, and we consequently observed a low proportion of narrow stems within all investigated forests. Our results show that, along with vegetative growth limitations of adult trees, important regeneration traits such as seedling and inflorescence numbers are also influenced by altitude, which might contribute to the formation of the upper tree line. Nevertheless, recruitment in the forest interior was low overall indicating that further factors, such as light conditions, affect regeneration of the studied species.
Access options
Buy single article
Instant access to the full article PDF.
US$ 39.95
Tax calculation will be finalised during checkout.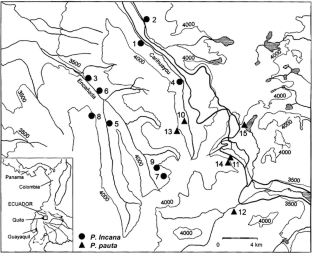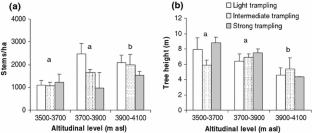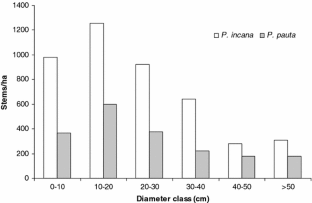 References
Bader MY, van Geloof I, Rietkerk M (in press) High solar radiation hinders tree regeneration above the alpine treeline in northern Ecuador. Plant Ecol doi:10.1007/s1125800692126

Bellingham PJ, Allan CN (2003) Forest regeneration and the influences of white-tailed deer (Odocoileus virginianus) in cool temperate New Zealand rain forests. For Ecol Manage 175:71–86

Bendix J, Rafiqpoor MD (2001) Studies on the thermal conditions of soil at the upper tree line in the Páramo de Papallacta (Eastern Cordillera of Ecuador). Erdkunde 55:257–276

Cabido M, Acosta A (1985) Estudio fitosociológico en bosques de Polylepis australis Bitt. ("Tabaquillo") en las Sierras de Córdoba, Argentina. Documents Phytosociologiques NS 9:385–400

Cairns DM, Moen J (2004) Herbivory influences tree lines. J Ecol 92:1019–1024

Cairns DM, Waldron JD (2003) Sigmoid wave transitions at alpine tree line. Geogr Annaler 85:115–126

Camarero JJ, Gutiérrez E (2004) Pace and pattern of recent tree line dynamics: response of ecotones to climatic variability in the Spanish Pyrenees. Clim Change 63:181–200

Cierjacks A, Hensen I (2004) Variation of stand structure and regeneration of Mediterranean holm oak along a grazing intensity gradient. Plant Ecol 173:215–223

Cierjacks A, Wesche K, Hensen I (2007) Potential lateral expansion of Polylepis forest fragments in central Ecuador. For Ecol Manage 242:477–486

Cierjacks A, Iglesias JE, Wesche K, Hensen I (in press) Impact of sowing, canopy cover and litter on seedling dynamics of Polylepis species at upper treelines in central Ecuador. J Trop Ecol doi:10.1017/s0266467407004051

Crissman CC (2003) La agricultura en los páramos: Estrategías para el uso del espacio. Contribuciones para el desarrollo sostenible de los Andes 1, CONDESAN, Lima, Peru

Crown TR (1992) Population dynamics and growth pattern for a cohort of northern red oak Quercus rubra seedlings. Oecologia 91:192–200

Cuevas JG (2000) Tree recruitment at the Nothofagus pumilio alpine tree line in Tierra del Fuego, Chile. J Ecol 88:840–855

Dullinger S, Dirnböck T, Grabherr G (2004) Modelling climate change-driven treeline shifts: relative effects of temperature increase, dispersal and invisibility. J Ecol 92:241–252

Ellenberg H (1958) Wald oder Steppe? Die natürliche Pflanzendecke der Anden Perus. Umschau:645–648, 679–681

Ellenberg H (1979) Man´s influence on tropical mountain ecosystems in South America. J Ecol 67:401–416

Ellenberg H (1996) Páramos und Punas der Hochanden Südamerikas heute großenteils als potentielle Wälder anerkannt. Verh Ges Ökol 25:17–23

Enrico L, Funes G, Cabido M (2004) Regeneration of Polylepis australis Bitt. in the mountains of central Argentina. For Ecol Manage 190:301–309

Everard DA, Midgley JJ, van Wyk GF (1995) Dynamics of some forests in the KwaZulu-Natal, South Africa, based on ordination and size-class distribution. S Afr J Bot 61:283–293

Fehse J, Aguirre N, Paladines C, Hofstede R, Sevink J (1999) La productividad de cuatro bosques secundarios en la sierra del Ecuador. Proyecto ECOPAR, Quito, Ecuador

Fowler NL (1986) Microsites requirements for germination and establishment of three grass species. Amer Midl Natur 115:131–145

Hamrick JL, Lee JM (1987) Effects of soil surface topography and litter cover on germination, survival and growth of musk thistle. Am J Bot 74:451–457

Hättenschwiler S, Smith WK (1999) Seedling occurrence in alpine tree line conifers: a case study from the central Rocky Mountains, USA. Acta Oecol 20:219–224

Hensen I (1995) Die Vegetation von Polylepis-Wäldern der Ostkordillere Boliviens. Phytocoenologia 25:235–277

Hensen I (2002) Impacts of anthropogenic activity on the vegetation of Polylepis woodlands in the region of Coch-abamba, Bolivia. Ecotropica 8:183–203

Hoch G, Körner C (2003) The carbon charging of pines at the climatic tree line: a global comparison. Oecologia 135:10–21

Hofstede RGM (1995a) The effects of grazing and burning on soil and plant nutrient concentrations in Colombian páramo grasslands. Plant and Soil 173:111–132

Hofstede RGM (1995b) Effects of burning and grazing on a Colombian páramo ecosystem. Dissertation, University of Amsterdam

Hofstede RGM (2001) El impacto de las actividades humanas sobre el páramo. In: Mena Vásconez PM, Medina G, Hofstede RGM (eds) Los páramos del Ecuador. Particularidades, problemas y perspectivas. Abya Yala/Proyecto Páramo, Quito, Ecuador, pp 161–185

Keever C (1973) Distribution of major forest species in south-eastern Pennsylvania. Ecol Monogr 43:303–327

Kessler M (1995) Polylepis-Wälder Boliviens: Taxa, Ökologie, Verbreitung und Geschichte. Dissertationes Botanicae 246, J. Cramer, Berlin Stuttgart

Kok K, Verweij PA, Beukema H (1995) Effects of cutting and grazing on Andean tree line vegetation. In: Churchill P, Balslev H, Forero E, Luteyn JL (eds) Biodiversity and conservation of neotropical montane forests. Proceedings of the neotropical Montane forest biodiversity and conservation symposium, The New York Botanical Garden, 21–26 June 1993. The New York Botanical Garden, pp 527–539

Körner C (1998) A re-assessment of high elevation tree line positions and their explanation. Oecologia 115:445–459

Körner C (2003a) Alpine plant life. Functional plant ecology of high mountain ecosystems, 2nd edn. Springer, Berlin

Körner C (2003b) Carbon limitation in trees. J Ecol 91:4–17

Körner C, Paulsen J (2004) A world-wide study of high altitude treeline temperatures. J Biogeogr 31:713–732

Kramer H, Akca A (1995) Leitfaden zur Waldmesslehre, 3rd edn. Sauerländer´s Verlag, Frankfurt am Main

Lægaard S (1992) Influence of fire in the grass páramo vegetation of Ecuador. In: Balslev H, Luteyn JL (eds) Páramo: an Andean ecosystem under human influence. Academic Press, London, pp 151–170

Lambrecht H (1989) Silviculture in the tropics. Gesellschaft für Technische Zusammenarbeit, Eschborn

Lauer W, Rafiqpoor MD, Theisen I (2001) Physiogeographie, Vegetation und Syntaxonomie der Flora des Páramo de Papallacta (Ostkordillere Ecuador). Erdwissenschaftliche Forschung, Band XXXIX. Franz Steiner Verlag, Stuttgart

León Yánez S (2000) Herbivory on Polylepis forests. Effects of elevation, seasonality and host plant species on arthropode community composition and herbivory. MSC thesis, University of Missouri-St. Louis

Li Q, Ma K (2003) Factors affecting establishment of Quercus liaotungensis Koidz. under mature mixed oak forest overstory and in shrubland. For Ecol Manage 176:133–146

McKay DB (1972) The measurement of viability. In: Roberts EH (ed) Viability of seeds. Chapman and Hall Ltd, London

Mena Vásconez PM (1995) Las áreas protegidas con bosque montano en el Ecuador. In: Churchill P, Balslev H, Forero E, Luteyn JL (eds) Biodiversity and conservation of neotropical Montane forests. Proceedings of the neotropical Montane forest biodiversity and conservation symposium, The New York Botanical Garden, 21–26 June 1993. The New York Botanical Garden, pp 627–635

Miehe G, Miehe S (1994) Zur oberen Waldgrenze in tropischen Gebirgen. Phytocoenologia 24:53–110

Mills JN (1986) Herbivores and early postfire succession in southern California chaparral. Ecology 67:1637–1649

Oesterheld M, Sala OE (1990) Effects of grazing on seedling establishment: the role of seed and safe-site availability. J Veg Sci 1:353–358

Olson-Rutz KM, Marlow CB, Hansen K, Gagnon LC, Rossi RJ (1996) Recovery of a high elevation plant community after packhorse grazing. J Range Manage 49:541–545

Palmer SCF, Mitchell RJ, Truscott AM, Welch D (2004) Regeneration failure in Atlantic oakwoods: the roles of ungulate grazing and invertebrates. For Ecol Manage 192:251–265

Purcell J, Brelsford A (2004) Reassessing the causes of decline of Polylepis, a tropical subalpine forest. Ecotropica 10:155–158

Quinn GP, Keough MJ (2002) Experimental design and data analysis for biologists. Cambridge University Press, Cambridge

Renison D, Cingolani AM (1998) Experiencias en germinación y reproducción vegetativa aplicados a la reforestación con Polylepis australis (Rosaceae) en las Sierras Grandes de Córdoba, Argentina. AgriScientia 15:47–53

Renison D, Cingolani AM, Schinner D (2002a) Optimizing restoration of Polylepis australis woodlands: when, where and how to transplant seedlings to the mountains? Ecotropica 8:219–224

Renison D, Cingolani AM, Suarez R (2002b) Efectos del fuego sobre un bosquecillo de Polylepis australis (Rosaceae) en las montañas de Córdoba, Argentina. Revista Chilena de Historia Natural 75:719–727

Renison D, Hensen I, Cingolani AM (2004) Anthropogenic soil degradation affects seed viability in Polylepis australis mountain forests of central Argentina. For Ecol Manage 196:327–333

Renison D, Cingolani AM, Suarez R, Menoyo E, Coutsiers C, Sobral A, Hensen I (2005) The restoration of degraded mountain woodland: effects of seed provenance and microsite characteristics on Polylepis australis seedling survival and growth. Restor Ecol 13:129–137

Renison D, Hensen I, Suárez R, Cingolani AM (2006) Cover and growth habit of Polylepis woodlands and shrublands in the mountains of central Argentina: human or environmental influence? J Biogeogr 33:876–887

Romoleroux K (1996) Rosaceae. In: Harling G, Sparre B (eds) Flora of Ecuador 56. Aarhus University Press, Aarhus, pp 71–89

Rotundo JL, Aguiar MR (2005) Litter effects on plant regeneration in arid lands: a complex balance between seed retention, longevity and soil-seed-contact. J Ecol 93:829–838

Sarmiento FO (2002) Impulsores de cambio de paisaje: Dinámica de las líneas de árboles en la montología neotropical. Ecotrópicos 15(2):129–146

Sarmiento G (1986) Ecological features of climate in high tropical mountains. In: Monasterio M, Vuilleumier F (eds) High tropical biogeography. Oxford University Press, Oxford, pp 11–45

Simpson BB (1979) A revision of the genus Polylepis (Rosaceae: Sanguisorbeae). Smithsonian Contributions to Botany Number 43, Washington, DC

Smith AP (1977) Establishment of seedlings of Polylepis sericea in the páramo (alpine) zone of the venezuelan Andes. Bartonia 45:11–14

Teich I, Cingolani A, Renison D, Hensen I, Giorgis M (2005) Do domestic herbivores retard Polylepis australis woodland recovery in the mountains of Córdoba, Argentina? For Ecol Manage 219:229–241

The R Foundation for Statistical Computing (2006) R version 2.3.1

Tranquillini W (1979) Physiological ecology of the alpine timberline. Tree existence at high altitudes with special reference to the European Alps. Ecological Studies 31, Springer, Berlin

UNEP-WCMC (2004) United Nations Environment Programme, World Conservation Monitoring Center. http://www.unep-wcmc.org. Cited 1 Oct 2005

Vera ML (1995) Efecto de la altitud en la fenología de la floración en especies arbustivas del norte de España. Lagascalia 18:3–14

Walter H, Medina E (1969) Die Bodentemperatur als ausschlaggebender Faktor für die Gliederung der subalpinen und alpinen Stufe in den Anden Venezuelas. Berichte der Deutschen Botanischen Gesellschaft 82:275–281

West AG, Midgley JJ, Bond WJ (2000) Regeneration failure and potential importance of human disturbance in a subtropical forest. Appl Veg Sci 3:223–232

Winckell A, Zebrowski C, Sourdat M (1997) Geografía básica del Ecuador. Tomo IV Geographía física. Las regiones y paisajes del Ecuador, vol II. Centro Ecuatoriano de Investigación Geográfica, Quito, Ecuador

Yates CJ, Norton DA, Hobbs RJ (2000) Grazing effects on plant cover, soil and microclimate in fragmented woodlands in south-western Australia: implications for restoration. Aust Ecol 25:36–47
Acknowledgments
This study was carried out as part of the project "Regeneration Ecology of Tropical Tree Lines" by the Martin-Luther-University Halle-Wittenberg and financed by the Deutsche Forschungsgemeinschaft (DFG). We would like to thank Alfonso Gortaire and Pablo Ochoa for their help during fieldwork. We also gratefully acknowledge the support given by Hugo Navarrete and Susana León Yánez (Pontificia Universidad Católica del Ecuador, Quito) as well as by Gustavo Mosquera (Fundación Antisana). The manuscript benefited from comments by two anonymous reviewers, and Danny McCluskey kindly checked our English.
About this article
Cite this article
Cierjacks, A., Rühr, N.K., Wesche, K. et al. Effects of altitude and livestock on the regeneration of two tree line forming Polylepis species in Ecuador. Plant Ecol 194, 207–221 (2008). https://doi.org/10.1007/s11258-007-9285-x
Received:

Accepted:

Published:

Issue Date:
Keywords
Anthropogenic impact

Herbivory

Polylepis

Reproduction

Trampling

Tree line