Abstract
Urban areas are an important and growing land use class. Nearly 5 % of the world is covered with urban development and residential yards make up a large proportion of that area. Yards have unique but homogenous biological characteristics and are known to be rich with bird fauna, but little is known about backyard mammals. We used camera traps to sample mammal communities in backyards and urban woodlots in Raleigh-Durham, North Carolina, USA and related species activity to yard characteristics and levels of neighborhood development. We found a vibrant community of smaller herbivores and carnivores using residential yards in urban areas, but larger ungulates and carnivores were only detected on the urban fringe, or in woodlots. Backyard chicken coops were positively correlated with raccoon activity but were not positively correlated with other predators, suggesting that chicken coops are attracting raccoons, but not other predators, to yards. Fenced-in dogs were negatively correlated with most mammals suggesting that confined dogs keep mammals out of yards. Unfenced dogs and fences without dogs, showed a more varied relationship with mammal activity. These results show an encouraging sign of how humans can coexist with wildlife, even in urban areas, and suggest some strategies to minimize conflict regarding backyard chicken coops and dogs.
Access options
Buy single article
Instant access to the full article PDF.
USD 39.95
Price excludes VAT (USA)
Tax calculation will be finalised during checkout.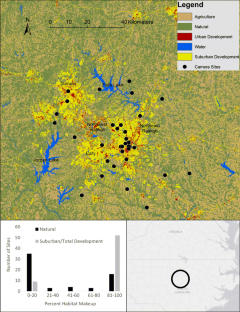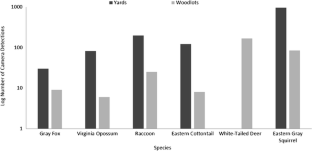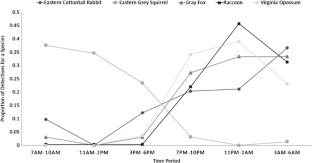 References
Alexander SM, Quinn MS (2011) Coyote (Canis latrans) Interactions with Humans and Pets Reported in the Canadian Print Media (1995–2010). Hum Dimens Wild 116:345–359

Baker PJ, Ansell RJ, Dodds PAA, Webber CE, Harris S (2003) Factors affecting the distribution of small mammals in an urban area. Mammal Rev 33(1):95–100

Berman MG, Jonides J, Kaplan S (2008) The cognitive benefits of interacting with nature. Psych Sci 19(12):1207–1212

Bermudez FC, Stuart JN, Frey JK, Valdez R (1995) Distribution and status of the Virginia opossum (Didelphis virginiana) in New Mexico. Southwest Nat 40(3):336–340

Blair RB (1996) Land use and avian species diversity along an urban gradient. Ecol App 6:506–519

Brittingham MC, Temple SA (1992) Use of winter bird feeders by black-capped chickadees. J Wildl Manag 56(1):103–110

Burnham KP, Anderson DR (2002) Model Selection and Multimodel Inference: A Practical Information-Theoretic Approach, 2nd edn. Springer-Verlag, New York

Chamberlain DE, Gosler AG, Glue DE (2010) Effects of the winter beechmast crop on bird occurrence in British gardens: Capsule Woodland birds were significantly less likely to occur in gardens in years of high beechmast crop. Bird Study 54(1):120–126

Clergea P, Vergnes A (2011) Bird feeders may sustain feral Rose-ringed parakeets Psittacula krameri in temperate Europe. Wildl Biol 17(3):248–252

Crooks KR (2002) Relative sensitivities of mammalian carnivores to habitat fragmentation. Conserv Biol 16(2):488–502

Decker DJ, Gavin TA (1987) Public attitudes towards a suburban deer herd. Wildl Soc Bull 15(2):173–180

Doebel JH, McGinnes BS (1974) Home range and activity of a gray squirrel population. J Wildl Manag 38(4):860–867

Ellis EC, Goldewijk KK, Siebert S, Lightman D, Ramankutty N (2010) Anthropogenic transformation of the biomes, 1700 to 2000. Global Ecol Biogeogr 19:589–606

Errington GL (1935) Food habits of mid-west foxes. J Mammal 16(3):192–200

Etter DR, Hollis KM, Van Deelen TR, Ludwig DR, Chelsvig JE, Anchor CL, Warner RE (2002) Survival and movements of white-tailed deer in suburban Chicago, Illinois. J Wildl Manag 66(2):500–510

Fuller RA, Warren PH, Armsworth PR, Barbosa O, Gaston KJ (2008) Garden bird feeding predicts the structure of urban avian assemblages. Divers Distrib 14:131–137

Gehrt SD, Brown JL, Anchor C (2011) Is the urban coyote a misanthropic synanthrope? The case from Chicago. Cities Environ 4(1):1–23

Gehrt SD, Anchor C, White LA (2009) Home Range and Landscape Use of Coyotes in a Metropolitan Landscape: Conflict or Coexistence? J Mammal 90(5):1045–1057

Hadidian J (1991) Interactions between people and wildlife in urbanizing landscapes. Fifth Eastern Wildlife Damage Control Conference

Hafez MH, Arafa A, Abdelwhab EM, Selim A, Khoulosy SG, Hassan MK, Aly MM (2010) Avian influenza H5N1 virus infections in vaccinated commercial and backyard poultry in Egypt. Poult Sci 89:1609–1613

Kays R, Curtis A, Kirchman JJ (2010) Rapid adaptive evolution of northeaster coyotes via hybridization with wolves. Biol Let 6(1):89–93

Leong KM (2009) The tragedy of becoming common: landscape change and perceptions of wildlife. Soc Nat Resour 23(2):111–127

Litt R, Litt H (2011) A chicken in every yard: the urban farm store's guide to chicken keeping. Ten Speed Press, New York

Mackenzie AJ, Petty SJ, Toms MP, Furness RW (2007) Importance of Sitka Spruce Picea sitchensis seed and garden bird-feeders for Siskins Carduelis spinus and Coal Tits Periparus ater: Capsule Siskins and Coal Tits were present in gardens more often in years of poor Sitka Spruce cone crops, with synchrony across the UK. Bird Study 54(2):236–247

McKinney ML (2002) Urbanization, biodiversity and conservation. BioSci 52(10):883–890

Missouri Department of Conservation (2002) Landscaping for back yard wildlife. (3 September 2002; www.conservation.state.mo.us/nathis/backyard)

Morey PS, Gese EM, Gehrt SD (2007) Spatial and temporal variation in the diet of coyotes in the Chicago metropolitan area. Am Midl Nat 158(1):147–161

Nielsen CK, Porter WF, Underwood HB (1997) An adaptive management approach to controlling suburban deer. Wildl Soc Bull 25(2):470–477

Odell EA, Knight RL (2002) Songbird and medium-sized mammal communities associated with exurban development in Pitkin County, Colorado. Conserv Biol 15(4):1143–1150

O'Donnell MA, VanDruff LW (1983) Wildlife conflicts in an urban area: occurrence of problems and human attitudes toward wildlife. Proceedings of the First Eastern Wildlife Damage Control Conference. Cornell University, Ithaca

Orden MA, Crooks KR, Boydston EE, Fisher RN, Lyren LM, Siudyla S, Haas CD, Harris S, Hathaway SA, Turschak GM, Miles AK, Van Vuren DH (2010) Effects of urbanization on carnivore species distribution and richness. J Mammal 91:1322–1331

Parker G (1995) Eastern coyote: the story of its success. Nimbus Publishing, Halifax

Prange S, Gehrt SD, Wiggers EP (2004) Influences of anthropogenic resources on raccoon (Procyon lotor) movements and spatial distribution. J Mammal 85(3):483–490

Robb GN, McDonald RA, Chamberlain DE, Bearhop S (2008) Food for thought: supplementary feeding as a driver of ecological change in avian populations. Front Ecol Env 6:476–484

Rohde C, Kendle A (1994) Human well-being, natural landscape and wildlife in urban areas: A review. English Nature 22:1–116

Roth TC, Vetter WE, Lima SL (2008) Spatial ecology of wintering Accipiter hawks: home range, habitat use and the influence of bird feeders. Condor 110(2):260–268

Rudd H, Vala J, Schaefer V (2002) Importance of backyard habitat in a comprehensive biodiversity conservation strategy: a connectivity analysis of urban green spaces. Restor Ecol 10(2):368–375

Seto KC, Fragkias M, Guneralp B, Reilly MK (2011) A meta-analysis of global urban land expansion. PLoS ONE 6(8):e23777

Tigas LA, Van Vuran DH, Sauvajot RM (2002) Behavioral responses of bobcats and coyotes to habitat fragmentation and corridors in an urban landscape. Biol Conserv 108(3):299–306

Tortato FR, Tortato MA, Koehler E (2013) Poultry predation by Leopardus wiedii and Leopardus tigrinus (Carnivora: Felidae) in southern Brazil. Lat Am J Conserv 3(2):51–53

[USCB] US Census Bureau (2012) Statistical Abstract of the United States. Government Printing Office, Washington

[USCB] US Census Bureau (2010) State and County Quickfacts. Government Printing Office, Washington

Wilson WH (1994) The distribution of wintering birds in central Maine: the interactive effects of landscape and bird feeders. J Field Ornith 65(4):512–519
Acknowledgments
We thank all of our 49 volunteers for participating in this study. We also thank Rebecca Owens, Holly Menninger and Ally Stewart for their field assistance and volunteer coordination. We also thank Robert Montgomery for his statistical advice. This work was conducted with funding from North Carolina State University, the North Carolina Museum of Natural Sciences and the National Science Foundation.
About this article
Cite this article
Kays, R., Parsons, A.W. Mammals in and around suburban yards, and the attraction of chicken coops. Urban Ecosyst 17, 691–705 (2014). https://doi.org/10.1007/s11252-014-0347-2
Published:

Issue Date:

DOI: https://doi.org/10.1007/s11252-014-0347-2
Keywords
Chicken coops

Camera traps

Predators

Suburban wildlife