Abstract
We study numerically the contact mechanics of a flat and a curved solid. Each solid bears laser-induced, periodic grooves on its rubbing surface. Our surface topographies produce a similar load and resolution dependence of the true contact area as nominally flat, but randomly rough, self-affine surfaces. However, the contact area of laser-textured solids depends on their relative orientation. The estimated true contact areas correlate with kinetic friction measurements.
Access options
Buy single article
Instant access to the full article PDF.
USD 39.95
Price includes VAT (USA)
Tax calculation will be finalised during checkout.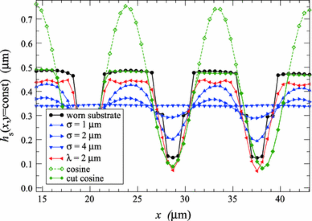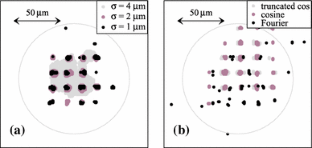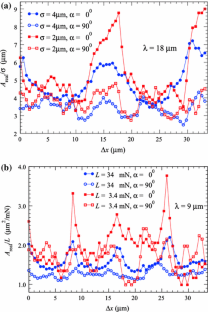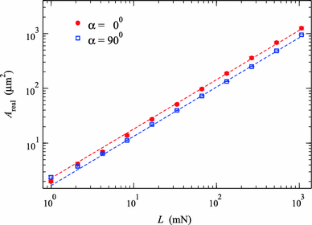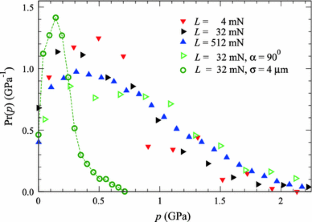 References
1.

Shinjo, K., Hirano, M.: Dynamics of friction: superlubric state. Surf. Sci. 283, 473–478 (1993)

2.

Müser, M.H., Wenning, L., Robbins, M.O.: Simple microscopic theory of Amontons' laws for static friction. Phys. Rev. Lett. 86, 1295–1298 (2001)

3.

Dienwiebel, M., Verhoeven, G.S., Pradeep, N., Frenken, J.W.M., Heimberg, J.A., Zandbergen, H.W.: Superlubricity of graphite. Phys. Rev. Lett. 92, Article No. 126101 (2004)

4.

Müser, M.H., Urbakh, M., Robbins, M.O.: Statistical mechanics of static and low-velocity kinetic friction. Adv. Chem. Phys. 126, 187–272 (2003)

5.

Etsion, I.: State of the art in laser surface texturing. J. Tribol. 127, 248–253 (2005)

6.

Pettersson, U., Jacobson, S.: Influence of surface texture on boundary lubricated sliding contacts. Tribol. Int. 36, 857–864 (2003)

7.

Rapoport, L., Moshkovich, A., Perfilyev, V., Lapsker, I., Halperin, G., Itovich, Y., Etsion, I.: Friction and wear of MoS(2) films on laser textured steel surfaces. Surf. Coat. Technol. 202, 3332–3340 (2008)

8.

Sung, I.H., Lee, H.S., Kim, D.E.: Effect of surface topography on the frictional behavior at the micro/nano-scale. Wear 254, 1019–1031 (2003)

9.

Bowden, F.P., Tabor, D.: Friction and lubrication. Wiley, New York (1956)

10.

Berman, A., Drummond, C., Israelachvili, J.N.: Amontons' law at the molecular level. Tribol. Lett. 4, 95–101 (1998)

11.

He, G., Müser, M.H., Robbins, M.O.: Adsorbed layers and the origin of static friction. Science 284, 1650–1652 (1999)

12.

Archard, J.F.: Contact and rubbing of flat surfaces. J. Appl. Phys. 24, 981–988 (1953)

13.

Persson, B.N.J.: Theory of rubber friction and contact mechanics. J. Chem. Phys. 115, 3840–3861 (2001)

14.

Luan, B.Q., Robbins, M.O.: The breakdown of continuum models for mechanical contacts. Nature 435, 929–932 (2005)

15.

Mo, Y.F., Turner, K.T., Szlufarska, I.: Friction laws at the nanoscale. Nature 457, 1116–1119 (2009)

16.

Shengfeng, C., Robbins, M.O.: Defining contact at the atomic scale. Tribol. Lett. 39, 329–348 (2010)

17.

Eder, S., Vernes, A., Vorlaufer, G., Betz, G.: Molecular dynamics simulations of mixed lubrication with smooth particle post-processing. J. Phys. Condens. Matter 23, Article No. 175004 (2011)

18.

Gachot, C., Rosenkranz, A., Reinert, L., Ramos-Moore, E., Souza, N., Müser, M.H., Mücklich, F.: Dry friction between laser-patterned surfaces: role of alignment, structural wavelength and surface chemistry. Tribol. Lett. doi:10.1007/s11249-012-0057-y

19.

Yao, Y., Schlesinger, M., Drake, G.W.F.: A multiscale finite-element method for solving rough-surface elasticcontact problems. Can. J. Phys. 82, 679–699 (2004)

20.

Persson, B.N.J.: Contact mechanics for randomly rough surfaces. Surf. Sci. Rep. 61, 201–227 (2006)

21.

Carvill, J.: Mechanical Engineers Data Handbook I. Butterworth-Heinemann, Oxford (1993)

22.

Gao, F., Leach, R., Petzing, J., Coupland, J.: Surface measurement errors using commercial scanning white light interferometers. Meas. Sci. Technol. 19, Article No. 015303 (2008)

23.

Campañá, C., Müser, M.H.: Practical Green's function approach to the simulation of elastic semi-infinite solids. Phys. Rev. B 74, Article No. 075420 (2006)

24.

Dapp, W.B., Lücke, A., Persson, B.N.J., Müser, M.H.: Self-affine elastic contacts: percolation and leakage. Phys. Rev. Lett. 108, Article No. 244301 (2012)

25.

Persson, B.N.J.: Relation between interfacial separation and load: a general theory of contact mechanics. Phys. Rev. Lett. 99, Article No. 125502 (2007)

26.

Campañá, C., Persson, B.N.J., Müser, M.H.: Transverse and normal interfacial stiffness of solids with randomly rough surfaces. J. Phys. Condens. Matter 23, Article No. 085001 (2011)

27.

Sun, F., Van der Giessen, E., Nicola, L.: Plastic flattening of a sinusoidal metal surface: a discrete dislocation plasticity study. Wear 296, 672–680 (2012)

28.

Hyun, S., Pei, L., Molinari, J.F., Robbins, M.O.: Finite-element analysis of contact between elastic self-affine surfaces. Phys. Rev. E 70, Article No. 026117 (2004)

29.

Campañá, C., Müser, M.H.: Contact mechanics of real vs. randomly rough surfaces: a Green's function molecular dynamics study. Europhys. Lett. 77, 38005–38007 (2007)

30.

Putignano, C., Afferrante, L., Carbone, G., Demelio, G.: The influence of the statistical properties of self-affine surfaces in elastic contacts: a numerical investigation. J. Mech. Phys. Solids 60, 973–982 (2012)
Acknowledgments
N.P. and M.H.M. are grateful for computing time on JUROPA at the FZ Jülich Supercomputing Centre. MHM acknowledges support from the German Research Foundation (DFG) through grant Mu 1694/5-1.
About this article
Cite this article
Prodanov, N., Gachot, C., Rosenkranz, A. et al. Contact Mechanics of Laser-Textured Surfaces. Tribol Lett 50, 41–48 (2013). https://doi.org/10.1007/s11249-012-0064-z
Received:

Accepted:

Published:

Issue Date:
Keywords
Contact mechanics

Friction

Material treatment effects