Potentiation of thrombus instability: a contributory mechanism to the effectiveness of antithrombotic medications
Abstract
The stability of an arterial thrombus, determined by its structure and ability to resist endogenous fibrinolysis, is a major determinant of the extent of infarction that results from coronary or cerebrovascular thrombosis. There is ample evidence from both laboratory and clinical studies to suggest that in addition to inhibiting platelet aggregation, antithrombotic medications have shear-dependent effects, potentiating thrombus fragility and/or enhancing endogenous fibrinolysis. Such shear-dependent effects, potentiating the fragility of the growing thrombus and/or enhancing endogenous thrombolytic activity, likely contribute to the clinical effectiveness of such medications. It is not clear how much these effects relate to the measured inhibition of platelet aggregation in response to specific agonists. These effects are observable only with techniques that subject the growing thrombus to arterial flow and shear conditions. The effects of antithrombotic medications on thrombus stability and ways of assessing this are reviewed herein, and it is proposed that thrombus stability could become a new target for pharmacological intervention.
Keywords
Thrombosis 
Platelet aggregation 
Endogenous fibrinolysis 
Thrombus dispersion 
Antithrombotic drugs 
Introduction
Platelet aggregation plays a central role in the development of arterial thrombotic events such as myocardial infarction, ischaemic stroke and peripheral arterial thrombosis [1]. Antiplatelet medications such as aspirin and P2Y12 inhibitors, which inhibit platelet aggregation, are established as the cornerstone treatment for preventing such thrombotic events [2].
It is generally accepted that antiplatelet agents exert their antithrombotic effects by inhibiting agonist-induced platelet aggregation. It is for this reason that point-of-care platelet function tests that assess platelet aggregation in response to specific agonists, such as arachidonic acid, adenosine diphosphate and thrombin receptor activating peptide have been developed. However, in stenosed arteries, it is a shear gradient-dependent platelet aggregation mechanism which drives thrombus formation, while soluble agonists have only secondary roles, mainly stabilizing the formed aggregate [3].
Further, some important determinants of thrombus formation, such as thrombin generation, fibrinolytic activity and endothelial dysfunction in patients on dual antiplatelet therapy are not determined by platelet aggregability [4]. For example, plasminogen activator inhibitor (PAI-1), a major determinant of fibrinolysis resistance, is released from circulating platelets following platelet activation [5] and yet platelet aggregation is not associated with PAI-1 release [4].
This finding together with the recognition that some patients continue to experience recurrent thrombotic events despite dual antiplatelet medications, has led to the proposal that some patients may benefit from anticoagulant treatment following percutaneous coronary intervention [6].
Amongst patients receiving dual antithrombotic therapy, some patients despite compliance exhibit high on-treatment platelet reactivity (so called "antiplatelet resistance") and it was shown that this was predictive of recurrent ischaemic events [7, 8]. However, modulation of such high on-treatment platelet reactivity with administration of more potent but still very specific inhibitors of agonist-induced platelet aggregation, failed to translate into a reduction in ischaemic events. Thus on-treatment platelet hyper-reactivity therefore cannot be considered as a risk factor requiring intervention for secondary prevention after percutaneous coronary revascularization [4, 8] and routine platelet function testing to detect high on-treatment platelet reactivity is not advocated [9].
There is however, evidence to suggest that antiplatelet agents may have additional benefits, in addition to inhibition of platelet aggregation, which may impact on thrombus stability.
The stability of an arterial thrombus is the major determinant of the severity and extent of distal tissue damage in myocardial infarction and ischaemic stroke [10]. Thrombus that is unstable is susceptible to fibrinolysis, leading to disruption of the adhesive bonds within the thrombus mass. This, combined with the effects of flow, result in dislodgement or downstream embolization of the thrombus, in whole or in part. On the other hand, a stable thrombus, able to resist fibrinolysis and high arterial back-pressure, will result in potential lasting vessel occlusion with proportionately more extensive tissue damage. The stability of the thrombus, and its ability to withstand dislodgement by high arterial flow, is determined by the combination of the strength of the attachment of the thrombus to the vessel wall, the firmness and the density of the tightly-packed platelet core of the thrombus, and the structure and density of the fibrin network (Fig. 1).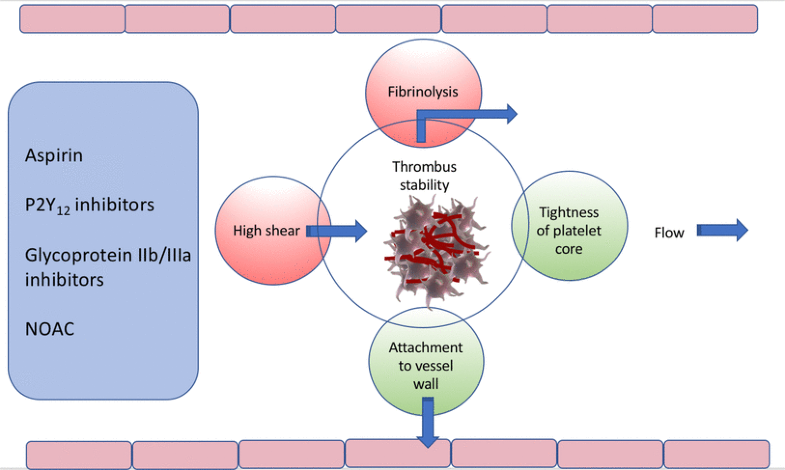 It has been observed that shear-induced platelet aggregation is inversely proportional to shear rate. Shear-induced platelet aggregation occurs when shear-activated platelets aggregate. The intensity of shear rate can regulate both the capture of flowing platelets into the aggregates and the size of those aggregates. Aggregation is less likely to occur at high shear stress sites because hydrodynamic forces carry platelets away with the flow, and aggregation appears to occur predominantly just downstream to this, at location(s) where shear drops but where platelets are able to aggregate via von Willebrand Factor (vWF). Any model involving only the effect of aggregation would inevitably yield to a steady state where all platelets are clumped together in a single aggregate. Hellmuth et al. developed a mathematical kinetic model to better understand the mechanisms of shear-induced platelet aggregation [11]. Previous mathematical models had considered hydrodynamic effects inhibiting platelet aggregation by dislodgement, and incorporated this into models of aggregation efficiency. However, Hellmuth et al. postulated that this alone was too simplistic, since a realistic theoretical steady state can only occur when two opposite forces come to equilibrium. Their model, incorporating not only aggregation, but also disaggregation and breakup processes, implies that aggregates are less noticed at higher shear rates because they break apart very quickly, instead of building up at a slower pace. This mathematical modeling appears to be supported by clinical findings.
Substantial laboratory and clinical data suggest that current antiplatelet and antithrombotic medications exert some of their important effects by potentiating thrombus instability and susceptibility to fibrinolysis (Table 1). The aim of this review is to discuss evidence supporting the assertion that current antithrombotic medications variably, but significantly, reduce thrombus stability and that this in part contributes to their therapeutic effect.
Table 1
Effect of various anti-thrombotic drugs on the main determinants of thrombus stability
| DRUGS | Fragility of platelet core | Retraction of thrombus | Fibrin structure/fibrinolysis | Non-adherence to endothelium |
| --- | --- | --- | --- | --- |
| Aspirin | + |   | + | + |
| P2Y12 antagonists | + |   |   | + |
| GPI | + | + | + |   |
| NOAC | + |   | + |   |
| Factor XI inhibitors | + |   | + | + |
Mechanism of thrombus formation at high shear
High shear rate at the arterial wall results in endothelial expression of vWF which results in platelet adhesion via interaction of platelet glycoprotein Ib-IX-V with vWF, with a supporting role for the P-selectin/P-selectin glycoprotein ligand 1 axis. This is followed by firm platelet adhesion to the endothelium via interaction of platelet aIIbb3 with endothelial avb3 and intercellular adhesion molecule 1. Subsequently, thrombin, the thrombospondin-1/CD36 axis and cyclooxygenase 1 all play a role in subsequent platelet activation and thrombus stabilization [12].
Platelet receptors and ligands involved in initial integrin aIIbb3 activation and reversible platelet aggregation are shown in Fig. 2 [13]. As a result of activation, several ligand/receptor pairs and adhesion proteins are expressed on the platelet surface, that form interactions across platelet–platelet contacts thus forming a tightly packed platelet core in the growing thrombus [14].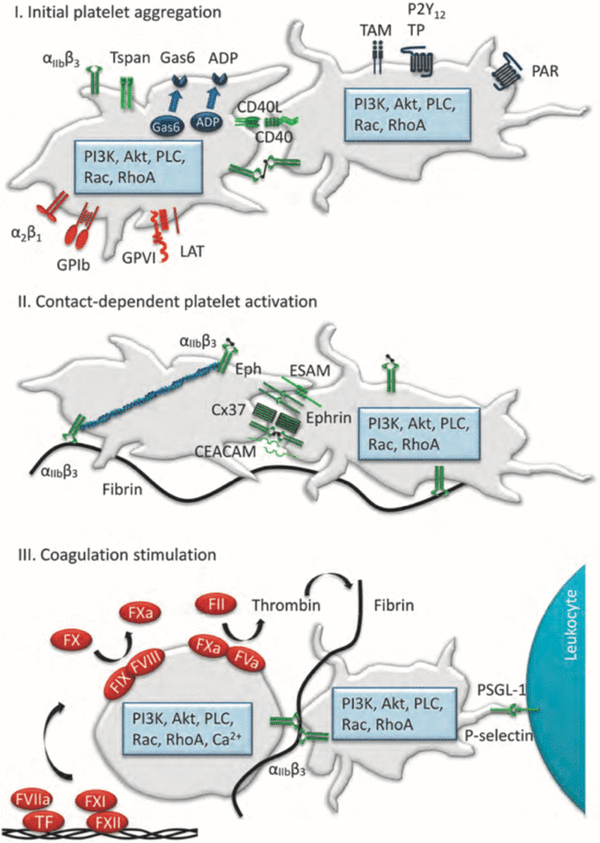 Contact-dependent signaling mechanisms are implicated in platelet contraction, irreversible platelet aggregation and stabilization of platelet aggregates. Subsequent activation of platelets is further promoted by degranulation and release of adenosine diphosphate (ADP) and thromboxane. Degranulation also results in release of CyPA, a potent stimulant of platelet activation which also enhances binding of fibrinogen to platelets [15]. Thrombin activates platelets and cleaves fibrinogen into fibrin, promoting thrombus growth and stabilization. Fibrin formed by the coagulation process further stabilizes the platelet aggregate. Plasma coagulation factors, via the intrinsic (factor XII, FXII) and extrinsic (tissue factor) pathways, mediating platelet-dependent thrombin and fibrin generation, stabilize the growing thrombus. Thrombin also suppresses its own generation by binding to endothelial-expressed thrombomodulin. Thrombomodulin-bound thrombin activates protein C, which inactivates coagulation factors Va and VIIIa leading to dampening of thrombin generation. The coagulation cascade plays an important role in thrombus formation and stabilization, primarily via thrombin, and secondary feedback loops, among others via thrombospondin-1.
Impact of antithrombotic medications on thrombus stability
Novel antithrombotic drugs that may impact on thrombus stability
Real-time visualization of thrombus formation in experimental studies has shown that reducing the propagation of the thrombus and reducing its stability may be a novel way of reducing thrombosis. Not surprisingly, a number of novel antithrombotic agents have been developed and hold promise in reducing thrombus stability, discussed in a recent review in detail [56]. These can be broadly grouped into antiplatelet and anticoagulant strategies, and some of those agents that may be particularly effective at altering thrombus stability are discussed below.
Anticoagulants
Studies using animal models of thrombosis revealed that the contact activation plays an important role in thrombus formation while it has little or no role in haemostasis.
Factor XI inhibition
Under pathologically-relevant shear conditions, factor XI has been shown to enhance coagulation, adhesion and aggregation of platelets and thrombus growth on collagen or tissue factor coated surfaces. Factor XI also protected the clot/thrombus against lysis once it was formed [57, 58, 59]. In contrast to wild-type mice, mice deficient in factor XI (FXI) failed to form thrombus in a ferric chloride-induced vena cava thrombosis model and exhibited enhanced clot lysis [60]. In animal models of thrombosis, inhibition of FXI enhanced thrombolysis, prevented or reduced thrombus formation and growth, and rendered the thrombus formed more unstable and easily fragmented [32, 61]. In a mouse carotid injury model, treatment with FXI antisense oligonucleotides did not impair initial platelet adhesion and platelet plug formation, but significantly attenuated subsequent thrombus formation and fibrin deposition, with formed thrombi that were much more unstable than thrombi from placebo-treated cohorts [61]. The first FXI-specific strategy to be tested in humans was the subcutaneously-administered FXI-directed antisense oligonucleotide IONIS-416858. In a phase 2 study of 300 patients undergoing elective knee arthroplasty, IONIS-416858 reduced the occurrence of venous thromboembolism and also reduced bleeding compared to enoxaparin [61]. Antisense oligonucleotide, aptamers, antibodies, and small molecules provide a growing armamentarium of agents to reduce thrombosis without increasing bleeding [62].
Factor XII inhibition
Inhibition of activated Factor XII (FXIIa) provides thromboprotection by reducing clot firmness [63]. As revealed by intravital microscopy, Thrombi created in injured mesenteric vessels of FXII-deficient mice were unstable and prone to embolization [64]. A recombinant fully human FXIIa activity neutralizing antibody (3F7) has shown promise in animal studies. It has been shown to dose-dependently reduce total and peak thrombin formation [65]. Under flow conditions, 3F7 dose-dependently reduced thrombus formation on collagen and almost completely (< 5% surface covered) abolished thrombus formation at arterial shear rates in a carotid injury model. In an extracorporeal membrane oxygenation cardiopulmonary bypass system in rabbits, 3F7 prevented thrombosis as just as effectively as heparin, but in contrast to heparin, did not did not increase bleeding [65].
Antiplatelet agents
There are currently no inhibitors in routine clinical use targeting the primary platelet receptors, glycoprotein Ibα or glycoprotein VI, or their ligands (vWF/collagen) that initiate platelet adhesion and activation and become increasingly important as the shear rate increases.
Platelet glycoprotein VI inhibition
Inhibition of glycoprotein VI-dependent pathways by interfering in vascular collagen sites could reduce thrombosis in the setting of atherosclerotic plaque rupture, such as in myocardial infarction. Revacept, a soluble dimeric glycoprotein VI-Fc fusion protein has been shown to reduce platelet adhesion by blocking vascular collagen in plaques or erosion and to be safe in preclinical studies. A phase I study in humans showed that Revacept dose-dependently inhibited collagen-induced platelet aggregation without a significant effect on bleeding time. In contrast, ADP- or thrombin receptor activating peptide-dependent platelet aggregation remained unaltered [66].
Selective inhibition of platelet inhibition integrin αIIbβ3
Antagonists of the platelet integrin αIIbβ3 are potent anti-thrombotic drugs, but also have the life-threatening adverse effect of bleeding. Integrins transmit signals bidirectionally and outside-in signalling greatly potentiates thrombosis. An inhibitor of Gα13-integrin interaction selectively abolishes outside-in signalling, leading to suppression of thrombosis without affecting bleeding time [31].
Inhibition of CyPA
Platelet degranulation results in release of CyPA, a potent stimulant of platelet activation which also enhances binding of fibrinogen to platelets. Inhibition of extracellular CyPA by specific inhibitors, such as MM284 or specific antibody-based antagonists, may modulate thrombus propagation without affecting the haemostasis [15].
Discussion
Whilst the generally accepted view is that antiplatelet agents exert their antithrombotic effects by inhibiting platelet aggregation, there is ample data from both laboratory and clinical studies to suggest that in addition to inhibiting platelet aggregation, antithrombotic medications in current use increase thrombus fragility and/or enhance endogenous fibrinolysis. Such interference with the mechanisms that normally impart stability to an arterial thrombus and enable it to resist high shear rates, likely contributes to the therapeutic effect of antithrombotic medications. It is not clear how much these effects relate to the measured inhibition of platelet aggregation in response to specific agonists. Most tests of platelet reactivity in clinical use are performed on anticoagulated blood under static conditions or at flow rates that are too low to be pathologically relevant, and therefore cannot assess thrombus stability. This is at least in part why these pharmacological effects of such medications have been relatively overlooked, in comparison to the effects on platelet inhibition, which have been extensively studied. The assessment of the impact of pharmacotherapies on thrombus stability necessitates that the in vitro thrombus be subjected to pathologically-relevant flow and shear conditions. There is now a need for such clinically applicable testing of thrombus stability in individual patients to assess the impact of different antithrombotic medications. Further assessment of these effects may serve to identify new antithrombotic agents which could target thrombus architecture and stability, by affecting platelet packing density and the density of the fibrin meshwork. Already some novel antithrombotic strategies that reduce thrombosis in experimental conditions appear to also reduce thrombus stability. Such targeted pharmacotherapy could reduce lasting thrombotic occlusion.
In conclusion, there is substantial evidence from in vitro and in vivo studies that many antithrombotic medications have shear-dependent effects, potentiating the fragility of the growing thrombus and/or enhancing endogenous thrombolytic activity, and this likely contributes to their clinical effects. The effects of medications on thrombus stability should be further assessed in clinical settings and could become a new pharmacological target.
Notes
Compliance with ethical standards
Conflict of interest
The author reports no conflict of interest pertaining to this manuscript.
Research involving human and animal participants
This article does not contain any studies with human participants or animals.
Copyright information
© The Author(s) 2018
Open AccessThis article is distributed under the terms of the Creative Commons Attribution 4.0 International License (http://creativecommons.org/licenses/by/4.0/), which permits unrestricted use, distribution, and reproduction in any medium, provided you give appropriate credit to the original author(s) and the source, provide a link to the Creative Commons license, and indicate if changes were made.