Abstract
Since the mid-1990s, considerable concern has been expressed about the feminization of education. The underlying assumption is that the increasing number of female teachers is leading to a lack of male role models, which may then have negative consequences for the achievement and behaviour of boys in particular. For this reason, policy is currently being pursued in several countries to increase the number of male teachers. In the present article, the theoretical foundation for this policy will be shown to be weak at best. To test this empirically, a large-scale study of Dutch primary schools was conducted, which involved 5181 grade eight pupils, 251 teachers and 163 schools. This study confirmed that teacher sex has no effect whatsoever on the achievement, attitudes or behaviour of pupils. This finding holds for both boys and girls, for both minority and non-minority pupils and for both children from lower and higher social-economic milieus.
Zusammenfassung
DIE VERWEIBLICHUNG DER HAUPTSCHULBILDUNG: DIE AUSWIRKUNGEN DER GESCHLECHTSZUGEHÖRIGKEIT DER LEHRKRÄFTE AUF LEISTUNG, EINSTELLUNGEN UND VERHALTEN DER SCHÜLER – Seit Mitte der neunziger Jahre wurden immer wieder erhebliche Bedenken gegen die Verweiblichung der Schulbildung erhoben. Dem liegt die Annahme zu Grunde, dass die wachsende Anzahl weiblicher LehrkrÄfte zu einem Mangel an mÄnnlichen Rollenvorbildern fÜhre, welcher sich negativ auf die Leistungen und das Verhalten besonders der Jungen auswirke. Aus diesem Grund verfolgen mehrere LÄnder derzeit die Politik, die Zahl der mÄnnlichen LehrkrÄfte zu erhÖhen. Der vorliegende Artikel zeigt, dass die theoretische Grundlage dieser Politik auf sehr schwachen FÜssen steht. Zum empirischen Nachweis diente eine Breitenuntersuchung in hollÄndischen Hauptschulen, in welche 5181 AchtklÄssler, 251 LehrkrÄfte und 163 Schulen einbezogen waren. Die Studie ergab, dass die GeschlechtszugehÖrigkeit der LehrkrÄfte keine wie immer gearteten Auswirkungen auf Leistung, Einstellungen und Verhalten der SchÜler hat. Dies betrifft sowohl Jungen wie MÄdchen, Minderheiten wie Nicht-Minderheiten sowie Kinder aus niedrigerem wie hÖherem sozialÖkonomischen Milieu.
Résumé
LA FÉMINISATION DE L'ÉDUCATION PRIMAIRE: EFFETS DU SEXE DES PROFESSEURS SUR L'ACCOMPLISSEMENT, LES ATTITUDES ET LE COMPORTEMENT DES ÉLÈVES – Depuis le milieu des annÉes 90, on a exprimÉ de grandes inquiÉtudes à propos de la fÉminisation de l'Éducation. L'hypothÈse sous-jacente est que le nombre croissant de professeurs fÉminins conduit à un manque de modÈles du rôle masculin, ce qui pourrait alors avoir des consÉquences nÉgatives sur l'accomplissement et le comportement des garçons en particulier. Pour cette raison, on poursuit actuellement dans plusieurs pays une politique visant à augmenter le nombre de professeurs masculins. Dans le prÉsent article, on montrera que la base thÉorique de cette politique s'avÈre faible tout au mieux. Pour vÉrifier ceci sur le plan empirique, on a entrepris une Étude à grande Échelle sur les Écoles primaires hollandaises, impliquant 5181 ÉlÈves du niveau 8, 251 professeurs et 163 Écoles. Cette Étude a confirmÉ que le sexe du professeur n'a aucun effet quel qu'il soit sur l'accomplissement, les attitudes ou le comportement des ÉlÈves. Ce rÉsultat vaut pour les garçons et les filles, pour les ÉlÈves de minoritÉ ou non, et pour les enfants de milieux sociaux-Économiques les plus faibles comme les plus ÉlevÉs.
Resumen
LA FEMINIZACIÓN DE LA EDUCACIÓN PRIMARIA: INFLUENCIA DEL GÉNERO DE LOS DOCENTES SOBRE EL RENDIMIENTO, LAS ACTITUDES Y LA CoNDUCTA DE LOS ALUMNOS – Desde mediados de los noventa se viene manifestando una considerable preocupaciÓn sobre la feminizaciÓn en la enseñanza escolar, en el sentido de que un creciente número de docentes femeninas pueda causar una falta de modelos masculinos y que esta falta podría tener consecuencias negativas para el rendimiento y la conducta de los alumnos, particularmente de los varones. Por esta razÓn, en varios países se está siguiendo la política de incrementar el número de docentes masculinos. El presente trabajo muestra que el fundamento teÓrico de esta política es sumamente frágil. Para obtener una prueba empírica, se ha realizado una amplia investigaciÓn en escuelas de educaciÓn básica de Holanda involucrando a 5181 alumnos del octavo curso, 251 docentes y 163 escuelas. El estudio confirmÓ que el gÉnero del docente no tiene efecto alguno sobre el rendimiento, las actitudes o las conductas de los alumnos. Los resultados se refieren tanto a los varones como a las niñas, a alumnos de grupos minoritarios o mayoritarios y a niños de estratos socioeconÓmicos más bajos o más altos.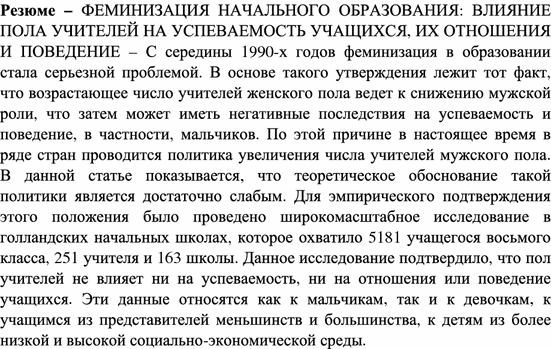 References
Ailwood Jo 2003. A National Approach to Gender Equity Policy in Australia: Another Ending, Another Opening? International Journal of Inclusive Education 7(1): 19–31

Bailey Lucy 1996. The Feminization of a School? Women Teachers in a Boys' School. Gender and Education 8(2): 171–184

Carrington Bruce, Skelton Christine 2003. Re-thinking "Role Models": Equal Opportunities in Teacher Recruitment in England and Wales. Journal of Education Policy 18(3): 253–265

DEST. 2003. Educating Boys. Issues and Information. Canberra: DEST

DfES. 2003. Using the National Healthy School Standard to Raise Boys' Achievement. London: DfES

DfES. 2004. Gender and Achievement. http://www.standards.dfes.gov.uk/genderandachievement/, accessed March 13, 2006

Driessen Geert 2002. School Composition and Achievement in Primary Education: A Large-scale Multilevel Approach. Studies in Educational Evaluation 28(4): 347–368

Driessen Geert, Sleegers Peter 2000. Consistency of Teaching Approach and Student Achievement: An Empirical Test. School Effectiveness and School Improvement 11(1): 57–79

Driessen, Geert, Annemarie van Langen, and Hermann Vierke. 2002. Basisonderwijs: Veldwerkverslag, Leerlinggegevens en Oudervragenlijsten. Basisrapportage PRIMA-Cohortonderzoek. Vierde Meting 2000–2001 [Pupil Variables. Primary Education: Basic Report PRIMA Cohort Study. Fourth Measurement Round 2000–2001]. Nijmegen: ITS

Driessen, Geert, Annemarie van Langen, and Hermann Vierke. 2004. Basisonderwijs: Veldwerkverslag, Leerlinggegevens en Oudervragenlijsten. Basisrapportage PRIMA-Cohortonderzoek. Vijfde Meting 2002–2003 [Pupil Variables. Primary Education: Basic Report PRIMA Cohort Study. Fifth Measurement Round 2002–2003]. Nijmegen: ITS

Ehrenberg Ronald, Goldhaber Daniel, Brewer Dominic 1995. Do Teachers' Race, Gender, and Ethnicity Matter? Evidence from the National Educational Longitudinal Study of 1988. Industrial and Labor Relations Review 48(3): 547–560

Francis Becky, Skelton Christine 2005. Reassessing Gender and Achievement. Questioning Contemporary Key Debates. London and New York: Routledge

Frank Blye, Kehler Michael, Lovell Trudy, Davison Kevin 2003. A Tangle of Trouble: Boys, Masculinity and Schooling – Future Directions. Educational Review 55(2): 119–133

Freeman Catherine 2004. Trends in Educational Equity of Girls and Women. Washington, DC: US Department of Education

Gillborn David, Mirza Heidi 2000. Educational Inequality. Mapping Race, Class and Gender. A Synthesis of Research Evidence. London: Ofsted

Gorard Stephen, Rees Gareth, Salisbury Jane 2001. Investigating the Pattern of Differential Achievement of Boys and Girls at School. British Educational Research Journal 27(1): 125–139

Hopf Dieter, Hatzichristou Chryse 1999. Teacher Gender-related Influences in Greek Schools. British Journal of Educational Psychology 69: 1–18

House of Representatives. 2002. Boys: Getting it Right. Report on the Inquiry into the Education of Boys. Canberra: House of Representatives

Li Qing 1999. Teachers' Beliefs and Gender Differences in Mathematics: A Review. Educational Research 41(1): 63–76

OECD. 2004a. Learning for Tomorrow's World – First Results from PISA 2003. Paris: OECD

OECD. 2004b. Education at a Glance 2004. OECD Indicators 2004 Edition. Paris: OECD

Sabbe, Elien. 2004. Secondary School Pupils' Perceptions of their Male and Female Teachers. Paper AERA Annual Meeting, San Diego, CA, USA, 22–27 March 2004

SBO. 2006. Jaarboek 2005. Onderwijsarbeidsmarkt in beeld [Year book 2005. Education and Labour Market]. Den Haag: Sectorbestuur Onderwijsarbeidsmarkt

Scheerens Jaap, Bosker Roel 1997. The Foundations of Educational Effectiveness. Oxford: Pergamon

Sikkes Robbert 2004. Poen, Status en de Tere Jongensziel. Enquête over Vervrouwelijking Onderwijs [Money, status and the tender boy's soul]. Het Onderwijsblad 8(7): 16–23

Siongers Jessy 2002. De Gevolgen van de Feminisering van het Leerkrachtenberoep in het Secundair Onderwijs: Een Empirische Analyse [The consequences of the feminization of the teacher profession]. Brussel: Vrije Universiteit Brussel

Skelton Christine 2001. Schooling the Boys. Masculinities and Primary Education. Buckingham: Open University Press

Skelton Christine 2003. Male Primary Teachers and Perceptions of Masculinity. Educational Review 55(2): 195–209

Smith Janet. 1999. We Need More Males in Primary Teacher Education! Or Do We? Paper Australian Association for Research in Education Conference, Melbourne, November 1999

Smith Emma 2003. Failing Boys and Moral Panics: Perspectives on the Underachievement Battle. British Journal of Educational Studies 51(3): 282–295

Timmerman Greetje, van Essen Mineke 2004. De Mythe van het "Vrouwengevaar"[The myth of the "Women's Danger"]. Pedagogiek 24(1): 57–71

van der Veen, Ineke, Arjan van der Meijden, and Guuske Ledoux. 2004. School en Klaskenmerken Basisonderwijs. Basisrapportage PRIMA-Cohortonderzoek. Vijfde Meting 2002–2003 [School Variables. Primary Education: Basic Report PRIMA Cohort␣Study Fourth Measurement Round 2002–2003]. Amsterdam: SCO-Kohnstamm Instituut

van Eck, Edith, I. Heemskerk, and A. Vermeulen. 2004. Paboys Gezocht! Wat Maakt de Pabo en het Werken op de Basisschool Aantrekkelijker voor Mannen? [Wanted Male Teacher Students!]. Amsterdam: SCO-Kohnstamm Instituut

van Langen Annemarie, Dekkers Hetty 2005. Cross-National Differences in Participating in Tertiary Science, Technology, Engineering and Mathematics Education. Comparative Education 41(3): 329–350

Veendrick Laurenz, Tavecchio Louis, Doornenbal Jeannette 2004. Jongens als Probleem. Inleiding bij het Themadeel [Boys as a Problem]. Pedagogiek 24(1): 12–22

Warrington Molly, Younger Michael 2000. The Other Side of the Gender Gap. Gender and Education 12(4): 493–508

Younger Michael, Warrington Molly, McLellan Ros 2002. The "Problem" of "Under-Achieving Boys": Some Responses from English Secondary Schools. School Leadership & Management 22(4): 389–405
Acknowledgements
The research reported on here was financially supported by the Netherlands Ministry of Education. Use was made of data from the PRIMA study, which was subsidised by the Netherlands Organisation for Scientific Research (NWO).
Rights and permissions
Open Access This is an open access article distributed under the terms of the Creative Commons Attribution Noncommercial License ( https://creativecommons.org/licenses/by-nc/2.0 ), which permits any noncommercial use, distribution, and reproduction in any medium, provided the original author(s) and source are credited.
About this article
Cite this article
Driessen, G. The Feminization of Primary Education: Effects of Teachers' Sex on Pupil Achievement, Attitudes and Behaviour. Int Rev Educ 53, 183–203 (2007). https://doi.org/10.1007/s11159-007-9039-y
Received:

Accepted:

Published:

Issue Date:

DOI: https://doi.org/10.1007/s11159-007-9039-y
Keywords
Work Attitude

Measurement Occasion

Female Teacher

Male Teacher

Social Milieu