Abstract
The present work evaluated the effect of Pt, Pd and Ru catalysts supported on pillared clay (Al-Pilc) on the selectivity and products yielded in the hydrogenolysis of glycerol. The catalyst was prepared by aqueous suspension impregnation, with precursors Pt(NH3)4Cl2·0.68H2O, PdCl2 and RuCl3·1.37H2O, to obtain a nominal content catalyst of 2 wt%. They were characterized by specific surface area, temperature programmed reduction, X-ray diffraction, infrared spectroscopy of adsorbed pyridine, and pyridine temperature programmed desorption. As co-catalyst, the solid studied was Amberlyst 15. The hydrogenolysis of glycerol was performed in the liquid phase, typically at 393 K and 50 bar. The results indicate that the use of bifunctional metal–acid catalysts is a way to make the hydrogenolysis more effective because it favors the dehydration and hydrogenation reactions to produce 1,2-propanediol (1,2PD) and 1-propanol (1PO). Higher yield and a suitable selectivity to 1,2-propanediol were obtained for Ru/Al-Pilc.
Access options
Buy single article
Instant access to the full article PDF.
USD 39.95
Price excludes VAT (USA)
Tax calculation will be finalised during checkout.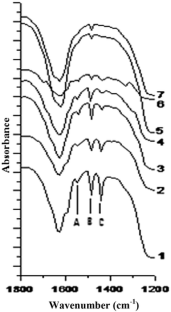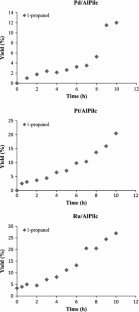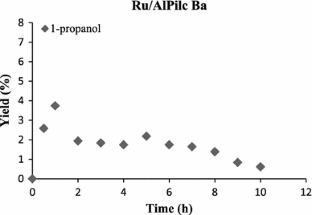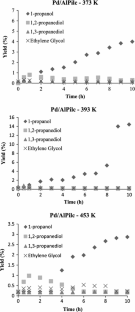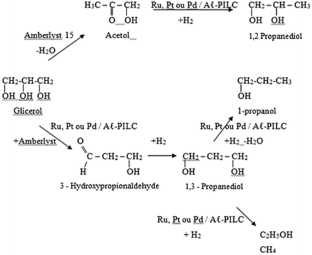 References
Ott L, Bicker M, Vogel H (2006) Green Chem 8(2006):214–220

Batista F (2009) Brazil has no right destination for glycerin generated from biodiesel. http://www.biodieselbr.com/noticias/biodiesel/brasil-destino-certo-glicerina-gerada-biodiesel-05-06-07.htm. Acessed Mar 2009

Medeiros MA, Araujo MH, Augusti R, Oliveira LCA, Lago RM (2009) J Braz Chem Soc 20(9):1667–1673

Wang K, Hawley M, Furney TD (1995) Ind Eng Chem.Res 34:3766–3774

Nakagawa Y, Tomishige K (2011) Catalyst Development for the Hydrogenolysis of Biomass-Derived Chemicals to Value-Added Ones. Catal SurvAsia 15(2):111–116

Chiu CW, Dasari MA, Suppes GJ, Sutterlin WR (2006) AIChE J 52:3543–3548

Milone C, Neri G, Donato A, Musolino MG, Mercadante L (1996) Selective hydrogenation of benzene to cyclohexene on Ru/γ-Al2O3. J Catal 159:253

Binitha NN, Sugunam S (2006) Microporous Mesoporous Mater 93:82–98

Figueiredo FCA, Jordão E, Landers R, Carvalho WA (2009) Appl Catal A 371:131–141

Figueiredo, FCA The hydrogenation of dimethyl adipate using catalysts supported on pillared clays. Campinas, SP, February 2009, Doctoral Thesis, 211 p

Sing KSW, Everett DH, Haul RAW, Moscou L, Pierotti RA, Rouquerol J, Siemieniewska T (1985) Pure Appl Chem 57:603–619

Gil A, Vicente MA, Lambert J-F, Gandía LM (2001) Catal Today 68:41–51

Jinxiang L, Lixin Y, Shiuying G, Lijuan H, Renyuan T, Dongbai D (1988) Thermochim Acta 123:121–131

Wang JA, Cuan A, Salmones J, Nava N, Castillo S, Morán-Pineda M, Rojas F (2004) Appl Surf Sci 230(2004):94–104

Subramanian S (1992) Platin Met Rev 36:98–109

Reyes P, Konig ME, Pecchi G, Concha I, Granados ML, Fierro JLG (1997) Catal Lett 46:71–80

Lin W, Linzhu L, Xie YX, Scheurell YC, Kemnitz KE (2005) J Mol Catal A 226:263–271

Fontana J, Vignado C, Jordão E, Carvalho WA (2010) Chem Eng J 165:336–346

Tichit D, Fajula F, Figueras F, Bousquet J, Gueguen C (1985) Stud Surf Sci Catal 20:351–360

Lambert JF, Poncelet G (1997) Top Catal 4:43–56

Wang J, Shen S, Li B, Lin H, Yuan Y (2009) Chem Lett 38(2009):572–573

Maris EP, Davis RJ (2007) J Catal 249:328–337

Balaraju M, Rekha V, Prasad PSS, Prasad RBN, Lingaiah N (2008) Catal Lett 126:119–124

Perosa A, Tundo P (2005) Ind Eng Chem Res 44(2005):8535–8537

Chaminand J, Djakovitch L, Gallezot P, Marion P, Pinel C, Rosier C (2004) Green Chem 6:359–361

Miyazawa T, Koso S, Kunimori K, Tomishige K (2007) Appl Catal A 318:244–251

Chheda JN, Huber GW, Dumesic JA (2007) Angew Chem Int Ed 46:7164–7183

Miyazawa T, Kusunoki Y, Kunimori K, Tomishige K (2006) J Catal 240:213–221

Bradley SM, Kydd RA (1993) A Comparison of the catalytic activies of Ga13-, Al13-, GaAl12-, and chromium-pillar interlayered clay minerals and Ga-H-ZSM-5 Zeolite in the dehydrocyclodimerization of propane. J Catal 142:48–453

Rohm and Haas (2006) Technical Data Sheet http://www.dow.com/assets/attachments/business/process_chemicals/amberlyst/amberlyst_15wet/tds/amberlyst_15wet.pdf

Harmer MA, Sun Q (2001) Appl Catal A 221:45–62

Janik MJ, Macht J, Iglesia E, Neurock M (2009) J Phys Chem C 113:1872–1885

Kusunoki Y, Miyazawa T, Kunimori K, Tomishige K (2005) Catal Commun 6:645–649

Suppes GJ, Sutterlin WR, Dasari MA (2005) US Patent Application 0,244,312

Gong L, Lu Y, Ding Y, Lin R, Li J, Dong W, Wang T, Chen W (2010) Appl Catal A 390:119–126

Dasari MA, Kiatsimkul P-P, Sutterlin WR, Suppes GJ (2005) Appl Catal A 281:225–231

Roy D, Subramaniam B, Chaudhari RV (2010) Catal Today 156:31–37

Huang L, Zhu Y, Zheng H, Ding G, Li Y (2009) Catal Lett 131:312–320
Acknowledgements
The authors would like to thank FAPESP (2009/07109-2 and 2009/07125-8), CAPES and CNPq (301578/2008-7, 551070/2010-2 and 473481/2010-3) for their financial support, and UNICAMP and UFABC for their support on the development of the studies.
About this article
Cite this article
Zanin, C.I.C.B., Jordão, E., Mandelli, D. et al. Hydrogenolysis of glycerol to alcohols catalyzed by transition metals supported on pillared clay. Reac Kinet Mech Cat 115, 293–310 (2015). https://doi.org/10.1007/s11144-014-0831-y
Received:

Accepted:

Published:

Issue Date:

DOI: https://doi.org/10.1007/s11144-014-0831-y
Keywords
Hydrogenolysis

Glycerol

1,2-Propanediol

1-Propanol

Biodiesel