Abstract
Key message
SLO4 is a mitochondrial PPR protein that is involved in editing nad4, possibly required for the efficient splicing of nad2 intron1.
Abstract
Pentatricopeptide repeat (PPR) proteins constitute a large protein family in flowering plants and are thought to be mostly involved in organellar RNA metabolism. The subgroup of PLS-type PPR proteins were found to be the main specificity factors of cytidine to uridine RNA editing. Identifying the targets of PLS-type PPR proteins can help in elucidating the molecular function of proteins encoded in the organellar genomes. In this study, plants lacking the SLOW GROWTH 4 PPR protein were characterized. Slo4 mutants were characterized as having restricted root growth, being late flowering and displaying an overall delayed growth phenotype. Protein levels and activity of mitochondrial complex I were decreased and putative complex I assembly intermediates accumulated in the mutant plants. An editing defect, leading to an amino acid change, in the mitochondrial nad4 transcript, encoding for a complex I subunit, was identified. Furthermore, the splicing efficiency of the first intron of nad2, encoding for another complex I subunit, was also decreased. The change in splicing efficiency could however not be linked to any editing defects in the nad2 transcript.
Access options
Buy single article
Instant access to the full article PDF.
USD 39.95
Price excludes VAT (USA)
Tax calculation will be finalised during checkout.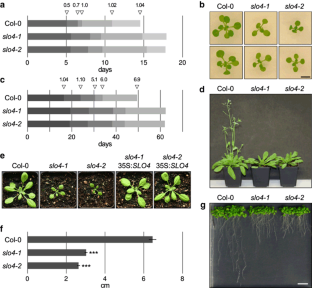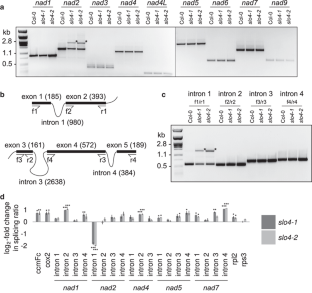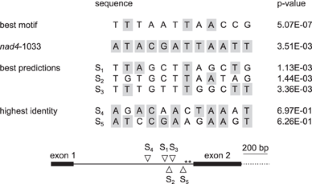 References
Alonso JM, Stepanova AN, Leisse TJ, Kim CJ, Chen H, Shinn P, Stevenson DK, Zimmerman J, Barajas P, Cheuk R et al (2003) Genome-Wide insertional mutagenesis of Arabidopsis thaliana. Science 301:653–657

Bannai H, Tamada Y, Maruyama O, Nakai K, Miyano S (2002) Extensive feature detection of N-terminal protein sorting signals. Bioinformatics 18:298–305

Baradaran R, Berrisford JM, Minhas GS, Sazanov LA (2013) Crystal structure of the entire respiratory complex I. Nature 494:443–448

Barkan A, Small I (2014) Pentatricopeptide repeat proteins in plants. Annu Rev Plant Biol 65:415–442

Barkan A, Rojas M, Fujii S, Yap A, Chong YS, Bond CS, Small I (2012) A combinatorial amino acid code for RNA recognition by pentatricopeptide repeat proteins. PLoS Genet 8:e1002910

Bentolila S, Oh J, Hanson MR, Bukowski R (2013) Comprehensive high-resolution analysis of the role of an Arabidopsis gene family in RNA editing. PLoS Genet 9:e1003584

Bonen L (2008) Cis- and trans-splicing of group II introns in plant mitochondria. Mitochondrion 8:26–34

Bosco CD, Lezhneva L, Biehl A, Leister D, Strotmann H, Wanner G, Meurer J (2004) Inactivation of the chloroplast ATP synthase γ subunit results in high non-photochemical fluorescence quenching and altered nuclear gene expression in Arabidopsis thaliana. J Biol Chem 279:1060–1069

Boyes DC, Zayed AM, Ascenzi R, McCaskill AJ, Hoffman NE, Davis KR, Görlach J (2001) Growth stage-based phenotypic analysis of Arabidopsis: a model for high throughput functional genomics in plants. Plant Cell 13:1499–1510

Braun H-P, Binder S, Brennicke A, Eubel H, Fernie AR, Finkemeier I, Klodmann J, König A-C, Kühn K, Meyer E et al (2014) The life of plant mitochondrial complex I. Mitochondrion 19(Part B):295–313

Brown GG, Colas des Francs-Small C, Ostersetzer-Biran O (2014) Group II intron splicing factors in plant mitochondria. Front Plant Sci 5:35

Cardol P, Matagne RF, Remacle C (2002) Impact of mutations affecting ND mitochondria-encoded subunits on the activity and assembly of complex I in Chlamydomonas. Implication for the structural organization of the enzyme. J Mol Biol 319:1211–1221

Cardol P, Boutaffala L, Memmi S, Devreese B, Matagne RF, Remacle C (2008) In Chlamydomonas, the loss of ND5 subunit prevents the assembly of whole mitochondrial complex I and leads to the formation of a low abundant 700 kDa subcomplex. Biochim Biophys Acta 1777:388–396

Carrie C, Giraud E, Duncan O, Xu L, Wang Y, Huang S, Clifton R, Murcha M, Filipovska A, Rackham O et al (2010) Conserved and novel functions for Arabidopsis thaliana MIA40 in assembly of proteins in mitochondria and peroxisomes. J Biol Chem 285:36138–36148

Colcombet J, Lopez-Obando M, Heurtevin L, Bernard C, Martin K, Berthomé R, Lurin C (2013) Systematic study of subcellular localization of Arabidopsis PPR proteins confirms a massive targeting to organelles. RNA Biol 10:1557–1575

de Longevialle AF, Meyer EH, Andrés C, Taylor NL, Lurin C, Millar AH, Small ID (2007) The pentatricopeptide repeat gene OTP43 is required for trans-splicing of the mitochondrial nad1 Intron 1 in Arabidopsis thaliana. Plant Cell 19:3256–3265

des Francs-Small CC, Falcon de Longevialle A, Li Y, Lowe E, Tanz SK, Smith C, Bevan MW, Small I (2014) The Pentatricopeptide Repeat proteins TANG2 and ORGANELLE TRANSCRIPT PROCESSING439 are involved in the splicing of the multipartite nad5 transcript encoding a subunit of mitochondrial complex I1[W][OPEN]. Plant Physiol 165:1409–1416

Doniwa Y, Ueda M, Ueta M, Wada A, Kadowaki K, Tsutsumi N (2010) The involvement of a PPR protein of the P subfamily in partial RNA editing of an Arabidopsis mitochondrial transcript. Gene 454:39–46

Duncan O, Carrie C, Wang Y, Murcha MW (2015) In vitro and in vivo protein uptake studies in plant mitochondria. Methods Mol Biol 1305:61–81

Elthon TE, Nickels RL, McIntosh L (1989) Monoclonal antibodies to the alternative oxidase of higher plant mitochondria. Plant Physiol 89:1311–1317

Eubel H, Millar AH (2009) Systematic Monitoring of protein complex composition and abundance by blue-native PAGE. Cold Spring Harb Protoc 2009:pdb.prot5221

Eubel H, Jänsch L, Braun H-P (2003) New insights into the respiratory chain of plant mitochondria. Supercomplexes and a unique composition of complex II. Plant Physiol 133:274–286

Francs-Small des CC, Kroeger T, Zmudjak M, Ostersetzer-Biran O, Rahimi N, Small I, Barkan A (2012) A PORR domain protein required for rpl2 and ccmF(C) intron splicing and for the biogenesis of c-type cytochromes in Arabidopsis mitochondria. Plant J Cell Mol Biol 69:996–1005

Fujii S, Small I (2011) The evolution of RNA editing and pentatricopeptide repeat genes. New Phytol 191:37–47

Garmier M, Carroll AJ, Delannoy E, Vallet C, Day DA, Small ID, Millar AH (2008) Complex I dysfunction redirects cellular and mitochondrial metabolism in Arabidopsis. Plant Physiol 148:1324–1341

Gualberto JM, Le Ret M, Beator B, Kühn K (2015) The RAD52-like protein ODB1 is required for the efficient excision of two mitochondrial introns spliced via first-step hydrolysis. Nucleic Acids Res 43:6500–6510

Haïli N, Arnal N, Quadrado M, Amiar S, Tcherkez G, Dahan J, Briozzo P, Colas des Francs-Small C, Vrielynck N, Mireau H (2013) The pentatricopeptide repeat MTSF1 protein stabilizes the nad4 mRNA in Arabidopsis mitochondria. Nucleic Acids Res 41:6650–6663

Hammani K, Giegé P (2014) RNA metabolism in plant mitochondria. Trends Plant Sci 19:380–389

He J, Duan Y, Hua D, Fan G, Wang L, Liu Y, Chen Z, Han L, Qu L-J, Gong Z (2012) DEXH Box RNA Helicase–mediated mitochondrial reactive oxygen species production in Arabidopsis mediates crosstalk between Abscisic acid and Auxin signaling [C][W][OA]. Plant Cell 24:1815–1833

Hölzle A, Jonietz C, Törjek O, Altmann T, Binder S, Forner J (2011) A RESTORER OF FERTILITY-like PPR gene is required for 5′-end processing of the nad4 mRNA in mitochondria of Arabidopsis thaliana. Plant J Cell Mol Biol 65:737–744

Hsieh W-Y, Liao J-C, Chang C-Y, Harrison T, Boucher C, Hsieh M-H (2015) The SLOW GROWTH3 pentatricopeptide repeat protein is required for the splicing of mitochondrial NADH dehydrogenase subunit 7 Intron 2 in Arabidopsis. Plant Physiol 168:490–501

Jacoby RP, Li L, Huang S, Pong Lee C, Millar AH, Taylor NL (2012) Mitochondrial composition, function and stress response in plants. J Integr Plant Biol 54:887–906

Juszczuk IM, Rychter AM (2009) BN-PAGE analysis of the respiratory chain complexes in mitochondria of cucumber MSC16 mutant. Plant Physiol Biochem 47:397–406

Juszczuk IM, Flexas J, Szal B, Dabrowska Z, Ribas-Carbo M, Rychter AM (2007) Effect of mitochondrial genome rearrangement on respiratory activity, photosynthesis, photorespiration and energy status of MSC16 cucumber (Cucumis sativus) mutant. Physiol Plant 131:527–541

Juszczuk IM, Szal B, Rychter AM (2012) Oxidation–reduction and reactive oxygen species homeostasis in mutant plants with respiratory chain complex I dysfunction. Plant Cell Environ 35:296–307

Karimi M, Inzé D, Depicker A (2002) GATEWAY vectors for Agrobacterium-mediated plant transformation. Trends Plant Sci 7:193–195

Karpova OV, Newton KJ (1999) A partially assembled complex I in NAD4-deficient mitochondria of maize. Plant J 17:511–521

Keren I, Bezawork-Geleta A, Kolton M, Maayan I, Belausov E, Levy M, Mett A, Gidoni D, Shaya F, Ostersetzer-Biran O (2009) AtnMat2, a nuclear-encoded maturase required for splicing of group-II introns in Arabidopsis mitochondria. RNA 15:2299–2311

Keren I, Tal L, des Francs-Small CC, Araújo WL, Shevtsov S, Shaya F, Fernie AR, Small I, Ostersetzer-Biran O (2012) nMAT1, a nuclear-encoded maturase involved in the trans-splicing of nad1 intron 1, is essential for mitochondrial complex I assembly and function. Plant J Cell Mol Biol 71:413–426

Köhler D, Schmidt-Gattung S, Binder S (2009) The DEAD-box protein PMH2 is required for efficient group II intron splicing in mitochondria of Arabidopsis thaliana. Plant Mol Biol 72:459–467

Koop HU, Steinmuller K, Wagner H, Rossler C, Eibl C, Sacher L (1996) Integration of foreign sequences into the tobacco plastome via polyethylene glycol-mediated protoplast transformation. Planta 199:193–201

Koprivova A, Francs-Small des CC, Calder G, Mugford ST, Tanz S, Lee B-R, Zechmann B, Small I, Kopriva S (2010) Identification of a pentatricopeptide repeat protein implicated in splicing of Intron 1 of mitochondrial nad7 transcripts. J Biol Chem 285:32192–32199

Lee CP, Taylor NL, Millar AH (2013) Recent advances in the composition and heterogeneity of the Arabidopsis mitochondrial proteome. Front Plant Sci 4:4

Leu K-C, Hsieh M-H, Wang H-J, Hsieh H-L, Jauh G-Y (2016) Distinct role of Arabidopsis mitochondrial P-type pentatricopeptide repeat protein-modulating editing protein, PPME, in nad1 RNA editing. RNA Biol 13:593–604

Lister R, Carrie C, Duncan O, Ho LHM, Howell KA, Murcha MW, Whelan J (2007) Functional definition of outer membrane proteins involved in preprotein import into mitochondria. Plant Cell 19:3739–3759

Meyer EH, Solheim C, Tanz SK, Bonnard G, Millar AH (2011) Insights into the composition and assembly of the membrane arm of plant complex I through analysis of subcomplexes in Arabidopsis mutant lines. J Biol Chem 286:26081–26092

Murcha MW, Millar AH, Whelan J (2005) The N-terminal cleavable extension of plant carrier proteins is responsible for efficient insertion into the inner mitochondrial membrane. J Mol Biol 351:16–25

Nakagawa N, Sakurai N (2006) A mutation in At-nMat1a, which encodes a nuclear gene having high similarity to group II intron maturase, causes impaired splicing of mitochondrial NAD4 transcript and altered carbon metabolism in Arabidopsis thaliana. Plant Cell Physiol 47:772–783

Perales M, Parisi G, Fornasari MS, Colaneri A, Villarreal F, González-Schain N, Echave J, Gómez-Casati D, Braun H-P, Araya A et al (2004) Gamma carbonic anhydrase like complex interact with plant mitochondrial complex I. Plant Mol Biol 56:947–957

Pfalz J, Liere K, Kandlbinder A, Dietz K-J, Oelmüller R (2006) pTAC2, -6, and -12 are components of the transcriptionally active plastid chromosome that are required for plastid gene expression. Plant Cell 18:176–197

Pineau B, Layoune O, Danon A, De Paepe R (2008) l-galactono-1,4-lactone dehydrogenase is required for the accumulation of plant respiratory complex I. J Biol Chem 283:32500–32505

Prikryl J, Rojas M, Schuster G, Barkan A (2011) Mechanism of RNA stabilization and translational activation by a pentatricopeptide repeat protein. Proc Natl Acad Sci 108:415–420

Rivals E, Bruyère C, Toffano-Nioche C, Lecharny A (2006) Formation of the Arabidopsis pentatricopeptide repeat family. Plant Physiol 141:825–839

Sabar M, De Paepe R, de Kouchkovsky Y (2000) Complex I impairment, respiratory compensations, and photosynthetic decrease in nuclear and mitochondrial male sterile mutants of Nicotiana sylvestris. Plant Physiol 124:1239–1250

Schertl P, Braun H-P (2015) Activity measurements of mitochondrial enzymes in native gels. Method Mol Biol Clifton NJ 1305:131–138

Schimmeyer J, Bock R, Meyer EH (2016) l-Galactono-1,4-lactone dehydrogenase is an assembly factor of the membrane arm of mitochondrial complex I in Arabidopsis. Plant Mol Biol 90:117–126

Schneider CA, Rasband WS, Eliceiri KW (2012) NIH Image to ImageJ: 25 years of image analysis. Nat Methods 9:671–675

Scholl RL, May ST, Ware DH (2000) Seed and molecular resources for Arabidopsis. Plant Physiol 124:1477–1480

Schweiger R, Muller NC, Schmitt MJ, Soll J, Schwenkert S (2012) AtTPR7 is a chaperone-docking protein of the Sec translocon in Arabidopsis. J Cell Sci 125:5196–5207

Sessions A, Burke E, Presting G, Aux G, McElver J, Patton D, Dietrich B, Ho P, Bacwaden J, Ko C et al (2002) A high-throughput Arabidopsis reverse genetics system. Plant Cell 14:2985–2994

Shikanai T (2015) RNA editing in plants: machinery and flexibility of site recognition. Biochim Biophys Acta 1847:779–785

Soole KL, Menz RI (1995) Functional molecular aspects of the NADH dehydrogenases of plant mitochondria. J Bioenerg Biomembr 27:397–406

Sung T-Y, Tseng C-C, Hsieh M-H (2010) The SLO1 PPR protein is required for RNA editing at multiple sites with similar upstream sequences in Arabidopsis mitochondria. Plant J Cell Mol Biol 63:499–511

Takenaka M, Zehrmann A, Brennicke A, Graichen K (2013) Improved computational target site prediction for pentatricopeptide repeat RNA editing factors. PloS One 8:e65343

Takenaka M, Verbitskiy D, Zehrmann A, Härtel B, Bayer-Császár E, Glass F, Brennicke A (2014) RNA editing in plant mitochondria—connecting RNA target sequences and acting proteins. Mitochondrion 19(Pt B):191–197

Tanz SK, Castleden I, Hooper CM, Vacher M, Small I, Millar HA (2013) SUBA3: a database for integrating experimentation and prediction to define the SUBcellular location of proteins in Arabidopsis. Nucleic Acids Res 41:D1185–D1191

Vidal G, Ribas-Carbo M, Garmier M, Dubertret G, Rasmusson AG, Mathieu C, Foyer CH, De Paepe R (2007) Lack of respiratory chain complex I impairs alternative oxidase engagement and modulates redox signaling during elicitor-induced cell death in tobacco. Plant Cell 19:640–655

Whelan J, Hugosson M, Glaser E, Day DA (1995) Studies on the import and processing of the alternative oxidase precursor by isolated soybean mitochondria. Plant Mol Biol 27:769–778

Williams-Carrier R, Kroeger T, Barkan A (2008) Sequence-specific binding of a chloroplast pentatricopeptide repeat protein to its native group II intron ligand. RNA 14:1930–1941

Xie T, Chen D, Wu J, Huang X, Wang Y, Tang K, Li J, Sun M, Peng X (2016) Growing Slowly 1 locus encodes a PLS-type PPR protein required for RNA editing and plant development in Arabidopsis. J Exp Bot 67:5687–5698

Zehrmann A, Verbitskiy D, van der Merwe JA, Brennicke A, Takenaka M (2009) A DYW domain-containing pentatricopeptide repeat protein is required for RNA editing at multiple sites in mitochondria of Arabidopsis thaliana. Plant Cell 21:558–567

Zhu Q, Meyer EH, Van Der Straeten D (2012) Functional analysis of SLO2 provides new insight into the role of plant PPR proteins. Plant Signal Behav 7:1209–1211

Zmudjak M, Colas des Francs-Small C, Keren I, Shaya F, Belausov E, Small I, Ostersetzer-Biran O (2013) mCSF1, a nucleus-encoded CRM protein required for the processing of many mitochondrial introns, is involved in the biogenesis of respiratory complexes I and IV in Arabidopsis. New Phytol 199:379–394
Acknowledgements
The authors would like to thank Prof. Ian Small from the University of Western Australia for assisting with prediction of PPR binding sites. This work was supported by the Deutsche Forschungsgemeinschaft.
Author contributions
SW and CC carried out all experimental work. SW, JS and CC were all involved in planning and designing experiments and all authors contributed to the writing of the manuscript.
Ethics declarations
Conflict of interest
The authors declare no conflicts of interest. None of the research presented here involved human participants or animals.
Electronic supplementary material
Below is the link to the electronic supplementary material.
About this article
Cite this article
Weißenberger, S., Soll, J. & Carrie, C. The PPR protein SLOW GROWTH 4 is involved in editing of nad4 and affects the splicing of nad2 intron 1. Plant Mol Biol 93, 355–368 (2017). https://doi.org/10.1007/s11103-016-0566-4
Received:

Accepted:

Published:

Issue Date:

DOI: https://doi.org/10.1007/s11103-016-0566-4
Keywords
Mitochondria

Complex I

RNA editing

Splicing

Pentatricopeptide repeat