A novel series of 2-azetidinones clubbed with quinazolinone was synthesized using anthranilic acid. All the synthesized compounds were evaluated for their antimicrobial activity against two Gram positive bacterial strains (Bacillus subtilis and Staphylococcus aureus), one Gram negative bacterial strain (Escherichia coli) and two fungal strains (Candida albicans and Aspergillus niger). All the synthesized compounds were also screened for their anticancer activity against human breast cancer cell line, MCF-7. Results of antimicrobial and anticancer study indicate that compounds 12 and 5 (IC50 = 49.52 μM) are the most potent antimicrobial and anticancer agents, respectively.
This is a preview of subscription content, log in to check access.
Access options
Buy single article
Instant access to the full article PDF.
US$ 39.95
Price includes VAT for USA
Subscribe to journal
Immediate online access to all issues from 2019. Subscription will auto renew annually.
US$ 199
This is the net price. Taxes to be calculated in checkout.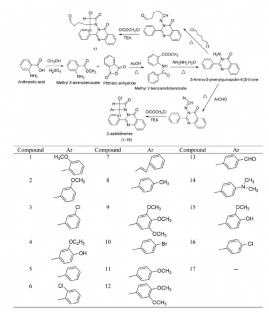 References
1.

F. A. M. Al-Omary, G. S. Hassan, S. M. El-Messery, et al., Eur. J. Med. Chem., 47, 65 – 72 (2012).

2.

R. J. Shah, N. R. Modhi, M. J. Patil, et al., Med. Chem. Res., 20, 587 – 594 (2011).

3.

A. R. Trivedi, J. M. Desai, B. H. Dholariya, et al., Med. Chem. Res., 21, 1471 – 1479 (2012).

4.

D. P. Maia, D. V. Wilke, J. N. Mafezoli, et al., Chem. Biol. Interact., 180(2), 220 – 225 (2009).

5.

R. B. Pathak, P. T. Chovatia, and H. H. Parekh, Bioorg. Med. Chem. Lett., 22(15), 5129 – 5133 (2012).

6.

A. Kumar, C. S. Rajput, and S. K. Bhati, Bioorgan. Med. Chem., 15, 3089 – 3096 (2007).

7.

V. K. Pandey, V. D. Gupta, et al., Indian J. Chem. B, 44, 158 – 162 (2005).

8.

S. Sigroha, B. Narasimhan, and P. Kumar, Med. Chem. Res., 21, 3863 – 3875 (2012).

9.

J. G. Cappuccino and N. Sherman. Microbiology: A Laboratory Manual, 5th Edition, Addison Wesley Longman, Inc., Menlo Park, California (1999), p. 263.

10.

T. J. Mosmann, Immunol. Meth., 65, 55 – 56 (1983).
About this article
Cite this article
Deep, A., Kumar, P., Narasimhan, B. et al. Synthesis, Antimicrobial and Anticancer Evaluation of 2-Azetidinones Clubbed with Quinazolinone. Pharm Chem J 50, 24–28 (2016). https://doi.org/10.1007/s11094-016-1392-3
Received:

Published:

Issue Date:
Keywords
antibacterial

antifungal

anticancer activity