Abstract
We attempted genetic analysis and mapping of a gene responsible for the trait "spikelet-tipped bristles" (stb) in foxtail millet, Setaria italica (L.) P.Beauv., as the first step in positional cloning of the gene. This trait is important not only in grain yield such as grain number per panicle of this millet but also in the evolutionary development of the "bristle grass" clade including genera Setaria, Pennisetum and Cenchrus in subfamily Panicoideae. First of all, we confirmed that this trait is controlled by a single recessive gene, using two populations of F2 plants; one was a cross combination between two Taiwanese landraces and the other was a combination between a Taiwanese landrace and a Japanese landrace. Using the latter of the two F2 populations, with transposon display (TD) markers and simple sequence repeat (SSR) markers developed previously, we constructed a genetic map with 13 linkage groups and mapped the responsible gene (stb1) on chromosome 2. We also developed novel SSR markers by using foxtail millet genome sequence information, and we finally constructed nine linkage groups corresponding to nine chromosomes with a total length of 1287.5 cM, and mapped stb1 more precisely on chromosome 2. This work suggests that the foxtail millet genome sequences recently published are useful for developing genome-wide SSR markers for constructing linkage maps and mapping genes in this millet.
Access options
Buy single article
Instant access to the full article PDF.
USD 39.95
Price includes VAT (USA)
Tax calculation will be finalised during checkout.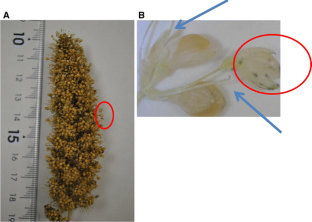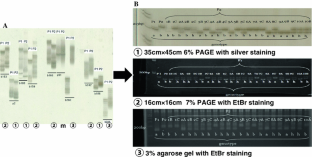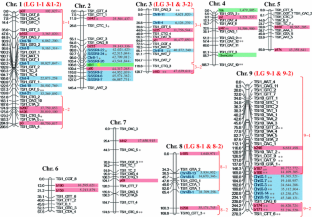 References
Ayyangar GNR, Narayanan TR, Narayana Rao T (1933) The inheritance of characters in Setaria italica (Beauv.), the Italian millet, part IV Spikelet-tipped bristles. Ind J Agric Sci 3:552–556

Bennetzen JL, Schmutz J, Wang H, Percifield R, Hawkins J, Pontaroli AC, Estep M, Feng L, Vaughn JN, Grimwood J, Jenkins J, Barry K, Lindquist E, Hellsten U, Deshpande S, Wang X, Wu X, Mitros T, Triplett J, Yang X, Ye CY, Mauro-Herrera M, Wang L, Li P, Sharma M, Sharma R, Ronald PC, Panaud O, Kellogg EA, Brutnell TP, Doust AN, Tuskan GA, Rokhsar D, Devos KM (2012) Reference genome sequence of the model plant Setaria. Nat Biotechnol 30:555–561

Casa AM, Brouwer C, Nagel A, Wang L, Zhang Q, Kresovich S, Wessler SR (2000) The MITE family Heartbreaker (Hbr): molecular markers in maize. Proc Natl Acad Sci USA 97:10083–10089

Casa AM, Nagel A, Wessler SR (2004) MITE display. Methods Mol Biol 260:175–188

Cherisey H, Barreneche MT, Jusuf M, Ouin C, Pernes J (1985) Inheritance of some marker genes in Setaria italica (L.) P.Beauv. Theor Appl Genet 71:57–60

Devos KM, ZWang ZM, Beales J, Sasaki T, Gale MD (1998) Comparative genetic maps of foxtail millet (Setaria italica) and rice (Oryza sativa). Theor Appl Genet 96:63–68

Doust AN, Kellogg EA (2002) Inflorescence diversification in the panicoid "bristle grass" clade (Paniceae, Poaceae): evidence from molecular phylogenies and developmental morphology. Am J Bot 89:1203–1222

Doust AN, Devos KM, Gadberry MD, Gale MD, Kellogg EA (2004) Genetic control of branching in foxtail millet. Proc Natl Acad Sci USA 101:9045–9050

Doust AN, Devos KM, Gadberry MD, Gale MD, Kellogg EA (2005) The genetic basis for inflorescence variation between foxtail and green millet (Poaceae). Genetics 169:1659–1672

Doust AN, Kellogg EA, Devos KM, Bennetzen JL (2009) Foxtail millet: a sequence-driven grass model system. Plant Physiol 149:137–141

Dwivedi S, Upadhyaya H, Senthilvel S, Hash C, Fukunaga K, Diao X, Santra D, Baltensperger D, Prasad M (2011) Millets: genetic and genomic resources. Plant Breed Rev 35:247–375

Fukunaga K, Kawase M, Sakamoto S (1997) Variation of caryopsis length and width among landraces of foxtail millet, Setaria italica (L.) P.Beauv. Jpn J Trop Agric 41:235–240

Fukunaga K, Kawase M, Kato K (2002) Structural variation in the Waxy gene and differentiation in foxtail millet [Setaria italica (L.) P. Beauv.]: implications for multiple origins of the waxy phenotype. Mol Genet Genomics 268:214–222

Gupta S, Kumari K, Sahu PP, Vidapu S, Prasad M (2012) Sequence-based novel genomic microsatellite markers for robust genotyping purposes in foxtail millet [Setaria italica (L.) P.Beauv.]. Plant Cell Rep 31:323–337

Hirano R, Naito K, Fukunaga K, Watanabe JN, Ohsawa R, Kawase M (2011) Genetic structure of landraces in foxtail millet (Setaria italica (L.) P.Beauv.) revealed with transposon display and interpretation to crop evolution of foxtail millet. Genome 54:498–506

Hirosawa S, Takumi S, Ishii T, Kawahara T, Nakamura C, Mori N (2004) Chloroplast and nuclear DNA variation in common wheat: insight into the origin and evolution of common wheat. Genes Genet Syst 79:271–282

Jia XP, Shi YS, Song YC, Wang GY, Wang TY, Li Y (2007) Development of EST-SSR in foxtail millet. Genet Res Crop Evol 54:233–236

Jia X, Zhang Z, Liu Y, Zhang C, Shi Y, Song Y, Wang T, Li Y (2009) Development and genetic mapping of SSR markers in foxtail millet [Setaria italica (L.) P.Beauv.]. Theor Appl Genet 118:821–829

Kawase M, Sakamoto S (1987) Geographical distribution of landrace group classified by pollen sterility in foxtail millet [Setaria italica (L.) P.Beauv.]. Jpn J Breed 37:1–9

Kawase M, Fukunaga K, Kato K (2005) Diverse origins of waxy foxtail millet crops in East and Southeast Asia mediated by multiple transposable element insertion. Mol Genet Genomics 274:131–140

Li P, Brutnell TP (2011) Setaria viridis and Setaria italica, model genetic systems for the Panicoid grasses. J Exp Bot 62:3031–3037

Li Y, Wu S, Cao Y, Zhang X (1996) A phenotypic diversity analysis of foxtail millet (Setaria italica (L.) P.Beauv.) landraces of Chinese origin. Genet Resour Crop Evol 43:377–384

Ochiai Y (1996) Variation in tillering and geographical distribution of foxtail millet (Setaria italica P.Beauv.). Breed Sci 46:143–148

Sakamoto S (1979) Characteristics and ethnobotanical comparison of fox-tail millet (Setaria italica P.Beauv.) samples from southern Formosa and the Batan Islands. Bull Nat Mus Ethnol 3:682–708 (in Japanese with English Summary)

Sakamoto S (1987) Origin and dispersal of common millet and foxtail millet. Jpn Agric Res Q 21:84–89

Till-Bottraud I, Brabant P (1990) Inheritance of some Mendelian factors in intra- and interspecific crosses between Setaria italica and Setaria viridis. Theor Appl Genet 80:687–692

Wang ZM, Devos KM, Liu CJ, Wang RQ, Gale MD (1998) Construction of RFLP-based maps of foxtail millet, Setalia italica (L.) P.Beauv. Theor Appl Genet 96:31–36

Wang C, Chen J, Zhi H, Yang L, Li W, Wang Y, Li H, Zhao B, Chen M, Diao X (2010) Population genetics of foxtail millet and its wild ancestor. BMC Genet 11:90. doi:10.1186/1471-2156-11-90

Zhang G, Liu X, Quan Z, Cheng S, Xu X, Pan S, Xie M, Zeng P, Yue Z, Wang W, Tao Y, Bian C, Han C, Xia Q, Peng X, Cao R, Yang X, Zhan D, Hu J, Zhang Y, Li H, Li H, Li N, Wang J, Wang C, Wang R, Guo T, Cai Y, Liu C, Xiang H, Shi Q, Huang P, Chen Q, Li Y, Wang J, Zhao Z, Wang J (2012) Genome sequence of foxtail millet (Setaria italica) provides insights into grass evolution and biofuel potential. Nat Biotechnol 30:549–554

Zhao W, Lee GA, Kwon SW, Ma KH, Lee MC, Park YJ (2012) Development and use of novel SSR markers for molecular genetic diversity in Italian millet (Setaria italica L.). Genes Genomics 34:51–57
Acknowledgments
We wish to express our sincere gratitude to Dr. N. Mori and Mr. T. Hachiken, Kobe University, for their kind help in the techniques of silver staining of SSR and to Drs. N. Tomooka and M. Kawase, NIAS, for their technical assistance and advice.
Electronic supplementary material
Below is the link to the electronic supplementary material.
About this article
Cite this article
Sato, K., Mukainari, Y., Naito, K. et al. Construction of a foxtail millet linkage map and mapping of spikelet-tipped bristles 1(stb1) by using transposon display markers and simple sequence repeat markers with genome sequence information. Mol Breeding 31, 675–684 (2013). https://doi.org/10.1007/s11032-012-9825-5
Received:

Accepted:

Published:

Issue Date:
Keywords
Genome sequences

Linkage map

Setaria italica

SSR (simple sequence repeat) markers

Spikelet-tipped bristles (stb)

TD (transposon display) markers