Abstract
Hydroponic experiments were conducted on the removal of uranium, heavy metals and nutrients from the effluent of a uranium mill tailings repository in South China by Azolla–Anabaena. The plant–microbe symbiont was kept in the effluent for 30 days, and it was found that U, Fe, Mn, Cu, Zn, Pb, Cd, total phosphorus (TP), total nitrogen (TN) and SO42− reduced by 87.6, 99.1, 98.8, 88.2, 91, 78.3, 77.5, 93.4, 98.7 and 76.7%, respectively. Specifically, the concentration of uranium reduced to 0.039 mg L−1, which is below the limits of contaminants by the Department of Environmental Protection of China. The concentration of Fe, Cu, Zn, Pb, TP and TN in the effluent reached the quality standard for drinking water. The results showed that Azolla–Anabaena can be used for the bioremediation of the effluent from the uranium mill tailings repository.
This is a preview of subscription content,
to check access.
Access this article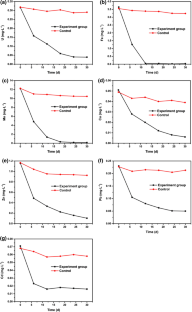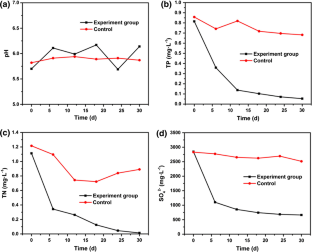 References
Jha VN, Tripathi RM, Sethy NK, Sahoo SK (2016) Uptake of uranium by aquatic plants growing in fresh water ecosystem around uranium mill tailings pond at Jaduguda, India. Sci Total Environ. 539:175–184

Mkandawire M, Taubert B, Dudel EG (2004) Capacity of Lemna gibba L. (duckweed) for uranium and arsenic phytoremediation in mine tailing waters. Int J Phytoremediat. 6:347–362

Bernhard G, Brendler V, Nitsche H, Geipel G (1998) Uranium speciation in waters of different uranium mining areas. J Alloy Compd 271:201–205

Pratas J, Favas PJ, Paulo C, Rodrigues N, Prasad M (2012) Uranium accumulation by aquatic plants from uranium-contaminated water in Central Portugal. Int J Phytoremediat 14:221–234

Kurttio P, Auvinen A, Salonen L, Sahae H, Pekkanen J, Mäkeläinen I, Väisänen SB, Penttilä IM, Komulainen H (2002) Renal effects of uranium in drinking water. Environ Health Persp 110:337–342

Anke M, Seeber O, Müller R, Schäfer U, Zerull J (2009) Uranium transfer in the food chain from soil to plants, animals and man. Chemie der Erde - Geochem 69:75–90

Liu Y, Gu P, Jia L, Zhang G (2016) An investigation into the use of cuprous chloride for the removal of radioactive iodide from aqueous solutions. J Hazard Mater 302:82–89

Wang J, Wan Z (2015) Treatment and disposal of spent radioactive ion-exchange resins produced in the nuclear industry. Prog Nucl Energy 78:47–55

Marques R, Helmy R, Waterhouse D (2015) Enhancing radiolytic stability upon concentration of tritium-labeled pharmaceuticals utilizing centrifugal evaporation. J Labelled Compd Radiopharm 58:261–263

Qkh AJ, Almasoud FI, Ababneh AM, Al-Hobaib AS (2016) Radiological assessment of water treatment processes in a water treatment plant in Saudi Arabia: water and sludge radium content, radon air concentrations and dose rates. Sci Total Environ 1030:563–564

Newete SW, Byrne MJ (2016) The capacity of aquatic macrophytes for phytoremediation and their disposal with specific reference to water hyacinth. Environ Sci Pollut Res Int 23:10630–10643

Willscher S, Mirgorodsky D, Jablonski L, Ollivier D, Merten D, Büchel G, Werner P (2013) Field scale phytoremediation experiments on a heavy metal and uranium contaminated site, and further utilization of the plant residues. Hydrometallurgy 131:46–53

Khan S, Afzal M, Iqbal S, Khan QM (2013) Plant–bacteria partnerships for the remediation of hydrocarbon contaminated soils. Chemosphere 90:1317–1332

Arslan M, Imran A, Khan QM, Afzal M (2017) Plant–bacteria partnerships for the remediation of persistent organic pollutants. Environ Sci Pollut Res. https://doi.org/10.1007/s11356-015-4935-3

Brouwer P, Bräutigam A, Külahoglu C, Tazelaar AOE, Kurz S, Nierop KGJ, Werf A, Weber APM, Schluepmann H (2014) Azolla domestication towards a biobased economy? New Phytol 202:1069–1082

Haller WT, Sutton DL, Barlowe WC (1974) Effects of salinity on growth of several aquatic macrophytes. Ecology 55:891–894

Bharti S, Banerjee TK (2012) Phytoremediation of the coalmine effluent. Ecotoxicol Environ Saf 81:36–42

Shafi N, Pandit AK, Kamili AN, Mushtaq B (2015) Heavy metal accumulation by Azolla pinnata of Dal Lake ecosystem, India. Development 1:8–12

Pan CC, Hu N, Ding DX, Hu JS, Li GY, Wang YD (2016) An experimental study on the synergistic effects between Azolla and Anabaena in removal of uranium from solutions by Azolla–anabaena symbiotic system. J Radioanal Nucl Chem 307:385–394

Hu N, Ding D, Li GY, Wang Y, Li L, Zheng J (2012) Uranium removal from water by five aquatic plants. Acta Sci Circum 32:1637–1645

Tan YJ, Hu N, Zhang H, Hu JS, Huang XW, Ding DX (2017) Adsorption behavior of different species of uranium by Azolla Anabaena. Acta Sci Circum 37:3713–3719

Carrière M, Thiebault C, Milgram S, Avoscan L, Proux O, Gouget B (2006) Citrate does not change uranium chemical speciation in cell culture medium but increases its toxicity and accumulation in NRK-52E cells. Chem Res Toxicol 19:1637–1642

Lichtenthaler HK (1987) Chlorophylls and carotenoids: pigments of photosynthetic biomembranes. Method Enzymol 148:350–382

Hu N, Ding DX, Pan CC, Hu JS, Li L, Li GY, Wang YD, Zheng JF (2014) Distribution of uranium in the plant–microbe symbiotic system-Azolla Imbircata. J Univ South China

Hu N, Ding DX, Zhao WC, Hu JS, Tan YJ, Li L, Zheng JF, Wang YD (2017) The role of Anabaena in the Azolla–Anabaena symbiotic system for the removal of uranium from water. Acta Sci Circum 37:162–168

Pniewska ZS, Bennicelli RP, Balakhnina TI, Szajnocha K (2005) Potential of Azolla caroliniana for the removal of Pb and Cd from wastewaters. Int Agrophys 19:251–255

Fort DJ, Mathis MB, Walker R (2014) Toxicity of sulfate and chloride to early life stages of wild rice (Zizania palustris). Environ Toxicol Chem 33:2802–2809

Iowa D (2009) Water quality standards review: chloride, sulfate and total dissolved solids. Iowa Department of Natural Resources Consultation Package

Saito K (2000) Regulation of sulfate transport and synthesis of sulfur-containing amino acids. Curr Opin Plant Biol. https://doi.org/10.1016/S1369-5266(00)00063-7

Zhou X, Wang G (2010) Nutrient concentration variations during Oenanthe javanica growth and decay in the ecological floating bed system. J Environ Sci. https://doi.org/10.1016/S1001-0742(09)60310-7
Acknowledgements
This research was supported by National Natural Science Foundation of China (U1401231, 11505093 and 11305087), Program of Science and Technology Department of Hunan Province (2016Sk2041).
About this article
Cite this article
Xinwei, H., Yongdong, W., Nan, H. et al. Bioremediation of effluent from a uranium mill tailings repository in South China by Azolla–Anabaena. J Radioanal Nucl Chem 317, 739–746 (2018). https://doi.org/10.1007/s10967-018-5934-x
Received:

Published:

Issue Date:

DOI: https://doi.org/10.1007/s10967-018-5934-x
Keywords