Abstract
Brownian particles suspended in water or other polar liquids are pushed out of the region next to hydrophilic polymers, leaving a microsphere-free region known as the "exclusion zone" (EZ). This study aimed to test the hypothesis that the dilution of ethanol in water may influence EZ formation. EZs were created in aqueous media using Nafion tubes as EZ-nucleating surfaces. To define the outer edge of the EZ, carboxylate microspheres, 1 µm diameter, were used. Dynamic movement of microspheres away from Nafion surface was registered in mixtures of ethanol and water, the ethanol concentration varying from 0 to 95%. We found that mixtures with the highest concentrations of ethanol generally produced the smallest EZs and the slowest EZ buildup. However, an unexpected result was the presence of an extremum corresponding to ~10% ethanol. At this concentration, the EZ is larger than in either pure water or almost pure ethanol.
Access options
Buy single article
Instant access to the full article PDF.
USD 39.95
Price excludes VAT (USA)
Tax calculation will be finalised during checkout.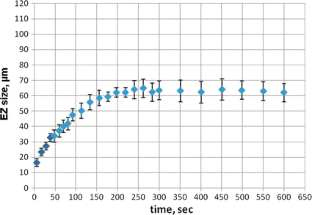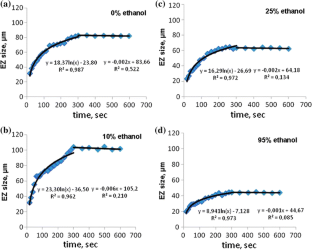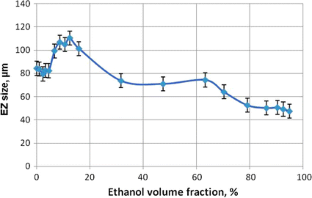 References
Zheng, J.M., Pollack, G.H.: Long-range forces extending from polymer–gel surfaces. Phys. Rev. E 68, 031408 (2003)

Pollack, G.H.: The Fourth Phase of Water. Ebner and Sons Publisher, Seattle (2013)

Bernal, J.D., Fowler, R.H.: A theory of water and ionic solutions, with particular reference to hydrogen and hydroxyl ions. J. Chem. Phys. 1, 515–548 (1933)

Chai, B., Pollack, G.: Solute-free interfacial zones in polar liquids. J. Phys. Chem. B 114, 5371–5375 (2010)

Fletcher, N.H.: The Chemical Physics of Ice. Cambridge University Press, Cambridge (1970)

Allan, D.R., Clark, S.J.: Comparison of the high-pressure and low-temperature structures of ethanol and acetic acid. Phys. Rev. B 60, 6328–6334 (1999)

Heitner-Wirguin, C.: Recent advances in perfluorinated ionomer membranes: structure, properties and applications. J. Memb. Sci. 120, 1–33 (1998)

Pershin, V.K.: Pershin, Vl.K., Skopinov, S.A.: concept of the superpositional state in a problem of molecular mesomorphism: analytical review. Mol. Cryst. Liq. Cryst. 84, 213–229 (1982)

de Gennes, P.J.: The Physics of Liquid Crystals. Clarendon Press, Oxford (1974)
Acknowledgements
In part, the Russian Science Foundation (Grant# 14-19-00989) supported this work.
Ethics declarations
Conflict of interest
The authors declare that they have no conflict of interest.
About this article
Cite this article
Skopinov, S.A., Bodrova, M.V., Jablon, M.P.R. et al. "Exclusion Zone" Formation in Mixtures of Ethanol and Water. J Solution Chem 46, 626–632 (2017). https://doi.org/10.1007/s10953-017-0591-1
Received:

Accepted:

Published:

Issue Date:

DOI: https://doi.org/10.1007/s10953-017-0591-1
Keywords
Hydrophilic surfaces

Water

Ethanol

Brownian particle motion

Exclusion zone (EZ)