Abstract
Bandicoot rats (genus Bandicota) are distributed widely across the Indomalay biogeographic realm of tropical East Asia. One widely distributed species, the greater bandicoot rat (Bandicota indica), has a disjunct distribution including both north and south of the biogeographic break at the Isthmus of Kra. We compared genetic variation of greater bandicoot rats from north and south of the Isthmus of Kra using mitochondrial cytochrome b (cyt b, 1140 bp) and nuclear interphotoreceptor retinoid binding protein (IRBP, 801 bp) sequences. We found that the greater bandicoot rat (B. indica) is not native to Sundaland, the region south of the Isthmus of Kra. The species was introduced to the region recently as the genetic divergence with other regions is very low and phylogenies of both genes showed Malaysian greater bandicoot rat very closely related to conspecifics from Lao PDR. Haplotype data revealed all individuals from Malaysia are homogenous, which implied that the species was introduced recently. The greater bandicoot rats in Malaysia are so far only reported in the rice producing regions of Kedah and Perlis, but they may be increasing in number and distribution. A more detailed survey on the distribution and population demographics of Malaysian greater bandicoot rats are needed to support a management plan for this invasive species.
Access options
Buy single article
Instant access to the full article PDF.
US$ 39.95
Tax calculation will be finalised during checkout.
Subscribe to journal
Immediate online access to all issues from 2019. Subscription will auto renew annually.
US$ 79
Tax calculation will be finalised during checkout.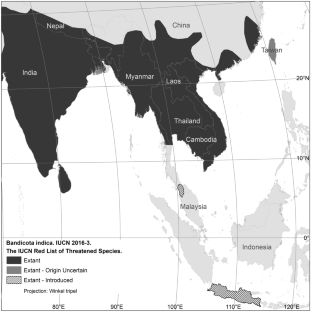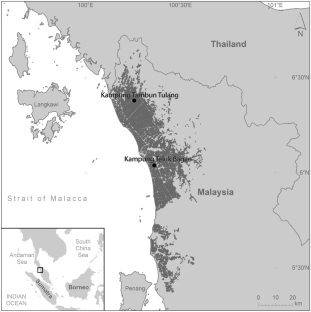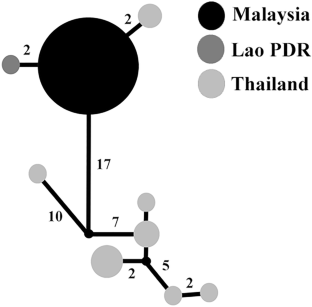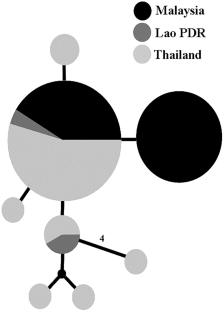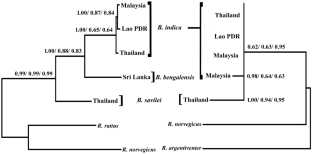 Data Availability
Sequences have been submitted to GenBank, accession numbers in Table 2.
References
Amzah B, Hussain Y, Abdullah S (2011) Pengurusan tikus sawah padi di Malaysia (Management of rice field rat in Malaysia). Buletin Teknol Tanaman 8:1-10

Aplin KP, Brown PR, Jacobs J, Krebs CJ, Singleton GR (2003) Field methods for rodent studies in Asia and the Indo-Pacific. ACIAR Monograph No100, Australian Centre for International Agricultural Research, Canberra, pp 223

Aplin KP, Lunde D, Molur S (2016) Bandicota indica (errata version published in 2017) The IUCN Red List of Threatened Species 2016: e.T2541A115062578

Aplin KP, Suzuki H, Chinen AA, Chesser RT, Have Jt, Donnellan SC, Austin J, Frost A, Gonzalez JP, Herbreteau V, Catzeflis F, Soubrier J, Fang YP, Robins J, Matisoo-Smith E, Bastos ADS, Maryanto I, Sinaga MH, Denys C, Bussche RAVD, Conroy C, Rowe K, Cooper A (2011) Multiple geographic origins of commensalism and complex dispersal history of black rats. PloS ONE 6:11

Best TL, Schnell GD (1974) Bacular variation in kangaroo rats (genus Dipodomys). Am Mid Nat 91:257-270

Brandelt HJ, Forster P, Röhl A (1999) Median-joining networks for inferring intraspecific phylogenies. Mol Biol Evol 16:37-48

Burhanuddin M, Noor HM (2019) Preliminary study of bandicoot rat population in paddy field, Kedah. International Journal of Agriculture, Forestry and Plantation 8: 70-74

Corbet GB, Hill JE (1992) The Mammals of the Indomalayan Region: A Systematic Review. Oxford University Press, New York, pp 484

Chaimanee Y (1997) Les rongeurs du Plio-Pleistocene de Thailande: systematique, phylogenie, biochronologie et palaeoenvironments, Unpublished Thesis, Université Montpellier II, Montpellier

Chaimanee Y, Jaeger JJ (2001) Evolution of Rattus (Mammalia, Rodentia) during Plio-Pleistocene in Thailand. Hist Biol 15:181-191

Dejtaradol A, Renner SC, Karapan S, Bates PJJ, Moyle RG, Päckert M (2015) Indochinese-Sundaic faunal transition and phylogeographical divides north of the Isthmus of Kra in Southeast Asian Bulbuls (Aves: Pycnonotidae). J Biogeogr 43:3

Francis CM (2008) A Field Guide to the Mammals of Thailand and South-East Asia. New Holland Publishers, London, pp 392

Herbreteau V, Gonzalez J, Andrianas PK, Hugot J (2005) Mapping the potential distribution of Bandicota indica, vector of zoonoses in Thailand, by use of remote sensing and geographic information systems (a case of Nakhon Pathom province). The Natural History Journal of Chulalongkorn University 5:61-67

Huelsenbeck JP, Ronquist FR (2001) Mr Bayes: Bayesian inference of phylogenetic trees. Bioinformatics 17:754-755

Hussain I, Prescott CV (2003) Warfarin susceptibility in the lesser bandicoot rat (Bandicota bengalensis). Conference: Rats, Mice and People: Rodent Biology and Management. Australian Centre for International Development, Canberra, pp. 465–468

Irwin DM, Kocher TD, Wilson AC (1991) Evolution of cytochrome b gene of mammals. J Mol Evol 32:128-144

Kumar S, Stecher G, Tamura K (2016) MEGA7: molecular evolutionary genetics analysis version 7.0 for bigger datasets. Mol Biol Evol 33:1870-1874

Lekagul B, Mcneely JA (1988) Mammals of Thailand. Association for the Conservation of Wildlife, Bangkok, pp 758

Librado P, Rozas J (2009) DnaSP v5: a software for comprehensive analysis of DNA polymorphism data. Bioinformatics 25:1451-1452

Liat LB (2015) The field rats and field mouse in Malaysia and Southeast Asia. UTAR Agricultural Sci J 1:3

Musser GG, Brothers EM (1994) Identification of bandicoot rats from Thailand (Bandicota, Muridae, Rodentia). Am Mus Novitates 3110:1-56

Musser GG, Carleton MD (2005) Superfamily Muroidea. In: Wilson DE, Reeder DR (eds) Mammal Species of the World: A Taxonomic and Geographic Reference, 3rd ed. John Hopkins University Press, Baltimore pp. 894-1531

Musser GG, Newcomb C (1983) Malaysian murids and the giant rat of Sumatra. Bull Am Mus Nat Hist 174:327-598

Myers N, Mittermeier RA, Mittermeir CG, Fonseca GAB, Kent J (2000) Biodiversity hotspot for conservation priorities. Nature 403:853-858

Parshad VR, Kochar JK (1995) Potential of three rodenticides to induces conditioned aversion to their baits in the Indian mole rat Bandicota bengalensis. Appl Anim Behav Sci 45:267-276

Posada D, Crandall KA (1998) Modeltest: testing the model of DNA substitutions. Bioinformatics 14:817-818

Pagès M, Chaval Y, Herbreteau V, Waengsothorn S, Cosson JF, Hugot JP, Morand S, Michaux J (2010) Revisiting the taxonomy of the Rattini tribe: a phylogeny-based delimitation of species boundaries. BMC Evol Biol 10:184

Sharma MS (2018) Oh rats! They're eating away at our rice. TheStar. https://www.thestar.com.my/news/nation/2018/08/01/oh-rats-theyre-eating-away-at-our-rice. Accessed 14 July 2020

Shukor MI, ZainalAbidin CMR, Hamid NH (2018) Greater bandicoot rat, Bandicota indica Infestation in Oil Palm Plantation and Its Management. Planter 94:100-110

Singleton GR, Petch DA (1994) A Review of the Biology and Management of Rodent Pests in Southeast Asia. Australian Centre for International Agricultural Research, 17 pp

Thompson JD, Higgins DG, Gibson TJ (1994) CLUSTAL W: improving the sensitivity of progressive multiple sequence alignment through sequence weighting, position-specific gap penalties and weight matrix choice. Nucleic Acids Res 22:4673-4680

Verneau O, Catzeflis F, Furano AV (1997) Determination of the evolutionary relationships in Rattus sensu lato (Rodentia: Muridae) using L1 amplification events. J Mol Evol 45:442-444

William-Dee J, Anwarali Khan FA, Rosli Q, Morni MA, Azhar I, Lim LS, Tingga RCT, Rahman MRA (2019) Comparative Distribution of Small Mammals Diversity in Protected and Non-Protected Area of Peninsular Malaysia. Trop Life Sci Res 30:2

Wilson DE, Reeder DM (2005) Mammal Species of the World: A Taxonomic and Geographic Reference, 3rd ed Johns Hopkins University Press, Baltimore, pp 2142

Wood BJ, Fee CG (2003) A critical review of the development of rat control in Malaysian agriculture since the 1960s. Crop Protection 22:445-461

Woodruff DS, Turner LM (2009) The Indochinese-Sundaic zoogeographic transition: a description and analysis of terrestrial mammal species distributions. J Biogeogr 36:803-821

Yasuda SP, Gamage CD, Koizumi N, Nishio S, Isozumi R, Shimizu K, Koma T, Amada T, Suzuki H, Yoshimatsu K, Arikawa J (2014) Distinct genetic characteristics of Sri Lankan Rattus and Bandicota (Murinae, Rodentia) inferred from mitochondrial and nuclear markers. Genes Genet Syst 89:71-80
Acknowledgements
This study was supported by a University of Malaya research grant (BKS031-2017), postgraduate research fund, PPP (PG061-2016A), and the Spanish Research Council (CGL2017-86068-P). We acknowledge University of Malaya for providing funding, facilities, and assistances. We thank the Museum of Zoology of University of Malaya for their permission for data collection and the Department of Wildlife and National Parks Peninsular Malaysia for their authorization. We also thank the staff of Institute of Biological Sciences (ISB), Faculty of Science for their assistance throughout the sample collection. Molecular work was performed at the Animal Genetics and Genome Evolutionary Laboratory, Institute of Biological Sciences, Faculty of Sciences, University of Malaya. A special thanks to the team members during data collection, especially Muhammad Syahmi bin Ibrahim for their help and support.
Appendix 1 
Appendix 1 
External measurements (in mm) of greater bandicoot rats from Malaysia with field numbers, haplotype distribution based on cyt b and IRBP, sexes, captured locations and dates and ranges of age; juvenile (J), sub-adult (SA) and adult(A).
Field numbers
Haplotype distribution
Sex
Localities
Trapping date
Age
Morphological data measurements (mm)
Cyt b
IRBP
Hb
T
E
Hf
Ff
Weight (g)
ASK1
Hap 1
Hap 1
M
Alor Setar, Kedah
7/3/2018
A
300
220
28.0
52
26
912
ASK2
Hap 1
-
F
Alor Setar, Kedah
7/3/2018
A
279
224
30.0
53
25
838
ASK3
Hap 1
Hap 1
F
Alor Setar, Kedah
7/3/2018
A
295
193
30.8
49
25
686
ASK4
Hap 1
Hap 1
F
Alor Setar, Kedah
8/3/2018
J
253
203
27.4
49
23
460
TTP01
Hap 1
Hap 1
F
Tambun Tulang, Perlis
8/3/2018
A
348
242
28.5
54
27
759
TTP02
Hap 1
Hap 1
F
Tambun Tulang, Perlis
8/3/2018
A
302
216
23.1
51
25
444
TTP03
Hap 1
-
M
Tambun Tulang, Perlis
8/3/2018
SA
293
200
25.4
48
24
589
TTP04
Hap 1
-
M
Tambun Tulang, Perlis
8/3/2018
J
252
189
22.8
51
27
303
TTP05
Hap 1
-
M
Tambun Tulang, Perlis
8/3/2018
J
196
179
23.2
50
25
249
TTP06
Hap 1
Hap 2
F
Tambun Tulang, Perlis
9/3/2018
J
214
184
23.8
47
22
319
TTP07
Hap 1
Hap 2
M
Tambun Tulang, Perlis
9/3/2018
J
220
172
27.1
48
24
218
TTP08
Hap 1
Hap 2
F
Tambun Tulang, Perlis
9/3/2018
SA
321
184
28.3
49
25
578
TTP09
Hap 1
Hap 1
M
Tambun Tulang, Perlis
10/3/2018
J
235
138
27.4
49
26
337
TTP010
Hap 1
Hap 2
M
Tambun Tulang, Perlis
11/3/2018
J
238
186
26.2
50
24
312
TTP011
Hap 1
Hap 2
F
Tambun Tulang, Perlis
12/3/2018
SA
287
226
29.2
53
25
587
About this article
Cite this article
Saarani, M.A.F., Leonard, J.A., Md-Zain, B.M. et al. Greater Bandicoot Rats (Bandicota indica) are Not Native to Sundaland Based on Deoxyribonucleic Acid (DNA) Analyses. J Mammal Evol (2021). https://doi.org/10.1007/s10914-020-09535-4
Keywords
Introduced species

Sundaland

Isthmus of kra

Genetic divergence

Indochina