Abstract
Several worker subcastes may occur in ant colonies, including physiological, morphological, and temporal subcastes. Leaf-cutting ants present intricate division of labor among worker subcastes during brood care, fungus garden maintenance, substrate foraging and processing. For colony survival, the fungus garden must be healthy, and tasks efficiently shared among worker subcastes. Therefore, worker behavior is key for colony maintenance in fungus-farming ants. Here we provide a qualitative and quantitative account of intracolonial behavior in Acromyrmex subterraneus, a common leaf-cutter in Brazilian Cerrado savanna. Quantitative ethograms showed that performance of major behavioral categories (e.g., "Brood and Queen Care," "Foraging," "Fungus Care") and the composition of behavioral repertoires are important parameters distinguishing labor among A. subterraneus worker subcastes. Media and major subcastes are behaviorally more similar to one another than to minors. Minors regularly executed brood- and fungus-related tasks, whereas media and majors executed mostly foraging-related tasks. Grooming was frequent in all subcastes. Overall, the behavioral patterns reported in A. subterraneus are similar to those reported for other leaf-cutters. The tasks executed by different subcastes of A. subterraneus closely resemble the division of labor observed in Atta colonies, suggesting that alongside the use of fresh leaves as culturing substrates, a highly conserved set of worker behaviors persist since the origin of the leaf-cutting lineage. Our work highlights the importance of detailed analyses of the composition of behavioral repertoires in polymorphic fungus-farming ants to better understand their social organization, and the mechanisms mediating division of labor among worker subcastes in the Attina.
Access options
Buy single article
Instant access to the full article PDF.
US$ 39.95
Tax calculation will be finalised during checkout.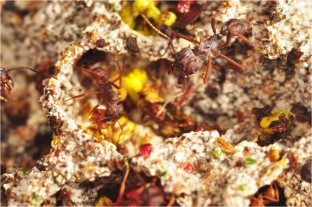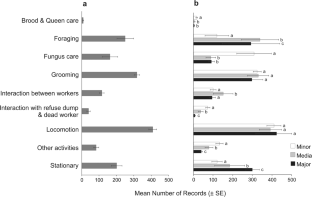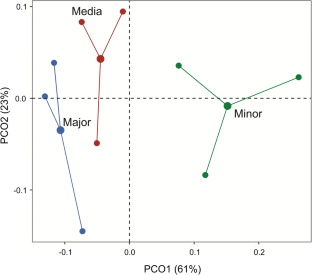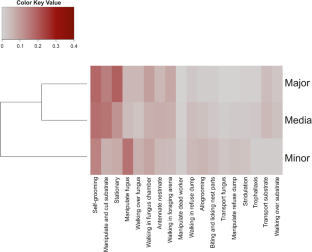 References
Abramowski D, Currie CR, Poulsen M (2011) Caste specialization in behavioral defenses against fungus garden parasites in Acromyrmex octospinosus leaf-cutting ants. Insect Soc 58:65–75

Altmann J (1974) Observational study of behavior: sampling methods. Behaviour 49:227–267

Anderson C, McShea DW (2001) Individual versus social complexity, with particular reference to ant colonies. Biol Rev 76:211–237

Bates D, Maechler M, Bolker B, Walker S (2015) Fitting linear mixed-effects models using lme4. J Stat Softw 67:1–48

Beshers SN, Traniello JFA (1996) Polyethism and the adaptiveness of worker size variation in the attine ant Trachymyrmex septentrionalis. J. Insect Behav 9:61–83

Brandão CRF (1983) Sequential ethograms along colony development of Odontomachus affinis Guerín (Hymenoptera, Formicidae, Ponerinae). Insect Soc 30:193–203

Burd M (1996) Foraging performance by Atta colombica a leaf-cutting ant. Am Nat 148:597–612

Calheiros AC (2019) Social Organization and foraging in the fungus-farming ant, Acromyrmex subterraneus (Hymenoptera: Formicidae). Master's Dissertation, Universidade Estadual de Campinas, Brazil

Camargo RS, Forti LC, Lopes JFS, Andrade APP, Ottati ALT (2007) Age polyethism in the leaf-cutting ant Acromyrmex subterraneus brunneus Forel, 1911 (Hym., Formicidae). J Appl Entomol 131:139–145

Camargo RS, Forti LC, Lopes JFS, Andrade AP, Raetano CG, Mendonça CG (2006) The role of workers in transferring queen substances and the differences between worker castes in the leaf-cutting ant, Acromyrmex subterraneus brunneus. Sociobiology 48:503–513

Corona M, Libbrecht R, Wheeler DE (2016) Molecular mechanisms of phenotypic plasticity in social insects. Curr Opin Insect Sci 13:55–60

Currie CR, Mueller UG, Malloch D (1999) The agricultural pathology of ant fungus gardens. PNAS 96:7998–8002

Currie CR, Stuart AE (2001) Weeding and grooming of pathogens in agriculture by ants. Proc R Soc Lond B 268:1033–1039

Della Lucia TMC, Peternelli EFO, Lacerda FG, Peternelli LA, Moreira DDO (2003) Colony behavior of Atta sexdens rubropilosa (Hymenoptera: Formicidae) in the absence of the queen under laboratory conditions. Behav Process 64:49–55

Dupuis EC, Harrison JF (2017) Trunk trail maintenance in leafcutter ants: caste involvement and effects of obstacle type and size on path clearing in Atta cephalotes. Insect Soc 64:189–196

Fagen RM, Goldman RN (1977) Behavioural catalogue analysis methods. Anim Behav 25:261–274

Farji-Brener AG, Elizalde L, Fernández-Marín H, Amador-Vargas S (2016) Social life and sanitary risks: evolutionary and current ecological conditions determine waste management in leaf-cutting ants. Proc R Soc Lond B 283:20160625

Feener DH Jr, Moss KAG (1990) Defense against parasites by hitchhikers in leaf-cutting ants: a quantitative assessment. Behav Ecol Sociobiol 26:17–29

Fefferman NH, Traniello JFA, Rosengaus RB, Calleri DV II (2007) Disease prevention and resistance in social insects: modeling the survival consequences of immunity, hygienic behavior, and colony organization. Behav Ecol Sociobiol 61:565–577

Forti LC, Camargo RS, de Matos CAO, Andrade APP, Lopes JF (2004) Aloetismo em Acromyrmex subterraneus brunneus Forel (Hymenoptera, Formicidae), durante o forrageamento, cultivo do jardim de fungo e devolução dos materiais forrageados. Rev Bras Entomol 48:59–63

Garrett RW, Carlson KA, Goggans MS, Nesson MH, Shepard CA, Schofield RMS (2016) Leaf processing behaviour in Atta leafcutter ants: 90% of leaf cutting takes place inside the nest, and ants select pieces that require less cutting. R Soc Open Sci. https://doi.org/10.1098/rsos.150111

Gordon DM (2016) From division of labor to the collective behavior of social insects. Behav Ecol Sociobiol 70:1101–1108

Gordon DG, Traniello JFA (2018) Synaptic organization and division of labor in the exceptionally polymorphic ant Pheidole rhea. Neurosci Lett 676:46–50

Griffiths HM, Hughes WOH (2010) Hitchhiking and the removal of microbial contaminants by the leaf-cutting Atta colombica. Ecol Entomol 35:529–537

Hasegawa E, Ishii Y, Tada K, Kobayachi K, Yoshimura J (2016) Lazy workers are necessary for long term sustainability in insect societies. Sci Rep 6:20846

Herbers JM (1983) Social organization in Leptothorax ants: within- and between-species patterns. Psyche 85:361–386

Hölldobler B, Wilson EO (1990) The ants. Harvard University Press, Cambridge

Hölldobler B, Wilson EO (2011) The leafcutter ants: civilization by instinct. W.W. Norton & Company, New York

Jeanne RL (2016) Division of labor is not a process of misleading concept. Behav Ecol Sociobiol 70:1109–1112

Julian GE, Fewell JH (2004) Genetic variation and task specialization in the desert leaf-cutter ant, Acromyrmex versicolor. Anim Behav 68:1–8

Leal IR, Oliveira PS (1998) Interactions between fungus-growing ants (Attini), fruits and seeds in Cerrado vegetation in southeast Brazil. Biotropica 30:170–178

Lehner PN (1996) Handbook of Ethological Methods. Cambridge Univ. Press, Cambridge

Lenth RV (2016) Least-squares means: The R package lsmeans. J Stat Softw 69:1–33

Lillico-Ouachour A, Abouheif E (2017) Regulation, development, and evolution of castes ratios in the hyperdiverse ant genus Pheidole. Curr Opin Insect Sci 19:43–51

Mehdiabadi NJ, Schultz TR (2009) Natural history and phylogeny of the fungus-farming ants (Hymenoptera: Formicidae: Myrmicinae: Attini). Myrmecol News 13:37–55

Moffett MW (1986) Behavior of the group-predatory ant Proatta butteli (Hymenoptera: Formicidae): an old world relative of the attine ants. Insect Soc 33:444–457

Murakami T, Higashi S (1997) Social organization in two primitive Attine ants, Cyphomyrmex rimosus and Myrmicocrypta ednaella, with reference to their fungus substrates and food sources. J Ethol 15:17–25

Oksanen J, Guillaume Blanchet F, Friendly M et al (2019) Community ecology package 'vegan'. https://www.github.com/vegandevs/vegan

Oliveira-Filho AT, Ratter JA (2002) Vegetation physiognomies and woody flora of the Cerrado biome. In: Oliveira PS, Marquis RJ (eds) The Cerrados of Brazil: Ecology and Natural History of a Neotropical Savanna. Columbia University Press, New York, pp 91–120

Paradis E, Schliep K (2018) ape 5.0: An environment for modern phylogenetics and evolutionary analyses in R. Bioinformatics 35:526–528

Pereira RC, Della Lucia TMC (1998) Estimativa populacional em ninhos de Acromyrmex subterraneus subterraneus Forel, 1893 (Hymenoptera: Formicidae). Revista Ceres 45:573–578

Pie MR (2002) Behavioral repertoire, age polyethism and adult transport in Ectatomma opaciventre (Formicidae: Ponerinae). J Insect Behav 15:25–35

Poulsen M, Bot ANM, Nielsen MG, Boomsma JJ (2002) Experimental evidence for the costs and hygienic significance of the antibiotic metapleural gland secretion in leaf-cutting ants. Behav Ecol Sociobiol 52:151–157

Pratt SC, Carlin NF, Calabi P (1994) Division of labor in Ponera pennsylvannica (Formicidae: Ponerinae). Insect Soc 41:43–61

Quinlan RJ, Cherrett JM (1978) Studies on the role of the infrabuccal pocket of the leaf-cutting ant Acromyrmex octospinosus (Reich) (Hym., Formicidae). Insect Soc 25:237–245

R Core Team (2018) R: A language and environment for statistical computing. R Foundation for Statistical Computing. Vienna, Austria. URL: http://www.R-project.org/

Richard FJ, Errard C (2009) Hygienic behavior, liquid-foraging, and trophallaxis in the leaf-cutting ants, Acromyrmex subterraneus and Acromyrmex octospinosus. J Insect Sci. https://doi.org/10.1673/031.009.6301

Roces F, Lighton JRB (1995) Larger bites of leaf-cutting ants. Nature 373:392–393

Ronque MUV (2018) Ecology, behavior, and microbiology of fungus-farming ants (Formicidae, Myrmicinae, Attini, Attina) in Atlantic rainforest. PhD Thesis, Universidade Estadual de Campinas, Brazil

Ronque MUV, Feitosa RM, Oliveira PS (2019) Natural history and ecology of fungus-farming ants: a field study in Atlantic rainforest. Insect Soc 66:375–387

Santos JC, Yamamoto M, Oliveira FR, Del-Claro K (2005) Behavioral repertory of the weaver ant Camponotus (Myrmobrachys) senex (Hymenoptera: Formicidae). Sociobiology 45:1–11

Schofield RMS, Emmett KD, Niedbala JC, Nesson MH (2011) Leaf-cutter ants with worn mandibles cut half as fast, spend twice the energy, and tend to carry instead of cut. Behav Ecol Sociobiol 65:969–982

Schofield RMS, Nesson MH, Richardson KA (2002) Tooth hardness increases with zinc-content in mandibles of young adult leaf-cutter ants. Naturwissenschaften 89:579–583

Schultz TR, Brady SG (2008) Major evolutionary transitions in ant agriculture. PNAS 105:5435–5440

Seal JN, Tschinkel WR (2008) Food limitation in the fungus-gardening ant, Trachymyrmex septentrionalis. Ecol Entomol 33:597–607

Seid MA, Traniello JFA (2006) Age-related repertoire expansion and division of labor in Pheidole dentata (Hymenoptera: Formicidae): a new perspective on temporal polyethism and behavioral plasticity in ants. Behav Ecol Sociobiol 60:631–644

Sosa-Calvo J, Ješovnik A, Okonski E, Schultz T (2015) Locating, collecting, and maintaining colonies of fungus-farming ants (Hymenoptera: Myrmicinae: Attini). Sociobiology 62:30–320

Theis FJ, Ugelvig LV, Marr C, Cremer S (2015) Opposing effects of allogrooming on disease transmission in ant societies. Philos Trans R Soc Lond Ser B Biol Sci 370:20140108

Tripet F, Nonacs P (2004) Foraging for work and age-based polyethism: the roles of age and previous experience on task choice in ants. Ethology 110:863–877

Vieira AS, Fernandes WD, Antonialli-Junior WF (2010) Temporal polyethism, life expectancy, and entropy of workers of the ant Ectatomma vizottoi Almeida, 1987 (Formicidae: Ectatomminae). Acta Ethol 13:23–31

Villet MH, Wildman MH (1991) Division of labour in the obligately queenless ant Pachycondyla (= Bothroponera) krugeri Forel 1910 (Hymenoptera Formicidae). Trop Zool 4:233–250

Waddington SJ, Hughes WOH (2010) Waste management in the leaf-cutting ant Acromyrmex echinatior: the role of worker size, age and plasticity. Behav Ecol Sociobiol 64:1219–1228

Warnes GR, Bolker B, Bonebakker L et al (2005) gplots: Various R programming tools for plotting data. https://www.cran.r-project.org/package=gplots

Wetterer JK (1999) The ecology and evolution of worker size-distribution in leaf-cutting ants (Hymenoptera: Formicidae). Sociobiology 34:119–144

Wheeler DE (1986) Developmental and physiological determinants of caste in social Hymenoptera: evolutionary implications. Am Nat 128:13–34

Wheeler DE (1991) The developmental basis of worker caste polymorphism in ants. Am Nat 138:1218–1238

Wilson EO (1971) The Insect Societies. Harvard University Press, Cambridge

Wilson EO (1976) A social ethogram of the Neotropical arboreal ant Zacryptocerus varians (Fr. Smith). Anim Behav 24:354–363

Wilson EO (1980a) Caste and division of labor in leaf-cutter ants (Hymenoptera: Formicidae: Atta): I. The overall pattern in A. sexdens. Behav Ecol Sociobiol 7:143–156

Wilson EO (1980b) Caste and division of labor in leaf-cutter ants (Hymenoptera: Formicidae: Atta): II. The ergonomic optimization of leaf cutting. Behav Ecol Sociobiol 7:157–165
Acknowledgements
We are grateful to Feitosa RM, Lopes JF, Freitas AV, and Christianini AV for discussions and comments on the manuscript. The final version of the manuscript was considerably improved by suggestions from two anonymous reviewers. We thank Feitosa RM for identifying the ants, Tacioli A and Espírito Santo N for assistance in the field, Soares Jr. H. for the photograph of the ants on the fungus garden, and Migliorini G for help with the statistical analyses. The Instituto de Botânica de São Paulo provided logistic support for fieldwork at the cerrado reserve in Mogi-Guaçu. ACC was funded by the Conselho Nacional de Desenvolvimento Científico e Tecnológico (CNPq; 152508/2016-3) and the Coordenação de Aperfeiçoamento de Pessoal de Nível Superior (CAPES; Finance Code 001). MUVR was supported by CAPES (Finance Code 001). PSO was supported by research grants from the CNPq (306115/2013-1, 302219/2017-0) and the Fundação de Amparo à Pesquisa do Estado de São Paulo (FAPESP, BIOTA Program, 2014/23141-1, 2017/16645-1).
Ethics declarations
Conflict of Interest
The authors declare that they have no conflict of interest.
Additional information
Publisher's note
Springer Nature remains neutral with regard to jurisdictional claims in published maps and institutional affiliations.
Electronic supplementary material
About this article
Cite this article
Calheiros, A.C., Ronque, M.U.V. & Oliveira, P.S. Social Organization and Subcaste Specialization in the Leaf-Cutting Ant Acromyrmex subterraneus (Formicidae: Myrmicinae). J Insect Behav 32, 267–280 (2019). https://doi.org/10.1007/s10905-019-09729-6
Received:

Revised:

Accepted:

Published:

Issue Date:
Keywords
Cerrado savanna

division of labor

ethogram

fungus-farming ants

intracolonial behavior

social behavior