Abstract
Using the Early Childhood Longitudinal Study-K, multivariate analysis, state fixed effects, and regression decomposition, we examine changes in food insecurity for Hispanic kindergarteners between 1998 and 2011, a time period of rapid immigration and political/socio-economic changes. During this time the household food insecurity gap between children of U.S.-born and foreign-born mothers increased by almost 7 percentage points. The factors—child, family, and state—that contributed to the nativity gap differed over time. In both periods, lower familial resources among immigrant families, i.e. endowment effects, contributed to the gap; this was the main component of the gap in 2011 but only one component in 1998. In 1998, heterogeneity in state effects was positively associated with the nativity food insecurity gap. This means that children of foreign-born mothers experience higher household food insecurity than do children of U.S.-born mothers in the same state, even after controlling for child and family characteristics. In 2011, almost half of the gap remained unexplained. This unexplained portion could be driven by differential effects of the Great Recession, growing anti-immigrant sentiment, and/or the relatively large share of unauthorized immigrants in 2011.
This is a preview of subscription content, log in to check access.
Access options
Buy single article
Instant access to the full article PDF.
US$ 39.95
Price includes VAT for USA
Subscribe to journal
Immediate online access to all issues from 2019. Subscription will auto renew annually.
US$ 99
This is the net price. Taxes to be calculated in checkout.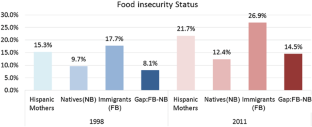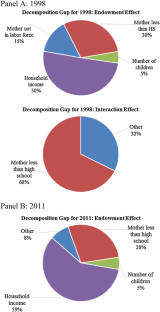 References
1.

Coleman-Jensen A, Gregory C, Singh A. Household food security in the United States in 2013. USDA-ERS Economic Research Report 2014;173.

2.

Van Hook J, Landale NS, Hillemeier, MM. Is the United States bad for children's health? Risk and resilience among young children of immigrants. Washington, DC: Migration Policy Institute; 2013. Retrieved 30 Nov 2013.

3.

Cook JT, Frank DA. Food security, poverty, and human development in the United States. Ann N Y Acad Sci. 2008;1136(1):193–209.

4.

Gundersen C, Kreider B, Pepper J. The economics of food insecurity in the United States. App Econ Perspect Policy. 2011. Doi:10.1093/aepp/ppr022

5.

Capps R. The health and well-being of young children of immigrants. 2005.

6.

Perreira KM, Ornelas IJ. The physical and psychological well-being of immigrant children. Future Child. 2011;21(1):195–218.

7.

Potochnick S, Mooney M. The decade of immigrant dispersion and growth: a cohort analysis of children of immigrants' educational experiences 1990–2002. Int Migr Rev. 2015;49(4):1001–41.

8.

Chávez N, Telleen S, Kim YOR. Food insufficiency in urban Latino families. J Immigr Minor Health. 2007;9(3):197–204.

9.

Chilton M, Black MM, Berkowitz C, Casey PH, Cook J, Cutts D, et al. Food insecurity and risk of poor health among US-born children of immigrants. Am J Public Health. 2009;99(3):556–62.

10.

Kalil A, Chen JH. Mothers' citizenship status and household food insecurity among low-income children of immigrants. New Dir Child Adolesc Dev. 2008;121:43–62.

11.

Kaushal N, Waldfogel J, Wight VR. Food insecurity and SNAP participation in Mexican immigrant families: the impact of the outreach initiative. BE J Econ Anal Policy. 2013;14(1):203–40.

12.

Kersey M, Geppert J, Cutts DB. Hunger in young children of Mexican immigrant families. Pub Health Nutr. 2007;10(04):390–5.

13.

Kimbro RT, Denney JT, Panchang S. Individual, family, and neighborhood characteristics and children's food insecurity. J App Research Child. Inform Policy Child Risk. 2012;3(1):8.

14.

Quandt SA, Shoaf JI, Tapia J, Hernández-Pelletier M, Clark H, Arcury TA. Experiences of Latino immigrant families in North Carolina help explain elevated levels of food insecurity and hunger. J Nutr. 2006;136(10):2638–44.

15.

Rosenblum MR, Brick K. US immigration policy and Mexican/Central American migration flows. Washington, DC: Migration Policy Institute; 2011.

16.

Passel JS. Demography of immigrant youth: past, present, and future. Future Child. 2011;21(1):19–41.

17.

Passel JS, Taylor P. Unauthorized immigrants and their US-born children. Washington, DC: Pew Hispanic Center; 2010.

18.

Massey DS. New faces in new places: the changing geography of American immigration. New York City: Russell Sage Foundation; 2008.

19.

Crowley M, Lichter DT, Qian Z. Beyond gateway cities: economic restructuring and poverty among Mexican immigrant families and children. Family Relat. 2006;55(3):345–60.

20.

Hirschman C, Massey DS. Places and peoples: The new American mosaic. New faces in new places: The changing geography of American immigration. 2008;1–21.

21.

Filindra A, Blanding D, Coll CG. The power of context: state-level policies and politics and the educational performance of the children of immigrants in the United States. Harvard Educ Rev. 2011;81(3):407–38.

22.

Fortuny K, Chaudry A. A comprehensive review of immigrant access to health and human services. Washington, DC: Urban Institute; 2011.

23.

Martin SF, Gozdziak EM. Beyond the gateway: immigrants in a changing America. Lanham: Lexington Books; 2005.

24.

Laglagaron L, Rodríguez C, Silver A, Thanasombat S. Regulating immigration at the state level: highlights from the database of 2007 state immigration legislation and the methodology. Washington, DC: Migration Policy Institute, 2008.

25.

Kochhar R, Espinoza CS, Hinze-Pifer R. After the great recession: foreign born gain jobs; native born lose jobs. Washington, DC: Pew Hispanic Center; 2010.

26.

Liu CY, Edwards J. Immigrant employment through the Great Recession: Individual characteristics and metropolitan contexts. Soc Sci J. 2015;52(3):405–414.

27.

Martin KS, Rogers BL, Cook JT, Joseph HM. Social capital is associated with decreased risk of hunger. Soc Sci Med. 2004;58(12):2645–54.

28.

Nord M, Andrews M, Carlson S. Household food security in the United States, 2004. USDA-ERS Economic Research Report. 2005(11).

29.

Potochnick S, Arteaga I. A decade of analysis household food insecurity among low-income immigrant children. J Family Issues. 2016. Doi:10.1177/0192513X16661216.

30.

Daymont TN, Andrisani PJ. Job preferences, college major, and the gender gap in earnings. J Human Resour. 1984;19:408–428.

31.

Arteaga I, Glewwe P. Achievement gap between indigenous and non-indigenous children in Peru: an analysis of young lives survey data. 2014.

32.

Glewwe P, Krutikova S, Rolleston C. Do schools reinforce or reduce learning gaps between advantaged and disadvantaged students? Evidence from Vietnam and Peru. Oxford: Young Lives; 2014.

33.

Kao G, Tienda M. Optimism and achievement: the educational performance of immigrant youth. The new immigration: an interdisciplinary reader. 2005;331–343.

34.

Yoshikawa H, Kalil A. The effects of parental undocumented status on the developmental contexts of young children in immigrant families. Child Dev Perspect. 2011;5(4):291–7.
Acknowledgements
The authors wish to thank the University of Missouri's Research Board for its grant support. We are also thankful to Christal Hamilton for her research assistance.
Funding
This study was funded by the University of Missouri Research Board Grant.
Ethics declarations
Conflict of interest
Arteaga, Potochnick and Parsons declares that they have no conflict of interest.
Ethical Approval
This article does not contain any studies with human participants performed by any of the authors.
About this article
Cite this article
Arteaga, I., Potochnick, S. & Parsons, S. Decomposing the Household Food Insecurity Gap for Children of U.S.-Born and Foreign-Born Hispanics: Evidence from 1998 to 2011. J Immigrant Minority Health 19, 1050–1058 (2017). https://doi.org/10.1007/s10903-017-0561-0
Keywords
Hispanic

Food insecurity disparities

Cohort analysis

Decomposition technique