Abstract
Guangzhou, one of China's largest cities and a main trading port in South China, has attracted many African businessmen and traders migrating to the city for financial gains. Previous research has explored the cultural and economic roles of this newly emerging population; however, little is known about their health care experiences while in China. Semi-structured interviews and focus groups were used to assess health care experiences and perceived barriers to health care access among African migrants in Guangzhou, China. Overall, African migrants experienced various barriers to accessing health care and were dissatisfied with local health services. The principal barriers to care reported included affordability, legal issues, language barriers, and cultural differences. Facing multiple barriers, African migrants have limited access to care in Guangzhou. Local health settings are not accustomed to the African migrant population, suggesting that providing linguistically and culturally appropriate services may improve access to care for the migrants.
Access options
Buy single article
Instant access to the full article PDF.
USD 39.95
Price includes VAT (USA)
Tax calculation will be finalised during checkout.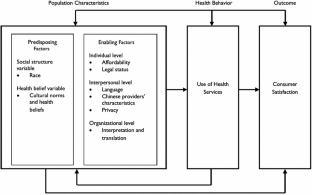 Notes
1.

Our use of the term African here is meant to include all citizens of countries on the African continent, most of whom are members of the African Union, or anybody who considers themselves to be of African origins. In so doing we do not claim cultural homogeneity across this group of people. Indeed, cultural differences, if any, between these nationalities indicated do not have any major implications in the way they are treated with regards to health care delivery in China. In fact, Chinese, whether at the government level or at individual levels tend to treat and interact with Africans as a homogenous group, especially with regards to health care (non)-delivery.
References
1.

International Organization for migration about migration: facts & figures. 2010. http://www.iom.int/jahia/Jahia/about-migration/facts-and-figures/lang/en. Accessed 15 April 2012.

2.

International Organization for Migration. World Migration Report 2011: Communicating effectively about migration, Switzerland (2011).

3.

Gushulak B, Weekers J, Macpherson D. Migrants and emerging public health issues in a globalized world: threats, risks and challenges, an evidence-based framework. Emerg Health Threats J. 2009;2:e10. doi:10.3134/ehtj.09.010.

4.

Guirgis M, Nusair F, Bu YM, Yan K, Zekry AT. Barriers faced by migrants in accessing healthcare for viral hepatitis infection. Intern Med J. 2012;42(5):491–6. doi:10.1111/j.1445-5994.2011.02647.x.

5.

Harari N, Davis M, Heisler M. Strangers in a strange land: health care experiences for recent Latino immigrants in Midwest communities. J Health Care Poor Underserved. 2008;19(4):1350–67. doi:10.1353/hpu.0.0086.

6.

Ku L, Freilich A. Caring for immigrants: health care safety nets in Los Angeles, New York, Miami, and Houston. The Kaiser Commission on Medicaid and the uninsured (2001).

7.

Morales LS, Lara M, Kington RS, Valdez RO, Escarce JJ. Socioeconomic, cultural, and behavioral factors affecting Hispanic health outcomes. J Health Care Poor Underserved. 2002;13(4):477–503. doi:10.1177/104920802237532.

8.

Magalhaes L, Carrasco C, Gastaldo D. Undocumented migrants in Canada: a scope literature review on health, access to services, and working conditions. J Immigr Minor Health. 2010;12(1):132–51. doi:10.1007/s10903-009-9280-5.

9.

Wolff H, Epiney M, Lourenco AP, Costanza MC, Delieutraz-Marchand J, Andreoli N, Dubuisson JB, Gaspoz JM, Irion O. Undocumented migrants lack access to pregnancy care and prevention. BMC Public Health. 2008;8:93. doi:10.1186/1471-2458-8-93.

10.

Jatrana S, Toyota M, Yeoh B. Migration and Health in Asia Routledge. OX: Abingdon; 2006.

11.

National Bureau of Statistics of the People's Republic of China Major figures on residents from Hong Kong, Macao and Taiwan and foreigners covered by 2010 population census. 2011. http://www.stats.gov.cn/english/newsandcomingevents/t20110429_402722638.htm. Accessed 15 April 2012.

12.

Bodomo AB. The African trading community in Guangzhou: an emerging bridge for Africa-China Relations. China Q. 2010;203:693–707. doi:10.1017/S0305741010000664.

13.

Bodomo AB. Africans in China: a sociocultural study and its implications on Africa–China relations. Cambria Press; 2012.

14.

Zhao S The China–Angola Partnership: a case study of China's oil relations in Africa. http://www.china-briefing.com/news/2011/05/25/the-china-angola-partnership-a-case-study-of-chinas-oil-relationships-with-african-nations.html. 2011. Accessed April 16 2012.

15.

Perlez J With $20 billion loan pledge, China strengthens its ties to African nations. The New York Times; 2012.

16.

Zhang L. Ethnic congregation in a globalizing city: the case of Guangzhou, China. Cities. 2008;25(6):383–95. doi:10.1016/j.cities.2008.09.004.

17.

Li Z, Xue D, Lyons M, Brown A. The African enclave in Guangzhou: a case study of Xiaobeilu. J Geogr Sci. 2008;63(2):207–18.

18.

McLeroy KR, Bibeau D, Steckler A, Glanz K. An ecological perspective on health promotion programs. Health Educ Q. 1988;15:351–77. doi:10.1177/109019818801500401.

19.

Aday LA, Andersen R. A framework for the study of access to medical care. Health Serv Res. 1974;9(3):208–20.

20.

Andersen RM. Revisiting the behavioral model and access to medical care: does it matter? J Health Soc Behav. 1995;36(1):1–10.

21.

GmbH VERBI. MAXQDA, software for qualitative data analysis. Germany: Berlin-Marburg-Amöneburg; 2011.

22.

Babitsch B, Gohl D, von Lengerke T Re-revisiting Andersen's behavioral model of health services use: a systematic review of studies from 1998–2011. Psychosoc Med. 2012; doi:10.3205/psm000089.

23.

Aroian KJ, Wu B, Tran TV. Health care and social service use among Chinese immigrant elders. Res Nurs Health. 2005;28(2):95–105. doi:10.1002/nur.20069.

24.

Amnesty International People's Republic of China: internal migrants: discrimination and abuse. The human cost of an economic 'Miracle'. 2007. http://www.amnesty.org/en/library/info/ASA17/008/2007. (2012).

25.

Shaokang Z, Zhenwei S, Blas E. Economic transition and maternal health care for internal migrants in Shanghai, China. Health Policy Plan. 2002;17(Suppl):47–55. doi:10.1093/heapol/17.suppl_1.47.

26.

Babiarz KS, Miller G, Yi H, Zhang L, Rozelle S. New evidence on the impact of China's new rural cooperative medical scheme and its implications for rural primary healthcare: multivariate difference-in-difference analysis. BMJ. 2010;341:c5617. doi:10.1136/bmj.c5617.

27.

Cui Y, Gu L Curbing influx of illegal aliens. China Daily; 2012.

28.

Chetail V, Giacca G Who cares? The right to health of migrants. In: Robinson M, Clapham A, editors. Realizing the right to health: Swiss Human Rights Book vol 3. Ruffer & Rub Pub; 2009. pp 224–234.

29.

Hesketh T, Wu D, Mao L, Ma N. Violence against doctors in China. BMJ. 2012;345:e5730. doi:10.1136/bmj.e5730.

30.

Violence against doctors: Why China? Why now? What next? Lancet 2014; 383 (9922):1013. doi:10.1016/S0140-6736(14)60501-8.

31.

Xu Z (2013) The distortion of the doctor–patient relationship in China. http://www.sgim.org/File%20Library/SGIM/Resource%20Library/Forum/2014/Feb2014-01.pdf.

32.

Yeo S. Language barriers and access to care. Annu Rev Nurs Res. 2004;22:59–73.

33.

Freeman G, Lethbridge-Cejku M Access to health care among Hispanic or Latino Women: United States, 2000–2002. http://www.cdc.gov/nchs/data/ad/ad368.pdf. (2006). Accessed 16 April 2012.

34.

The Henry J. Kaiser Family Foundation Key facts: race, ethnicity and medical care. http://www.kff.org/minorityhealth/upload/6069-02.pdf. 2007. Accessed April 16 2012.

35.

Flores G. The impact of medical interpreter services on the quality of health care: a systematic review. Med Care Res Rev. 2005;62(3):255–99. doi:10.1177/1077558705275416.

36.

Karliner LS, Jacobs EA, Chen AH, Mutha S. Do professional interpreters improve clinical care for patients with limited English proficiency? A systematic review of the literature. Health Services Res. 2007;42(2):727–54. doi:10.1111/j.1475-6773.2006.00629.x.

37.

Anderson LM, Scrimshaw SC, Fullilove MT, Fielding JE, Normand J, Task force on community preventive S culturally competent healthcare systems. A systematic review. Am J Prev Med. 2003; 24 (3 Suppl):68–79.
Acknowledgments
The authors would like to thank the Guangzhou African community leaders, Ojukwu Emma and Sultane Barry, for organizing community events. The authors would also like to thank the African migrants in Guangzhou for their time and effort. Preparation of this article was supported in part by grants from the NIH FIC (1K01TW008200-01A3) and Emory Center for AIDS Research (P30 AI050409; Wong and Nehl).
Conflict of interest
The authors declared no potential conflicts of interest with respect to the research, authorship, and/or publication of this article.
About this article
Cite this article
Lin, L., Brown, K.B., Yu, F. et al. Health Care Experiences and Perceived Barriers to Health Care Access: A Qualitative Study Among African Migrants in Guangzhou, Guangdong Province, China. J Immigrant Minority Health 17, 1509–1517 (2015). https://doi.org/10.1007/s10903-014-0114-8
Keywords
African

China

Health care access

Health care experiences

Immigrants/migrants