Abstract
Following World War I, rent control became a standard policy response to the housing shortage and the resulting rent increases. Typically, economists blame it for creating inefficiencies in the housing market and beyond. We investigate whether rental market regulations (including rent control, protection of tenants from eviction, and housing rationing) had any effects in a middle-income Latin American economy, such as Argentina. To answer this question, we take advantage of a wide range of housing market indicators and restrictive rental regulation indices covering almost one century. Using a standard OLS model and MARS, a nonlinear estimation technique, we find that rental market regulations have exerted a statistically significant negative impact on the growth rates of the real housing rents. However, they were only effective for short periods following both World Wars, when regulations were novel and particularly strong.
Hace diez años, señora,

que soy aquí su inquilino

y nunca tanto tuvimos

estas broncas como ahora.

Usted protesta, señora,

con sus gritos imprudentes

que entera a toda la gente,

que quiere mi desalojo,

porque dice con enojo

que soy un tipo indecente...

From the milonga "El Inquilino"
Notes
Santiago Filipuzzi (25th of November 2021) "Sergio Massa dijo que la ley de alquileres "fracasó" y llamó a discutir un nuevo proyecto en el Congreso" La Nación.

These tests are carried out using the R packages sandwich and car, respectively.

The test is conducted using the R package lmtest.

The normality test is carried out using the R package shapiro.test.

These are estimated using the lm.boot function of the R package simpleboot.
References
Arnott, R. (1995). Time for revisionism on rent control? Journal of Economic Perspectives, 9(1), 99–120.

Astorga González, A. (1995). La ciudad como conjunto de viviendas: la función residencial. Espacio, Tiempo y Forma V, I(8), 101–118.

Ault, R. W., Jackson, J. D., & Saba, R. P. (1994). The effect of long-term rent control on tenant mobility. Journal of Urban Economics, 35(2), 140–158.

Autor, D. H., Palmer, C. J., & Pathak, P. A. (2014). Housing market spillovers: Evidence from the end of rent control in Cambridge, Massachusetts. Journal of Political Economy, 122(3), 661–717.

Benítez, J. (2016). Buscar un techo. La problemática de los inquilinos y los alquileres en la Ciudad Autónoma de Buenos Aires. Colección es nuestra la ciudad, 2, 5–8.

Bettendorf, L., & Buyst, E. (1997). Rent control and virtual prices: A case study for interwar Belgium. The Journal of Economic History, 57(3), 654–673.

Blanco, A., Fretes, V., & Muñoz, A. (2014). Se busca vivienda en alquiler: opciones de política para América Latina y el Caribe. Inter-American Development Bank.

Brambor, T., Lindvall, J., & Stjernquist, A. (2017). The ideology of heads of government, 1870–2012. version 1.5. Department of Political Science, Lund University. https://heads-of-government.github.io.

Carné, M. A. (2021). El alquiler como régimen de tenencia de la vivienda: características de los hogares inquilinos del Aglomerado Gran Santa Fe entre el tercer trimestre de 2016 y el tercer trimestre de 2019. Revista del Área de Estudios Urbanos, 16(15), 234–252.

Cavallo, A., & Bertolotto, M. (2016). Serie completa de inflación de Argentina desde 1943 a 2016 (Filling the gap in Argentina's inflation data).

Cosacov, N. (2012). Alquileres e inquilinos en la Ciudad de Buenos Aires. Una radiografía. Buenos Aires: Laboratorio de Políticas Públicas.

Diamond, R., McQuade, T., & Qian, F. (2019). The effects of rent control expansion on tenants, landlords, and inequality: Evidence from San Francisco. American Economic Review, 109(9), 3365–94.

Downs, A. (1957). An economic theory of democracy. New York: Harper.

Early, D. W., & Olsen, E. O. (1998). Rent control and homelessness. Regional Science and Urban Economics, 28(6), 797–816.

Engle, R. F., & Granger, C. W. (1987). Co-integration and error correction: representation, estimation, and testing. Econometrica: Journal of the Econometric Society, 55(2), 251–276.

Ferreres, O. J., et al. (2005). Dos siglos de economía argentina (1810-2004): historia argentina en cifras. Fundación Norte y Sur.

Friedman, J. H. (1991). Multivariate adaptive regression splines. The Annals of Statistics, 19(1), 1–67.

Gerchunoff, P., & Díaz Alejandro, C. (1989). Peronist economic policies, 1946–55. In G. di Tella & R. Dornbusch (Eds.), The Political Economy of Argentina, 1946–83. St Antony's/Macmillan Series. (pp. 59–88). London: Palgrave Macmillan.

Glaeser, E. L., & Luttmer, E. F. (2003). The misallocation of housing under rent control. The American Economic Review, 93(4), 1027–1046.

Grimes, P. W., & Chressanthis, G. A. (1997). Assessing the effect of rent control on homelessness. Journal of Urban Economics, 41(1), 23–37.

Jenkins, B. (2009). Rent control: Do economists agree? Econ Journal Watch, 6(1), 73–112.

Kholodilin, K. A. (2020a). Housing policy during COVID-19 crisis: Challenges and solutions. DIW focus 2. https://rpubs.com/Konstantin_Xo/COVID19_housing_policies.

Kholodilin, K. A. (2020). Long-term, multicountry perspective on rental market regulations. Housing Policy Debate, 30(6), 994–1015.

Kholodilin, K. A., & Kohl, S. (2021). Social policy or crowding-out? Tenant protection in comparative long-run perspective. Housing Studies, pp. 1–24. https://www.tandfonline.com/doi/full/10.1080/02673037.2021.1900796.

Krol, R., & Svorny, S. (2005). The effect of rent control on commute times. Journal of Urban Economics, 58(3), 421–436.

Lucas, R. (1983). Econometric policy evaluation: A critique. In K. Brunner and A. Meltzer (Eds.), Theory, Policy, Institutions: Papers from the Carnegie-Rochester Conferences on Public Policy, pp. 19–46.

Moon, C.-G., & Stotsky, J. G. (1993). The effect of rent control on housing quality change: A longitudinal analysis. Journal of Political Economy, 101(6), 1114–1148.

Munch, J. R., & Svarer, M. (2002). Rent control and tenancy duration. Journal of Urban Economics, 52(3), 542–560.

Olsen, E. O. (1972). An econometric analysis of rent control. Journal of Political Economy, 80(6), 1081–1100.

Pareja-Eastaway, M., & Sánchez-Martínez, M. T. (2011). El alquiler: una asignatura pendiente de la política de vivienda en España. Ciudad y Territorio. Estudios Territoriales, 43(167), 53–70.

Reese, E., Almansi, F., Del Valle, J., & Andrés, J. (2014). Políticas habitacionales y la regulación del alquiler en Argentina. In A. G. Blanco, V. Fretes Cibils, and A. F. Muñoz (Eds.), Busco casa en arriendo: promover el alquiler tiene sentido, Chapter 4, pp. 93–132. Banco Interamericano de Desarrollo.

Sims, D. P. (2007). Out of control: What can we learn from the end of Massachusetts rent control? Journal of Urban Economics, 61(1), 129–151.

Skak, M., & Bloze, G. (2013). Rent control and misallocation. Urban Studies, 50(10), 1988–2005.

Svarer, M., Rosholm, M., & Munch, J. R. (2005). Rent control and unemployment duration. Journal of Public Economics, 89(11–12), 2165–2181.

Weber, J. P. (2017). The regulation of private tenancies — a multi-country analysis. PhD Dissertation, Universität Regensburg. Available at https://epub.uni-regensburg.de/36228/1/Weber%20%282017%29_The%20Regulation%20of%20Private%20Tenancies%20A%20Multi-Country%20Analysis.pdf.

Wilhelmsson, M., Andersson, R., & Klingborg, K. (2011). Rent control and vacancies in Sweden. International Journal of Housing Markets and Analysis, 4(2), 105–129.
Funding
Open Access funding enabled and organized by Projekt DEAL.
Additional information
Publisher's Note
Springer Nature remains neutral with regard to jurisdictional claims in published maps and institutional affiliations.
Appendix
Appendix
See Tables 1, 2, 3, 4, 5, 6, 7 and 8.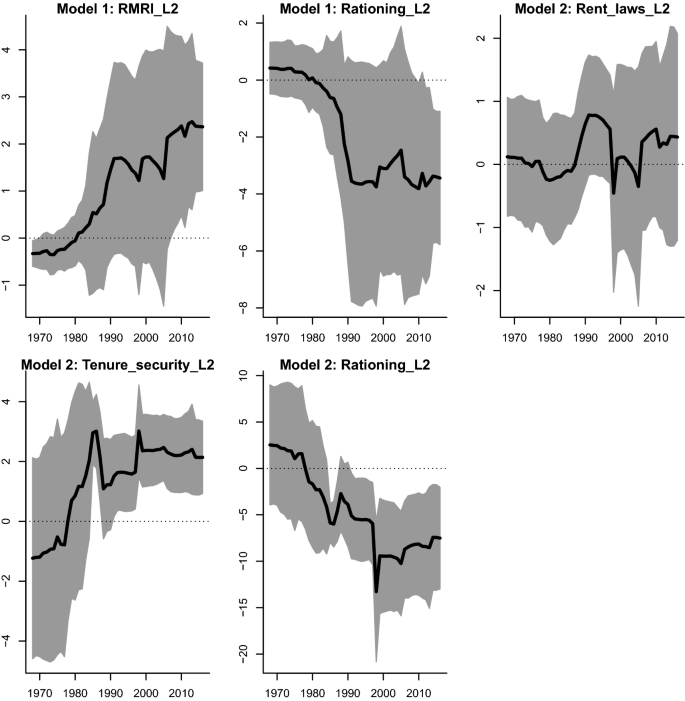 Rights and permissions
Open Access This article is licensed under a Creative Commons Attribution 4.0 International License, which permits use, sharing, adaptation, distribution and reproduction in any medium or format, as long as you give appropriate credit to the original author(s) and the source, provide a link to the Creative Commons licence, and indicate if changes were made. The images or other third party material in this article are included in the article's Creative Commons licence, unless indicated otherwise in a credit line to the material. If material is not included in the article's Creative Commons licence and your intended use is not permitted by statutory regulation or exceeds the permitted use, you will need to obtain permission directly from the copyright holder. To view a copy of this licence, visit http://creativecommons.org/licenses/by/4.0/.
About this article
Cite this article
Jacobo, A.D., Kholodilin, K.A. One hundred years of rent control in Argentina: much ado about nothing. J Hous and the Built Environ 37, 1923–1970 (2022). https://doi.org/10.1007/s10901-022-09932-6
Received:

Accepted:

Published:

Issue Date:

DOI: https://doi.org/10.1007/s10901-022-09932-6
Keywords
JEL codes