Abstract
In this work, pH-sensitive hydrogel nanoparticles based on N-isopropyl acrylamide (NIPAM) and methacrylic acid (MAA) at various molar ratios, were synthesized and characterized in terms of physicochemical and biological properties. FTIR and 1HNMR spectra confirmed the successful synthesis of the copolymer that formed nanoparticles. AFM images and FE-SEM micrographs showed that nanoparticles were spherical, but their round-shape was slightly compromised with MAA content; besides, the size of particles tends to decrease as MAA content increased. The hydrogels nanoparticles also exhibited an interesting pH-sensitivity, displaying changes in its particle size when changes in pH media occurred. Biological characterization results indicate that all the synthesized particles are non-cytotoxic to endothelial cells and hemocompatible, although an increase of MAA content leads to a slight increase in the hemolysis percentage. Therefore, the pH-sensitivity hydrogels may serve as a versatile platform as self-regulated drug delivery systems in response to environmental pH changes.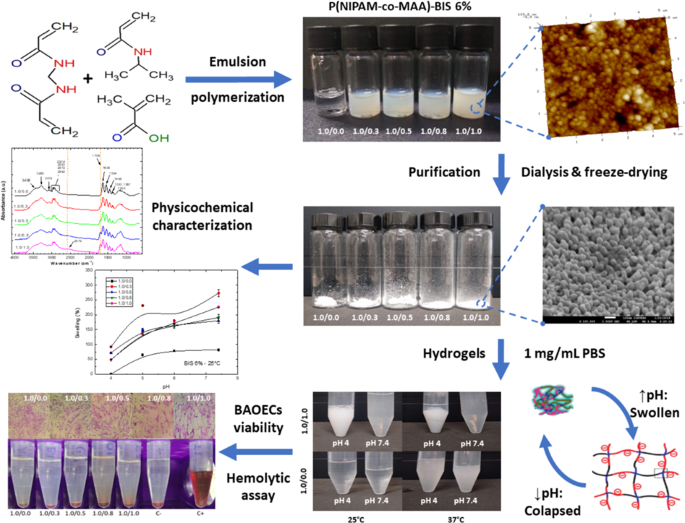 Access options
Buy single article
Instant access to the full article PDF.
USD 39.95
Price excludes VAT (USA)
Tax calculation will be finalised during checkout.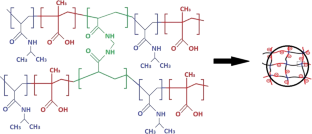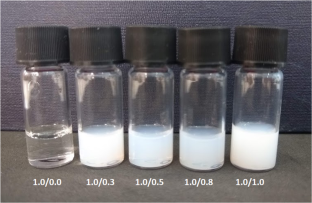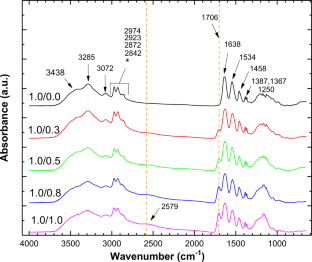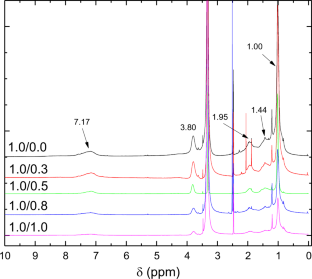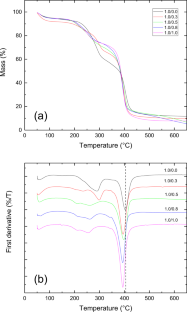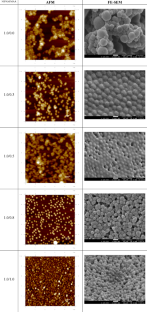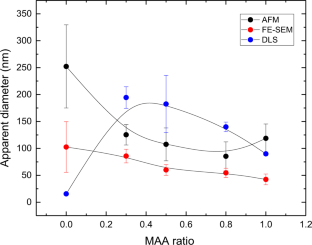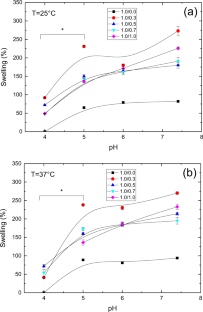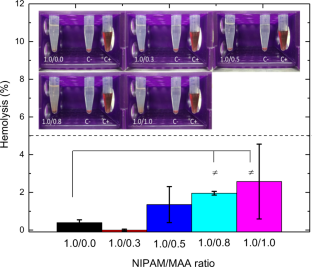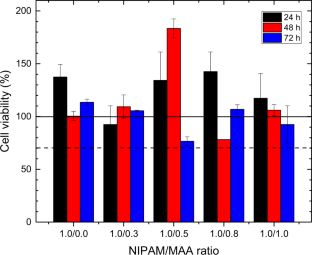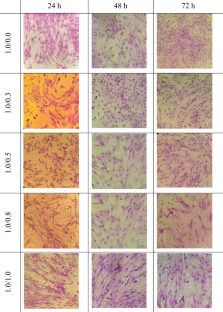 Acknowledgements
This work was partially supported by CONACYT (Mexico), grant CB-2016-283972. Carlos Belman-Flores acknowledges CONACYT for his scholarship (No. 834809). Authors also would like to thank CONACYT grants No. 268595 and 248378 and MSc. Dora Alicia Huerta for the FE-SEM micrographs.
Ethics declarations
Conflict of interest
The authors declare that they have no conflict of interest.
Additional information
Publisher's note Springer Nature remains neutral with regard to jurisdictional claims in published maps and institutional affiliations.
About this article
Cite this article
Belman-Flores, C.E., Herrera-Kao, W., Vargas-Coronado, R.F. et al. Synthesis and characterization of pH sensitive hydrogel nanoparticles based on poly(N-isopropyl acrylamide-co-methacrylic acid). J Mater Sci: Mater Med 31, 61 (2020). https://doi.org/10.1007/s10856-020-06400-x
Received:

Accepted:

Published:

DOI: https://doi.org/10.1007/s10856-020-06400-x