Abstract
3D fibrous scaffolds have received much recent attention in regenerative medicine. Use of fibrous scaffolds has shown promising results in tissue engineering and wound healing. Here we report the development and properties of a novel fibrous scaffold that is useful for promoting wound healing. A scaffold made of salmon fibrinogen and chitosan is produced by electrospinning, resulting in a biocompatible material mimicking the structure of the native extracellular matrix (ECM) with suitable biochemical and mechanical properties. The scaffold is produced without the need for enzymes, in particular thrombin, but is fully compatible with their addition if needed. Human dermal fibroblasts cultured on this scaffold showed progressive proliferation for 14 days. Split-thickness experimental skin wounds treated and untreated were compared in a 10-day follow-up period. Wound healing was more effective using the fibrinogen-chitosan scaffold than in untreated wounds. This scaffold could be applicable in various medical purposes including surgery, tissue regeneration, burns, traumatic injuries, and 3D cell culture platforms.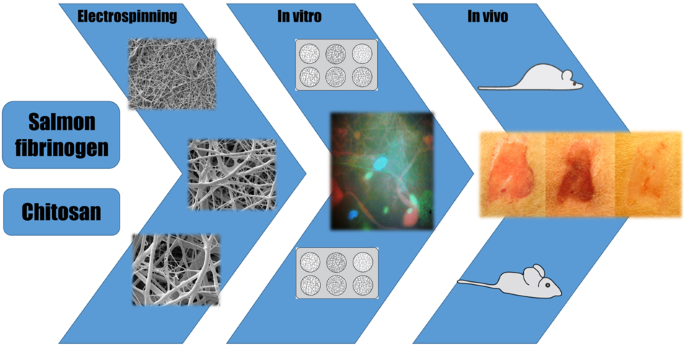 References
Aamodt JM, Grainger DW. Extracellular matrix-based biomaterial scaffolds and the host response. Biomaterials. 2016;86:68–82. https://doi.org/10.1016/j.biomaterials.2016.02.003.

Hinderer S, Layland SL, Schenke-Layland K. ECM and ECM-like materials—biomaterials for applications in regenerative medicine and cancer therapy. Adv Drug Deliv Rev. 2016;97:260–9. https://doi.org/10.1016/j.addr.2015.11.019.

Chen CS. Geometric control of cell life and death. Science. 1997;276:1425–8. https://doi.org/10.1126/science.276.5317.1425.

Yeung T, Georges PC, Flanagan LA, Marg B, Ortiz M, Funaki M. et al. Effects of substrate stiffness on cell morphology, cytoskeletal structure, and adhesion. Cell Motil Cytoskelet. 2005;60:24–34. https://doi.org/10.1002/cm.20041.

Climov M, Leavitt T, Molnar J, Orgill D. Natural biomaterials for skin tissue engineering. In: Albanna MZ, Holmes IV JH. Skin Tissue Engineering and Regenerative Medicine. Academic Press, Cambridge MA, USA. 2016. p. 145-61.

Uibo R, Laidmae I, Sawyer ES, Flanagan La, Georges PC, Winer JP et al. Soft materials to treat central nervous system injuries: evaluation of the suitability of non-mammalian fibrin gels. Biochim Biophys Acta. 2009;1793:924–30.

Pocaterra A, Caruso S, Bernardi S, Scagnoli L, Continenza MA, Gatto R. Effectiveness of platelet-rich plasma as an adjunctive material to bone graft: a systematic review and meta-analysis of randomized controlled clinical trials. Int J Oral Maxillofac Surg. 2016;45:1027–34. https://doi.org/10.1016/j.ijom.2016.02.012.

Wang X, Zhang Y, Choukroun J, Ghanaati S, Miron RJ. Effects of an injectable platelet-rich fibrin on osteoblast behavior and bone tissue formation in comparison to platelet-rich plasma. Platelets. 2018;29:48–55. https://doi.org/10.1080/09537104.2017.1293807.

Laidmäe I, McCormick ME, Herod JL, Pastore JJ, Salum T, Sawyer ES. et al. Stability, sterility, coagulation, and immunologic studies of salmon coagulation proteins with potential use for mammalian wound healing and cell engineering. Biomaterials. 2006;27:5771–9. https://doi.org/10.1016/j.biomaterials.2006.07.035.

Rothwell SW, Reid TJ, Dorsey J, Flournoy WS, Bodo M, Janmey PA et al. A salmon thrombin-fibrin bandage controls arterial bleeding in a swine aortotomy model. J Trauma. 2005;59:143–9.

Wang LZ, Gorlin J, Michaud SE, Janmey PA, Goddeau RP, Kuuse R. et al. Purification of salmon clotting factors and their use as tissue sealants. Thromb Res. 2000;100:537–48. https://doi.org/10.1016/S0049-3848(00)00362-5.

Cheng J, Jun Y, Qin J, Lee S-H. Electrospinning versus microfluidic spinning of functional fibers for biomedical applications. Biomaterials. 2017;114:121–43. https://doi.org/10.1016/j.biomaterials.2016.10.040.

Gibas I, Janik H. Review: synthetic polymer hydrogels for biomedical applications. Chem Chem Technol. 2010;4:297–304.

Bernardi S, Mummolo S, Zeka K, Pajewski L, Continenza MA, Marzo G.Use and evaluation of a cooling aid in laser-assisted dental surgery: an innovative study. Photomed Laser Surg. 2016;34:258–62. https://doi.org/10.1089/pho.2015.4008.

Kraehenbuehl TP, Ferreira LS, Zammaretti P, Hubbell JA, Langer R. Cell-responsive hydrogel for encapsulation of vascular cells. Biomaterials. 2009;30:4318–24. https://doi.org/10.1016/j.biomaterials.2009.04.057.

Zeka K, Ruparelia KC, Sansone C, Macchiarelli G, Continenza MA, Arroo RRJ. New hydrogels enriched with antioxidants from saffron crocus can find applications in wound treatment and/or beautification. Skin Pharmacol Physiol. 2018;31:95–98. https://doi.org/10.1159/000486135.

Wnek GE, Carr ME, Simpson DG, Bowlin GL. Electrospinning of nanofiber fibrinogen structures. Nano Lett. 2003;3:213–6. https://doi.org/10.1021/nl025866c.

McManus MC, Boland ED, Koo HP, Barnes CP, Pawlowski KJ, Wnek GE, et al. Mechanical properties of electrospun fibrinogen structures. Acta Biomater. 2006;2:19–28.

Larsen G, Spretz R. Methods for making a multicomponent hemostatic dressing: US Patent 8,168,229; 2012.

Cochrum KC, Parker HR, Chiu MMC. Fibrinogen/chitosan hemostatic agents: US Patent 5,773,033; 1998.

Wedmore I, McManus JG, Pusateri AE, Holcomb JB. A special report on the chitosan-based hemostatic dressing: experience in current combat operations. J Trauma. 2006;60:655–8. https://doi.org/10.1097/01.ta.0000199392.91772.44.

Raafat D, Sahl H-G. Chitosan and its antimicrobial potential—a critical literature survey. Microb Biotechnol. 2009;2:186–201. https://doi.org/10.1111/j.1751-7915.2008.00080.x.

Elsabee MZ, Naguib HF, Morsi RE. Chitosan based nanofibers, review. Mater Sci Eng: C. 2012;32:1711–26. https://doi.org/10.1016/j.msec.2012.05.009.

Chen ZG, Wang PW, Wei B, Mo XM, Cui FZ. Electrospun collagen–chitosan nanofiber: a biomimetic extracellular matrix for endothelial cell and smooth muscle cell. Acta Biomater. 2010;6:372–82.

Yuan TT, DiGeorge Foushee AM, Johnson MC, Jockheck-Clark AR, Stahl JM. Development of electrospun chitosan-polyethylene oxide/fibrinogen biocomposite for potential wound healing applications. Nanoscale Res Lett. 2018;13:88. https://doi.org/10.1186/s11671-018-2491-8.

McManus MC, Boland ED, Simpson DG, Barnes CP, Bowlin GL. Electrospun fibrinogen: feasibility as a tissue engineering scaffold in a rat cell culture model. J Biomed Mater Res A. 2007;81:299–309. https://doi.org/10.1002/jbm.a.30989.

Sangsanoh P, Supaphol P. Stability improvement of electrospun chitosan nanofibrous membranes in neutral or weak basic aqueous solutions. Biomacromolecules. 2006;7:2710–4. https://doi.org/10.1021/bm060286l.

Schindelin J, Arganda-Carreras I, Frise E, Kaynig V, Longair M, Pietzsch T. et al. Fiji: an open-source platform for biological-image analysis. Nat Methods. 2012;9:676–82. https://doi.org/10.1038/nmeth.2019.

Laidmäe I, Salum T, Sawyer ES, Janmey PA, Uibo R. Characterization of the biological effect of fish fibrin glue in experiments on rats: immunological and coagulation studies. J Biomed Mater Res A. 2010;93:29–36. https://doi.org/10.1002/jbm.a.32505.

R Development Core Team. R: A language and environment for statistical computing. R Foundation for Statistical Computing, Vienna, Austria. 2017. http://www.R-project.org/.

Sun K, Li ZH. Preparations, properties and applications of chitosan based nanofibers fabricated by electrospinning. Express Polym Lett. 2011;5:342–61. https://doi.org/10.3144/expresspolymlett.2011.34.

Freier T, Koh HS, Kazazian K, Shoichet MS. Controlling cell adhesion and degradation of chitosan films by N-acetylation. Biomaterials. 2005;26:5872–8. https://doi.org/10.1016/j.biomaterials.2005.02.033.

Laurencin C, Jiang T, Kumbar S, Nair L. Biologically active chitosan systems for tissue engineering and regenerative medicine. CTMC. 2008;8:354–64. https://doi.org/10.2174/156802608783790974.

Perepelyuk M, Chin L, Cao X, van Oosten A, Shenoy VB, Janmey PA et al. Normal and fibrotic rat livers demonstrate shear strain softening and compression stiffening: a model for soft tissue mechanics. PLoS One. 2016;11:e0146588.

van Oosten AS, Vahabi M, Licup AJ, Sharma A, Galie PA, MacKintosh FC et al. Uncoupling shear and uniaxial elastic moduli of semiflexible biopolymer networks: compression-softening and stretch-stiffening. Sci Rep. 2016;6:19270.

Klein EA, Yin L, Kothapalli D, Castagnino P, Byfield FJ, Xu T. et al. Cell-cycle control by physiological matrix elasticity and in vivo tissue stiffening. Curr Biol. 2009;19:1511–8. https://doi.org/10.1016/j.cub.2009.07.069.

Ahmed S, Ikram S. Chitosan based scaffolds and their applications in wound healing. Achiev Life Sci. 2016;10:27–37. https://doi.org/10.1016/j.als.2016.04.001.

Ng KW, Khor HL, Hutmacher DW. In vitro characterization of natural and synthetic dermal matrices cultured with human dermal fibroblasts. Biomaterials. 2004;25:2807–18. https://doi.org/10.1016/j.biomaterials.2003.09.058.

Azad AK, Sermsintham N, Chandrkrachang S, Stevens WF. Chitosan membrane as a wound-healing dressing: characterization and clinical application. J Biomed Mater Res Part B Appl Biomater. 2004;69:216–22. https://doi.org/10.1002/jbm.b.30000.

Patrulea V, Ostafe V, Borchard G, Jordan O. Chitosan as a starting material for wound healing applications. Eur J Pharm Biopharm. 2015;97:417–26. https://doi.org/10.1016/j.ejpb.2015.08.004.

Kratz G, Back M, Arnander C, Larm O. Immobilised heparin accelerates the healing of human wounds in vivo. Scand J Plast Reconstr Surg Hand Surg. 1998;32:381–6. https://doi.org/10.1080/02844319850158462.

Kheirabadi BS, Acheson EM, Deguzman R, Sondeen JL, Ryan KL, Delgado A, et al. Hemostatic efficacy of two advanced dressings in an aortic hemorrhage model in Swine. J Trauma-Inj Infect Crit Care. 2005;59:25–34.

Choo AM, Winer JP, Winkelstein BA, Smith DH, Janmey PA, Meaney DF. Salmon-derived fibrin for the acute treatment of cortical ablation brain injuries. J Neurotrauma. 2008;25:869. https://doi.org/10.1089/neu.2008.9963.

Reid TJ, Fuller ET, Janmey PA, Sawyer ES, Fudge JM, Mochmer KL, et al. Efficacy of hemostatic dressings with salmon thrombin and fibrinogen in a rat hip penetrating injury model. Blood. 2001;98:76.

Weisshaar CL, Winer JP, Guarino BB, Janmey PA, Winkelstein BA. The potential for salmon fibrin and thrombin to mitigate pain subsequent to cervical nerve root injury. Biomaterials. 2011;32:9738–46.

Chen Z, Mo X, Qing F. Electrospinning of collagen–chitosan complex. Mater Lett. 2007;61:3490–4. https://doi.org/10.1016/j.matlet.2006.11.104.

Ahmad A, Madhusudanan KP, Bhakuni V. Trichloroacetic acid and trifluoroacetic acid-induced unfolding of cytochrome c: stabilization of a native-like folded intermediate. Biochim Biophys Acta (BBA) - Protein Struct Mol Enzymol. 2000;1480:201–10. https://doi.org/10.1016/S0167-4838(00)00069-8.

Edmondson R, Broglie JJ, Adcock AF, Yang L. Three-dimensional cell culture systems and their applications in drug discovery and cell-based biosensors. Assay Drug Dev Technol. 2014;12:207–18. https://doi.org/10.1089/adt.2014.573.

Wang Y, Kim MH, Shirahama H, Lee JH, Ng SS, Glenn JS et al. ECM proteins in a microporous scaffold influence hepatocyte morphology, function, and gene expression. Sci Rep. 2016;6:37427.

Carlisle CR, Coulais C, Namboothiry M, Carroll DL, Hantgan RR, Guthold M. The mechanical properties of individual, electrospun fibrinogen fibers. Biomaterials. 2009;30:1205–13.

Gurram K, Rayadurgam S, Tammineedi C, P S. Clinical studies on fibrin-chitosan composite bio casings for cutaneous wound healing in dogs. Int J Livest Res. 2015;5:49. https://doi.org/10.5455/ijlr.20150207111223.

Sudheesh KPT, Raj NM, Praveen G, Chennazhi KP, Nair SV, Jayakumar R. In vitro and in vivo evaluation of microporous chitosan hydrogel/nanofibrin composite bandage for skin tissue regeneration. Tissue Eng Part A. 2013;19:380–92.

Parani M, Lokhande G, Singh A, Gaharwar AK. Engineered nanomaterials for infection control and healing acute and chronic wounds. ACS Appl Mater Interfaces. 2016;8:10049–69. https://doi.org/10.1021/acsami.6b00291.

Arulmoli J, Wright HJ, Phan DTT, Sheth U, Que RA, Botten GA, et al. Combination scaffolds of salmon fibrin, hyaluronic acid, and laminin for human neural stem cell and vascular tissue engineering. Acta Biomater. 2016;43:122–38.

Winer JP, Oake S, Janmey PA. Non-linear elasticity of extracellular matrices enables contractile cells to communicate local position and orientation. PLoS One. 2009;4:e6382.

Zhu P, Zhou Y, Wu F, Hong Y, Wang X, Shekhawat G, et al. Selective expansion of skeletal muscle stem cells from bulk muscle cells in soft three-dimensional fibrin gel. Stem Cells Transl Med. 2017;5:1412–23.
Acknowledgements
This study was supported by Estonian Research Council (grant IUT20-43 and IUT34-18) and the United States National Science Foundation (grants DMR-1720530 and CMMI 15-48571). We dedicate this study to the memory of our colleague Kaspars Ērglis.
Ethics declarations
Conflict of interest
Paul Janmey is a member of the scientific board of Sea Run Holdings but receives no compensation for this work. The other authors declare that they have no conflict of interest.
Rights and permissions
Open Access This article is distributed under the terms of the Creative Commons Attribution 4.0 International License (http://creativecommons.org/licenses/by/4.0/), which permits use, duplication, adaptation, distribution, and reproduction in any medium or format, as long as you give appropriate credit to the original author(s) and the source, provide a link to the Creative Commons license, and indicate if changes were made.
About this article
Cite this article
Laidmäe, I., Ērglis, K., Cēbers, A. et al. Salmon fibrinogen and chitosan scaffold for tissue engineering: in vitro and in vivo evaluation. J Mater Sci: Mater Med 29, 182 (2018). https://doi.org/10.1007/s10856-018-6192-8
Received:

Accepted:

Published:

DOI: https://doi.org/10.1007/s10856-018-6192-8