Evaluating Discipline-Based Education Research for Promotion and Tenure
Abstract
Discipline-based education research (DBER) is an emergent, interdisciplinary field of scholarship aimed at understanding and improving discipline-specific teaching and learning. The number of DBER faculty members in science, technology, engineering, and mathematics (STEM) departments has grown rapidly in recent years. Because the interdisciplinary nature of DBER involves social science, senior STEM faculty members may find it challenging to evaluate the quality or impact of DBER scholarship. This essay aims to address this issue by providing guidance on evaluating the scholarly accomplishments of DBER faculty members in a way that is useful to departmental colleagues and administrators during the tenure and promotion evaluation process.
Keywords
Discipline-based education research 
Promotion 
Tenure 
Faculty evaluation 
National efforts are underway to transform undergraduate science, technology, engineering, and mathematics (STEM) education by encouraging STEM faculty members to use instructional strategies that improve the learning and success of all students (Freeman et al.,
2014
). One aspect of these efforts is discipline-based education research (DBER), which has emerged within the STEM disciplines to investigate and improve undergraduate learning and development and inform teaching reform efforts. As defined by the National Research Council (Singer, Nielsen, & Schweingruber,
2012
), STEM DBER (referred to as "DBER" from here forward for succinctness) combines "expert knowledge of a science or engineering discipline, of the challenges of learning and teaching in that discipline, and of the science of learning and teaching generally" (p. 2) to address "discipline-specific problems and challenges" (p. 202). For example, the field of biology presents unique challenges for learning because of the extensive use of acronyms, use of multiple terms to describe a single phenomenon or physical entity (e.g., multiple names for the same protein), and evolution of the meaning of terms over time (e.g., changing definitions of "gene" or "species") (Tibell & Rundgren,
2010
). Understanding biology also requires reasoning across orders of magnitude (atomic to ecosystem) and ontological levels (e.g., DNA is information, a unit of inheritance, and a physical entity) (Tsui & Treagust,
2003
). Although topics of DBER are disciplinary in nature and therefore familiar to STEM colleagues, the research questions and methods of DBER are often grounded in the social sciences. As such, DBER is truly an interdisciplinary field of study (Fig.
1
).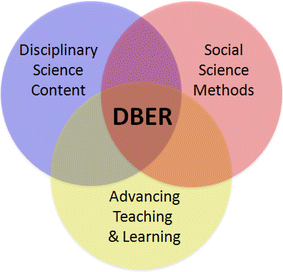 Education evaluation, scholarly teaching, and the Scholarship of Teaching and Learning (SoTL) also aim to improve teaching and learning using educational data, but are distinct from DBER. Education evaluation aims to determine the merit, worth, value, or impact of a program or intervention (Scriven, 2003) with the goal of informing action rather than contributing to understanding teaching and learning, as is the case for DBER. Scholarly teaching involves teaching in ways that are consistent with research on learning, such as collecting assessment data from students to inform instructional decision making (Angelo & Cross, 1993), but with no intention of sharing the data beyond the classroom. SoTL extends scholarly teaching beyond the private environment of the classroom to the public domain through sharing and peer critique, bringing a level of systematicity and professionalism to improving instruction (Shulman, 2000). SoTL studies are typically descriptive and focus on innovations that addresses learning goals. Data collection and analyses are generally limited to one's classroom or program with the aim of making local improvements; when published following peer review, SoTL can also serve as a tried-and-tested curriculum or instruction for other instructors to adapt for use with their own students. In contrast, DBER pursues research questions and hypotheses about teaching, learning, and ways of thinking in a discipline that extend beyond single classrooms and programs in order to yield original, generalizable, and mechanistic insights into educational processes and their effects.1
DBER Positions: Development and Growth
There are multiple entry paths to DBER faculty positions. Some DBER faculty members have doctoral degrees in traditional areas of STEM and have either completed postdoctoral training in education research or developed education research programs through other mechanisms (e.g., collaboration with social scientists, self-teaching by reading and professional development). Other DBER faculty members have doctoral degrees in DBER or in educational research from a college of education and have gained STEM disciplinary understanding through their undergraduate STEM degrees or through collaborations, professional development, and reading. Important to any path is gaining first-hand insight into both STEM theory and practice and social science (e.g., education, cognitive science) theory and methodology.
Because DBER faculty members are recruited for and appointed in disciplinary departments, they are also uniquely positioned to help their STEM departmental colleagues apply DBER results in their teaching to improve student learning and success. They can bring a perspective to teaching and learning and to the study of education that reflects STEM priorities, worldviews, understanding, and practices. This "insider" status allows DBER faculty members to study many issues related to postsecondary STEM education and STEM faculty professional development, which are typically not a main focus of faculty members in Colleges of Education but are essential to improving teaching and learning in STEM fields.
The growth and productivity of DBER have prompted an increasing number of institutions to establish tenure-track DBER positions in STEM departments. In 2014–2015 alone, there were more than 25 active searches for tenure-track positions in biology education research. Training programs in DBER at the undergraduate and graduate level are also growing. The National Science Foundation (NSF) has funded DBER Research Experiences for Undergraduates sites and included DBER as an area of scholarship for their prestigious graduate fellowships. Although a handful of DBER doctoral programs have been in place for decades (e.g., the Chemistry Education Research program at Purdue University has existed for 31 years), many more are emerging. For example, seven of the 15 geoscience education research graduate programs in the U.S. were established since 2005 (Libarkin, 2015). The work of DBER faculty members has resulted in a huge growth of understanding in undergraduate education that can inform teaching and learning in STEM units and beyond (Singer et al., 2012). For example, Freeman et al. (2014) conducted a widely recognized and influential meta-analysis of 150 articles that demonstrated the effects of active learning for undergraduate STEM students; 90 of the 150 articles (60%) were published in DBER journals.
The Challenge of Evaluating DBER Scholarship
Faculty members hired into DBER positions are expected to contribute to understanding STEM education by establishing productive research programs, including publishing and garnering extramural funding. However, because these positions are in units where the new faculty member may be the only DBER scholar, the research programs must be evaluated by non-DBER STEM colleagues. Although senior STEM faculty members are accustomed to evaluating the teaching and service accomplishments of their junior colleagues, they may be less familiar with evaluating scholarly work that makes use of social science theory and methods to address questions about STEM teaching and learning. Traditional metrics for evaluating the impact of STEM research, such as numbers of citations, may miss important influences of DBER. This alone does not make DBER distinctive. In fact, DBER is similar to other interdisciplinary or applied research fields, the impacts of which extend beyond standard metrics such as citations. For instance, clinical biomedical research has been evaluated for its impact on patient care (e.g., Cox et al., 2009); and agricultural and extension research has been evaluated for its usefulness to the public (Weiser & Houglum, 1998). Scholars in these fields have academic homes with a tradition of evaluating "nontraditional" impact; that same tradition now needs to expand to also include the impact of DBER. This essay aims to address this issue by providing guidance on evaluating the scholarly accomplishments of DBER faculty members in a way that is useful to their departmental colleagues and administrators during the tenure and promotion evaluation process.
Recommendations for Evaluating DBER Scholarship
Conclusion
DBER faculty members are responsible for communicating and demonstrating the excellence, relevance, and impact of their research; but it is the responsibility of university administrators and the senior STEM faculty members to understand the landscape in which DBER is conducted and its potential for transformative change in disciplinary teaching and learning. As DBER positions grow in number and current DBER faculty members mature into leadership positions, navigating the road to tenure and promotion within DBER will become easier. We hope that this essay fills a current gap in this process.
Notes
Acknowledgements
The authors would like to thank the participants of the 2014 meeting of the Society for the Advancement of Biology Education Research (SABER) for initial conversations that described the need for this article. The authors would also like to thank Bruce Alberts, Andrew Brower, Michelle Momany, and Allen Moore for critical review, feedback, and encouragement. Erin Dolan convened all the authors. Erin Dolan, Samantha Elliott, and Charles Henderson drafted the manuscript. Douglas Curran-Everett, Kristen St. John, and Phillip Ortiz contributed to the writing and provided ideas and examples that pertained to their disciplines.
Copyright information
© The Author(s) 2017
Open Access This article is distributed under the terms of the Creative Commons Attribution 4.0 International License (http://creativecommons.org/licenses/by/4.0/), which permits unrestricted use, distribution, and reproduction in any medium, provided you give appropriate credit to the original author(s) and the source, provide a link to the Creative Commons license, and indicate if changes were made.