Abstract
Oxidative stress and inflammation play an important role in the chronic kidney disease associated with obesity. Resveratrol (RSV) has been reported to exhibit a wide range of biological activities including antioxidant and anti-inflammatory properties. The objective of the present study was to investigate the effects of RSV on renal inflammation and oxidative stress in obese mice induced by high-fat diet. Male C57BL/6 mice were induced to have nephropathy associated obesity by high-fat diet for 12 weeks. After 8 weeks of feeding, oral supplementation with 100 mg RSV/kg body weight/day was applied with the high-fat-diet feeding for another 4 weeks. The results showed that RSV treatment protected against renal damage induced by high-fat diet, as evidenced by the decreased serum creatinine and urea nitrogen levels, alleviation of glomerular damage, and tubular vacuolization. In addition, RSV enhanced the antioxidant enzyme activity; improved the expression of genes related to inflammation; and decreased the malondialdehyde, tumor necrosis factor-α, and interleukin-6 concentrations in the kidney of high-fat-diet mice. In conclusion, RSV could alleviate renal damage in obese mice induced by high-fat diet via suppressing inflammation and oxidative stress.
This is a preview of subscription content, log in to check access.
Access options
Buy single article
Instant access to the full article PDF.
US$ 39.95
Price includes VAT for USA
Subscribe to journal
Immediate online access to all issues from 2019. Subscription will auto renew annually.
US$ 199
This is the net price. Taxes to be calculated in checkout.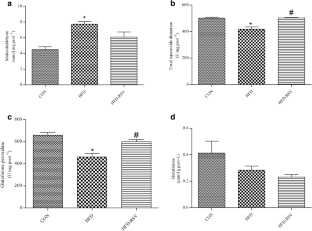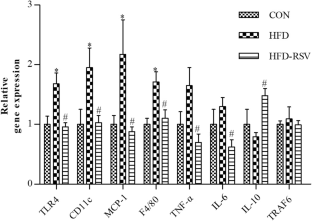 References
1.

Rutkowski, P., A. Klassen, K. Sebekova, U. Bahner, and A. Heidland. 2006. Renal disease in obesity: the need for greater attention. Journal of Renal Nutrition 16: 216–223.

2.

Kato, S., A. Nazneen, Y. Nakashima, M.S. Razzaque, T. Nishino, A. Furusu, N. Yorioka, and T. Taguchi. 2009. Pathological influence of obesity on renal structural changes in chronic kidney disease. Clinical and Experimental Nephrology 13: 332–340.

3.

Deji, N., S. Kume, S. Araki, M. Soumura, T. Sugimoto, K. Isshiki, M. Chin-Kanasaki, M. Sakaguchi, D. Koya, M. Haneda, A. Kashiwagi, and T. Uzu. 2009. Structural and functional changes in the kidneys of high-fat diet-induced obese mice. American Journal of Physiology - Renal Physiology 296: F118–F126.

4.

Glastras, S.J., H. Chen, R. Teh, R.T. McGrath, J. Chen, C.A. Pollock, M.G. Wong, and S. Saad. 2016. Mouse models of diabetes, obesity and related kidney disease. PLoS One 11: e0162131.

5.

Keith, D.S., G.A. Nichols, C.M. Gullion, J.B. Brown, and D.H. Smith. 2004. Longitudinal follow-up and outcomes among a population with chronic kidney disease in a large managed care organization. Archives of Internal Medicine 164: 659–663.

6.

Go, A.S., G.M. Chertow, D. Fan, C.E. McCulloch, and C.Y. Hsu. 2004. Chronic kidney disease and the risks of death, cardiovascular events, and hospitalization. The New England Journal of Medicine 351: 1296–1305.

7.

Wu, D., B. Gao, M. Li, L. Yao, S. Wang, M. Chen, H. Li, C. Ma, A. Ji, and Y. Li. 2016. Hydrogen sulfide mitigates kidney injury in high fat diet-induced obese mice. Oxidative Medicine and Cellular Longevity 2016: 2715718.

8.

Wang, H., J. Li, Z. Gai, G.A. Kullak-Ublick, and Z. Liu. 2017. TNF-alpha deficiency prevents renal inflammation and oxidative stress in obese mice. Kidney & Blood Pressure Research 42: 416–427.

9.

Khamnei, S., F.G. Soufi, and F. Afshar. 2012. Long-term resveratrol administration reduces renal oxidative stress and apoptosis rate in experimental type 2 diabetes. Life Science Journal 9: 2997–3001.

10.

Kim, M.Y., J.H. Lim, H.H. Youn, Y.A. Hong, K.S. Yang, H.S. Park, S. Chung, S.H. Koh, S.J. Shin, B.S. Choi, H.W. Kim, Y.S. Kim, J.H. Lee, Y.S. Chang, and C.W. Park. 2013. Resveratrol prevents renal lipotoxicity and inhibits mesangial cell glucotoxicity in a manner dependent on the AMPK-SIRT1-PGC1alpha axis in db/db mice. Diabetologia 56: 204–217.

11.

Xu, F., Y. Wang, W. Cui, H. Yuan, J. Sun, M. Wu, Q. Guo, L. Kong, H. Wu, and L. Miao. 2014. Resveratrol prevention of diabetic nephropathy is associated with the suppression of renal inflammation and mesangial cell proliferation: possible roles of Akt/NF-kappaB pathway. International Journal of Endocrinology 2014: 289327.

12.

Chen, L., S. Yang, E.E. Zumbrun, H. Guan, P.S. Nagarkatti, and M. Nagarkatti. 2015. Resveratrol attenuates lipopolysaccharide-induced acute kidney injury by suppressing inflammation driven by macrophages. Molecular Nutrition & Food Research 59: 853–864.

13.

Zhou, Y., S. Lin, L. Zhang, and Y. Li. 2016. Resveratrol prevents renal lipotoxicity in high-fat diet-treated mouse model through regulating PPAR-alpha pathway. Molecular and Cellular Biochemistry 411: 143–150.

14.

Kume, S., T. Uzu, S. Araki, T. Sugimoto, K. Isshiki, M. Chin-Kanasaki, M. Sakaguchi, N. Kubota, Y. Terauchi, T. Kadowaki, M. Haneda, A. Kashiwagi, and D. Koya. 2007. Role of altered renal lipid metabolism in the development of renal injury induced by a high-fat diet. Journal of the American Society of Nephrology 18: 2715–2723.

15.

Jiang, T., Z. Wang, G. Proctor, S. Moskowitz, S.E. Liebman, T. Rogers, M.S. Lucia, J. Li, and M. Levi. 2005. Diet-induced obesity in C57BL/6J mice causes increased renal lipid accumulation and glomerulosclerosis via a sterol regulatory element-binding protein-1c-dependent pathway. The Journal of Biological Chemistry 280: 32317–32325.

16.

Li, L., J. Hai, Z. Li, Y. Zhang, H. Peng, K. Li, and X. Weng. 2014. Resveratrol modulates autophagy and NF-kappaB activity in a murine model for treating non-alcoholic fatty liver disease. Food and Chemical Toxicology 63: 166–173.

17.

Chen, L.L., H.H. Zhang, J. Zheng, X. Hu, W. Kong, D. Hu, S.X. Wang, and P. Zhang. 2011. Resveratrol attenuates high-fat diet-induced insulin resistance by influencing skeletal muscle lipid transport and subsarcolemmal mitochondrial beta-oxidation. Metabolism 60: 1598–1609.

18.

Zheng, J., L.L. Chen, H.H. Zhang, X. Hu, W. Kong, and D. Hu. 2012. Resveratrol improves insulin resistance of catch-up growth by increasing mitochondrial complexes and antioxidant function in skeletal muscle. Metabolism 61: 954–965.

19.

Bradford, M.M. 1976. A rapid and sensitive method for the quantitation of microgram quantities of protein utilizing the principle of protein-dye binding. Analytical Biochemistry 72: 248–254.

20.

Nan, Y.M., L.B. Kong, W.G. Ren, R.Q. Wang, J.H. Du, W.C. Li, S.X. Zhao, et al. 2013. Activation of peroxisome proliferator activated receptor alpha ameliorates ethanol mediated liver fibrosis in mice. Lipids in Health and Disease 12: 11.

21.

Choi, W.H., H.J. Son, Y.J. Jang, J. Ahn, C.H. Jung, and T.Y. Ha. 2017. Apigenin ameliorates the obesity-induced skeletal muscle atrophy by attenuating mitochondrial dysfunction in the muscle of obese mice. Molecular Nutrition & Food Research 61: 1700218.

22.

Norris, G.H., C.M. Porter, C. Jiang, C.L. Millar, and C.N. Blesso. 2017. Dietary sphingomyelin attenuates hepatic steatosis and adipose tissue inflammation in high-fat-diet-induced obese mice. The Journal of Nutritional Biochemistry 40: 36–43.

23.

Jiang, M., X. Li, X. Yu, X. Liu, X. Xu, J. He, H. Gu, and L. Liu. 2017. Oral administration of resveratrol alleviates osteoarthritis pathology in C57BL/6J mice model induced by a high-fat diet. Mediators of Inflammation 2017: 7659023.

24.

Livak, K.J., and T.D. Schmittgen. 2001. Analysis of relative gene expression data using real-time quantitative PCR and the 2(−Delta Delta C(T)) method. Methods 25: 402–408.

25.

Vivante, A., E. Golan, D. Tzur, A. Leiba, A. Tirosh, K. Skorecki, and R. Calderon-Margalit. 2012. Body mass index in 1.2 million adolescents and risk for end-stage renal disease. Archives of Internal Medicine 172: 1644–1650.

26.

Zhang, L.P., J.X. Yin, Z. Liu, Y. Zhang, Q.S. Wang, and J. Zhao. 2006. Effect of resveratrol on L-type calcium current in rat ventricular myocytes. Acta Pharmacologica Sinica 27: 179–183.

27.

Charytoniuk, T., K. Drygalski, K. Konstantynowicz-Nowicka, K. Berk, and A. Chabowski. 2017. Alternative treatment methods attenuate the development of NAFLD: a review of resveratrol molecular mechanisms and clinical trials. Nutrition 34: 108–117.

28.

Pan, Q.R., Y.L. Ren, J.J. Zhu, Y.J. Hu, J.S. Zheng, H. Fan, Y. Xu, G. Wang, and W.X. Liu. 2014. Resveratrol increases nephrin and podocin expression and alleviates renal damage in rats fed a high-fat diet. Nutrients 6: 2619–2631.

29.

Gotoh, K., M. Inoue, T. Masaki, S. Chiba, T. Shimasaki, H. Ando, K. Fujiwara, et al. 2012. A novel anti-inflammatory role for spleen-derived interleukin-10 in obesity-induced inflammation in white adipose tissue and liver. Diabetes 61: 1994–2003.

30.

Song, Z., K. Cheng, L. Zhang, and T. Wang. 2017. Dietary supplementation of enzymatically treated Artemisia annua could alleviate the intestinal inflammatory response in heat-stressed broilers. Journal of Thermal Biology 69: 184–190.

31.

Cheng, K., Y. Niu, X.C. Zheng, H. Zhang, Y.P. Chen, M. Zhang, X.X. Huang, L.L. Zhang, Y.M. Zhou, and T. Wang. 2016. A comparison of natural (D-alpha-tocopherol) and synthetic (DL-alpha-tocopherol acetate) vitamin E supplementation on the growth performance, meat quality and oxidative status of broilers. Asian-Australasian Journal of Animal Sciences 29: 681–688.

32.

Zhang, N., Z. Li, K. Xu, Y. Wang, and Z. Wang. 2016. Resveratrol protects against high-fat diet induced renal pathological damage and cell senescence by activating SIRT1. Biological & Pharmaceutical Bulletin 39: 1448–1454.

33.

Schmatz, R., L.B. Perreira, N. Stefanello, C. Mazzanti, R. Spanevello, J. Cutierres, M. Bagatini, C.C. Martins, et al. 2012. Effects of resveratrol on biomarkers of oxidative stress and on the activity of delta aminolevulinic acid dehydratase in liver and kidney of streptozotocin-induced diabetic rats. Biochimie 94: 374–383.

34.

Palsamy, P., and S. Subramanian. 2011. Resveratrol protects diabetic kidney by attenuating hyperglycemia-mediated oxidative stress and renal inflammatory cytokines via Nrf2-Keap1 signaling. Biochimica et Biophysica Acta 1812: 719–731.

35.

Kitada, M., S. Kume, N. Imaizumi, and D. Koya. 2011. Resveratrol improves oxidative stress and protects against diabetic nephropathy through normalization of Mn-SOD dysfunction in AMPK/SIRT1- independent pathway. Diabetes 60: 634–643.

36.

Lech, M., and H.J. Anders. 2013. Macrophages and fibrosis: how resident and infiltrating mononuclear phagocytes orchestrate all phases of tissue injury and repair. Biochimica et Biophysica Acta (BBA)-Molecular Basis of Disease 1832: 989–997.

37.

Alagesan, S., and M.D. Griffin. 2014. Alternatively activated macrophages as therapeutic agents for kidney disease: in vivo stability is a key factor. Kidney International 85 (4): 730–733.

38.

Mantovani, A., A. Sica, S. Sozzani, P. Allavena, A. Vecchi, and M. Locati. 2004. The chemokine system in diverse forms of macrophage activation and polarization. Trends in Immunology 25: 677–686.

39.

Gordon, S., and P.R. Taylor. 2005. Monocyte and macrophage heterogeneity. Nature Reviews. Immunology 5: 953–964.

40.

Lumeng, C.N., J.L. Bodzin, and A.R. Saltiel. 2007. Obesity induces a phenotypic switch in adipose tissue macrophage polarization. The Journal of Clinical Investigation 117: 175–184.

41.

Kim, B., C. Farruggia, C.S. Ku, T.X. Pham, Y. Yang, M. Bae, C.J. Wegner, N.J. Farrell, E. Harness, Y.K. Park, S.I. Koo, and J.Y. Lee. 2017. Astaxanthin inhibits inflammation and fibrosis in the liver and adipose tissue of mouse models of diet-induced obesity and nonalcoholic steatohepatitis. The Journal of Nutritional Biochemistry 43: 27–35.
Acknowledgments
The present study was supported by the National Natural Science Foundation of China (Grant Nos. 31601948, 31772634, and 31802094), the National Key Research and Development Program of China (Grants No. 2018YFD0501101), the Postdoctoral Research Foundation of China (Grant No. 2018M632320), and the Open Project of Shanghai Key Laboratory of Veterinary Biotechnology (Grant No. klab201710).
Ethics declarations
Conflict of Interest
The authors declare that there is no conflict of interest.
Ethical Approval
All of the procedures involving mice were carried out in accordance with the Guiding Principles for the Care and Use of Laboratory Animals, China. The experiment performed in the present study was approved by the Animal Care and Use Committee of Nanjing Agricultural University.
Additional information
Publisher's Note
Springer Nature remains neutral with regard to jurisdictional claims in published maps and institutional affiliations.
About this article
Cite this article
Cheng, K., Song, Z., Chen, Y. et al. Resveratrol Protects Against Renal Damage via Attenuation of Inflammation and Oxidative Stress in High-Fat-Diet-Induced Obese Mice. Inflammation 42, 937–945 (2019). https://doi.org/10.1007/s10753-018-0948-7
KEY WORDS
resveratrol

inflammation

oxidative stress

high-fat diet

obesity

mice