Abstract
Extreme precipitation is occurring with greater frequency and intensity as a result of climate change. Such events boost the transport of allochthonous organic matter (allo-OM) to freshwater ecosystems, yet little is known about the impacts on dissolved organic matter (DOM) quality and seston elemental stoichiometry, especially for lakes in warm climates. A mesocosm experiment located in a Turkish freshwater lake was designed to simulate a pulse event leading to increased inputs of allo-OM by examining the individual effects of increasing water colour (HuminFeed®, HF), the direct effects of the extra energetic inputs (alder tree leaf leachate, L), and the interactions of the single treatment effects (combination of both sources, HFL), along with a comparison with unmanipulated controls. Changes in the DOM quality and nutrient stoichiometry of the allo-OM treatment additions was examined over the course of the experiments. Results indicated that there was an increase of high recalcitrant DOM components in the HF treatment, in contrast to an increase in less aromatic microbially derived molecules for the L treatment. Unexpectedly, seston C:P ratios remained below a severe P-limiting threshold for plankton growth and showed the same temporal pattern in all mesocosms. In contrast, seston N:P ratios differed significantly between treatments, with the L treatment reducing P-limiting conditions, whilst the HF treatment increased them. The effects of the combined HFL treatment indicated an additive type of interaction and chlorophyll-a was highest in the HFL treatment. Our results demonstrate that accounting for the optical and stoichiometric properties of experimental allo-OM treatments is crucial to improve the capacity to explain extrapolated conclusions regarding the effects of climate driven flooding on freshwater ecosystems in response to global climate change.
Graphical abstract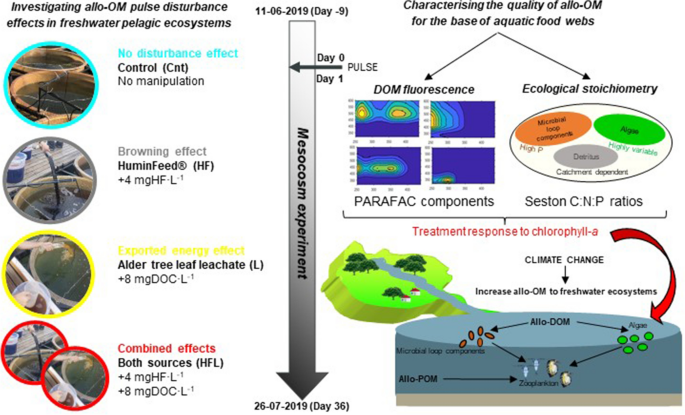 Availability of data and material
The datasets generated and analysed during the current study are available within this article and its supplementary information files through the presented figures and tables. Raw experimental metadata will be publicly available after three years of the experiment (i.e. 2023) through the AQUACOSM mesocosm data repository (https://www.aquacosm.eu/data/) but can be available from the corresponding authors on reasonable request.
Code availability
All code available can be found in electronic supplementary material.
References
Alpert, P., T. Ben-Gai, A. Baharad, Y. Benjamini, D. Yekutieli, M. Colacino, L. Diodato, C. Ramis, V. Homar, R. Romero, S. Michaelides & A. Manes, 2002. The paradoxical increase of Mediterranean extreme daily rainfall in spite of decrease in total values. Geophysical Research Letters 29: 31-1-31–34.

Anderson, M. J., 2017. Permutational Multivariate Analysis of Variance (PERMANOVA) Wiley StatsRef: Statistics Reference Online. American Cancer Society: 1–15. https://doi.org/10.1002/9781118445112.stat07841.

Asam, Z.-U.-Z., 2012. Cycling and transport of phosphorus and nitrogen from harvested peatland forests and possible mitigation and methods. Civil Engineering Department, National University of Ireland, http://hdl.handle.net/10379/3431.

Baird, R. & L. Bridgewater, 2017. APHA. Standard Methods for the Examination of Water and Wastewater, American Public Health Association, Washington, DC:

Bergström, A.-K., J. Karlsson, D. Karlsson & T. Vrede, 2018. Contrasting plankton stoichiometry and nutrient regeneration in northern arctic and boreal lakes. Aquatic Sciences 80: 24.

Brett, M. T., M. J. Kainz, S. J. Taipale & H. Seshan, 2009. Phytoplankton, not allochthonous carbon, sustains herbivorous zooplankton production. Proceedings of the National Academy of Sciences National Academy of Sciences 106: 21197–21201.

Brighenti, L. S., P. A. Staehr, L. P. M. Brandão, F. A. R. Barbosa & J. F. Bezerra-Neto, 2018. Importance of nutrients, organic matter and light availability on epilimnetic metabolic rates in a mesotrophic tropical lake. Freshwater Biology 63: 1143–1160.

Buttigieg, P. L. & A. Ramette, 2014. A guide to statistical analysis in microbial ecology: a community-focused, living review of multivariate data analyses. FEMS Microbiology Ecology 90: 543–550.

Calderó-Pascual, M., E. de Eyto, E. Jennings, M. Dillane, M. R. Andersen, S. Kelly, H. L. Wilson & V. McCarthy, 2020. Effects of consecutive extreme weather events on a temperate Dystrophic Lake: a detailed insight into physical, chemical and biological responses. Water Multidisciplinary Digital Publishing Institute 12: 1411.

Caverly, E., J. M. Kaste, G. S. Hancock & R. M. Chambers, 2013. Dissolved and particulate organic carbon fluxes from an agricultural watershed during consecutive tropical storms. Geophysical Research Letters 40: 5147–5152.

Chai, L., M. Huang, H. Fan, J. Wang, D. Jiang, M. Zhang & Y. Huang, 2019. Urbanization altered regional soil organic matter quantity and quality: Insight from excitation emission matrix (EEM) and parallel factor analysis (PARAFAC). Chemosphere 220: 249–258.

Clarke, K. R., 1993. Non-parametric multivariate analyses of changes in community structure. Australian Journal of Ecology 18: 117–143.

Coble, P. G., 1996. Characterization of marine and terrestrial DOM in seawater using excitation-emission matrix spectroscopy. Marine Chemistry Elsevier 51: 325–346.

Cole, J. J., S. R. Carpenter, J. Kitchell, M. L. Pace, C. T. Solomon & B. Weidel, 2011. Strong evidence for terrestrial support of zooplankton in small lakes based on stable isotopes of carbon, nitrogen, and hydrogen. Proceedings of the National Academy of Sciences National Academy of Sciences 108: 1975–1980.

Cooke, S. L., J. M. Fischer, K. Kessler, C. E. Williamson, R. W. Sanders, D. P. Morris, J. A. Porter, W. H. Jeffrey, S. D. Princiotta & J. D. Pakulski, 2015. Direct and indirect effects of additions of chromophoric dissolved organic matter on zooplankton during large-scale mesocosm experiments in an oligotrophic lake. Freshwater Biology 60: 2362–2378.

Cory, R. M., B. C. Crump, J. A. Dobkowski & G. W. Kling, 2013. Surface exposure to sunlight stimulates CO2 release from permafrost soil carbon in the Arctic. Proceedings of the National Academy of Sciences National Academy of Sciences 110: 3429–3434.

Cramer, W., J. Guiot, M. Fader, J. Garrabou, J.-P. Gattuso, A. Iglesias, M. A. Lange, P. Lionello, M. C. Llasat, S. Paz, J. Peñuelas, M. Snoussi, A. Toreti, M. N. Tsimplis & E. Xoplaki, 2018. Climate change and interconnected risks to sustainable development in the Mediterranean. Nature Climate Change 8: 972–980.

Creed, I. F., A.-K. Bergström, C. G. Trick, N. B. Grimm, D. O. Hessen, J. Karlsson, K. A. Kidd, E. Kritzberg, D. M. McKnight, E. C. Freeman, O. E. Senar, A. Andersson, J. Ask, M. Berggren, M. Cherif, R. Giesler, E. R. Hotchkiss, P. Kortelainen, M. M. Palta, T. Vrede & G. A. Weyhenmeyer, 2018. Global change-driven effects on dissolved organic matter composition: Implications for food webs of northern lakes. Global Change Biology 24: 3692–3714.

Cunillera-Montcusí, D., S. Gascón, I. Tornero, J. Sala, N. Àvila, X. D. Quintana & D. Boix, 2019. Direct and indirect impacts of wildfire on faunal communities of Mediterranean temporary ponds. Freshwater Biology 64: 323–334.

Cuss, C. W., & C. Guéguen, 2015. Characterizing the Labile Fraction of Dissolved Organic Matter in Leaf Leachates: Methods, Indicators, Structure, and Complexity Labile Organic Matter—Chemical Compositions, Function, and Significance in Soil and the Environment. Wiley: 237–274. https://doi.org/10.2136/sssaspecpub62.2014.0043.

de Wit, H. A., S. Valinia, G. A. Weyhenmeyer, M. N. Futter, P. Kortelainen, K. Austnes, D. O. Hessen, A. Räike, H. Laudon & J. Vuorenmaa, 2016. Current browning of surface waters will be further promoted by wetter climate. Environmental Science & Technology Letters American Chemical Society 3: 430–435.

Degerman, R., R. Lefébure, P. Byström, U. Båmstedt, S. Larsson & A. Andersson, 2018. Food web interactions determine energy transfer efficiency and top consumer responses to inputs of dissolved organic carbon. Hydrobiologia 805: 131–146.

Derrien, M., M.-S. Kim, G. Ock, S. Hong, J. Cho, K.-H. Shin & J. Hur, 2018. Estimation of different source contributions to sediment organic matter in an agricultural-forested watershed using end member mixing analyses based on stable isotope ratios and fluorescence spectroscopy. Science of the Total Environment 618: 569–578.

Dhillon, G. S. & S. Inamdar, 2013. Extreme storms and changes in particulate and dissolved organic carbon in runoff: entering uncharted waters? Geophysical Research Letters 40: 1322–1327.

von Einem, J. & W. Granéli, 2010. Effects of fetch and dissolved organic carbon on epilimnion depth and light climate in small forest lakes in southern Sweden. Limnology and Oceanography 55: 920–930.

Elser, J. J., T. H. Chrzanowski, R. W. Sterner, J. H. Schampel & D. K. Foster, 1995. Elemental ratios and the uptake and release of nutrients by phytoplankton and bacteria in three lakes of the Canadian shield. Microbial Ecology 29: 145–162.

Fellman, J. B., E. Hood & R. G. M. Spencer, 2010. Fluorescence spectroscopy opens new windows into dissolved organic matter dynamics in freshwater ecosystems: a review. Limnology and Oceanography 55: 2452–2462.

Findlay, S. & R. L. Sinsabaugh, 2003. Aquatic Ecosystems: Interactivity of Dissolved Organic Matter, Academic Press, Amsterdam:

Fonseca, B. M., E. E. Levi, L. W. Jensen, D. Graeber, M. Søndergaard, T. L. Lauridsen, E. Jeppesen & T. A. Davidson, 2022. Effects of DOC addition from different sources on phytoplankton community in a temperate eutrophic lake: an experimental study exploring lake compartments. Science of The Total Environment 803: 150049.

Gao, X., H. Chen, B. Gu, E. Jeppesen, Y. Xue & J. Yang, 2021. Particulate organic matter as causative factor to eutrophication of subtropical deep freshwater: role of typhoon (tropical cyclone) in the nutrient cycling. Water Research 188: 116470.

Ged, E. C. & T. H. Boyer, 2013. Molecular weight distribution of phosphorus fraction of aquatic dissolved organic matter. Chemosphere 91: 921–927.

Geddes, P., 2015. Experimental evidence that subsidy quality affects the temporal variability of recipient zooplankton communities. Aquatic Sciences 77: 609–621.

Guillemette, F., S. L. McCallister & P. A. del Giorgio, 2016. Selective consumption and metabolic allocation of terrestrial and algal carbon determine allochthony in lake bacteria. The ISME Journal Nature 10: 1373–1382.

Hamdan, M., P. Byström, E. R. Hotchkiss, M. J. Al-Haidarey & J. Karlsson, 2021. An experimental test of climate change effects in northern lakes: Increasing allochthonous organic matter and warming alters autumn primary production. Freshwater Biology. https://doi.org/10.1111/fwb.13679.

Harris, D., W. R. Horwáth & C. van Kessel, 2001. Acid fumigation of soils to remove carbonates prior to total organic carbon or CARBON-13 isotopic analysis. Soil Science Society of America Journal 65: 1853–1856.

Healey, F. P. & L. L. Hendzel, 1980. Physiological indicators of nutrient deficiency in Lake Phytoplankton. Canadian Journal of Fisheries and Aquatic Sciences 37: 442–453.

Heckler, C. E., 2005. Applied multivariate statistical analysis. Technometrics 47: 517–517.

Hecky, R. E., P. Campbell & L. L. Hendzel, 1993. The stoichiometry of carbon, nitrogen, and phosphorus in particulate matter of lakes and oceans. Limnology and Oceanography 38: 709–724.

Hessen, D. O., E. van Donk & R. Gulati, 2005. Seasonal seston stoichiometry: effects on zooplankton in cyanobacteria-dominated lakes. Journal of Plankton Research 27: 449–460.

Hillebrand, H. & J. Gurevitch, 2016. Meta-Analysis and Systematic Reviews in Ecology eLS: 1–11.

Hillebrand, H., S. Langenheder, K. Lebret, E. Lindström, Ö. Östman & M. Striebel, 2018. Decomposing multiple dimensions of stability in global change experiments. Ecology Letters 21: 21–30.

Hitchcock, J. N. & S. M. Mitrovic, 2015. Highs and lows: the effect of differently sized freshwater inflows on estuarine carbon, nitrogen, phosphorus, bacteria and chlorophyll a dynamics. Estuarine, Coastal and Shelf Science 156: 71–82.

Hitchcock, J. N., S. M. Mitrovic, W. L. Hadwen, D. L. Roelke, I. O. Growns & A.-M. Rohlfs, 2016. Terrestrial dissolved organic carbon subsidizes estuarine zooplankton: an in situ mesocosm study. Limnology and Oceanography 61: 254–267.

Hope, D., M. F. Billett & M. S. Cresser, 1994. A review of the export of carbon in river water: fluxes and processes. Environmental Pollution 84: 301–324.

Isles, P. D. F., 2020. The misuse of ratios in ecological stoichiometry. Ecology 101: e03153.

Jaffé, R., K. M. Cawley & Y. Yamashita, 2014. Applications of excitation emission matrix fluorescence with parallel factor analysis (EEM-PARAFAC) in assessing environmental dynamics of natural dissolved organic matter (DOM) in aquatic environments: a review advances in the physicochemical characterization of dissolved organic matter: impact on natural and engineered systems. American Chemical Society. https://doi.org/10.1021/bk-2014-1160.ch003.

Jeong, J.-J., S. Bartsch, J. H. Fleckenstein, E. Matzner, J. D. Tenhunen, S. D. Lee, S. K. Park & J.-H. Park, 2012. Differential storm responses of dissolved and particulate organic carbon in a mountainous headwater stream, investigated by high-frequency, in situ optical measurements. Journal of Geophysical Research: Biogeosciences. https://doi.org/10.1029/2012JG001999.

Jespersen, A.-M. & K. Christoffersen, 1987. Measurements of chlorophyll-a from phytoplankton using ethanol as extraction solvent. Archiv Für Hydrobiologie 109: 445–454.

Kankaala, P., S. Peura, H. Nykänen, E. Sonninen, S. Taipale, M. Tiirola & R. I. Jones, 2010. Impacts of added dissolved organic carbon on boreal freshwater pelagic metabolism and food webs in mesocosm experiments. Fundamental and Applied Limnology/Archiv Für Hydrobiologie 177: 161–176.

Kassambara, A., 2020. Pipe-Friendly Framework for Basic Statistical Tests, R Foundation for Statistical Computing, Vienna:

Kellerman, A. M., T. Dittmar, D. N. Kothawala & L. J. Tranvik, 2014. Chemodiversity of dissolved organic matter in lakes driven by climate and hydrology. Nature Communications Nature Publishing Group 5: 3804.

Kelly, P. T., W. H. Renwick, L. Knoll & M. J. Vanni, 2019. Stream nitrogen and phosphorus loads are differentially affected by storm events and the difference may be exacerbated by conservation tillage. Environmental Science & Technology American Chemical Society 53: 5613–5621.

Kida, M., T. Kojima, Y. Tanabe, K. Hayashi, S. Kudoh, N. Maie & N. Fujitake, 2019. Origin, distributions, and environmental significance of ubiquitous humic-like fluorophores in Antarctic lakes and streams. Water Research 163: 114901.

Kothawala, D. N., C. A. Stedmon, R. A. Müller, G. A. Weyhenmeyer, S. J. Köhler & L. J. Tranvik, 2014. Controls of dissolved organic matter quality: evidence from a large-scale boreal lake survey. Global Change Biology 20: 1101–1114.

Kreeger, D., C. Goulden, S. Kilham, S. Lynn, S. Datta & S. Interlandi, 1997. Seasonal changes in the biochemistry of lake seston. Freshwater Biology 38: 539–554.

Lampert, W., 1987. Feeding and nutrition in Daphnia. Daphnia 143–192.

Landkildehus, F., M. Søndergaard, M. Beklioglu, R. Adrian, D. G. Angeler, J. Hejzlar, E. Papastergiadou, P. Zingel, A. IdilÇakiroğlu, U. Scharfenberger, S. Drakare, T. Nõges, M. Sorf, K. Stefanidis, Ü. N. Tavşanoğlu, C. Trigal, A. Mahdy, C. Papadaki, L. Tuvikene, S. E. Larsen, M. Kernan & E. Jeppesen, 2014. Climate change effects on shallow lakes: design and preliminary results of a cross-European climate gradient mesocosm experiment. Estonian Journal of Ecology 63: 71.

Lebret, K., S. Langenheder, N. Colinas, Ö. Östman & E. S. Lindström, 2018. Increased water colour affects freshwater plankton communities in a mesocosm study. Aquatic Microbial Ecology 81: 1–17.

Leech, D. M., A. I. Pollard, S. G. Labou & S. E. Hampton, 2018. Fewer blue lakes and more murky lakes across the continental US: implications for planktonic food webs. Limnology and Oceanography 63: 2661–2680.

Lefébure, R., R. Degerman, A. Andersson, S. Larsson, L.-O. Eriksson, U. Båmstedt & P. Byström, 2013. Impacts of elevated terrestrial nutrient loads and temperature on pelagic food-web efficiency and fish production. Global Change Biology 19: 1358–1372.

Lennon, J. T. & K. L. Cottingham, 2008. Microbial productivity in variable resource environments. Ecology 89: 1001–1014.

Lennon, J. T., S. K. Hamilton, M. E. Muscarella, A. S. Grandy, K. Wickings & S. E. Jones, 2013. A source of terrestrial organic carbon to investigate the browning of aquatic ecosystems. PLoS ONE 8: e75771.

Liess, A., C. Faithfull, B. Reichstein, O. Rowe, J. Guo, R. Pete, G. Thomsson, W. Uszko & S. N. Francoeur, 2015. Terrestrial runoff may reduce microbenthic net community productivity by increasing turbidity: a Mediterranean coastal lagoon mesocosm experiment. Hydrobiologia 753: 205–218.

Mackerth, F., 1978. Water analysis: some revised methods for limnologists. Freshwater Biological Association 36: 117.

Martinez Arbizu, P., 2017. pairwiseAdonis: Pairwise multilevel comparison using adonis. R package version 0.0 1.

McCarthy, V., I. A. N. Donohue & K. Irvine, 2006. Field evidence for stoichiometric relationships between zooplankton and N and P availability in a shallow calcareous lake. Freshwater Biology 51: 1589–1604.

McKnight, D. M., E. W. Boyer, P. K. Westerhoff, P. T. Doran, T. Kulbe & D. T. Andersen, 2001. Spectrofluorometric characterization of dissolved organic matter for indication of precursor organic material and aromaticity. Limnology and Oceanography 46: 38–48.

Mcmeans, B. C., A.-M. Koussoroplis, M. T. Arts & M. J. Kainz, 2015. Terrestrial dissolved organic matter supports growth and reproduction of Daphnia magna when algae are limiting. Journal of Plankton Research Oxford Academic 37: 1201–1209.

Meinelt, T., A. Paul, T. M. Phan, E. Zwirnmann, A. Krüger, A. Wienke & C. E. W. Steinberg, 2007. Reduction in vegetative growth of the water mold Saprolegnia parasitica (Coker) by humic substance of different qualities. Aquatic Toxicology 83: 93–103.

Minguez, L., E. Sperfeld, S. A. Berger, J. C. Nejstgaard & M. O. Gessner, 2020. Changes in food characteristics reveal indirect effects of lake browning on zooplankton performance. Limnology and Oceanography 65: 1028–1040.

Monteith, D. T., J. L. Stoddard, C. D. Evans, H. A. de Wit, M. Forsius, T. Høgåsen, A. Wilander, B. L. Skjelkvåle, D. S. Jeffries, J. Vuorenmaa, B. Keller, J. Kopácek & J. Vesely, 2007. Dissolved organic carbon trends resulting from changes in atmospheric deposition chemistry. Nature Nature Publishing Group 450: 537–540.

Murphy, K. R., C. A. Stedmon, D. Graeber & R. Bro, 2013. Fluorescence spectroscopy and multi-way techniques. PARAFAC. Analytical Methods Royal Society of Chemistry 5: 6557–6566.

Mutschlecner, A. E., J. J. Guerard, J. B. Jones & T. K. Harms, 2018. Phosphorus enhances uptake of dissolved organic matter in Boreal streams. Ecosystems 21: 675–688.

Navarro, M. B., V. D. Villanueva & B. Modenutti, 2019. High phosphorus content in leachates of the austral beech Nothofagus pumilio stimulates bacterioplankton C-consumption. Freshwater Science the University of Chicago Press 38: 435–447.

Ngochera, M. J. & H. A. Bootsma, 2018. Carbon, nitrogen and phosphorus content of seston and zooplankton in tropical Lake Malawi: implications for zooplankton nutrient cycling. Aquatic Ecosystem Health & Management Taylor & Francis 21: 185–192.

Nicolle, A., P. Hallgren, J. V. Einem, E. S. Kritzberg, W. Granéli, A. Persson, C. Brönmark & L.-A. Hansson, 2012. Predicted warming and browning affect timing and magnitude of plankton phenological events in lakes: a mesocosm study. Freshwater Biology 57: 684–695.

Oksanen, J., 2011. Multivariate analysis of ecological communities in R: vegan tutorial. R Package Version 1: 1–43.

Osborne, T. Z., P. W. Inglett & K. R. Reddy, 2007. The use of senescent plant biomass to investigate relationships between potential particulate and dissolved organic matter in a wetland ecosystem. Aquatic Botany 86: 53–61.

Osburn, C. L., N. J. Anderson, C. A. Stedmon, M. E. Giles, E. J. Whiteford, T. J. McGenity, A. J. Dumbrell & G. J. C. Underwood, 2017. Shifts in the source and composition of dissolved organic matter in Southwest Greenland Lakes along a regional hydro-climatic gradient. Journal of Geophysical Research: Biogeosciences 122: 3431–3445.

Pedersen, E. J., D. L. Miller, G. L. Simpson, & N. Ross, 2019. Hierarchical generalized additive models in ecology: an introduction with mgcv. PeerJ PeerJ Inc. 7: e6876.

Prater, C., P. C. Frost, E. T. Howell, S. B. Watson, A. Zastepa, S. S. E. King, R. J. Vogt & M. A. Xenopoulos, 2017. Variation in particulate C: N: P stoichiometry across the Lake Erie watershed from tributaries to its outflow. Limnology and Oceanography 62: S194–S206.

Qualls, R. G. & C. J. Richardson, 2003. Factors controlling concentration, export, and decomposition of dissolved organic nutrients in the Everglades of Florida. Biogeochemistry 62: 197–229.

Quante, M. & F. Colijn, 2016. North Sea Region Climate Change Assessment, SpringerOpen, Cham:

R Core Team., 2019. R: A Language and Environment for Statistical Computing, R Foundation for Statistical Computing, Vienna:

Rasconi, S., A. Gall, K. Winter & M. J. Kainz, 2015. Increasing water temperature triggers dominance of small freshwater plankton. PLoS ONE 10: e0140449.

Ratcovich, J., 2014. The impact of climate change and brownification on primary and bacterial production. http://lup.lub.lu.se/student-papers/record/4333096.

Rose, N. L., H. Yang, S. D. Turner & G. L. Simpson, 2012. An assessment of the mechanisms for the transfer of lead and mercury from atmospherically contaminated organic soils to lake sediments with particular reference to Scotland, UK. Geochimica Et Cosmochimica Acta 82: 113–135.

Sanders, R. W., S. L. Cooke, J. M. Fischer, S. B. Fey, A. W. Heinze, W. H. Jeffrey, A. L. Macaluso, R. E. Moeller, D. P. Morris, P. J. Neale, M. H. Olson, J. D. Pakulski, J. A. Porter, D. M. Schoener & C. E. Williamson, 2015. Shifts in microbial food web structure and productivity after additions of naturally occurring dissolved organic matter: Results from large-scale lacustrine mesocosms. Limnology and Oceanography 60: 2130–2144.

Schreeg, L. A., M. C. Mack & B. L. Turner, 2013. Nutrient-specific solubility patterns of leaf litter across 41 lowland tropical woody species. Ecology 94: 94–105.

Schulhof, M. A., J. B. Shurin, S. A. J. Declerck & D. B. V. de Waal, 2019. Phytoplankton growth and stoichiometric responses to warming, nutrient addition and grazing depend on lake productivity and cell size. Global Change Biology 25: 2751–2762.

Sebestyen, S. D., E. W. Boyer, J. B. Shanley, C. Kendall, D. H. Doctor, G. R. Aiken & N. Ohte, 2008. Sources, transformations, and hydrological processes that control stream nitrate and dissolved organic matter concentrations during snowmelt in an upland forest. Water Resources Research. https://doi.org/10.1029/2008WR006983.

Senar, O. E., I. F. Creed & C. G. Trick, 2021. Lake browning may fuel phytoplankton biomass and trigger shifts in phytoplankton communities in temperate lakes. Aquatic Sciences 83: 21.

Solomon, C. T., S. E. Jones, B. C. Weidel, I. Buffam, M. L. Fork, J. Karlsson, S. Larsen, J. T. Lennon, J. S. Read, S. Sadro & J. E. Saros, 2015. Ecosystem consequences of changing inputs of terrestrial dissolved organic matter to lakes: current knowledge and future challenges. Ecosystems 18: 376–389.

Stadler, M., E. Ejarque & M. J. Kainz, 2020. In-lake transformations of dissolved organic matter composition in a subalpine lake do not change its biodegradability. Limnology and Oceanography 65: 1554–1572.

Stedmon, C. A. & S. Markager, 2005. Resolving the variability in dissolved organic matter fluorescence in a temperate estuary and its catchment using PARAFAC analysis. Limnology and Oceanography 50: 686–697.

Sterner, R. W. & J. J. Elser, 2002. Ecological Stoichiometry: The Biology of Elements from Molecules to the Biosphere, Princeton University Press, Princeton:

Tanentzap, A. J., B. W. Kielstra, G. M. Wilkinson, M. Berggren, N. Craig, P. A. del Giorgio, J. Grey, J. M. Gunn, S. E. Jones, J. Karlsson, C. T. Solomon & M. L. Pace, 2017. Terrestrial support of lake food webs: Synthesis reveals controls over cross-ecosystem resource use. Science Advances American Association for the Advancement of Science 3: e1601765.

The Math Works, Inc., 2020. MATLAB.

Thurman, E. M., 1985. Aquatic humic substances. In Thurman, E. M. (ed), Organic Geochemistry of Natural Waters Springer, Dordrecht: 273–361.

Tonetta, D., P. A. Staehr, B. Obrador, L. P. M. Brandão, L. S. Brighenti, M. M. Petrucio, F. A. R. Barbosa & J. F. Bezerra-Neto, 2018. Effects of nutrients and organic matter inputs in the gases CO2 and O2: A mesocosm study in a tropical lake. Limnologica 69: 1–9.

Toreti, A., P. Naveau, M. Zampieri, A. Schindler, E. Scoccimarro, E. Xoplaki, H. A. Dijkstra, S. Gualdi & J. Luterbacher, 2013. Projections of global changes in precipitation extremes from Coupled Model Intercomparison Project Phase 5 models. Geophysical Research Letters 40: 4887–4892.

Trenberth, K. E., 2011. Changes in precipitation with climate change. Climate Research 47: 123–138.

Urabe, J., M. Kyle, W. Makino, T. Yoshida, T. Andersen & J. J. Elser, 2002. Reduced light increases herbivore production due to stoichiometric effects of light/nutrient balance. Ecology 83: 619–627.

Urabe, J. & Y. Watanabe, 1992. Possibility of N or P limitation for planktonic cladocerans: an experimental test. Limnology and Oceanography 37: 244–251.

Urrutia-Cordero, P., M. K. Ekvall, J. Ratcovich, M. Soares, S. Wilken, H. Zhang & L.-A. Hansson, 2017. Phytoplankton diversity loss along a gradient of future warming and brownification in freshwater mesocosms. Freshwater Biology 62: 1869–1878.

Vad, C. F., C. Schneider, D. Lukić, Z. Horváth, M. J. Kainz, H. Stibor & R. Ptacnik, 2020. Grazing resistance and poor food quality of a widespread mixotroph impair zooplankton secondary production. Oecologia 193: 489–502.

Villar-Argaiz, M., E. G. Balseiro, B. E. Modenutti, M. S. Souza, F. J. Bullejos, J. M. Medina-Sánchez & P. Carrillo, 2018. Resource versus consumer regulation of phytoplankton: testing the role of UVR in a Southern and Northern hemisphere lake. Hydrobiologia 816: 107–120.

Weyhenmeyer, G. A., R. A. Müller, M. Norman & L. J. Tranvik, 2016. Sensitivity of freshwaters to browning in response to future climate change. Climatic Change 134: 225–239.

Wheeler, K. I., D. F. Levia & J. E. Hudson, 2017. Tracking senescence-induced patterns in leaf litter leachate using parallel factor analysis (PARAFAC) modeling and self-organizing maps. Journal of Geophysical Research: Biogeosciences 122: 2233–2250.

Wood, S. N., 2017. Generalized Additive Models: An Introduction with R, 2nd ed. CRC Press, Boca Raton:

Wood, S. & M. S. Wood, 2015. Package 'mgcv.' R Package Version 1: 29.

Wyatt, K. H. & A. R. Rober, 2020. Warming enhances the stimulatory effect of algal exudates on dissolved organic carbon decomposition. Freshwater Biology 65: 1288–1297.

Zhou, L., Y. Zhou, X. Tang, Y. Zhang, K.-S. Jang, A. J. Székely & E. Jeppesen, 2021. Resource aromaticity affects bacterial community successions in response to different sources of dissolved organic matter. Water Research 190: 116776.

Zhou, Y., M. Liu, L. Zhou, K.-S. Jang, H. Xu, K. Shi, G. Zhu, M. Liu, J. Deng, Y. Zhang, R. G. M. Spencer, D. N. Kothawala, E. Jeppesen & F. Wu, 2020. Rainstorm events shift the molecular composition and export of dissolved organic matter in a large drinking water reservoir in China: High frequency buoys and field observations. Water Research 187: 116471.

Zhou, Y., X. Yao, L. Zhou, Z. Zhao, X. Wang, K.-S. Jang, W. Tian, Y. Zhang, D. C. Podgorski, R. G. M. Spencer, D. N. Kothawala, E. Jeppesen, & F. Wu, 2021b. How hydrology and anthropogenic activity influence the molecular composition and export of dissolved organic matter: Observations along a large river continuum. Limnology and Oceanography n/a:, https://aslopubs.onlinelibrary.wiley.com/doi/abs/https://doi.org/10.1002/lno.11716.

Zuur, A., E. N. Ieno, N. Walker, A. A. Saveliev, & G. M. Smith, 2009. Mixed Effects Models and Extensions in Ecology with R. Springer Science & Business Media.
Acknowledgements
The authors would like to thank Ugur Işkın, Nur Filiz, Maria Spoljar, Sanja Gottstein, Pinar Kavak, Nusret Karakaya, Manolis Ladoukakis, Marilena Parakatselaki, H.Yiğit Şahin, Efe Sezgin, Feride Avcı, Cemreay Dede, Sıla Aygün, and Adil Boolani for helping with mesocosm experimental setup, data collection, and laboratory analyses. The rangers of the national park for allowing to collect alder tree leaves. Pablo Urrutia-cordero for his knowledge and advice regarding HuminFeed® concentration-colour behaviour in mesocosm experiments. The Centre for Freshwater and Environmental Studies (CFES) writing group and Carlos Domingo-Félez for general writing feedbacks. Truls Hveem Hansson, Santiago Alvarez-Fernandez, and David Cunillera-Montcusí for insights regarding GAMM approaches in mesocosm experiments. We are also very grateful for the suggestions from two anonymous reviewers which helped to improve and clarify this study. This work was carried out thanks to the specific AQUACOSM TA project under the name AlloEcoMetry.
Funding
The FvB-IGB-lead project AQUACOSM (www.aquacosm.eu) is funded by the first international call (EU H2020-INFRAIA) to coordinate research, develop common best practices, and open both freshwater and marine large-scale research infrastructures (mesocosms) for international cross-discipline participation. MCP and MRA were supported by AQUACOSM TA grant (2019), and the Irish Marine Institute funded under the Marine Research Program by the Irish Government named BEYOND2020 (Grant-Aid Agreement No. PBA/FS/16/02). EJ and MB were supported by TÜBITAK program BIDEB 2232 (project 118C250) as well as AQUACOSM project. MB was additionally funded by EU-Funded PONDERFUL. KAG and CF participation was funded by AQUACOSM TA grant (2019).
Ethics declarations
Conflict of interest
The authors declare no conflict of interest.
Additional information
Publisher's Note
Springer Nature remains neutral with regard to jurisdictional claims in published maps and institutional affiliations.
Guest editors: José L. Attayde, Renata F. Panosso, Vanessa Becker, Juliana D. Dias & Erik Jeppesen / Advances in the Ecology of Shallow Lakes
Supplementary Information
Below is the link to the electronic supplementary material.
Rights and permissions
Open Access This article is licensed under a Creative Commons Attribution 4.0 International License, which permits use, sharing, adaptation, distribution and reproduction in any medium or format, as long as you give appropriate credit to the original author(s) and the source, provide a link to the Creative Commons licence, and indicate if changes were made. The images or other third party material in this article are included in the article's Creative Commons licence, unless indicated otherwise in a credit line to the material. If material is not included in the article's Creative Commons licence and your intended use is not permitted by statutory regulation or exceeds the permitted use, you will need to obtain permission directly from the copyright holder. To view a copy of this licence, visit http://creativecommons.org/licenses/by/4.0/.
About this article
Cite this article
Calderó-Pascual, M., Yıldız, D., Yalçın, G. et al. The importance of allochthonous organic matter quality when investigating pulse disturbance events in freshwater lakes: a mesocosm experiment. Hydrobiologia 849, 3905–3929 (2022). https://doi.org/10.1007/s10750-021-04757-w
Received:

Revised:

Accepted:

Published:

Issue Date:

DOI: https://doi.org/10.1007/s10750-021-04757-w
Keywords