Abstract
Introduction of strictly planktivorous fish to lakes can alter plankton communities via cascading interactions in food webs. Less is known about the large-scale and long-term effects resulting from the introduction of fish with more generalist feeding habits, and the extent to which these effects depend on lake trophic status. Paleolimnological records of three oligotrophic lakes in Maine, USA were used to analyze the response of plankton communities to the introduction of white perch (Morone americana), a fish that often numerically dominates fish assemblages and switches from strict planktivory to a more generalist diet during ontogeny. After white perch introduction, cladoceran ephippia size increased up to 50 %, suggesting that the most important role of this generalist fish, with respect to water quality, is as a piscivorous trophic link. Algal standing crop declined by a quarter to over a half of pre-introduction levels, suggesting that top-down effects of white perch reduced phytoplankton biomass. In comparing these oligotrophic lakes to prior work in a eutrophic system, white perch introduction had similar effects on zooplankton body size; however, cascading effects to phytoplankton were only observed in low productivity lakes.
Access options
Buy single article
Instant access to the full article PDF.
US$ 39.95
Tax calculation will be finalised during checkout.
Subscribe to journal
Immediate online access to all issues from 2019. Subscription will auto renew annually.
US$ 119
Tax calculation will be finalised during checkout.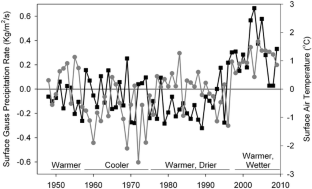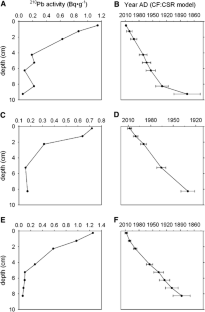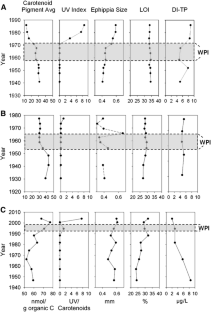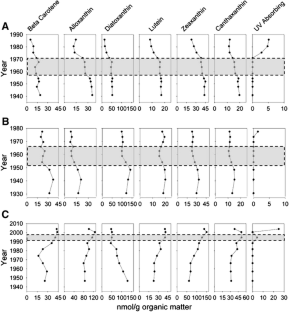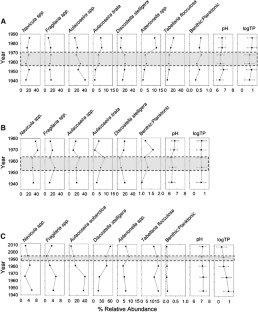 References
Arnold, D. E., 1971. Ingestion, assimilation, survival, and reproduction by Daphnia pulex fed seven species of blue-green algae. Limnologly and Oceanography 16: 906–920.

Birks, H. J. B., 1995. Quantitative paleoenvironmental reconstructions. In Maddy, D. & J. S. Brew (eds), Statistical Modeling of Quaternary Science Data. Cambridge University Press, Cambridge: 161–254.

Brett, M. T. & C. R. Goldman, 1996. A meta-analysis of the freshwater trophic cascade. Proceedings of the National Academy of Sciences of United States of America 93: 7723–7726.

Busch, W. M., D. H. Davies & S. J. Nepszy, 1977. Establishment of white perch (Morone americana) in Lake Erie. Journal of the Fisheries Research Board of Canada 34: 1039–1041.

Camburn, K. E. & D. F. Charles, 2000. Diatoms of low-alkalinity lakes in the northeastern United States. Special Publication 18. Academy of National Science, Philadelphia.

Carpenter, S. R., J. R. Kitchell, J. Hodgson, P. Cochran, J. Elser, M. Elser, D. M. Lodge, D. Kretchmer & X. He, 1987. Regulation of lake primary productivity by food web structure. Ecology 68: 1863–1876.

Carpenter, S. R., D. L. Christensen, J. J. Cole, K. L. Cottingham, X. He, J. R. Hodgson, J. F. Kitchell, S. E. Knight, M. L. Pace, D. M. Post, D. E. Schindler & N. Voichick, 1995. Biological control of eutrophication in lakes. Environmental Science and Technology 29: 784–786.

Catalano, M. J., M. S. Allen, M. H. Schaus, D. G. Buck & J. R. Beaver, 2010. Evaluating short-term effects of omnivorous fish removal on water quality and zooplankton at a subtropical lake. Hydrobiologia 655: 159–169.

Chen, N., T. S. Bianchi, B. A. McKee & J. M. Bland, 2001. Historical trends of hypoxia on the Louisiana shelf: applications of pigments as biomarkers. Organic Geochemistry 32: 543–561.

Christensen, E. R., 1982. A model for radionuclides in sediments influenced by mixing and compaction. Journal of Geophysical Research 87: 566–572.

Collins, T. J., 2007. ImageJ for microscopy. Biological Techniques 43: 25–30.

Davis, R. B., D. S. Anderson, S. A. Norton & M. C. Whiting, 1994. Acidity of twelve northern New England (U.S.A.) lakes in recent centuries. Journal of Paleolimnology 12: 103–154.

Dearing, J. A., 1991. Lake sediment records of erosional processes. Hydrobiologia 214: 99–106.

Dence, W. A., 1952. Establishment of white perch, Morone americana, in central New York. Copeia 3: 200–201.

Dixit, S. S. & J. P. Smol, 1994. Diatoms as indicators in the Environmental Monitoring and Assessment Program—Surface Waters (EMAP-SW). Environmental Monitoring and Assessment 31: 275–306.

Drenner, R. W., R. M. Baca, J. S. Gilroy, M. R. Ernst, D. J. Jensen & D. H. Marshall, 2002. Community responses to piscivorous largemouth bass: a biomanipulation experiment. Lake and Reservoir Management 18: 44–51.

Eakins, J. D. & R. T. Morrison, 1978. A new procedure for the determination of lead-210 in lake and marine sediments. International Journal of Applied Radiation and Isotopes 29: 531–536.

Everhart, W. H. & W. R. Seaman, 1971. Fishes of Colorado. Colorado Game, Fish and Parks Division, Denver, CO: 75 pp.

Ginn, B. K., B. F. Cumming & J. P. Smol, 2007. Diatom-based environmental inferences and model comparisons from 494 northeastern American lakes. Journal of Phycology 43: 647–661.

Hansson, L., H. Annadotter, E. Bergman, S.F. Hamrin, E. Jeppesen, T. Kairesalo, E. Luokkanen, P. Nilsson, M. Sondergaard & J. Strand, 1998. Biomanipulation as an application of food-chain theory: constraints, synthesis, and recommendations for temperate lakes. Ecosystems 1(6): 558–574.

Hergenrader, G. L. & Q. P. Bliss, 1971. The white perch in Nebraska. Transactions of the American Fisheries Society 100: 734–738.

Hjelm, J., L. Persson & B. Christensen, 2000. Growth, morphological variation and ontogenetic niche shifts in perch (Perca fluviatilis) in relation to resource availability. Oecologia 122: 190–199.

Jeppesen, E., J. P. Jensen, M. Sondergaard & T. Lauridsen, 1999. Trophic dynamics in turbid and clearwater lakes with special emphasis on the role of zooplankton for water clarity. Hydrobiologia 408(409): 217–231.

Jeppesen, E., J. P. Jensen, M. Sondergaard, T. Lauridsen & F. Landkildehus, 2000. Trophic structure, species richness and biodiversity in Danish lakes: changes along a phosphorus gradient. Freshwater Biology 45: 201–218.

Jeppesen, E., J. P. Jensen, S. Amsinck, F. Landkildehus, T. Lauridsen & S. F. Mitchell, 2002. Reconstructing the historical changes in Daphnia mean size and planktivorous fish abundance in lakes from the size of Daphnia ephippia in the sediment. Journal of Paleolimnology 27: 133–143.

Jeppesen, E., J. P. Jensen, C. Jensen, B. Faafeng, D. O. Hessen, M. Sondergaard, T. Lauridsen, P. Bretturn & K. Christoffersen, 2003. The impact of nutrient state and lake depth on top-down control in the pelagic zone of lakes: a study of 466 lakes from the temperate zone to the Arctic. Ecosystems 6: 313–325.

Kalnay, E., 1996. The NCEP/NCAR Reanalysis 40-year Project. Bulletin of the American Meteorological Society 77: 437–471.

Kim, G. W. & D. R. Devries, 2000. Effects of a selectively reduced gizzard shad population on trophic interactions and age-0 fishes in Walker County Lake, Alabama. North American Journal of Fisheries Management 20: 860–872.

Krammer, K., & H. Lange-Bertalot, 1986–1991. Bacillariopyceae, Naviculaceae, Susswasser flora von Mitteleuropa, Band 3/2. VEB Gustav Fischer Verlag, Heidelberg.

Lake, B. A., C. R. Wigdahl, K. E. Strock, J. E. Saros & A. Amirbahman, 2011. Multi-proxy paleolimnological assessment of biogeochemical versus food web controls on the trophic states of two shallow, mesotrophic lakes. Journal of Paleolimnology 46: 45–57.

Lathrop, R., S. Carpenter & D. Robertson, 1999. Summer water clarity responses to phosphorus, Daphnia grazing, and internal mixing in Lake Mendota. Limnology and Oceanography 44: 137–146.

Leavitt, P. R., 1993. A review of factors that regulate carotenoid and chlorophyll deposition and fossil pigment abundance. Journal of Paleolimnology 9: 109–127.

Leavitt, P. R. & D. L. Findlay, 1994. Comparison of fossil pigments with 20 years of phytoplankton data from eutrophic Lake 227, Experimental Lakes Area, Ontario. Canadian Journal of Fisheries and Aquatic Sciences 51: 2286–2299.

Leavitt, P. R., S. Carpenter & J. Kitchell, 1989. Whole-lake experiments: the annual record of fossil pigments and zooplankton. Limnology and Oceanography 34: 700–717.

Leavitt, P. R., R. D. Vinebrooke, D. B. Donald, J. P. Smol & D. W. Schindler, 1997. Past ultraviolet radiation environments in lakes derived from fossil pigments. Nature 388: 457–459.

Leavitt, P. R., B. F. Cumming, J. P. Smol, M. Reasoner, R. Pienitz & D. A. Hodgson, 2003. Climatic control of ultraviolet radiation effects on lakes. Limnology and Oceanography 48: 2062–2069.

Liebold, M. A., J. M. Chase, J. B. Shurin & A. L. Downing, 1997. Species turnover and the regulation of trophic structure. Annual Review of Ecology, Evolution, and Systematics 28: 467–494.

McCann, K. S. & A. Hastings, 1997. Re-evaluating the omnivory-stability relationships in food webs. Proceedings of the Royal Society B: Biological Sciences 264: 1249–1254.

McGowan, S., 2007. Pigments in sediments of aquatic environments. In Elias, S. (ed.), Encyclopedia of Quaternary Sciences. Elsevier, Amsterdam: 2062–2074.

McQueen, D. J., J. R. Post & E. L. Mills, 1986. Trophic relationships in freshwater pelagic ecosystems. Canadian Journal of Fisheries and Aquatic Sciences 43: 1571–1581.

McQueen, D. J., M. R. S. Johannes, J. R. Post, T. J. Stewart & D. R. S. Lean, 1989. Bottom-up and top-down impacts on freshwater pelagic community structure. Ecological Monographs 59: 289–309.

Mehner, T., J. Padisak, P. Kasprzak, R. Koschel & L. Krienitz, 2008. A test of food web hypotheses by exploring time series of fish, zooplankton and phytoplankton in an oligo-mesotrophic lake. Limnologica 38: 179–188.

Muller-Navarra, D. C., M. T. Brett, S. Park, S. Chandra, A. P. Ballantyne, E. Zorita & C. R. Goldman, 2004. Unsaturated fatty acid content in seston and tropho-dynamic coupling in lakes. Nature 427: 69–72.

Neutel, A., J. A. P. Heesterbeek & P. C. De Ruiter, 2002. Stability in real food webs: weak links in long loops. Science 296: 1120–1123.

Oldfield, F. & F. G. Appleby, 1984. Empirical testing of 210Pb dating models for lake sediments. In Haworth, E. Y. & J. W. G. Lund (eds), Lake Sediments and Environmental History. University of Minnesota Press, Minneapolis: 93–124.

Pace, M. L., J. J. Cole, S. R. Carpenter & J. F. Kitchell, 1999. Trophic cascades revealed in diverse ecosystems. Trends in Ecology and Evolution 14: 483–488.

Page, L.M., & B.M. Burr, 1991. A field guide to freshwater fishes of North America north of Mexico. The Peterson Field Guide Series, Vol. 42. Houghton Mifflin Company, Boston.

Parrish, D. L. & F. J. Margraf, 1990. Interactions between white perch (Morone americana) and yellow perch (Perca flavescens) in Lake Erie as determined from feeding and growth. Canadian Journal of Fisheries and Aquatic Sciences 47: 1779–1787.

PEARL: The source for environmental information. The University of Maine, Orono, ME. Accessed December 10, 2010 [available on internet at http://www.pearl.maine.edu/].

Persson, L., P. Bystrom & E. Wahlstrom, 2000. Cannibalism and competition in Eurasian perch: population dynamics of an ontogenetic omnivore. Ecology 81(4): 1058–1071.

Pimm, S. L. & J. H. Lawton, 1978. Feeding on more than one trophic level. Nature 275: 542–544.

Polis, G. A., A. L. W. Sears, G. R. Huxel, D. R. Strong & J. Maron, 2000. When is a trophic cascade a trophic cascade? Trends in Ecology and Evolution 15: 473–500.

R Development Core Team, 2008. R: A language and environment for statistical computing. In R Foundation for Statistical Computing, Vienna, Austria. ISBN 3-900051-07-0 [available on internet at http://www.R-project.org].

Reid, W. F., 1972. Utilization of the crayfish (Orconectes limosus) as forage by white perch (Moronoe Americana) in a Maine lake. Transactions of the American Fisheries Society 101: 608–612.

Sarnelle, O., 1992. Nutrient enrichment and grazer effects of phytoplankton in lakes. Ecology 73: 551–560.

Saros, J.E., J.R. Stone, G.T. Pederson, K.E.H. Slemmons, T. Spanbauer, A. Schliep, D. Cahl, C.E. Williamson & D.R. Engstrom, 2012. Climate-induced changes in lake ecosystem structure inferred from coupled neo- and paleo-ecologicla approaches. Ecology 93: 2155–2164.

Schaeffer, J. S. & F. J. Margraf, 1986. Food of white perch (Morone Americana) and potential for competition with yellow perch (Perca flavescens) in Lake Erie. Ohio Journal of Science 86: 26–29.

Schaeffer, J.S. & F.J. Margraf, 1987. Predation on fish eggs by white perch, Morone americana, in western Lake Erie. Environmental Biology of Fishes 18(1): 77–80.

Sondergaard, M., L. Liboriussen, A. R. Pedersen & E. Jeppesen, 2008. Lake restoration by fish removal: short- and long-term effects in 36 Danish Lakes. Ecosystems 11(8): 1291–1305.

Stern, J., 2002. Keoka Lake Watershed Survey Report. Oxford County Soil and Water Conservation District, Keoka Lake Association, Lakes Environmental Association, Maine Department of Environmental Protection.

Trinko, T.R., 2007. Bottom-up and top-down controls on algal bloom frequency in two shallow mesotrophic lakes. Master's Thesis, The University of Maine, Orono, ME.

Tuckett, Q., 2012. Ecological causes and consequences of trait divergence in invasive White Perch (Morone americana). Ph.D. Thesis, The University of Maine, Orono, ME.

Vadeboncoeur, Y., K. S. McCann, J. V. Zanden & J. P. Rasmussen, 2005. Effects of multi-chain omnivory on the strength of trophic control in lakes. Ecosystems 8: 682–693.

Warner, K., 1974. Utilization of fish as spring food by white perch and yellow perch in Maine Lakes. Progressive Fish-Culturist 36: 96–98.
Acknowledgments
Funding for this work was provided by grants from the U.S. National EPA and the Mitchell Center at the University of Maine. The authors are grateful to the Maine Department of Inland Fisheries and Wildlife and David Halliwell at the Maine Department of Environmental Protection for providing valuable information; Dennis Anderson for field and laboratory assistance; Dr. Brian Ginn at Queen's University for running the diatom inference models; and the Department of Physics at the University of Maine for providing the 210Pb dates. Funding was provided by the Maine Agricultural and Forest Experiment Station (MAFES). This is contribution 3313 to the MAFES.
Additional information
Handling editor: Koen Martens
About this article
Cite this article
Strock, K.E., Saros, J.E., Simon, K.S. et al. Cascading effects of generalist fish introduction in oligotrophic lakes. Hydrobiologia 711, 99–113 (2013). https://doi.org/10.1007/s10750-013-1469-x
Received:

Revised:

Accepted:

Published:

Issue Date:
Keywords
Trophic cascade

Fish introduction

Paleolimnology

Plankton